A sermon preached at Niles Discovery Church, Fremont, California,
on Sunday, July 12, 2015, by the Rev. Jeffrey Spencer.
Scriptures: Mark 6:14-29 and 2 Samuel 6:12b-19
Copyright © 2015 by Jeffrey S. Spencer
Dance like nobody's watching. I've heard the advice. Multiple times. And when I take the advice I feel like this:
Or I don't take the advice because I feel like this: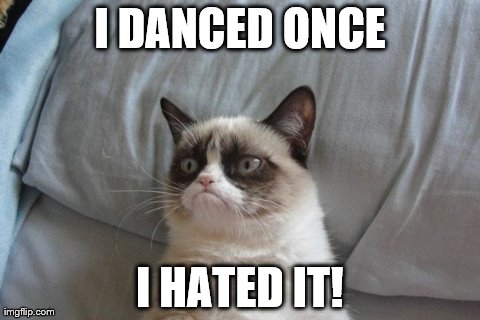 The advice is meant to be reassuring. Dance like nobody's watching – go ahead! But implied in the advice is the warning: they are watching. Unless they're busy looking at the phones.
But this sermon isn't about my two left feet. It's not even about dancing, really, even though dances play a key role in both of our readings.
The words "David danced before the Lord" evoke the young king's enthusiastic response to the holy charge to bring the ark of Yahweh home to Jerusalem. Every step along the way, King David dances his heart out. And every six steps, he offers a sacrifice. His enthusiasm must have been contagious – except, apparently for Michal, former-King Saul's daughter and one of David's wives. When she looked out of the window and saw the king leaping and dancing before God, the text says, "she despised him in her heart." The text doesn't tell us why Michal despised David, but it's clear: our dancer, David, is the hero of this story and Michel – not so much. [1]
The gospel brings us to an encounter with another dancer, another king, and a fiery prophet who made life very uncomfortable for those who didn't follow the law, even if they were kings. And that is the focus of today's sermon.
In addition to baptizing people down at the River Jordan, John had made public declarations about the political powers. He had denounced King Herod for marrying his brother's wife, Herodias. Apparently John's denunciations angered Herodias more than they angered Herod. Herod had John imprisoned, but imprisoning him did not satisfy Herodias. So, when her daughter danced for the king on his birthday and he promised her whatever she wanted as a reward, Herodias coached her to ask for John's head. That would get rid of this troublesome prophet.
Herod, it seems, did not want to have John put to death. But then he backed himself into a corner. So enthralled by his daughter's dance, he promised her anything. And he made the promise in front of the political and social elite. Saving face became more important for Herod than anything else, so he had John put to death.
Apparently, Herod was troubled by this decision. "Even though John [had] said of Jesus, 'He must increase and I must decrease,' the effect of this powerful desert figure remained with the people. Many thought the young rabbi Jesus was a reincarnation of John the Baptist. Even Herod, in guilty terror, thought so. He must have felt [this] dance had cost him too much."[2]
There's an object lesson here. When our egos are more important than our morals, we make bad decisions. When we busy ourselves with saving face, people can lose their heads – maybe not literally, but figuratively. I know how easy it is to get caught up by ego. I've got some ego stuff going on. After all, I picked a profession where I get to stand in front of people every week and they listen to me. If I get too concerned with protecting my ego, I'm going to start making choices that aren't for the good of the church.  I suspect that each of us can think of how concern with how we appear, concerns about ego and saving face, can lead us astray.
This is, I think, a major cause of the police violence that is suddenly being exposed thanks to cellphone cameras is face. Or as Carman on Southpark would put it, people don't "Respect my authoritah!"  And some officers are having a hard time with that. They feel like they're losing face, and so they lash out violently.
Now, that's where I thought I'd be going with today's sermon back in June when I was doing my initial worship planning for July. I thought I'd be preaching to this idea that when we focus on saving face we typically end up making bad choices. But then I started reading commentaries and additional ideas that I think are important to share surfaced.
The first comes from an essay by Michaela Bruzzese. She brings us an aspect of this story that I had glossed over. She points to the role that women play in this narrative and how their actions are similar to that of other biblical scapegoats. Bruzzese points out that "though the women in this story play the most critical roles in the narrative, they are not important enough to be named. Herodias' name is simply a derivative of her husband's, and her daughter is not named at all. Second, in one of the most erotic episodes in the entire New Testament, female sexuality is present as a dangerous undercurrent. Though John had reprimanded Herod for marrying his brother's wife, it is Herodias who was enraged 'and wanted to kill him' (Mark 6:19). Her daughter's sexuality also has dangerous consequences: Herod is … driven out of his mind by her erotic dance and makes outlandish promises to her. The women, portrayed as taking advantage of Herod's weak state, 'force' him to kill the Baptist. In this way, Herodias and her daughter play roles similar to that of Eve; they are the 'temptresses' who lead men astray. Like Pilate [at Jesus' execution], Herod emerges as a reluctant executioner and the women become the scapegoats for John's murder."[1]
I had totally missed the misogyny in the telling of this story prior to reading Bruzzese's essay. I had missed the powerful archetypes present in the story "that, intentionally or not, have had critical implications for the Christian community's perception and treatment of women throughout history."[2]
It's important that we read scripture with a critical eye. When we fail to do so and simply accept our past interpretations as the final word a scripture might have to say to us, we may be allowing harmful stereotypes to be perpetuated. Sometimes it's the covert messages, the implied messages that are the most dangerous. Unearthing them and naming them can help take away their power. That's important work to do, even if it mean admitting that past interpretations were wrong or incomplete. It's worth losing a little face for the sake of justice.
Another author I read who shook things up a bit for me is David Lose. He invited me to read Mark's story a little more closely, and in doing so, several things stand out: This is one of the longest sustained narrative scenes in Mark's Gospel, "Jesus does not appear in it at all, it seems to interrupt the flow of the rest of the story, and it's told in flashback, the only time that Mark employs such a device. Because of these features, the scene is not only as suspenseful and ultimately grisly as anything on television, but it is unlike anything else in Mark's account and seems almost out of place, …"[3]
In fact, over the years, scholars and students have questioned why Mark reports this story at all. "Later evangelists must have asked the same question, as Matthew shortens it markedly and Luke omits it altogether. The majority opinion is that it serves two key purposes in Mark: it foreshadows Jesus' own grisly death and it serves as an interlude between Jesus' sending of the disciples and their return some unknown number of days or weeks later."[4]
Maybe. But for me, the story does something else. It draws a contrast between the two kinds of kingdoms available to Jesus disciples, both then and now. "Consider: Mark, tells this story as a flashback, out of its narrative sequence, which means he could have put this scene anywhere. But he puts it here, not simply between the sending and receiving of the disciples but, more specifically, just after Jesus has commissioned his disciples to take up the work of the kingdom of God and when he then joins them in making that kingdom three-dimensional, tangible, and in these ways seriously imaginable.
"Herod's Kingdom – the kingdom of the world … – is dominated by the will to power, the will to gain influence over others. This is the world where competition, fear, and envy are the coins of the realm, the world of not just late night dramas and reality television but also the evening news, where we have paraded before us the triumphs and tragedies of the day as if they are simply givens, as if there is no other way of being in the world and relating to each other.
"Which is why Mark places the story here.  Just previous to this scene Jesus sends his disciples out in utter vulnerability, dependent on the hospitality and grace of others, to bring healing and mercy with no expectation of reward or return.  And just after this scene comes a different kind of feast altogether.  Notice, in fact, that the return of the disciples only occasions about half a verse or so just after this scene. (Mark, after all, had already told us what they were up to in the scene just before this one.) Rather, what follows is instead a banquet of mercy, so markedly in contrast to the birthday bash Herod throws himself that its almost stunning. Rather than the rich and shameless, it's the poor and outcast that flock to Jesus' feeding of the thousands. Rather than political intrigue and power plays dominating the day, it's blessing and surprising abundance that characterize this meal.
"And that's the choice that Mark puts before us: which kingdom do we want to live in?"[5] Or, if you insist that we have to live in the kingdoms of this world, Mark puts this choice before us: to which kingdom will we give ultimate allegiance?
"Sounds easy when I put it that way. Jesus' kingdom, we've been trained to answer.  Ah, but not so fast. This is the world where vulnerability and sharing and mercy and justice and grace lead to abundant life, to be sure, but also where those very same qualities can get you killed, or least make you feel like you are vulnerable to being taken [advantage] of. And truth be told you might be. But the other truth to be told is that you can give yourself wholly and completely to the world of power and still never, ever quite feel secure. Why? Because once you've accepted that power – whether defined as wealth or possessions or influence or whatever – is the most important thing in life, than you are always vulnerable to those with more power. You are, mostly simply, at the center of a never-ending contest where there are no ultimate winners, only those who prevail for a time and until they are unseated by someone else."[6]
Competition can be fun. My nephew loves soccer and part of what he loves about it is the competition. And from all accounts I've heard, there was some pretty entertaining competition in the FIFA Women's World Cup final. (By the way, why is it that the Women's World Cup is called "the Women's World Cup" and the Men's World Cup is simply called "The World Cup"?) Competition can be fun to watch, even to engage in, "but it's not the way I want to live my life and certainly not the way I want to conduct my relationships. Which is where Jesus' kingdom, the kingdom of God, comes in. Because in [God's] kingdom there are no winners or losers, just the children of God, all beloved, all welcome, all deserving of love and respect based not on their merit or accomplishments but simply because God values each and every one of us.
"Look, the kingdom Jesus proclaims can seem odd, I know, or idealistic, particularly in light of recent current events. But it's those same stories of violence and prejudice that make me crave the kingdom of God all the more."[7]
How about you?
[1] Michaela Bruzzese, "Between the Lines," Sojourners, https://sojo.net/preaching-the-word/between-lines (accessed 6 July 2015).
[2] Ibid.
[3] David Lose, "Pentecost 7 B: A Tale of Two Kingdoms," …In the Meantime, http://www.davidlose.net/2015/07/pentecost-7-b-a-tale-of-two-kingdoms/ (posted 6 July 2015; accessed 7 July 2015).
[4] Ibid.
[5] Ibid.
[6] Ibid.
[7] Ibid.
[1] Verna J. Dozier, "Two Kings and Two Dancers," Sojourners, https://sojo.net/preaching-the-word/two-kings-and-two-dancers (accessed 6 July 2015).
[2] Ibid.