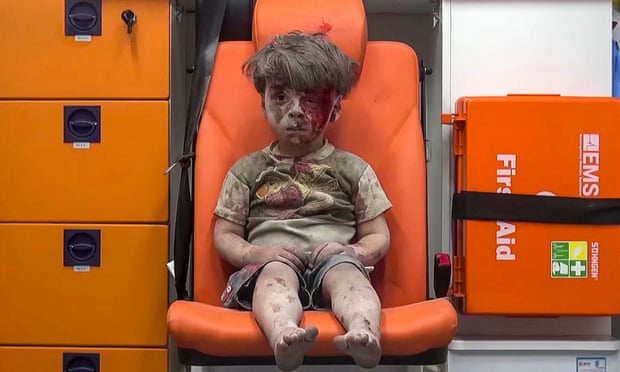 Alex is a 6-year-old child from Scarsdale, New York. When he saw this image, he wrote a letter to the one person he thought could make a difference, President Obama. Alex asked the President to find the Syrian boy (Alex assumed the boy, 5-year-old Omran Daqneesh, was an orphan after he was rescued from the rubble of his bombed out home) and to bring Omran to live with Alex's family. "We will give him a home, and he will be our brother," Alex wrote.
Alex also told the President that he has a friend at school from Syria named Omar, implying that he wouldn't have any problem befriending another Syrian, and he thought the two of them, Omran and Omar, could be friends. I like that Alex thought that he could be part of teaching Omran English, but more than that, I like that Alex knew that Omran would bring something to teach, too:  "another language."
The White House published the letter and the President read it at a U.N. Summit on Refugees. According to President Obama, "Those are the words of a six-year-old boy — a young child who has not learned to be cynical, or suspicious, or fearful of other people because of where they come from, how they look, or how they pray."
While Omran and his family were injured when their house was destroyed by the airstrike, perhaps miraculously, everyone in his immediate family survived.
You can read the letter from Alex here. You can read a news report about this story here.