You are currently browsing the category archive for the 'Education' category.
A sermon preached at Niles Discovery Church, Fremont, California,
on Sunday, February 4, 2018, by the Rev. Jeffrey Spencer.
Scriptures:  John 8:2-11 and Luke 24:1-11
Copyright © 2018 by Jeffrey S. Spencer
I have long considered the passage we heard from John 8 to be a pretty good argument against the death penalty.  The law says that the death penalty is the appropriate punishment for adultery.  Jesus stops the crowd from carrying out that penalty.  It seems pretty clear that Jesus is anti-death penalty.
At least in the case of adultery.
When only one of the party is brought to justice.
And that last statement is an important one for this sermon series.  The crowd is only seeking to punish the woman, as if the adultery is her fault.  She was caught in the act, they say.  That means the other party was there.  Why aren't they hauling the man away to be killed, too?  It's as if the guy gets a pass.
For generations, we've been letting men get away with sexual harassment and sexual assault.  We've been slut-shaming the women and giving the men a pass.  In my studying for this sermon series, I've learned some of the reasons why people sexually harass.
According to John Pryor, a psychologist at Illinois State University, there are three personality factors that increase the likelihood that a man will be a sexual harasser:  a lack of empathy, a belief in traditional gender roles, and a tendency toward authoritarianism.  In his research, Pryor found that when men with these personality traits are in an environment or system that suggests they can get away with it, they will do it.[1]
Add to this information the results of more recent studies showing that power makes people impulsive, less worried about social conventions, and less concerned about the effect of ones actions on others.  Other studies show that powerful people become more focused on themselves, are more likely to objectify others, and are more likely to overestimate how much others like them.  Sometimes powerful people will think that there are sexual signals coming from subordinates that simply aren't there.[2]
Why men are much more likely to sexually harass than women is not completely clear.  "It's not like women are somehow immune from dark personality traits," psychologist Louise Fitzgerald said, "but we know from gender research that men are more aggressive, more socialized to seek sex and believe they have a right to it."[3]
I do not think this greater aggression is simply biological.  It is not, as Andrew Sullivan proposed in a column for New York magazine,[4] simply a matter of testosterone.  There is something about the ways we raise boys that makes the men they grow into more aggressive than women, particularly more sexually aggressive.  One of the dangerous ways we do this is by doing what happened in the story from John's gospel.  We give the men a pass.
Consider these three things we tell boys and girls that gives boys a pass.
Boys will be boys.
He does that because he likes you.
It's just locker room talk.
Perhaps a little more strongly than the other two phrases (though I think all three do this), saying, "Boys will be boys," teaches that there is only one way to be a boy, and that way is to be violent, rough, and tumble.  It implies that boys are biologically wired to be violent and that they should be excused from the consequences of that behavior.  It turns out, according to neuroscientist Lise Eliot, that there is very little difference between the brains of girls and boys.[5]  When our culture buys into the idea that maleness is to be equated with violence, we excuse behaviors that hurt others physically or emotionally.
The junior high boy snaps the bra strap of the junior high girl in the hallway.  When the girl informs a teacher, the teacher says the boy did it because "he likes you and doesn't know another way to tell you."  It gets said again and again.  I am guilty of saying it – not at the junior high level, but with elementary kids.  When we say it, we are reinforcing that idea that boys are incapable of expressing themselves through any means other than violence.
"When we dismiss boys' aggression as evidence of affection,… we sell all children short.  To girls, the message is, 'That violent act to which you did not consent means that he feels love for you.'  And the message to boys is, 'When you feel an emotion, you should express it through violence.'"[6]
Consider what those messages do.  They imply "that it's strange for boys to have feelings of love that are disconnected from feelings of violence [or power over another].…  When we tell our boys it's normal to show that they like someone by hurting them, we don't just excuse toxic masculinity – we encourage it.  We are effectively not teaching our children what safe and consensual relationships look like at the moments when they are just starting to come of age sexually."[7]
Likewise, we give boys and men a pass when we excuse their stories of sexual assault as "locker room talk."  We're essentially saying "boys will be boys," but in an advanced way.  We are saying not only that it is okay, but that it is appropriate, that it is expected for boys and men to perform their masculinity and their sexuality in aggressive ways.  And that is toxic for all of us.
About three weeks ago, a pseudonymous woman's account of a difficult encounter with comedian Aziz Ansari was published online.[8]  They met, exchanged phone numbers, exchanged text messages, and then went out on a date.  The date ended in Ansari's apartment and became very sexual very quickly – from kissing to undressing to Ansari saying he was going to go grab a condom, all in a matter minutes.  "Grace [the woman's pseudonym] voiced her hesitation explicitly.  'I said something like, "Whoa, let's relax for a sec, let's chill."'  She says he then resumed kissing her, briefly performed oral sex on her, and asked her to do the same thing to him.  She did, but not for long."[9]  The date ended, and she left – very upset.  For her, this was a #MeToo moment.
There was a lot of push back about this article – a lot.  The woman was not an employee of Ansari, so there were no workplace dynamics in the situation.  "Her repeated objections and pleas that they 'slow down' were all well and good, but they did not square with the fact that she eventually gave Ansari oral sex.  Finally, crucially, she was free to leave.  "Why didn't she just get out of there as soon as she felt uncomfortable? many people explicitly or implicitly asked."[10]
This question is, I think, the other side of the enculturation issue I just scratched the surface of about male sexual aggression.  And I'll tell you, I don't know all the possible reasons.  But I found a very informative article online that opened my eyes, titled "The female price of male pleasure."  I hope you will read it; click here.
It's thesis is this:  "Women are enculturated to be uncomfortable most of the time.  And to ignore their discomfort."[11]  Loofbourow, the author of the article, starts with this little factoid:  According to a study published on the National Institutes of Health website, 30 percent of women report pain during vaginal sex, 72 percent report pain during anal sex, and "large proportions" don't tell their partners when sex hurts.[12]  She goes on to explore how and why women and men have entirely different understandings of what makes sexual intercourse "bad sex."
She notes that there are five times as many clinical trials studying men's sexual pleasure as there are studies into the severe physical pain some women experience during sex.  Why?  "Because," she concludes, "we live in a culture that sees female pain as normal and male pleasure as a right."
She writes about women who continue having sexual intercourse even though it is painful.  She writes about women being taught to expect the first time they have sexual intercourse to be painful – and if the first time, why not the second time?  And then there's the discomfort the fashion industry pushes on women, largely for the sexual gratification of men.
One of the reasons women don't just leave when a social encounter turns uncomfortable sexually is that they are taught that uncomfortable is the norm.  This is probably also a reason that some women don't realize that the uncomfortable situation they just had – in the workplace or at school or at church or at the sports club – was sexual harassment.  And even if they do recognize it as such, it may be a reason they don't bother reporting it.
There are two other reasons I can think of that people (of all genders) don't report sexual harassment and sexual assaults.  The first is that they don't think they're going to be believed.  It's what happened to the women in the story we heard from Luke's gospel, and they weren't even reporting an assault.  The women go to the tomb where Jesus' body was laid after the crucifixion to give it a proper preparation.  But when they get there, the body is gone and they have an angelic visitation.  When they report what happened to the men who were followers of Jesus, they are not believed.  The men don't believe them.
The other reason I can think of that people don't report sexual harassment and sexual violence is that they worry that their reporting will be met with more violence.  You may remember the recent special election for Alabama's vacant Senate seat.  One of the candidates, Roy Moore, was accused of sexual misconduct in the weeks leading up to the election.  This is what happened to home of Tina Moore, one of the accusers.[13]
The fire is being investigated as an arson.  The fear that reporting will be met with more violence is reasonable.
Which brings me to the last thing I want to touch on in this sermon:  What do we do about all this?  I'll go into this in much more detail next week.  This week, I want to say there are at least three basic things we can do when we see harassment, or even assault, taking place:
We can disrupt the situation. This needs to be done in a way that is as safe as possible.  You may want some support from another when you do this.  I'll offer some examples of how this can be done next week.
We can confront the harasser. This doesn't have to be done in the moment and it isn't appropriate in all situations.  But when it's appropriate there are ways to do this.  More next week.
And we can ask the target of the harassment how we can help. This might seem obvious, but researchers say it's crucial to check in the with target of harassment and offer to help – like offering to go with them to Human Resources if the harassment takes place at work.
The other thing that's important to do when someone discloses harassment or abuse.  Believe them.  Telling someone, "I believe you," can give them the support they need to get the help they need to get the healing they deserve.  We can do a better job than the male disciples did on Easter morning.
Amen.
_______________
[1] William Wan, "What makes some men sexual harassers? …" The Washington Post, https://www.washingtonpost.com/news/speaking-of-science/wp/2017/12/20/what-makes-some-men-sexual-harassers-science-tries-to-explain-the-harvey-weinsteins-of-the-world/ (posted 22 December 2017; accessed 29 January 2018).
[2] Ibid.
[3] Quoted in ibid.
[4] http://nymag.com/daily/intelligencer/2018/01/sullivan-metoo-must-choose-between-reality-and-ideology.html
[5] Colleen Clemens, "Say No to 'Boys Will Be Boys,'" Teaching Tolerance, https://www.tolerance.org/magazine/say-no-to-boys-will-be-boys (posted 17 December 2017; accessed 29 January 2018).
[6] Ibid.
[7] Ibid.
[8] Katie Way, "I went on a date with Aziz Ansari. It turned into the worst night of my life," babe.net, https://babe.net/2018/01/13/aziz-ansari-28355 (posted 14 January 2018 [as best I can tell]; accessed 3 February 2018).
[9] Ibid.
[10] Lili Loofbourow, "The female price of male pleasure," The Week, http://theweek.com/articles/749978/female-price-male-pleasure (posted 25 January 2018; accessed 29 January 2018).
[11] Ibid.
[12] https://www.ncbi.nlm.nih.gov/pubmed/25648245
[13] M.L. Nestel, "Over $150,000 raised after Roy Moore accuser's home burns down in suspicious fire," ABC News, http://abcnews.go.com/US/100000-raised-roy-moore-accusers-home-burns-suspicious/story?id=52192189 (posted 7 January 2018; accessed 3 January 2018).
A sermon preached at Niles Discovery Church, Fremont, California,
on Sunday, August 20, 2017, by the Rev. Jeffrey Spencer.
On this Sunday, we celebrated Pastor Jeff's 30th anniversary of ordained ministry.
Scriptures:  Psalm 46 and Luke 15:11-32
Copyright © 2017 by Jeffrey S. Spencer
"A Mighty Fortress Is Our God" is a hymn written by Martin Luther about 500 years ago.  He wrote the lyrics in German, of course, so we sang a translation.  The original music was probably a pop song in his day, a tune he might have picked up in a tavern being sung by the crowds, a tune he repurposed for his hymn.  The original tune swung a bit more and wasn't so squared off to sound so pomp and circumstance-y.  Still, it's a good hymn, one that I've liked since I was a teenager, one that was in the running for my ordination service thirty years ago.
It's based on, rather freely, on Psalm 46.  I don't know my Luther well enough to know why he liked this Psalm and decided to write a hymn based on it.  I do know why I like this Psalm.
Just this week, I read two different ways of analyzing the Psalm based on its form.  I won't take you down the road of the first of these, though this is the kind of stuff theology nerds like me geek out on.  This analysis points to two points (and yes, I enjoyed writing that sentence).  The first point is the song's refrain, that God is our refuge – the song starts with and concludes with this, and it is an anchor point in middle of the song.  The second point, the central points of the song's two sections (as this particular analysis divides the song):  God is in the midst of the city; it will not be moved; and  be still and know that I am God.  I would summarize these two points as, "God is God and you're not."
The second form analysis of the Psalm sees three stanzas, each three verses long.  The first stanza "juxtaposes the steady and secure image of God as "refuge" with the image of the earth and seas in uproar."[1]  Rolf Jacobson says, "The image of 'earth' shaking and 'sea' roaring is an image of creation itself in rebellion against God's creative order.  This image is a reminder that the fallen condition of creation goes beyond mere human disobedience.  The fallen condition encompasses all of creation, all of nature.  Thus, the 'law' that the psalm names is the reality that creation itself is broken and in rebellion against the Creator."[2]
I disagree with his assessment that creation is in a "fallen condition."  Yes, earthquakes and floods and tsunamis happen.  Yes, disease and disability strike not just humans, but other species as well.  Yes, we are all going to die.  But I don't see these as signs of any "fallen condition" of creation.  Rather, I see them as part of the ongoing creative energy of the universe.  This stanza's point is that because God is a present help in trouble, even natural disaster, we do not need to be engulfed with existential angst.
Stanza two moves from nature being in an uproar to the nations being in an uproar.  I'm not reading the political into the Psalm.  The Psalm itself gets political.  I don't know what the political threat to Israel was when this Psalm was written – Egypt, Assyria, Babylon, Persia, Greece, Rome – and it doesn't really matter now.  What's important now is the witness of the Psalm – that when the nations are in an uproar, when kingdoms totter, God is still God.  And the sun will come up tomorrow.  The Lord of hosts is with us; the God of Jacob is our refuge.
Stanza three points to the power and purpose of God – and our response.  God is working out the kin-dom in our midst.  God is making wars to cease, breaking the bow and shattering the spear.  And our response – to be still.  Be still and know that God is God (and that you and I and principalities and powers of our age are not God).  The Lord of hosts is with us; the God of Jacob is our refuge.
I've preached before about how I think we are in the midst of a great church rummage sale (and, no, I'm not talking about the flea market happening next weekend).  Though she points to the Anglican Bishop Mark Dyer for the genesis of the idea, Phyllis Tickle articulated the theory most clearly for me – "that about every 500 years the church feels compelled to hold a giant rummage sale."[3]  There really wasn't a church for the first rummage sale, 2,000 years ago.  Tickle called it "The Great Transformation" and it took place when a man was recognized by his disciples as "Emmanuel, God With Us."  Five hundred years later, the Roman Empire collapsed and the church entered an era of preservation with the advent of the monastic tradition in abbeys, convents, and priories.  Five hundred years later, the church split in "The Great Schism," creating the Eastern Orthodox and the Roman Catholic Churches.  Five hundred years after that, "The Great Reformation" shook up the church once again.  And five hundred years after that … is today.
Tickle said that in each of these times, the church was wrestling with one key question:  What is authoritative?  And in each of these great rummage sales, a new authority emerges.  Obviously, for The Great Transformation, Jesus was the new authority.  I couldn't find my copy of her book The Great Emergence this week, and I don't remember what the new authority was that emerged from the second rummage sale, but I'm pretty sure it had something to do with monasticism.  At the Great Schism, the new authority was the bishop of Rome, or the Pope, as he's typically known.  At the Great Reformation, the new authority was scripture.
Tickle thought that the Spirit is likely going to be the new authority in whatever this new church that's emerging will turn out to be.  I wonder if it might be Nature.  Or some combination of Spirit and Nature.
In any event, I had no idea that I would be pastoring in the midst of a rummage sale when I answered the call to become an ordained minister.  When God's call got through (I realize in retrospect that God had been calling my whole life, but there was too much static on the line) in 1982, we were just beginning to experience the end of Christendom.  I had no idea it was happening.  I grew up in a time when the default assumption in American society was "Christian."  In fact, the default assumption was "Mainline Protestant."  Yes, there were Catholics and Jews around, but the default assumption was Mainline Protestant.  All the members of the Supreme Court were either Mainline Protestants or Jews.  All the Presidents except for Kennedy were Protestants, and almost all of them Mainline Protestants.  School vacation schedules considered the church calendar as they were being designed.
And all that has disappeared during my time in ordained ministry.  This shift, along with the explosive growth of computer technology and post-modernity taking root, have contributed energy to the great church rummage sale we're experiencing now.  And one of the reasons I'm really glad to be fulfilling my call to ordained ministry here at Niles Discovery Church is that you are a church that is willing to try new things.
If you look at each of the great rummage sales the church has had in the past 2,000 years, while something new always emerged from it, whatever used to be also remained – though smaller, often healthier because new things made the old thing into some self-examination.  I don't know if Niles Discovery Church will emerge as part of whatever the new things is or if we will be part of the stronger, smaller, faithful continuation of Progressive Christianity.  But I do know that we will be faithful as we seek to fulfill our call as part of the body of Christ.
"30 Years and Counting," I titled this sermon.  Perhaps a bit self-indulgent, but it you'd permit a bit of self-indulgence.  This is the fifth ministry setting I've had in those thirty years.  The first three were completed in under ten years.  Short ministries or long, I always learned things in each setting.
Working as a chaplain at the juvenile hall, I learned about the urgency of now and the difference I could make in a moment.  I also learned that I have to be willing to let go of long-term results.  I could plant seeds, but I would never know if they would produce fruit.  I typically didn't even know if they would take root.  So I learned to be faithful to my calling and to leave the results to God.
At the church in Spokane where I served as Associate Pastor and then Interim Pastor, I learned how important congregational buy-in is on projects.  The bigger the project, the more important getting this buy-in is.  And that typically means slowing down so people can catch up to the leaders.
I learned about the importance of integrity when I served the church in Richland, Washington, as an Interim Pastor.
And at the church in Carnation, Washington, where I served as pastor for a decade, I learned that my leadership doesn't matter if I'm leading in a direction the church doesn't want to go.  I also learned how important it is for the members of a church to nurture their friendships and to create a safe space for each other.
And here in Fremont, where I've served for a dozen years (at Niles Congregational Church and at Niles Discovery Church, as the first merged into the second), I've learned how important it is for a church and a pastor to be willing to risk in order to stay faithful.  That's where I think we're going in the years ahead.  I think we're going to keep stepping into risky ministries in order to stay faithful.
I picked the Parable of the Good Samaritan to be read at my ordination because it answers a profound question.  What must we do to live in the kin-dom of God?  Love God with our whole being and our neighbors as ourselves.  It really is that simple.  And it really is that risky.
Loving that radically will mean crossing boundaries – like the Samaritan crossed when he saved a Jew.  Loving that radically will mean inviting people we don't know (like an innkeeper, say) to help us heal the brokenness in the world.  Loving that radically will mean handing over what we have to others so that all might experience wholeness and justice.
bell hooks once said, "The moment we choose to love we begin to move against domination, against oppression.  The moment we choose to love we begin to move towards freedom, to act in ways that liberate ourselves and others."[4]
I think that is why Jesus calls us to love, to take the risks of love.  For loving builds the kin-dom of God.  And here's a bit of good news.  We can take those risks – though the mountains should shake in the heart of the sea, though the nations are in an uproar – we can take the risks to love.  For the Lord of hosts is with us.  God is in the midst of the city.
Amen.
[1] Rolf Jacobson, "Commentary on Psalm 46," Working Preacher, https://www.workingpreacher.org/preaching.aspx?commentary_id=1110 (accesses 19 August 2017).
[2] Ibid.
[3] Phyllis Tickle, "The Great Emergence," Sojourners, https://sojo.net/magazine/august-2008/great-emergence (posted August 2008; accessed 19 August 2017).
[4] bell hooks, quoted by Diana Butler Bass on her Facebook page, https://www.facebook.com/Diana.Butler.Bass/posts/10155129096928500 (posted and accessed 26 July 2017).
A sermon preached at Niles Discovery Church, Fremont, California,
on Sunday, March 26, 2017, by the Rev. Jeffrey Spencer.
Scriptures:  Mark 5:1-20 and "Kids Who Die," by Langston Hughes
Copyright © 2017 by Jeffrey S. Spencer
Today's gospel lesson is a wonderful, dramatic story.  Jesus has been teaching by the Sea of Galilee.  That night, he and his disciples get in a boat to cross the sea.  While Jesus sleeps, a storm kicks up, severely scaring the disciples.  They wake Jesus and he stills the storm.
They get to the other side of the sea, in the country of the Gerasenes, an area where Gentiles live.  They step out of the boat and are met by a madman who has made his home in the cemetery.  I've always pictured Jesus coming ashore and wandering directly into the cemetery, though that's not exactly what the scripture says.  I've also pictured the man as naked and unbathed, with matted hair and beard.  The story doesn't say that either, though later, when he's been saved by Jesus, there is a line about him being clothed.
There is no question but that the man is tormented.  He has lost his own voice to what torments him; all he does is howl.  When words come out of this mouth, that the words of the demons that we hear.  He injures himself because he is in so much pain.  The demons that torment him have stripped away his humanity – completely.  Only the demons speak, and when they do, they recognize who Jesus is and the threat Jesus poses.
The story is rich with symbolism.  In the Hebrew scriptures, the sea represents chaos.  In the story right before this one, Jesus show he is master over chaos when he calms the chaotic, life-threatening storm on the sea.  The man who meets them when they come ashore is the personification of chaos.  They come ashore in the land of the unclean (the Gentiles), in an area that is unclean (a cemetery), and are confronted by someone who is unclean (the man who is possessed).
If there is any person who is less than fully human, it's this guy.  If there is anyone who is less worthy, of less value, it's this guy.  This man is "other" on so many levels.  And Jesus sees right through this "otherness," seeing the man's true humanity.
When I picked this lesson for this sermon, I thought about the "otherness" of the man possessed.  I thought about how racism "others" people of color.  Racism says that whiteness is normal and people who aren't white are abnormal, not fully human, less than, other.  I looked at how Jesus saw through that "otherness" and heard a call to go and do likewise.
But as I reflected on this scripture this past week, I came to see society in the man possessed.  Society is possessed by the demon of racism.  And racism has a legion of faces.
"My son was about 2 years old," writes Kelly Brown Douglas.  "I had taken him to the park to play in a Flintstones-like car that was in the park's playground.  This particular park was next door to an elementary school.  After being in the park for about 15 minutes, what appeared to be a class of first graders recessed into the park.  Two little boys, one blonde-haired the other redheaded, ran down to the car where my son was playing.  Seeing them coming, my son immediately jumped out.  Soon the two little boys began fighting over who was going to play in the car.  My son looked on with the fascination of a 2-year-old.  The little redheaded boy, who seemed to be winning the battle for the car, saw my son looking.  He suddenly stopped fighting for the car and turned toward my son.  With all the venom that a 7- or 8-year-old boy could muster, he pointed his finger at my son and said, 'You better stop looking at us, before I put you in jail where you belong.'  This little white boy was angry.  A black boy had intruded upon his space.  My son was guilty of being black, in the park, and looking.
"I was horrified.  Before I could say anything to the offending boy the white teacher, who was in earshot, approached.  She clearly heard what the little boy said to my son.  I expected her to have a conversation with the little boy and to make him apologize.  Instead, she looked at my 2-year-old son as if he were the perpetrator of some crime, and said to the little boys, 'Come on with me, before there is trouble.'  At that moment, I was seething with anger.  I took my son and left the park.
"As we walked away, I felt an unspeakable sadness and pain.  At 2 years old, my son was already viewed as a criminal.  At 7 or 8 years old the link between a black boy's body and a criminal had already been forged in the mind of a little white boy.  If at 2 years old, a white teacher already regarded my son as a troublemaker, I feared what the future might bring."[1]
That is one of the legion of faces of racism today; there are many others.  I asked a group of friends who live in the Tri-Cities[2] to share with me their experiences with racism.  I tried to get a cross-section of ages and ethnic backgrounds, and I was blessed with several responses, especially given how quick a response I had asked for in my request.  Here's just a sample.
One friend is a Muslim woman.  She and her husband are immigrants from Pakistan.  They have three children.  She told me that their eldest has pale skin and, when little, was often mistaken for a Caucasian.  His experience was quite different from that of his little brother.  The younger brother tans easily and has a mole on his forehead.  From early elementary school, he was teased.  In Middle School, he was called names like "Zit Face," "terrorist," "Gandhi dot," and "sand monkey" – to mention just a few of the names that his mother is aware of.
A European-American shared some incidents she witnessed or learned about in her neighborhood.  In Union City, after an off-campus shooting, the Union City police pulled together suspected gang members and their friends, all of whom were African American, for questioning.  She wonders what role racism played in that roundup.
Her neighbor reported his car tagged with a gang symbol.  Some of the responding police suggested the perpetrators were wannabe gang members and called them "grease monkeys" and "welfare cases."
Another friend, a middle-aged woman from south Asia, immigrated in 1978 and became a citizen in 1986.  She shared how for the first twenty-plus years she lived in the United States, she volunteered in her children's schools, in Girl Scouts, in camps, in sports programs, and on the boards of several non-profit organizations.  Then came the attacks on September 11, 2001.  "It is painful to be labeled as terrorist," she told me, "because of the 9/11 tragedy, [especially] after being a part of the American fabric for over 20 years and serving and trying to make America a better nation for all.  Our loyalties are questioned every day since that tragedy by asking us to condemn those or any other terrorists acts since then, no matter who is responsible and where it happens."
This is a woman with a deeply compassionate heart, and she told me about another incident that happened to a young Latina who worked in Starbucks.  One day, my friend saw that the barista was upset and asked her what had happened.  Earlier that day, a customer had asked the barista a question about school.  The barista proudly told the customer that she had just graduated from high school.  The customer responded, "So this is it for you because your kind do not go to college, you will get pregnant and have babies."  The barista was too stunned to respond, even though she could have said that she had a full scholarship to attend a university that fall.
These stories I've shared are about just one form of power that Racism takes.  You know the old expression, "It's only the tip of the iceberg."  It refers to the fact that the vast majority of an iceberg is underwater.  It applies here.  These overt acts of racism are the portion of the iceberg we can easily see.  Below the surface there are other powers at work.
The first power we see is "Power Against" or "Power Over."  This is the power I've talked about so far, the power that works against people of color.  When racism wields this power, it tells the shop clerk to follow that African-American kids through the store because she is suspect, that it's okay for a cop to label a Latino kid a "grease monkey," and that the future for a 2-year-old black boy is jail.
The second power of racism is often harder to see.  It is the "Power For" people who are white.  This is the power that allows me to assume I will be treated justly in the court system, or to assume that I will get a job interview based solely on the fact that my name "sounds" white.  This is the power that gets me a bank loan when an equally qualified person of color doesn't get it.  It is the power that allows me to assume that I will be shown the apartment if it's available, as assumption people of color cannot always make.
One of the people who I asked to share stories of racism told me one about a time her daughter got caught shoplifting.  The mom threatened to "let them" have her arrested, and that this would ruin her chances to get into college, and there would be all kinds of consequences for her stupid actions, and (as the mom put it) "blah, blah, blah."  The mom talked about grounding, severe consequences at home that hadn't yet been imagined.  She said to the child that you need to apologize, assure the store person that you will never do anything like this again.  This went on until the store person said to the mom, "Obviously, you will make sure this doesn't happen again.  Your child's name will be kept on our records and isn't allowed back in here."  No police report filed.  No jail time.  No criminal record.  The daughter got to go home, got go to college.  The mom points out that she and her daughter are white.
This is racism's Power For white people at work.
So is the fact that the GI Bill made home loans available to white GIs after World War II, but not to black GIs.[3]
One of my friends pointed out that white people general don't acknowledge that their families have benefited from access to college educations, home loans, inherited wealth, job preferences, networking, safe travel, white-biased testing, financial and social training, etc.  All this is racism's Power For white people.
And then there's the third power of racism, the Power that Distorts the truth:  that we are each and all made in the image of God.  This is the power of racism that gets deeply and perhaps I should say demonically internalized.  Any time I feel better than, more than, scared of someone of darker hue, this is the result of this third power of racism distorting the truth in me.
A white friend shared with me about dating an African-American man.  My friend said, "Watching women clutch their purses or actually cross the street when they walked by my beautiful and gentle boyfriend was shocking to me.  Overhearing a family ask to move their seats away from our vicinity in a Black Angus restaurant was an eye-opener."  This is racism's Power that Distorts at work.  Racism distorted these strangers' views of my friend's boyfriend.
It is the same Power of racism at work in a friend who is of several races.  He shared with me how through his adolescence he tried so hard to be white.  He said, "I desperately wanted to be accepted by the White community.  I wanted to be as white as possible, forsaking the color of my skin, my heritage, and my culture," this despite the fact that his white friends often bullied him, calling him "half-breed."  Racism distorted my friend's sense of his own full humanity and it has taken a lot of personal work to reclaim it.
Being aware of these Powers racism has is a start, but it is not enough.  Some of the work that we need to do is very personal, and I'll talk about that next week.  The other work is communal work.  Obviously, standing up to overt acts of racial prejudice is one way we can address racism's Power Against.  Working on policy change so that racism's Power Against and Power For are rooted out is another activity we can engage in.  For instance, we could work for criminal justice reform and an end to mass incarceration.  And we as a congregation could develop partnerships with faith communities whose members are predominantly people of color.
The past sermons in this series have shown just how deeply racism runs in our culture and country.  We are not going to get rid of it easily.  But the more we are aware of racism's powers, the more likely we will find ways to cast out this demonic legion that possesses us.
Amen.
[1] Kelly Brown Douglas, "The Stories That Matter from a Black Mother to Her Son," Sojourners, https://sojo.net/articles/faith-action/stories-matter-black-mother-her-son (posted and accessed 20 March 2017).
[2] Fremont, Newark, and Union City are called the "Tri-Cities" here in the San Francisco Bay Area.
[3] See, for instance, http://americanexperience.si.edu/wp-content/uploads/2015/02/After-the-War-Blacks-and-the-GI-Bill.pdf and http://www.demos.org/blog/11/11/13/how-gi-bill-left-out-african-americans.
I've had a blog post churning inside me since people took to the sidewalks and street of Berkeley to shut down a scheduled speech by Milo Yiannopoulos at the University of California.
I wondered (before the protests) if the best response would have been to ignore him. If he came to a lecture hall and there was no audience, no newspaper reporter, no TV cameras, that would be the cruelest cut of all. But, a student group invited him so he was going to have some audience. And the things he typically says at these kinds of events are hate-filled (and sexist and Islamophobic and racist [and probably homophobic]) and allowing that kind of speech to go unchallenged can be dangerous, for that kind of speech insights violence. So something had to be done.
The students who wanted the event cancelled were not attempting to violate his freedom of speech. He would still have the right to speak, just as you and I have the right to speak. But you're right to speak does not give you the right so say hateful, hurtful things on my Facebook timeline or in my living room or on my campus home. Go speak somewhere else, Milo, just not here.
So the students who didn't want his hate-filled words spoken on their campus organized to stop them. I am proud of their purpose and I am proud of their success. I am sorry their protests ended up including property damage. I don't think it needed to in order to be successful and, in fact I think it hurt the long-term effectiveness of the progressive agenda of equality and inclusion (the very things Milo opposes).
A colleague and friend points out that the black bloc tacticians are not the only ones we need to be condemning. I have heard nothing about the role of the campus college Republicans in all this. She says, "That seems really important to me," and I agree with her. She goes on, "They invited someone they know incites violence towards women and people of color …" Are them culpable for what happened, too?
There needs to be engagement between the left and the right. We need to talk to one another and truly listen. But we can't have these conversations as if real people aren't being hurt. They are. Let's talk about real people, not just you and me.
There also needs to be better training in nonviolence. And that training has to include how to respond to black bloc infiltrators (and other agents/provocateurs). I spoke with a former State Department employee a few weeks ago, someone who is now an academic expert on Russia. She warned that the danger is not only from anarchists who utilize black bloc tactics. She warned that the extreme right may take a page out of Russia's playbook on the Crimea. Russia paid a woman and helped her move from one city to another to get interviewed on local TV, appearing to be a local little old lady, to say how horrible things were and how Russia was needed. The academic suggested that white nationalists could end up paying some people wearing Democratic Party-identifiable t-shirt to beat someone up (say someone who is African-American) and either hope that someone catches it on their cell phone or pay someone else to catch it on their cell phone and give it to local media (I'm so glad I was there to catch this) in an effort to discredit the Democratic Party.
Another friend described one such strategy to deal with people who would wield property damage as a tactic in what would otherwise be a peaceful protest. "… tell everyone to rapidly grab their neighbor protesters and put themselves physically between the black bloc idiots and whatever they want to destroy. Other protesters recruit help for you, fast, and message the protest leaders so they can respond. Once you have 3-5x more people than the local concentration of black bloc, you perform a 'show of force' — almost but not quite encircling the troublemakers, leaving only 1 exit. That is the direction you want them to go. And weirdly, it almost always works."
Working for justice is a moral duty. We need to learn how to do it effectively.
On November 15, Timothy Snyder (Housum Professor of History at Yale University) posted the following on Facebook. I repost it here because I think it is good advice for lovers of democracy in this and every age.
Americans are no wiser than the Europeans who saw democracy yield to fascism, Nazism, or communism. Our one advantage is that we might learn from their experience. Now is a good time to do so. Here are twenty lessons from the twentieth century, adapted to the circumstances of today.

1. Do not obey in advance. Much of the power of authoritarianism is freely given. In times like these, individuals think ahead about what a more repressive government will want, and then start to do it without being asked. You've already done this, haven't you? Stop. Anticipatory obedience teaches authorities what is possible and accelerates unfreedom.

2. Defend an institution. Follow the courts or the media, or a court or a newspaper. Do not speak of "our institutions" unless you are making them yours by acting on their behalf. Institutions don't protect themselves. They go down like dominoes unless each is defended from the beginning.

3. Recall professional ethics. When the leaders of state set a negative example, professional commitments to just practice become much more important. It is hard to break a rule-of-law state without lawyers, and it is hard to have show trials without judges.

4. When listening to politicians, distinguish certain words. Look out for the expansive use of "terrorism" and "extremism." Be alive to the fatal notions of "exception" and "emergency." Be angry about the treacherous use of patriotic vocabulary.

5. Be calm when the unthinkable arrives. When the terrorist attack comes, remember that all authoritarians at all times either await or plan such events in order to consolidate power. Think of the Reichstag fire. The sudden disaster that requires the end of the balance of power, the end of opposition parties, and so on, is the oldest trick in the Hitlerian book. Don't fall for it.

6. Be kind to our language. Avoid pronouncing the phrases everyone else does. Think up your own way of speaking, even if only to convey that thing you think everyone is saying. (Don't use the internet before bed. Charge your gadgets away from your bedroom, and read.) What to read? Perhaps "The Power of the Powerless" by Václav Havel, 1984 by George Orwell, The Captive Mind by Czesław Milosz, The Rebel by Albert Camus, The Origins of Totalitarianism by Hannah Arendt, or Nothing is True and Everything is Possible by Peter Pomerantsev.

7. Stand out. Someone has to. It is easy, in words and deeds, to follow along. It can feel strange to do or say something different. But without that unease, there is no freedom. And the moment you set an example, the spell of the status quo is broken, and others will follow.

8. Believe in truth. To abandon facts is to abandon freedom. If nothing is true, then no one can criticize power, because there is no basis upon which to do so. If nothing is true, then all is spectacle. The biggest wallet pays for the most blinding lights.

9. Investigate. Figure things out for yourself. Spend more time with long articles. Subsidize investigative journalism by subscribing to print media. Realize that some of what is on your screen is there to harm you. Bookmark PropOrNot or other sites that investigate foreign propaganda pushes.

10. Practice corporeal politics. Power wants your body softening in your chair and your emotions dissipating on the screen. Get outside. Put your body in unfamiliar places with unfamiliar people. Make new friends and march with them.

11. Make eye contact and small talk. This is not just polite. It is a way to stay in touch with your surroundings, break down unnecessary social barriers, and come to understand whom you should and should not trust. If we enter a culture of denunciation, you will want to know the psychological landscape of your daily life.

12. Take responsibility for the face of the world. Notice the swastikas and the other signs of hate. Do not look away and do not get used to them. Remove them yourself and set an example for others to do so.

13. Hinder the one-party state. The parties that took over states were once something else. They exploited a historical moment to make political life impossible for their rivals. Vote in local and state elections while you can.

14. Give regularly to good causes, if you can. Pick a charity and set up autopay. Then you will know that you have made a free choice that is supporting civil society helping others doing something good.

15. Establish a private life. Nastier rulers will use what they know about you to push you around. Scrub your computer of malware. Remember that email is skywriting. Consider using alternative forms of the internet, or simply using it less. Have personal exchanges in person. For the same reason, resolve any legal trouble. Authoritarianism works as a blackmail state, looking for the hook on which to hang you. Try not to have too many hooks.

16. Learn from others in other countries. Keep up your friendships abroad, or make new friends abroad. The present difficulties here are an element of a general trend. And no country is going to find a solution by itself. Make sure you and your family have passports.

17. Watch out for the paramilitaries. When the men with guns who have always claimed to be against the system start wearing uniforms and marching around with torches and pictures of a Leader, the end is nigh. When the pro-Leader paramilitary and the official police and military intermingle, the game is over.

18. Be reflective if you must be armed. If you carry a weapon in public service, God bless you and keep you. But know that evils of the past involved policemen and soldiers finding themselves, one day, doing irregular things. Be ready to say no. (If you do not know what this means, contact the United States Holocaust Memorial Museum and ask about training in professional ethics.)

19. Be as courageous as you can. If none of us is prepared to die for freedom, then all of us will die in unfreedom.

20. Be a patriot. The incoming president is not. Set a good example of what America means for the generations to come. They will need it.

–Timothy Snyder, Housum Professor of History, Yale University,
15 November 2016.
If you follow this blog, you know that I hoped Secretary Clinton would be elected President. More than that, I really didn't want Mr. Trump to be elected President. That hope and wish were not fulfilled. Instead, a man who I have seen as misogynist, racist, and dangerous (his denial of climate change, his openness to using nuclear weapons) has won enough states that, assuming the electoral college votes as they are pledged, he will be the next President of the United States.
I've been told that in 1960, after John F. Kennedy narrowly defeated Richard Nixon, staunch Hollywood conservative John Wayne declared, "I didn't vote for him, but he's my president and I hope he does a good job."
I'm having a hard time following John Wayne's lead. Yes, I hope Mr. Trump does a good job, but based on his campaign and the signals coming from his transition team, I don't think he will. I've read his plan for this first 100 days in office. If he follows through on his plan, he will wreak havoc on the economy, the environment, the Supreme Court's protection of freedom, our public schools, the incomplete health insurance net that's being stitched together through Obama Care, families that include at least one undocumented worker, and the national debt.
While the plan does not say anything overt about removing right of religious, ethnic, or sexual minorities, the rhetoric surrounding the Trump campaign and the people he has named to his transition team is frightening. Since election day, many people – especially women, minorities, immigrants, and members of the lgbt community – have felt vulnerable. Not surprising, since the Southern Poverty Law Center has noted as significant spike in acts of "hateful harassment and intimidation" since the election. And now, with the naming of white nationalist Steve Bannon to be "Chief Strategist to the President," the pit in my stomach that had been slowly dissolving has re-solidified. White male privilege is, I fear, solidifying in our culture, right along side the pit in my stomach.
Bishop Dwayne Royster's words in this blog post posted late on election day resonate with me – particularly when he rights about his anger that people who say they follow Christ voted for a person whose words during this campaign paint him as sexist, racist, xenophobic, misogynistic, homophobic, and not someone to be trusted with nuclear weapons. And I like that he calls us to be "Prophets that will speak truth to power unequivocally and will speak truth to the people as well."
Senator Bernie Sanders (the presidential candidate I supported in the primaries) issued this statement the day after the election. In four sentences he says where I want to be politically.
Donald Trump tapped into the anger of a declining middle class that is sick and tired of establishment economics, establishment politics and the establishment media.  People are tired of working longer hours for lower wages, of seeing decent paying jobs go to China and other low-wage countries, of billionaires not paying any federal income taxes and of not being able to afford a college education for their kids – all while the very rich become much richer.

To the degree that Mr. Trump is serious about pursuing policies that improve the lives of working families in this country, I and other progressives are prepared to work with him. To the degree that he pursues racist, sexist, xenophobic and anti-environment policies, we will vigorously oppose him.
And while I want to be ready to work with Mr. Trump where I can (and vigorously against him where his proposals and policies are harmful), I am worried about how we respond to people who are vulnerable now, as attacks continue. I turn to my Twitter feed as I write this, knowing that there are other people who have posted things that have inspired me or at least given me hope, but what I'm reading about are instances of people of color being threatened by whites, of people of Muslim faith afraid to express it. Trump has turned a populist anger into hatred for "the other" by turning economic resentment into racial, religious, and gender resentment.
As a pastor, I wonder what my congregation can do. My greatest personal fear about the Trump presidency is that the little progress we've made as a nation to combat climate change will be reversed and the struggle to address this (the most important moral issue of our day) may be too late. Others have different primary fears as they try to imagine the coming Trump presidency – and with good reason; check out "Day 1 in Trump's America." The Rev. Michael Denton, Conference Minister of the Pacific Northwest Conference of the United Church of Christ, identified how the Trump presidency will make the lives of so many less safe and more traumatic – and some ideas for churches on his Facebook page:
For millions of people in our country and beyond, this world is suddenly and significantly less safe. Hate crimes had already increased in recent months and will even more, now. Many hard fought for laws that had protected the rights and lives of the queer community are in danger of being rolled back. Survivors of sexual assault will have to look into the eyes of someone who bragged about assaulting others every time they turn on the news. Those with disabilities will have to look into the eyes of someone who has mocked them. Migrants and refugees who found a home here are wondering if they'll have to be migrants and refugees, again. People of color who already knew the life threatening daily reality of systemic racism are faced with one more blatant systemic expression of it. Those whose religious expression does not fall into a relatively narrow expression of Christianity can expect to be treated as suspect. Someone who has talked about his intention to use military force preemptively and often now has the ability to do so.

The idea of providing sanctuary is not a new one. It is the idea of opening up our churches and making them a safe space for people who are feeling threatened by the world. Over the coming hours, days, weeks, months and years more and more people are going to be asking for us to provide some sort of sanctuary; everything from providing a space for prayer and a listening ear to a place where they can find physical safety from a world that endangers them. We need to start that conversation of how to do that within and between our churches, now.
When it was becoming clear that Mr. Trump was going to win the electoral college, I honestly wondered if it was time to consider emigrating. I have a friend in New Zealand who said she will take me in while I look for a job if it's ever needed. But then I read a tweet (I don't remember who posted it) that called those of us who have privilege and care about justice not to abandon those who do not have privilege. Privilege comes in many forms in the USA. I have gender (I'm a cisgender male), race (I'm European-America of British descent), and economic (within the USA I'm probably upper-middle class) privilege, privileged enough to be able to seriously consider emigration. But I will stay and look for ways to justly use my privilege to protect those who are vulnerable and to dismantle the system that makes this privilege possible.
Those of us with privilege must not abandon those who do not have privilege. Those of us who follow Christ must serve, lift up, empower, and follow the vulnerable who are all the more vulnerable now.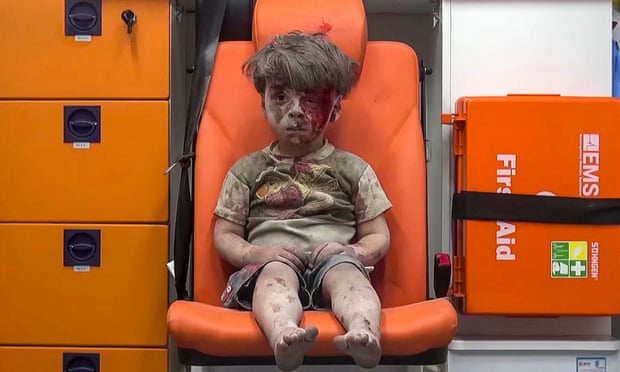 Alex is a 6-year-old child from Scarsdale, New York. When he saw this image, he wrote a letter to the one person he thought could make a difference, President Obama. Alex asked the President to find the Syrian boy (Alex assumed the boy, 5-year-old Omran Daqneesh, was an orphan after he was rescued from the rubble of his bombed out home) and to bring Omran to live with Alex's family. "We will give him a home, and he will be our brother," Alex wrote.
Alex also told the President that he has a friend at school from Syria named Omar, implying that he wouldn't have any problem befriending another Syrian, and he thought the two of them, Omran and Omar, could be friends. I like that Alex thought that he could be part of teaching Omran English, but more than that, I like that Alex knew that Omran would bring something to teach, too:  "another language."
The White House published the letter and the President read it at a U.N. Summit on Refugees. According to President Obama, "Those are the words of a six-year-old boy — a young child who has not learned to be cynical, or suspicious, or fearful of other people because of where they come from, how they look, or how they pray."
While Omran and his family were injured when their house was destroyed by the airstrike, perhaps miraculously, everyone in his immediate family survived.
You can read the letter from Alex here. You can read a news report about this story here.
"Agnotology is the word Stanford University science historian Robert Proctor coined to describe the deliberate dissemination and misinformation, often to try to sell a product. The tobacco industry developed a strategy to cast doubt on scientific studies showing that smoking causes cancer. In politics, the campaign to cast doubts on President Obama's national origins was an example of agnotology. Climate deniers use a similar strategy. The news media often perpetuate agnotology in the interest of offering a balanced perspective, and the Internet provides a platform for people to pose as experts while engaging in agnotology. 'We live in a world of radical ignorance, and the marvel is that any kind of truth cuts through the noise,' says Proctor."
Quoted from the 16 March 2016 edition of Christian Century, page 9. The cite the BBC, January 6, as their source.
If you haven't seen the documentary (or read the book) Merchants of Doubt, I highly recommend it. It's all about how agnotology is used by corporations to increase profits. Right now, Standing Rock Sioux are protesting the building of an oil pipeline, the Dakota Access Pipeline. To counter this protest, it appears that pro-pipeline organization (read: Big Oil) has directly or indirectly created fake Twitter accounts to make it look like there is public support for the pipeline.
Read more about the Standing Rock protests at http://www.democracynow.org/topics/dakota_access (where there are old stories and up-to-date stories listed.
A sermon preached at Niles Discovery Church, Fremont, California,
on Sunday, July 17, 2016, by the Rev. Jeffrey Spencer.
Scriptures: Philemon 1:8-19 and Hebrews 13:1-8
Copyright © 2016 by Jeffrey S. Spencer
It's been a difficult couple weeks for my soul. I expect the same is true for many of you. In addition to the triumphs and tragedies of our personal lives, there has been so much violence in the news:
a particularly brutal attack in Bangladesh;
car bombs in Baghdad;
2 police shootings that were caught on tape (and at least 29 others that did not make the national news[1]);
5 police officers killed in Dallas (and at least five others who were killed by guns or cars that did not make the national news[2]);
this morning there are stories of police officers shot and killed in Baton Rogue;
a truck driving through a crowd celebrating in Nice, France.
In an act of self-care, I decided not to watch the videos of the police shootings in Baton Rogue and Falcon Heights. And, in my efforts to protect my soul from this heart-rending news, I may have missed other attacks and violence that took place in the first two weeks of this month.
Yesterday, I posted this picture on the church's Facebook page. Dietrich Bonhoeffer, a German Lutheran pastor and theologian, was a staunch anti-Nazi dissident who was arrested and eventually connected with an attempt to assassinate Hitler. He was 39 when he was executed by the Nazis.
"Silence in the face of evil is itself evil: God will not hold us guiltless. Not to speak is to speak. Not to act is to act."
I agree with Bonhoeffer. Not to speak is to speak. Not to act is to act. But what to say and how to act – that's not always clear. Here's what I wrote with the picture:
It's not always easy to figure out how to speak out against evil. How do we speak out against the evil of the murders in Nice, France, on Thursday and not participate in evil ourselves?
The traps are too easy. As a nation, we could speak out with our own violence through our military. As a church, we could easily lump together all people from one ethnicity or religion and blame them all for the actions of a few or of one. We could write a post on Facebook, but does that really speak God's truth to evil?
While there are no simple answers, the call is clear. We cannot remain silent when we are aware of evil.
This call, to speak and to act, is part of our call as followers of Jesus. We are called to join the Spirit Conspiracy to bring blessings to others. "Conspire" literally means "to breathe with," which I find interesting, since the Greek word for spirit, pneuma, is also the Greek word for breath. Another way to think about this call is that we are called to get our breathing in sync with the Breath of Life.
And there are plenty of areas of our lives, plenty of circles of influence where, if we get our breathing in sync with the Breath of Life, we will bring blessings to others. Consider these circles of influence.
There's your family. No one is in a better position than you to bring blessing to your family – your spouse, your kids, your siblings, your parents – than you. There are others who are in an equal position to you, but there's on one in a better position than you. "When Jesus wanted to confront religious hypocrisy in his day, he pointed out the way hypocrites served their religion at the expense of their families."[3] Paul wrote about family relationships in ways that probably brought more blessing than the social norms, as sexist as those writings seems to us today. My point is that it's not just the Spirit calling us to conspire to bring blessing to our families; there are biblical calls, too.
Then there are our economic choices that are a circle of influence. We can conspire with the Spirit to bring blessing through our economic choices. If you're an employer, you can offer a wage that brings a blessing. If you're a consumer, you can make purchase choices in ways that bring blessings – are the people all along the supply chain paid justly? Is the environment protected or damaged by this product and its manufacture?
Likewise, our neighborhoods can be blessed by our conspiring with the Spirit. As we address the sins of racism, sexism, xenophobia, homophobia, transphobia, and so forth, we bring a blessing to our neighborhoods. As we extend hospitality, we bring a blessing to our neighborhoods.
"The Spirit is looking for conspirators who are interested in plotting goodness in their communities. 'What would our community look like if God's dreams for it were coming true?' we [can] ask. The answer gives us a vision to work toward."[4]
Likewise, we can conspire with the Spirit to bring a blessing to vulnerable people, the people who are typically forgotten or ignored. The biblical mandate is to care for widows and orphans, for immigrants, prisoners, the sick, and the poor. We can easily add to that list: the homeless, the under-educated, the unemployed, the underpaid, refugees, and more.
And if conspiring with the Spirit to bring blessing to these circles of influence isn't challenging enough for you, I've got another: your critiques, opponents, and enemies. Imagine what the election season would be like if the candidates and their supporters conspired with the Spirit to bring a blessing to their opponents. That's probably a pipedream, but we – you and I – could start. And not just when it comes to politics. We can conspire with the Spirit to bring a blessing to people who annoy us (and the people we annoy). We can conspire with the Spirit to bring a blessing to people who don't understand us and who we don't understand, to people who try our patience and whose patience we try.
"Rather than write them off as unimportant and unwanted, we need to rediscover them as some of the most important people we know. If we ignore them, our growth in the Spirit will be stunted. If we let the Spirit guide us in what we say to their faces and behind their backs, we will become more Christ-like."[5]
White House photographer Pete Souza has taken something close to two million photographs of President Obama, since Obama took office. Each year he posts 75 to 100 that he thinks are the best of the year. Several people have sifted through the photos claiming that these 16 are Souza's favorites. He denies the claim. Still, from those annual postings, people have gathered what they think are a good sampling of them.
One such collection[6] includes photos that are humorous, photos that are cute, and photos that are poignant. One photo from early in Obama's presidency shows him fist-bumping one of the White House custodians. They are in a hallway, moving from one meeting to another. Aids accompany the President. And the President pauses to acknowledge a staff worker who cleans floors and toilets and empties the trash.
What we say or fail to say can make a difference in someone else's life. We can use our words as part of our conspiracy with the Spirit to being blessings, or we can wound. In the letter of James, the author says that if your life were a ship, your words would be its rudder. A fist-bump here, and "thank you" there can make a difference in steering us in the Spirit's direction. As McLaren puts it, "If you're a part of the Spirit's conspiracy, you can be God's secret agent of blessing to anyone in any of these circles."[7]
There's one circle of influence that I haven't mentioned: work. I did this because in the book we're using for this yearlong sermon series, Brian McLaren uses the letter to Philemon as an example here. McLaren points out that Paul used the opportunity of Onesimus running away to him to urge slave owners to treat their slaves better. My problem is that Paul appealed to his love for Onesimus rather than to Onesimus' own personhood. My problem is that Paul sent Onesimus back to Philemon.
Yes, Paul moves the needle. Yes, Paul suggests that owners should treat their slaves with respect and kindness. Yes, Paul urges slaves to work with pride and dignity. But he fails to condemn slavery.
There's probably a lesson here for our contemporary workplaces. We should treat each other with respect and kindness. We should treat each other fairly, and bosses should pay their employees a just wage. But the issue at hand for Onesimus was whether Paul was going to send him back to slavery or order Philemon to end Onesimus' slavery. And Paul failed to get his breathing fully in sync with the Breath of Life.
McLaren begins the chapter that is the fodder for next week's sermon by saying, "Sooner or later, everyone should be arrested and imprisoned for a good cause. Or if not arrested and imprisoned, put in a position of suffering and sacrifice. Or if not that, at least be criticized or inconvenienced a little. Because if we're co-conspirators with the Spirit of God to bring blessing to our world, sooner or later it's going to cost us something and get us in trouble."[8]
Sometimes this mission is pretty easy to fulfill. Sometimes a fist-bump in the hallway will make the difference. Sometimes it's hard and it will get us in trouble. Sometimes we're faced with great evil, and the way to speak out, the way to act is not clear, and so we will struggle to conspire with the Spirit. Sometimes, like Paul, we will act and not go as far as we should. Sometimes, like Bonhoeffer, we will be asked to pay a great price.
Still, the mission is before us: "to be a secret agent of God's commonwealth, conspiring with others [and the Holy Spirit] behind the scenes to plot goodness and foment kindness wherever you may be."[9]
As we move into our time of quiet reflection, I invite you to reflect on:
Anything from the sermon or scripture that caught your attention.
A time when you felt the Spirit guided you to go above and beyond your normal way of responding to a situation.
A time when the words you chose steered you either toward or away from the Spirit's guidance.
Or imagine a walk through your typical day, from waking to going to bed – and imagine yourself as a portal of blessing in each circle of influence you move in and out of in that day.
[1] "Fatal Force," The Washington Post, https://www.washingtonpost.com/graphics/national/police-shootings-2016/ (updated regularly, The Washington Post tracks police shootings in the United States; accessed 16 July 2016, when the last update was for a police shooting on 13 July 2016).
[2] "Honoring Officers Killed in 2016," Officer Down Memorial Page, https://www.odmp.org/search/year (updated regularly; accessed 16 July 2016, when the last officer death noted was on 12 July 2016).
[3] Brian McLaren, We Make the Road by Walking [Kindle version], Chapter 47. Retrieved from amazon.com.
[4] Ibid.
[5] Ibid.
[6] "The White House's Pete Souza Has Shot Nearly 2M Photos of Obama, Here are 55 of His Favorites," Twisted Sifter, http://twistedsifter.com/2016/07/pete-souza-white-house-photog-favorite-obama-photos/ (posted 7 July 2016; accessed 16 July 2016).
[7] Brian McLaren, We Make the Road by Walking [Kindle version], Chapter 47. Retrieved from amazon.com.
[8] Brian McLaren, We Make the Road by Walking [Kindle version], Chapter 48. Retrieved from amazon.com.
[9] Brian McLaren, We Make the Road by Walking [Kindle version], Chapter 47. Retrieved from amazon.com.
"Although Jesus is called teacher in the Gospel of Mark, that Gospel includes little of the teaching of Jesus. His parables confound his listeners rather than leading to greater understanding. Jesus' teaching in Mark is performative, says Brian Blount; Jesus taught by the way he lived. He doesn't teacher love as a concept, he acts it out by touching lepers and allowing diseased people to touch him, engaging women as equals, associating with the marginalized, and breaking laws that don't promote human well-being. If we want to teach the reign of God as Jesus taught it, then we need to craft a curriculum that does more than inform."  ~ Christian Century, 8 June 2016 edition, page 9, citing the April edition of Interpretation.