You are currently browsing the category archive for the 'Justice' category.
A sermon preached at Niles Discovery Church, Fremont, California,
on Sunday, June 25, 2017, by the Rev. Jeffrey Spencer.
Scriptures:  Matthew 10:24-39 and Romans 6:3-11
Copyright © 2017 by Jeffrey S. Spencer
A colleague was collecting some recommendations yesterday on Facebook.  I'm not sure how he's going to use the data he collects, but he asked, "Which Bible passages would you want your children to memorize?"  Being someone who is adept at having opinions, I shared my list.  Then I looked at what other had posted.  There were lots of good suggestions, but I had to laugh when someone posted Matthew 10:35-36.  "For I have come to set a man against his father, and a daughter against her mother, and a daughter-in-law against her mother-in-law; and one's foes will be members of one's own household."
Today's gospel lesson has one of the more challenging passages attributed to Jesus.  These words grate against the image of Jesus so many of us hold.  Brian McLaren says, "Many people have been given a very tame and uninteresting version of Jesus.  He was a nice, quiet, gentle, perhaps somewhat fragile guy on whose lap children liked to sit.  He walked around in flowing robes in pastel colors, freshly washed and pressed, holding a small sheep in one arm and raising the other as if hailing a taxi.  Or he was like an "x" or "n"—an abstract part of a mathematical equation, not important primarily because of what he said or how he lived, but only because he filled a role in a cosmic calculus of damnation and forgiveness.
"The real Jesus was far more complex and interesting than any of these caricatures."[1]  The real Jesus is defiant, subversive, courageous, and creative.
That's the Jesus we hear in this gospel lesson.  The passage comes in the midst of an almost chapter-long address by Jesus in which he gives his twelve disciples instructions as he sends them out to carry on his work.  Kathryn Matthews notes that "Matthew writes for a community that claims a relationship, a kinship, with these apostles, who gave up everything to follow Jesus.  This little community of early Christians listens for how God is sending them in their own turn, a generation or so later, and they're undoubtedly wrestling with how much they may have to give up, too, and what the risks are that they will run.
"Perhaps they've already paid a price for being disciples of this Jesus, especially if their family ties have been strained or broken by their new faith commitment.  Family ties were even more important in that time and culture than they are today, if we can imagine such a thing.  And broken relationships meant more than hard feelings and spoiled family functions and fights over inheritances:  they could be a matter of life and death in a culture where family identity and connections protected you from the many dangers in life.
"Matthew makes Jesus sound as if he's sending his apostles out on a secret, dangerous mission."[2]  And we're not just talking about the early Christian martyrs who gave up their lives – literally, dramatically, violently – for the gospel.  We're talking about "those lesser-known Christians, the everyday, ordinary ones like most of us, who suffered loss of family, place, security, 'respectability,' because they embraced a faith that challenged social structures, including even the stability of the family itself."[3]
The bold challenge here is that Jesus didn't just call the disciples to reject consumerism, or racism, or any other ism you can think of.  You and I want to give up those things, as challenging as doing so may be.  Now, Jesus called them to be ready to give up their families.  "Jesus gave his call for loyalty over against the strongest, not the weakest, claim a person otherwise knew, the claim of family love," Fred Craddock wrote.  "Jesus never offered himself as an alternative to the worst but to the best in society."[4]  And in so doing, it seems to me that Jesus touched on the most basic, most heart-connected part of human life.
Even deeper, even more important, even more powerful than our love for family is the love of God, and needs to be our love for God.  I know that people work hard to build families.  Even those who are lucky enough to be born into families that are filled with love, building and maintaining a family takes energy.  And on this Pride Sunday, I can't help but think of members of the LGBTQ+ community who have had to build and maintain families from scratch because they experienced rejection from their birth families.  And still, Jesus calls – even requires – that we love him above all other loves, no matter the cost to us, including those very families we have worked so hard to build and maintain.
It is so easy to domesticate the gospel, to declaw it as if it were a pet cat we didn't want shredding the upholstery on the sofa.  "[W]e can too easily conflate the good news with good citizenship, good behavior or maybe simply not causing trouble, or just following orders."[5]  But think about where this leads.
In one of her published sermons, Barbara Brown Taylor says, "Sure, it is the gospel, but there is no reason to get all upset about it.…  There is absolutely no reason to go make a spectacle of yourself."[6]  Except, of course, that's not true.  Taylor reminds us, "The gospel is not a table knife but a sword.  It can set free and it can divide.  The gospel is not pablum.  It is powerful stuff, powerful enough to challenge the most sacred human ties…"[7]
I've tried to think of more contemporary examples of what I'm talking about.  If I get too contemporary, I'll be accused of being partisan, so let me go back a few decades.  Think about the Civil Rights struggle of the 1950s and 60s.  It's pretty clear to me now which side Jesus was on, but back then there were plenty of Christian families – at least there were plenty of white Christian families – that were divided when it came to choosing which side to stand with.  From the Montgomery bus boycott to the march to Selma, the gospel divided families as some people heard it's call to struggle for justice.
And think of the Vietnam War.  I know there were families that were divided when some people heard the gospel calling them to oppose the war, to march against the war, to even commit illegal acts in their efforts to stop the war.
It's a strange choice of words for Jesus, I think:  "Do not think that I have come to bring peace to the earth; I have not come to bring peace, but a sword."  Unless he was being ironic or he's using hyperbole.  Swords, after all, would be used to protect families, not to divide them.
Retired Catholic Archbishop Hunthausen says, "When Jesus told us to seek first the kingdom of heaven, he gave no maps or blueprints.  He told us to love our enemies, to do good to those who hate us, to sell what we have, to feed the poor, and to follow him all the way to the cross.  He promised that we would share his life and his death, and after that his new life; he promised that God would provide for those who seek the kingdom first.  He promised the resurrection, but only after the crucifixion.…
"Jesus calls us to take risks, to make difficult choices.  This is our cross, the point where we can die a little to self and be reborn in the Spirit's life of compassion.
"I believe that we can all find the actions to which we are called by meditating on Jesus' teachings and then by beginning to live them.  Those teachings point us toward a commitment to a life of nonviolence, a way of living that comes from the very heart of the gospel and has Jesus as its model."[8]  The disciplined life of nonviolence is not simple, and it brings its own kind of suffering – a suffering that comes out of love.  And it brings its own kind of death, a death of ego, so that we can rise to life in Christ.
There is a difference between non-violence (with a hyphen) and nonviolence (without a hyphen).  Non-violence (with a hyphen) is simply the absence of violence.  Bystanders can be non-violent (with a hyphen) and still do nothing about injustice and violence.  But nonviolence (without a hyphen) seeks a positive peace, a peace filled with restoration of relationships, the creation of just social systems that serve the needs of the whole population, and the constructive resolution of conflict in reconciliation.[9]
This means that a life of nonviolence will seek out the justice.  It will confront systems of oppression.  It will work to transform negative peace into positive peace.
Consider this:  Martin Luther King was arrested somewhere around 30 times for his nonviolent protests against systems of racism.  About half of those arrests for the crime of – you guessed it – disturbing the peace.
And that's what he was doing.  He was disturbing the negative peace so that it could be transformed into a positive peace.
As followers of Jesus, we cannot avoid the call of the cross.  This is how Hunthausen explains it:  "Jesus' first call in the gospel is to love God and one's neighbor.  But when he gives flesh to that commandment by the more specific call to the cross, and by his own death, I am afraid that like most of you I prefer to think in abstract terms, not in the specific context in which our Lord lived and died.  And yet a life of nonviolence is 'taking up the cross,' 'losing one's life' for the truth of the gospel, for that love of God in which we are all one."[10]
Jesus said, "Whoever loves father or mother more than me is not worthy of me; and whoever loves son or daughter more than me is not worthy of me; and whoever does not take up the cross and follow me is not worthy of me.  Those who find their life will lose it, and those who lose their life for my sake will find it."
Amen.
[1] Brian McLaren, "Beyond Fire and Brimstone," Sojourners, https://sojo.net/preaching-the-word/beyond-fire-and-brimstone (accessed 20 June 2017).
[2] Kathryn Matthews, "Sermon Seeds June 25, 2017," Samuel, http://www.ucc.org/worship_samuel_sermon_seeds_june_25_2017 (accessed 21 June 2017).
[3] Ibid.
[4] Fred Craddock, Preaching through the Christian Year A, quoted by Matthews, op. cit.
[5] Matthews, op. cit.
[6] Barbara Brown Taylor, "Family Values," Gospel Medicine, (Boston: Cowley Publications, 1995), 16.
[7] Ibid, 18.
[8] Raymond Hunthausen, "The Undiscovered Secret of the Nuclear Age," Sojourners, https://sojo.net/preaching-the-word/undiscovered-secret-nuclear-age?parent=50801#PTWproper7A (accessed 20 June 2017).
[9] See, for instance, http://www.irenees.net/bdf_fiche-notions-186_en.html.
[10] Hunthausen, op. cit.
A sermon preached at Niles Discovery Church, Fremont, California,
on Pentecost, June 6, 2017, by the Rev. Jeffrey Spencer.
Scriptures:  Exodus 3:1-12 and Acts 2:1-21
Copyright © 2017 by Jeffrey S. Spencer
As I've contemplated flame this week, I've found my thoughts drifting to fire.  I like to light a candle to mark a time as sacred.  I have gotten lost in the single flame of a candle.  And who doesn't like the candles on a birthday cake, even if there needs to be almost two-thousand of them?  But still, my thoughts kept drifting from flame to fire.
Twice in my life, fires in woodstoves have kept me warm in otherwise very cold conditions.  One winter when I was living in western Washington, there was a windstorm that brought down many branches and trees.  The branches and trees took down electrical lines.  And because I lived in a ruralish area, it took a full week before power was restored.  My furnace was a heat pump, so I moved into the family room of my home where there was a woodstove in the fireplace.  I dragged the mattress from the guest bed down there and made a little nest for myself.  And each night, I lit a fire, warmed up the room, then turned down the flow of air into the stove to keep the fire burning slowly through the night.
The other time happened when I was staying in my father's cabin in New Hampshire during the first week of September.  Labor Day weekend, the temperature plummeted, as it can do in New Hampshire.  It got so cold I woke up in the middle of the night.  I got a fire going in the woodstove in the cabin and about an hour or two later the little cabin had warmed enough that I could get back to sleep.
When I think about fire, I think of it contained in a woodstove or a fireplace or a campfire.  I think of it warming me and comforting me and stilling my spirit.  I think of seasoned maple and pine logs snapping and popping as they burn.  The closest thing to a destructive fire I've experienced was a chimney fire I had that I didn't find out about until I contemplated switching insurance companies and the new company insisted on a building inspection.  It had burned hot enough to crack the terracotta flue liner, but briefly enough I never knew it happened.
That's fire's paradox, isn't it?  On one hand, fire gives warmth and light, and it lets us cook and read late into the night.  And on the other hand, fire destroys and consumes.  It devours whole towns, annihilates whole cities.  "Fire is essential for life and civilization, and fire is a threat to both."[1]
The big challenge that cold night in the cabin was that I had to get out from under the pile of blankets to get a fire going.  Well, that was the first challenge.  The second challenge was that I needed more wood than was inside and I needed kindling.  So I had to go outside for those.  The third challenge was that my father and step-mother had recycled the newspaper, so I had to scrounge for something to light with the matches that would light the kindling that would light the logs.  The challenge the next day was getting things in the wood stove cool enough that I was comfortable leaving the cabin for a paddle around the lake.
"We could say the same of life with God – we cannot always summon a sense of God's presence, even when we do the things we were taught in Sunday school would work; in other seasons, God roars into our lives in ways we wish we could avoid, tamp down, put out entirely."[2]  It takes the match to get the newspaper burning, and it take the burning newspaper to light the kindling, and it takes the burning kindling to ignite the log.  It is the rare person who can burn for God without some external source of heat.  I know I didn't get there on my own.  My mother and Sunday School teachers and friends helped lay the fire and ignite the newspaper.
And once the fires going, it takes tending.  I know I've built plenty of fires that were much more smoke than flame.  And I've tended fires that got burning so hot and fast that they consumed the fuel in no time at all.  And I've tended fires that weren't sufficiently fed or that got too spread out and then cooled off and went out.  And so it is in my friendship with Jesus.  My zeal might burn too fast, or it might cool down and flicker out.  Either way, the flame is extinguished.  Sure, there are habits, practices, I can engage in to tend this fire, to keep the flame of God's presence near.  Still, sometimes the flames leap and dance, not because of anything I did.  Sometimes the flames die, despite everything I did.[3]
"God appears as flame again and again in scripture.  God reveals God's self to Moses in the burning bush, and then, centuries later, at the first Pentecost after Jesus' death, the Holy Spirit comes upon the disciples as flame.  Those two episodes might be the most familiar flames in scripture, but there are many other instances of God drawing near to people as or in fire:  God's presence as a 'flaming torch' in the covenant [making] of Genesis 15; the pillar of fire that leads the Israelites through the wilderness [into freedom]; and God's glory is 'like a consuming fire' on Sinai.…
"What might all these flames mean for our friendship with God?
"Often, in scripture, especially in the prophets, fire seems to stand principally for God's anger, God's jealousy."[4]  But even there, it is not just the consuming fire, the destructive fire.  Even God's anger and God's jealousy need not be a conflagration.  According the Malachi, God is like a refiner's fire, that burns off the impurities leaving only the precious metal.  Sometimes fire's destructiveness is also regenerative.  "Fires can clear weaker trees from a forest and therefore allow the healthier, larger trees to flourish.  Soil nourished by burned vegetation becomes more nutritious for the trees the remain.  And some trees require fire to survive,"[5] like the lodgepole pine and several other conifers.
"Could the Bible's fiery imagery suggest that God's destruction is regenerative?  That God destroys not me but my sin, my hardness of heart, my fear, precisely so that I might be renewed? …
"Maybe, if God is fire, we are a grove of ponderosa pines.  Without the heat and burn of God's flame, our pinecones would remain closed tight around the seeds that are needed for our thriving and growth and new life."[6]
The rabbis note that it takes some time – five minutes, seven minutes, ten minutes – for a bush to burn.  But the miracle, they say, is not that the bush wasn't consumed as it burned.  The miracle is the Moses paid attention, that he paid attention long enough to notice that the shrubbery was not being consumed.  "Only after God saw that Moses had stood still long enough to notice the bush in its unconsuming fire did God call out to him.…  Attentiveness, apparently, was the key attribute God needed for his chief prophet, deliverer, and friend.  God needed a prophet and friend who could stop and stay still and look with focus and concentration; God needed a prophet and friend who could really see.  God could have called to Moses in the form of a fellow shepherd, or in the form of a rock, or in the form of a breeze.  Instead, God arrested the attention of Moses as a flame."[7]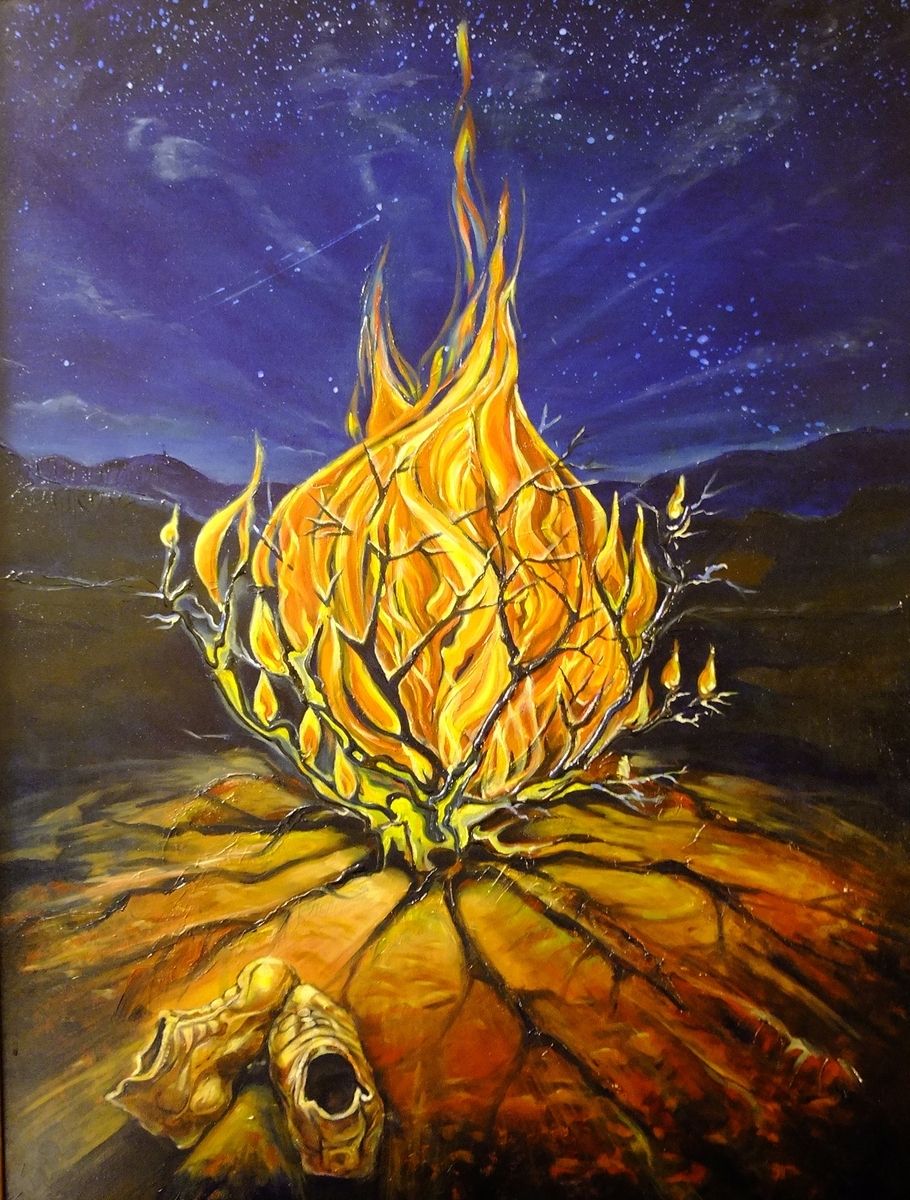 This doesn't surprise me.  As I said, I can get lost in the flame of a candle.  I can sit in silence as a fire crackles and hisses and flames curl around the logs.  At one point this week, I thought about playing the yule log during this sermon.  I thought it might be funny, and calming, and maybe even comforting.  I decided it would also be too distracting.  Like me, too many of you would just get lost in the flames.
But maybe that's why the burning bush worked as a way to call to Moses.  "Fire captivates.  To encounter the blazing God is to encounter the God who can hold, and wants to hold, our gaze."[8]
I suppose one invitation form the story of the burning bush is the invitation to notice how busy our lives are, to notice how hard it is to notice.  "We are all so distracted, rushing so hurriedly through the day that we barely notice our friends or ourselves,"[9] let alone God.  We get distracted, sending text messages, checking Facebook, worrying about children.
But this isn't the only lesson.  God wants to hold our gaze.  "The God who wants to fix our attention and say, Here, look here, look at Me, don't look away – that God is a lover.  That's what lovers do, after all.  They gaze at each other utterly not distracted, utterly focused in their longing and their delight."[10]
In her book, Wearing God, the book we've used as the basis of this sermon series, Lauren Winner tells a story[11] that is, unfortunately, too long, to simply read to you.  The story centers around two basins.  One basin is the basin she and her friend Isaac take every year on Maundy Thursday to what she says is "a small, ineffectual protest at an immigration detention center in Cary, North Carolina.  Every year, a stalwart band of Holy Week pilgrims gathers in a grocery parking lot in Cary, and … [they] process to the immigration detention center and set up two chairs.  One chair is occupied by whoever is having her feet washed, and the other chair is left empty, as a reminder of the people who are absent from us – from our families and our churches – because of current immigration law."
On one particular Maundy Thursday, Winner's thoughts wander to another basin, a basin carried my Nhat Chi Mai to a Buddhist temple in Saigon on May 16, 1967.  "Her friends assumed she was there for the traditional washing of the Buddha, but her basin was full of gasoline, not water.  Nhat Chi Mai poured the gasoline over herself and lit herself on fire.  She sat in the lotus position while she burned, and she prayed, and she died."  She had written to the U.S. government, "I pray that the flame that is consuming my body will burn away all ambition and hatred which have been pushing many of us into Hell of the soul and creating so much suffering among human beings.  I pray that the human race will be able to inherit Buddha's Compassion, Jesus' love, and the legacy of man's humaneness."
Reflecting on the differences in their basins – Nhat's held gasoline; Winner's holds water – Winner writes, "It is a venerated thing in the Christian tradition to imitate Christ even to the point of death,…  I wonder what kind of faith one would have to have – in the resurrection, in the resurrected body, in setting your treasure by in heaven – in order to burn yourself to death in protest.  I am not alone in not knowing what to think:  even Buddhists and Christians in Vietnam in the 1960s did not know what to think about self-immolation.  Was this truly a nonviolent protest?  Was it worship or suicide?"
"There's a relationship that I can't quite pin down between Nhat Chi Mai's body and the burning bush.  Here body's being consumed and the bush's refusal to be consumed – both command attention.
"It is not just attention to the truth about ourselves that God's flame can direct.  God's flame also wants to focus our attention on the world.…  Before you can act, first you have to see."  In a way, it can be argued that prayer is not productive.  Prayer does not get God to change an immigration policy or to stop a war.  It is not a means to an end.  And yet, I know that my own halting history of prayer, that engaging various forms of prayer is forming me into a person with the capacity to attend to God and to God's world.
As we move into a short time of reflection, I have a few questions for you to consider as we conclude this sermon series:
What sustains your spiritual fire?
How is God's fire regenerative in your spiritual life?
How is God captivating your attention?
What situation in your life or in the world is God calling your attention to?
[1] Lauren F. Winner, Wearing God, (New York: HarperOne, 2015) 206.
[2] Ibid, 208.
[3] Ibid, 208-209.
[4] Ibid, 209-210.
[5] Ibid, 210.
[6] Ibid.
[7] Ibid, 214-215.
[8] Ibid, 215.
[9] Ibid.
[10] Ibid.
[11] Ibid, 221-225.
A sermon preached at Niles Discovery Church, Fremont, California,
on Good Friday, April 14, 2017, by the Rev. Jeffrey Spencer.
Copyright © 2017 by Jeffrey S. Spencer
Scriptures quoted from the New Revised Standard Version
            Simply put, I reject penal substitutionary atonement.  Well, maybe that's not so simply put.  So, let me unpack that phrase, "penal substitutionary atonement."  An atonement is an act that makes reparation for a wrong or injury.  It is an act that allows two parties to become at one again, thus the division of the word as "at-one-ment."
Substitutionary atonement is an act made, not by the one who harmed the aggrieved person, but by someone on their behalf.  So, when a parent acts on behalf of a child who has done something to wrong or injury a neighbor, that substitutionary atonement.
And penal substitutionary atonement is a substitutionary act of atonement that involves punishment or penalty.
In Christian theology, penal substitutionary atonement is the belief that the only way for us sinners to be at-one with God again was if someone – someone who was perfect, without sin – paid the penalty on our behalf with their life.  This theology looks at the death of Jesus on the cross as the punishment (penal) borne on our behalf (substitutionary) so that we may be in right relationship with God (atonement).  In this theology, Good Friday is "good" because we are saved through Jesus' sacrifice on the cross.
There are lots of reasons I reject this theology.  The most basic of these reasons is the portrait it paints of God.  I reject the idea that God requires suffering of anyone to forgive and reconcile.
So, then, if Jesus didn't die as part of some substitutionary atonement scheme, why did Jesus die?  Jesus died because he was seen to be a threat to the established power structure.  The principalities and powers of his day – the Roman government and the Jewish religious establishment – say the good news that Jesus preached to threaten their power.  Whatever mob that came together against Jesus did not do so because God caused it.  The principalities and powers wanted him gone, and that was enough.  The contagion of violence is enough.
Jesus died for us, but not for God.  The cross is not what God requires in order to forgive, but what God endures as God forgives.  Episcopal Bishop Steven Charleston says, "Good Friday is the ultimate reality check, the graphic reminder that there is an end to all things.  We are called to confront our mortality.  We cannot escape into worlds of our own creation, but we must stand before the final authority of change.  Nothing stays the same.  And there, in that one truth, hidden away in the apparent darkness of this day, is the small seed of our liberation.  Nothing stays the same.  No, thank God, it doesn't.  The deep message of Good Friday speaks a profound truth: nothing lives forever.  Nothing.  Not even death.  Even it has to change.  It has to become something new."[1]
And this reality check is one of the two big things that make Good Friday "good" for me.  The other is the way of courage it reveals.
The gospels tell us that in what turned out to be the last months of his life, Jesus turned his face to Jerusalem – in theory the city of peace, but in reality the city of the principalities and powers of his life.  He headed to Jerusalem to face off against the principalities and powers, the systems that believe that we can be saved through violence, to proclaim his way of peace and justice and love.  And at some point along the way, he came to realize that the way he was walking and talking would be seen as a threat and lead to his arrest and execution.  Still, he kept walking.  It was his call.
Even in the hours before his arrest, when he knew it was just around the corner, he prayed about it, and somehow managed to maintain his integrity to the call.  He managed to stay on the path, even though it would cost him his life.  He got to his "okay."  In the presence of God, he moved to the place where he could say, "Okay.  Not my will, but your will be done."
Listen again to the story.
            Then Jesus went with his disciples to a place called Gethsemane; and he said to his disciples, "Sit here while I go over there and pray."  He took with him Peter and the two sons of Zebedee, and began to be grieved and agitated.  Then he said to them, "I am deeply grieved, even to death; remain here, and stay awake with me."  And going a little farther, he threw himself on the ground and prayed, "My Father, if it is possible, let this cup pass from me; yet not what I want but what you want."

Then he came to the disciples and found them sleeping; and he said to Peter, "So, could you not stay awake with me one hour?  Stay awake and pray that you may not come into the time of trial; the spirit indeed is willing, but the flesh is weak."

Again he went away for the second time and prayed, "My Father, if this cannot pass unless I drink it, your will be done."  [Matthew 26:36-42]
Jesus seemed to know that the path he was on would lead to his death.  And, even though it was leading to his death, he sensed that the path he was on was still, somehow, the will of God.  It wasn't God's will that he die, but that he remain faithful to God's call for justice and love, even in the shadow of death.  In prayer, Jesus got to his "okay."  "Okay, God, I don't want to be killed, but I know you call me to embody your love, and your love is leading me this way.  So, okay, your will, not mine, be done."
Matthew goes on tell about Jesus' arrest and his so-called trials before the Sanhedrin and the Roman Governor, Pilate.  He tells about Jesus being mocked and beaten and being led away to be crucified.
            And when they had crucified him, they divided his clothes among themselves by casting lots; then they sat down there and kept watch over him. Over his head they put the charge against him, which read, "This is Jesus, the King of the Jews." …

From noon on, darkness came over the whole land until three in the afternoon. And about three o'clock Jesus cried with a loud voice, "Eli, Eli, lema sabachthani?" that is, "My God, my God, why have you forsaken me?" When some of the bystanders heard it, they said, "This man is calling for Elijah." At once one of them ran and got a sponge, filled it with sour wine, put it on a stick, and gave it to him to drink. But the others said, "Wait, let us see whether Elijah will come to save him." Then Jesus cried again with a loud voice and breathed his last.…

When it was evening, there came a rich man from Arimathea, named Joseph, who was also a disciple of Jesus. He went to Pilate and asked for the body of Jesus; then Pilate ordered it to be given to him. So Joseph took the body and wrapped it in a clean linen cloth and laid it in his own new tomb, which he had hewn in the rock. He then rolled a great stone to the door of the tomb and went away. Mary Magdalene and the other Mary were there, sitting opposite the tomb.  [Matthew 27:35-37, 45-50, 57-61]
[1] Steven Charleston, a post on Facebook, https://www.facebook.com/bishopstevencharleston/posts/1327331527351716 (posted and accessed 14 April 2017).
I have a bunch of questions about the legalities of what happened on the United Express flight – questions about contract law and the legal authority of airline employees to kick someone off a plane. But this reflection isn't about the legalities. This reflection is about two other issues:  morality and being an upstander.
Father James Martin does a great job cutting through the noise to get to some of the moral questions in this "short take." I encourage you to read the whole thing, but I'll quote a couple paragraphs. He writes, "When we watch the video of the event something in us says, 'That's not right.' Pay attention to that feeling. It is our conscience speaking. That is what prompted the widespread outrage online – not simply the fact that people who have been bumped from flights share in the man's frustration but the immorality of a system that leads to a degradation of human dignity. If corporate rules and the laws of capitalism lead to this, then they are unjust rules and laws."
As the headline of the "short take" says, "The United Airlines debacle … is about the morality of capitalism." And my conclusion is that capitalism, at least as it is practiced in most of the United States today, is immoral. It places profit over people – every time.
Martin goes on, "Someone in authority – pilots, stewards, ground crew – might have realized that this was an assault on a person's dignity. But no one stopped it. Why not? Not because they are bad people:  They too probably looked on in horror. But because they have been conditioned to follow the rules."
I've been wondering about those of us who are not "someone in authority." We, too, have been conditioned to follow the rules and laws, even when the rules and laws are unjust. So, what would I have done if I had been a passenger on that airplane? Would I have stood up against the unjust assault on my fellow passenger's dignity, knowing full well that doing so would likely get me ejected from the aircraft and possibly arrested?
What keeps me from being an upstander (as opposed to a bystander) when systems and authorities act immorally?
I think the answers are:  fear and conditioning.  I also think that Jesus calls me beyond my fear and conditioning. May I follow that call.
A sermon preached at Niles Discovery Church, Fremont, California,
on Sunday, April 2, 2017, by the Rev. Jeffrey Spencer.
Scriptures:  2 Corinthians 5:11-21 and Psalm 51:1-12
Copyright © 2017 by Jeffrey S. Spencer
I had a seminary professor who thought that the church's mission was summed up in our reading from 2 Corinthians.  He said that the church's mission is summed up in the line about how God was in Christ, reconciling the world with God, and now God has given us this ministry of reconciliation.  The church's job, this professor said, can be summed up like this:  we are to be a vehicle of reconciling the world with God.
While I think the universal church's job does include reconciling humanity and God, I think there is an additional task:  Reconciling humanity with itself.  Of course, since I don't believe creation and God are all the separable, the act of some aspect of creation coming back into right relationship with itself is a form of that aspect of creation being reconciled with God.  So, maybe I'm not disagreeing with my professor all that much.  I'll stop there, before I get lost in some theological esoterica, saying this:  the church's mission includes, and perhaps should even be focused on, reconciliation.
The full passage we heard from this letter to the Christians in Corinth is about Jesus changing lives.  Here's my paraphrase of the reading (remember that Paul is writing):
Knowing God revealed in Jesus has changed us.  Sure, to some people we now seem a little nuts – but that's because God has changed us.  And if we don't seem nuts to you, that's because God is changing you, too.  Our priorities have changed.  How we view the world has changed.  How we view you has changed.  We used to live in the world in a way that separated us from God and from people.  No more.  Now we're reconciled with God.  Nothing stands in the way of our relationship with God.  And now we are helping people find that change in their own lives.
When I take a metaphoric look at the stories in the gospels of Jesus healing people metaphorically, I see Jesus doing exactly what Paul says Jesus was doing.  Jesus was bringing people back into right relationship with God and with their communities.  And when I look at what Jesus said, as recorded in the gospels, he was calling communities to get into right relationship with God and all their people.
I think the act of reconciliation is salvific.  And that, John claims, is what Jesus was all about:  "Indeed, God did not send the Son into the world to condemn the world, but in order that the world might be saved through him" (John 3:17, NRSV).  But reconciliation isn't easy.  If you've ever experienced a betrayal in a relationship with someone you love, you know how difficult reconciliation is.  Salvation isn't easy.  Jesuit John Harriott wrote, "Salvation is not comfortable.  Salvation is not a gentle application of Vaseline to a small cut, but the breaking and resetting of ill-set bones.  We discover our need when we are faced with situations over which we have no control, and in which we have no hope."[1]
A demand of reconciliation is change.  And change is hard.  A result of salvation is change.  And change is hard.  But Jesus was about transforming lives.  And that hard, painful work is exactly what it's going to take if we are going to be about the work of ending racism.
The rest of the sermon is primarily for the white people in the congregation (including myself).  That is because I have come to realize that racism is a white person's disease and it is only if we white people do our work that it can finally be banished.
Being able to claim a "white" identity in the United States comes with certain social, cultural, and economic advantages, from getting a call back for a job interview, to finding an apartment, to getting a booking an Airbnb.  I've explored in the previous sermons in this series how this privilege has deep historic roots in our culture.  But acknowledging it, this privilege, is not intended to induce guilt.  Rather, acknowledging it helps us build a sense of responsibility.[2]
If you have any doubts about the reality of white privilege, I encourage you to read the essay "Unpacking the Invisible Knapsack," by Peggy McIntosh.[3]  In it, she rattles off over two dozen simple ways white folk experience privilege without even realizing it in day-to-day life.  These privileges were born out of a culture of white supremacy – a reality I've explored over the past few weeks.
Two professors at Calvin College have pointed out that the denial of the reality of white privilege is actually born out of that same white supremacy.  "If you deny white privilege, if society is indeed meritocratic and the game is essentially fair, it is difficult to avoid assumptions about who tends to win and who tends to lose.  If the white population is not privileged in some way, how else does one explain the discrepancies between them and people of color?  What's left is assuming that white people are just smarter, more moral, work harder, or have a stronger culture."[4]
Peggy McIntosh says, "White privilege is like an invisible weightless knapsack of special provisions, maps, passports, codebooks, visas, clothes, tools and blank checks" that white folk walk around with without even realizing it.  We even open the knapsack and take out those resources from time to time without even realizing it.  Waking up to the reality that we are doing it, waking up to the reality of this privilege is the first step in the transformation of white people, the first step that is needed to end racism.
You see, this is very much a gospel activity.  Racism is a sin.  And Jesus' ministry of reconciliation is a ministry of repentance, of turning from sin and toward the beloved community.  But it's hard work, because white supremacy is an idol, and if you ever want to see someone get mad, really mad, threaten their idol.  And just to remind you, an idol is anything we hold onto more tightly than God, anything we worship and honor and value more highly than God.  An idol is any power that holds more sway in our lives than God.  And power, Richard Rohr points out, "never surrenders without a fight."[5]
"If your entire life has been to live unquestioned in your position of power – a power that was culturally given to you but you think you earned – there is almost no way you will give it up without major failure, suffering, humiliation, or defeat."[6]  That's why a growing awareness of white privilege can hurt so much.
Which brings us to the second step in the transformation Jesus wants to work on us white people.  The Calvin College professors advise, "Resist rushing past or suppressing the deep sadness of this idolatry.  It is so easy to medicate with avoidance, delusion, and quick tears.  Repentance requires real sorrow and grief.  It is a sorrow that acknowledges that we have missed the mark, that we have fallen so very short."[7]
Heather Caliri suggests we can find a model in the story of King Josiah in 2 Kings.  "In 2 Kings 22, Josiah starts restoring the temple after his father and grandfather neglected it.  In the midst of construction, Josiah's high priest finds the book of the Law and reads it in front of the king.  Upon hearing it, Josiah tears his clothes in grief.…
"Before Josiah's reign, two generations of Judeans neglected to teach the law.  Josiah and his subjects literally didn't know any better.  "God still holds them responsible for the sins of their fathers.  To our Western ears, that might sound unfair, even if generational sin is a constant Biblical theme.  Like Josiah, we inherited [the] sin [of racism] not of our own making.  Yet it's very much our problem.
"Saying things are better now is no excuse.  Josiah could have said the same – after all, he was trying to restore the temple before he discovered the Law.  God required hard repentance anyway.
"Josiah, grieved by his discovery, sent for [the Prophet] Huldah and listened as she blasted him with more bad news.  Josiah could have tuned out her negativity – especially when the sins didn't happen on his watch, and he'd already done so much to change things.  Instead, he listened."[8]
To be honest, that's mostly what I've been doing in this sermon series.  I've been reading and researching our history and discovering things I'd never been taught.  I've sought out articles by and stories from people of color to better understand how they experience this culture.  I have tried, with some success, to open my eyes to the horror of slavery and its brutal legacy, and to the near genocide of the first peoples who lived on this land.  In that process, I have worked on recognizing my prejudices and biases.  This has not been easy work, but if we take Josiah's story seriously, we must do as he did and patiently listen.  Then, and only then, will we be ready to take action.
"Once Josiah hears [the Prophet] Huldah's words, he acts.  He burns Asherah poles, deposes priests and dismantles idolatry for 20 years.  Josiah demolishes a complex, idolatrous system.
"Systems span generations.  When our ancestors set up a sinful system, we carry on sinning unless someone dismantles it with tireless energy.  That's why holding children accountable for the sins of their fathers makes sense.
"Josiah also teaches us who should dismantle systems.  Josiah confronted a system that, as king, benefited him enormously.  But his leadership was crucial – how can anything change unless those with power take action?
"In our own country, black people and other people of color largely lead the way on racial justice, even though they've historically had little institutional power.  Though some people and some white institutions have taken brave steps, we have not, as a people, stepped up as Josiah did.  [Since] white people created racist systems, God tasks us with the primary responsibility for challenging them."[9]
So, here are a few concrete things white people can do to start the process of dismantling racism:
Don't ask African-American to forget what their ancestors went through as slaves in this country, or ask them to ignore how that impacts them daily.
Don't detach ourselves from what our ancestors or people that look like us have created, maintained, and have benefited from—and that we continue to benefit from.
Remember that we were born into a system of white supremacy that we did not create, but must actively help to dismantle.
Don't be afraid to have the ugly conversations with people who look like us, and don't be afraid to listen to and learn from the people who don't look like us.
Shut up while people of color tell their own stories, in their own ways, and to their own ends.
Accept the truths and experiences of racial injustice shared by people of color as valid.
Listen to people of color, advocate for people of color, sympathize with people of color, fight alongside people of color, and raise our voices to match the outcries being made by people of color.
Be an ally by standing up against racial injustice, celebrating racial diversity, and taking on this fight as our own.[10]
"Josiah's story is ultimately a tragedy.  When he dies, his own son goes right back to the idolatrous systems Josiah worked to eradicate.
"I once assumed that the Civil Rights movement had taken care of the sins of previous generations.  Josiah's failure reveals my naiveté.  Between slavery and [the latest] versions of Jim Crow, we've experienced nearly [400] years of state-supported racism in America.  Josiah, in contrast, inherited a fairly new problem:  His father and grandfather wreaked havoc for only 57 years.  Yet 20 years of Josiah's sustained effort wasn't enough.  If Josiah couldn't accomplish change in one generation, how can we assume we did [or we will]?"[11]
This will be a long struggle.  It is a multi-generational struggle.  White people have a lot to confess, and turning the whole system around in an act of societal repentance is a very big ask.  But it is the transformational ministry Jesus is doing in us individually and in us as a church.  And it is the transformational ministry, this ministry of reconciliation, Jesus has given to us.
Amen.
[1] John Harriott, SJ, quoted by Ryan Dowell Baum on Facebook, https://www.facebook.com/revryandb/posts/1725011814455430 (posted and accessed 29 March 2017).
[2] Joseph Kuilema and Christina Edmondson, "Confronting White Privilege," The Banner, http://thebanner.org/features/2017/01/confronting-white-privilege (posted 20 January 2017; accessed 27 March 2017).
[3] Peggy McIntosh, "White Privilege: Unpacking the Invisible Knapsack," The National SEED Project, https://nationalseedproject.org/white-privilege-unpacking-the-invisible-knapsack (copyright 1989).
[4] Kuilema and Edmondson, op. cit.
[5] Romal J. Tune, "Richard Rohr on White Privilege," Sojourners, https://sojo.net/articles/richard-rohr-white-privilege (posted 19 January 2016; accessed 27 March 2017).
[6] Ibid.
[7] Kuilema and Edmondson, op. cit.
[8] Heather Caliri, "Repenting of Systemic Racism," Relevant, http://archives.relevantmagazine.com/current/repenting-systemic-racism (posted 7 September 2016; accessed 27 March 2017).  I've done some re-setting of her paragraphs.
[9] Ibid.
[10] This is taken from one of my own Facebook posts from 24 February 2016.
[11] Caliri, op. cit.
A sermon preached at Niles Discovery Church, Fremont, California,
on Sunday, March 26, 2017, by the Rev. Jeffrey Spencer.
Scriptures:  Mark 5:1-20 and "Kids Who Die," by Langston Hughes
Copyright © 2017 by Jeffrey S. Spencer
Today's gospel lesson is a wonderful, dramatic story.  Jesus has been teaching by the Sea of Galilee.  That night, he and his disciples get in a boat to cross the sea.  While Jesus sleeps, a storm kicks up, severely scaring the disciples.  They wake Jesus and he stills the storm.
They get to the other side of the sea, in the country of the Gerasenes, an area where Gentiles live.  They step out of the boat and are met by a madman who has made his home in the cemetery.  I've always pictured Jesus coming ashore and wandering directly into the cemetery, though that's not exactly what the scripture says.  I've also pictured the man as naked and unbathed, with matted hair and beard.  The story doesn't say that either, though later, when he's been saved by Jesus, there is a line about him being clothed.
There is no question but that the man is tormented.  He has lost his own voice to what torments him; all he does is howl.  When words come out of this mouth, that the words of the demons that we hear.  He injures himself because he is in so much pain.  The demons that torment him have stripped away his humanity – completely.  Only the demons speak, and when they do, they recognize who Jesus is and the threat Jesus poses.
The story is rich with symbolism.  In the Hebrew scriptures, the sea represents chaos.  In the story right before this one, Jesus show he is master over chaos when he calms the chaotic, life-threatening storm on the sea.  The man who meets them when they come ashore is the personification of chaos.  They come ashore in the land of the unclean (the Gentiles), in an area that is unclean (a cemetery), and are confronted by someone who is unclean (the man who is possessed).
If there is any person who is less than fully human, it's this guy.  If there is anyone who is less worthy, of less value, it's this guy.  This man is "other" on so many levels.  And Jesus sees right through this "otherness," seeing the man's true humanity.
When I picked this lesson for this sermon, I thought about the "otherness" of the man possessed.  I thought about how racism "others" people of color.  Racism says that whiteness is normal and people who aren't white are abnormal, not fully human, less than, other.  I looked at how Jesus saw through that "otherness" and heard a call to go and do likewise.
But as I reflected on this scripture this past week, I came to see society in the man possessed.  Society is possessed by the demon of racism.  And racism has a legion of faces.
"My son was about 2 years old," writes Kelly Brown Douglas.  "I had taken him to the park to play in a Flintstones-like car that was in the park's playground.  This particular park was next door to an elementary school.  After being in the park for about 15 minutes, what appeared to be a class of first graders recessed into the park.  Two little boys, one blonde-haired the other redheaded, ran down to the car where my son was playing.  Seeing them coming, my son immediately jumped out.  Soon the two little boys began fighting over who was going to play in the car.  My son looked on with the fascination of a 2-year-old.  The little redheaded boy, who seemed to be winning the battle for the car, saw my son looking.  He suddenly stopped fighting for the car and turned toward my son.  With all the venom that a 7- or 8-year-old boy could muster, he pointed his finger at my son and said, 'You better stop looking at us, before I put you in jail where you belong.'  This little white boy was angry.  A black boy had intruded upon his space.  My son was guilty of being black, in the park, and looking.
"I was horrified.  Before I could say anything to the offending boy the white teacher, who was in earshot, approached.  She clearly heard what the little boy said to my son.  I expected her to have a conversation with the little boy and to make him apologize.  Instead, she looked at my 2-year-old son as if he were the perpetrator of some crime, and said to the little boys, 'Come on with me, before there is trouble.'  At that moment, I was seething with anger.  I took my son and left the park.
"As we walked away, I felt an unspeakable sadness and pain.  At 2 years old, my son was already viewed as a criminal.  At 7 or 8 years old the link between a black boy's body and a criminal had already been forged in the mind of a little white boy.  If at 2 years old, a white teacher already regarded my son as a troublemaker, I feared what the future might bring."[1]
That is one of the legion of faces of racism today; there are many others.  I asked a group of friends who live in the Tri-Cities[2] to share with me their experiences with racism.  I tried to get a cross-section of ages and ethnic backgrounds, and I was blessed with several responses, especially given how quick a response I had asked for in my request.  Here's just a sample.
One friend is a Muslim woman.  She and her husband are immigrants from Pakistan.  They have three children.  She told me that their eldest has pale skin and, when little, was often mistaken for a Caucasian.  His experience was quite different from that of his little brother.  The younger brother tans easily and has a mole on his forehead.  From early elementary school, he was teased.  In Middle School, he was called names like "Zit Face," "terrorist," "Gandhi dot," and "sand monkey" – to mention just a few of the names that his mother is aware of.
A European-American shared some incidents she witnessed or learned about in her neighborhood.  In Union City, after an off-campus shooting, the Union City police pulled together suspected gang members and their friends, all of whom were African American, for questioning.  She wonders what role racism played in that roundup.
Her neighbor reported his car tagged with a gang symbol.  Some of the responding police suggested the perpetrators were wannabe gang members and called them "grease monkeys" and "welfare cases."
Another friend, a middle-aged woman from south Asia, immigrated in 1978 and became a citizen in 1986.  She shared how for the first twenty-plus years she lived in the United States, she volunteered in her children's schools, in Girl Scouts, in camps, in sports programs, and on the boards of several non-profit organizations.  Then came the attacks on September 11, 2001.  "It is painful to be labeled as terrorist," she told me, "because of the 9/11 tragedy, [especially] after being a part of the American fabric for over 20 years and serving and trying to make America a better nation for all.  Our loyalties are questioned every day since that tragedy by asking us to condemn those or any other terrorists acts since then, no matter who is responsible and where it happens."
This is a woman with a deeply compassionate heart, and she told me about another incident that happened to a young Latina who worked in Starbucks.  One day, my friend saw that the barista was upset and asked her what had happened.  Earlier that day, a customer had asked the barista a question about school.  The barista proudly told the customer that she had just graduated from high school.  The customer responded, "So this is it for you because your kind do not go to college, you will get pregnant and have babies."  The barista was too stunned to respond, even though she could have said that she had a full scholarship to attend a university that fall.
These stories I've shared are about just one form of power that Racism takes.  You know the old expression, "It's only the tip of the iceberg."  It refers to the fact that the vast majority of an iceberg is underwater.  It applies here.  These overt acts of racism are the portion of the iceberg we can easily see.  Below the surface there are other powers at work.
The first power we see is "Power Against" or "Power Over."  This is the power I've talked about so far, the power that works against people of color.  When racism wields this power, it tells the shop clerk to follow that African-American kids through the store because she is suspect, that it's okay for a cop to label a Latino kid a "grease monkey," and that the future for a 2-year-old black boy is jail.
The second power of racism is often harder to see.  It is the "Power For" people who are white.  This is the power that allows me to assume I will be treated justly in the court system, or to assume that I will get a job interview based solely on the fact that my name "sounds" white.  This is the power that gets me a bank loan when an equally qualified person of color doesn't get it.  It is the power that allows me to assume that I will be shown the apartment if it's available, as assumption people of color cannot always make.
One of the people who I asked to share stories of racism told me one about a time her daughter got caught shoplifting.  The mom threatened to "let them" have her arrested, and that this would ruin her chances to get into college, and there would be all kinds of consequences for her stupid actions, and (as the mom put it) "blah, blah, blah."  The mom talked about grounding, severe consequences at home that hadn't yet been imagined.  She said to the child that you need to apologize, assure the store person that you will never do anything like this again.  This went on until the store person said to the mom, "Obviously, you will make sure this doesn't happen again.  Your child's name will be kept on our records and isn't allowed back in here."  No police report filed.  No jail time.  No criminal record.  The daughter got to go home, got go to college.  The mom points out that she and her daughter are white.
This is racism's Power For white people at work.
So is the fact that the GI Bill made home loans available to white GIs after World War II, but not to black GIs.[3]
One of my friends pointed out that white people general don't acknowledge that their families have benefited from access to college educations, home loans, inherited wealth, job preferences, networking, safe travel, white-biased testing, financial and social training, etc.  All this is racism's Power For white people.
And then there's the third power of racism, the Power that Distorts the truth:  that we are each and all made in the image of God.  This is the power of racism that gets deeply and perhaps I should say demonically internalized.  Any time I feel better than, more than, scared of someone of darker hue, this is the result of this third power of racism distorting the truth in me.
A white friend shared with me about dating an African-American man.  My friend said, "Watching women clutch their purses or actually cross the street when they walked by my beautiful and gentle boyfriend was shocking to me.  Overhearing a family ask to move their seats away from our vicinity in a Black Angus restaurant was an eye-opener."  This is racism's Power that Distorts at work.  Racism distorted these strangers' views of my friend's boyfriend.
It is the same Power of racism at work in a friend who is of several races.  He shared with me how through his adolescence he tried so hard to be white.  He said, "I desperately wanted to be accepted by the White community.  I wanted to be as white as possible, forsaking the color of my skin, my heritage, and my culture," this despite the fact that his white friends often bullied him, calling him "half-breed."  Racism distorted my friend's sense of his own full humanity and it has taken a lot of personal work to reclaim it.
Being aware of these Powers racism has is a start, but it is not enough.  Some of the work that we need to do is very personal, and I'll talk about that next week.  The other work is communal work.  Obviously, standing up to overt acts of racial prejudice is one way we can address racism's Power Against.  Working on policy change so that racism's Power Against and Power For are rooted out is another activity we can engage in.  For instance, we could work for criminal justice reform and an end to mass incarceration.  And we as a congregation could develop partnerships with faith communities whose members are predominantly people of color.
The past sermons in this series have shown just how deeply racism runs in our culture and country.  We are not going to get rid of it easily.  But the more we are aware of racism's powers, the more likely we will find ways to cast out this demonic legion that possesses us.
Amen.
[1] Kelly Brown Douglas, "The Stories That Matter from a Black Mother to Her Son," Sojourners, https://sojo.net/articles/faith-action/stories-matter-black-mother-her-son (posted and accessed 20 March 2017).
[2] Fremont, Newark, and Union City are called the "Tri-Cities" here in the San Francisco Bay Area.
[3] See, for instance, http://americanexperience.si.edu/wp-content/uploads/2015/02/After-the-War-Blacks-and-the-GI-Bill.pdf and http://www.demos.org/blog/11/11/13/how-gi-bill-left-out-african-americans.
There was so much ground to cover in today's sermon that I just couldn't cover everything. One thing I didn't talk about was the racist tweet from Congressman Steve King of Iowa, posted on March 12.
As you can see, King's tweet is in support of his fellow anti-immigrant demagogue Geert Wilders (who is seeking to become the next Dutch prime minister), praising him as one who "understands that culture and demographics are our destiny. We can't restore our civilization with somebody else's babies."
The "our" of "our destiny" is White people. Since he's tweeting about someone in Europe, one could assume that this isn't just about White America, but it is about something bigger. And, sure enough, it is.
Asked by New Day host Chris Cuomo to defend the comments on March 13, King doubled down on his view that "western civilization" must be defended. Pressed on whether he believes "a Muslim American, an Italian American, Jewish American, [are] all equal, all the same thing," King hesitated.
"They contribute differently to our culture and civilization," the Iowa Republican responded. "Individuals will contribute differently, not equally to this civilization and society. Certain groups of people will do more from a productive side than other groups of people will." Watch the video.
When King talks about "the American civilization" and "the American culture," he's talking about White, Anglo-Saxon-based culture. And when he talks about "assimilation," he's talking about stripping non-Whites of their culture so the White-supremacist culture of controlling the United States doesn't have to change. I have no doubt that Congressman King believes that the racist, Anglo-Saxon-based culture that has held power in the United States is supreme to all other cultures. It is a racist belief.
The Southern Poverty Law Center points out that this racist belief is based on lies.
It's a lie, for example, that immigrants don't want to learn English. According to the U.S. Census Bureau, 56% of first-generation immigrants speak English "well" or "very well," and the demand for English instruction actually far outstrips supply.
It's a lie that immigrants are violent or criminal. According to a new report by The Sentencing Project, immigrants commit crimes at lower rates than native-born citizens. Higher levels of immigration may even have contributed to the historic drop in crime rates, researchers say.
In the run-up to both of President Trump's Muslim bans, perhaps the most widely circulated lie has been that refugees are not screened before entering the country, that banning them will keep the U.S. safe from terror.  This is patently false.  Refugees undergo more rigorous screenings than any other individuals the government allows in the U.S., and we know that no deaths in the U.S. have been attributed to people from the countries covered by either executive order in the last 30 years.
All of these lies, however far-fetched, are based on the same dangerous falsehood:  that immigrants and refugees are somehow not like us:  that they're not students in search of an education; that they're not families trying to make ends meet; that as "somebody else's babies," they don't belong here.
The truth is that immigrants are our neighbors and our friends.  They are Americans.
A sermon preached at Niles Discovery Church, Fremont, California,
on Sunday, March 19, 2017, by the Rev. Jeffrey Spencer.
Scriptures: 1 John 4:18-21 and Deuteronomy 24:14-22
Copyright © 2017 by Jeffrey S. Spencer
It might be helpful if I being with a little glossary. Refugees are people fleeing civil unrest, war, famine, or persecution, sometimes a combination. They are leaving everything they have known to start over in a place they believe is safe. Not all people who flee civil unrest, war, famine, or persecution end up fleeing to another country. Some simply move to another part of their country – and are called "internally displaced." But when they move to another country, they are considered "refugees."
We are probably more aware of the refugees fleeing Syria and Iraq than other refugees. However, because of famine that is looming in four countries, I suspect we will be seeing more refugee crises.
In addition to the four countries mentioned in that video, the United Nations has identified Kenya as another country facing a food crisis, where more than 2.7 million people are food insecure, and that this number could reach four million by April.[1]
When we talk about U.S. immigration policy, we're talking about refugees, yes. But more likely, we're talking about immigrants. Immigrants are people moving from one country to another primarily for economic or educational opportunities, or for family reunification. Immigrants can follow a process defined in law and go to a new country legally, or they can go to a new country without following the process defined in law and go to the new country illegally. Immigrants who come to the United States legally often, but not always, have a specific opportunity identified – a job lined up or a college admission. Immigrants who come to the United States illegally rarely have a specific opportunity identified.
When my great-great-great-great – actually, I don't remember how many greats it is – grandparents moved to this continent, they didn't have visas. The people who lived here at the time didn't issue visas. John and Priscilla were on a boat called Mayflower and they thought that the permission of the English government to establish a colony was all the permission they needed.[2]
150 years later, their descendants (at least some of them) decided it was time to declare their independence from Great Britain. Thirteen years later, the founding fathers got around to putting together the nuts and bolts of the new nation and its government, and when the first Congress convened in 1790, one of the first acts they passed was a naturalization act. This law "provided the first rules to be followed by the United States in the granting of national citizenship. This law limited naturalization to aliens who were 'free white persons' and thus left out indentured servants, slaves, free blacks, and later Asians, as well as women."[3]
It would be anachronistic to call this restriction "racist" (or "sexist"). Notions of race weren't really developed for another hundred years or so. Still, as I've talked about in previous sermons in this series, this attitude that white Anglo-Saxons are better than other humans weaved the patterns of racism into the fabric of our nation.
Immigration into this new nation came from two places initially. The bulk of the immigration was from Western Europe. There was also, until 1804, the importation of Africans to serve as slaves. (After 1804, the slave population continued to grow because the child of a slave was a slave.) The Western Europeans were sufficiently like the Anglo-Saxon founders of the nation and they assimilated rather smoothly. The Africans were held in bondage and so were not seen as a threat to the Anglo-Saxon-American way of life. But that started to change in the 1800s.
If you're like me, you were taught that the Irish potato famine was caused by a fungal blight that wiped out the potato crop in Ireland. "While the blight did strike and take down most of Ireland's potatoes, the truth is that Ireland was exporting more than enough food to feed everyone at the same time as the famine was happening. Run as a colony of the vast British Empire, Ireland was a colonial food-producing operation, much like India and the sugar islands of the Caribbean, but locals were not allowed to eat the very food they were producing.
"In other words, a million Irish starved for no reason other than greed."[4] But this is a sermon on immigration policy, not economic policy, so we'll save that line of thought for another day.
Not only did a million of Irish starve, but about two million emigrated, most (about three-quarters) coming to the United States. They faced suspicion upon their arrival here. They weren't WASPs, and this bothered those who were in power. As with other non-WASP immigrants, they faced a "nativist" backlash. Catholics, Jews, and people speaking anything other than English were the favored targets of nativism. Technically speaking, "Nativism is the political position of supporting a favored status for the native majority of a nation while targeting and threatening newcomers or immigrants."[5] In the United States, "native majority" had nothing to do with Native Americans. It meant – and still means – English-speaking, white people.
Also in the middle of the 1800s, gold was discovered in California. Not only did this mean that east coasters came to the west coast, but people from all around the world came to the west coast – even from China. "There is a rich an interesting history of the conflicts that developed between the Chinese immigrants and the Americans who had migrated from the eastern United States. Riots and violence were regularly recurring features. A generation of populist politicians built their careers by stirring up hysteria against the yellow peril. Finally, agitation reached a level sufficient to persuade congress to pass the Chinese Exclusion Act"[6] in 1882. Not only did the Chinese Exclusion Act keep new immigrants from China out of the country, it also "affected the Chinese who had already settled in the United States. Any Chinese who left the United States had to obtain certifications for reentry, and the Act made Chinese immigrants permanent aliens by excluding them from U.S. citizenship."[7]
"When the US entered World War I, about one in four US residents were not native born. Tension between the new arrivals and the nativists was chronically high. Following the war this resulted in an effort to shut down immigration. This was codified in the Immigration Act of 1924. Also know as the Johnson-Reed Act, it "limited the number of immigrants who could be admitted from any country to 2% of the number of people from that country who were already living in the United States in 1890…. The law was aimed at further restricting the Southern and Eastern Europeans who were immigrating in large numbers starting in the 1890s, as well as prohibiting the immigration of East Asians and Asian Indians."[8]
My maternal grandmother got caught by this act. There were so few Swiss in the United States in 1890, the number allowed in during the mid and late 1920s was very small, and she repeatedly didn't make the quota. I need to do a little family archeology to find out how she eventually made it into the United States.
If we're surveying U.S. immigration policy, we can't skip over the so-called "Mexican Repatriation" – a blot on our country's history that I never learned about in school. "The Mexican Repatriation refers to a forced migration that took place between 1929 and 1939, when as many as one million people [estimates vary from hundreds of thousands to two million people] of Mexican descent were forced or pressured to leave the US. The term 'Repatriation,' though commonly used, is inaccurate, since approximately 60% of those driven out were U.S. citizens."[9] Because the forced movement was based on race while it ignored citizenship, one might wonder if this effort meets the modern standards to label it an incident of ethnic cleansing.
As we did following World War I, after World War II, the United States tightened immigration rules. The Immigration and Naturalization Act of 1952 organized the various rules and laws into one act. On the surface, it looked like the law moved away from racism. "The Act abolished racial restrictions found in United States immigration and naturalization statutes going back to the Naturalization Act of 1790."[10] However, these restrictions were replaced with nation-of-origin quotas. But if you allow 51,227 people to immigrate from Germany but only 512 from the Belgian Congo – well, maybe you just have racial restrictions by another name.[11]
The nation-of-origin quotas actually only applied to one class of immigrant, topping the number of these regular immigrants at 270,000 per year. This did not include those with special skills for employment or who had relatives who were U.S. citizens; they were exempt from the quota. And it did not include refugees, who could apply for immigration under a procedure set following World War II though international agreement.
The last significant immigration act was passed in 1965. This act "abolished the national origins quota system that had structured American immigration policy since the 1920s, replacing it with a preference system that focused on immigrants' skills and family relationships with citizens or residents of the U.S. Numerical restrictions on visas were set at 170,000 per year, not including immediate relatives of U.S. citizens," and some other rarified cases.[12] While this was a step in the right direction, vestiges of racism remain in the practice of administering immigration law. Officially, Congress ended the national-origins quotas to create a policy that was "equal." But "equal" means that every country has the same cap, and this was actually done to limit legal immigration from Mexico and countries in Asia.[13] A 1986 law included extra visas for nationals from 36 countries, most of which are in Europe.[14] The Diversity Visa program launched by the 1990 immigration reform bill was established to favor Europeans.[15]
This brings us to today. Today, we live in a country of about 320 million people. About 300 million of them are citizens.[16] Of the remaining roughly 20 million, about half are legal immigrants and the other half are in the country illegally. The immigrants who are here without documentation either came without documents or overstayed the permission they had to be here. It has been the policy of the United States to deport the people who are here without documentation. Poking around trying to find numbers, I discovered that definitions have changed. It looks to me like administrations didn't classify removals of people who had just illegally crossed the border as deportations until the Obama administration (and it's not clear to me when the Obama administration started calling them deportations). So President Obama may or may not have deported more people than any other President (at least so far) – it's unclear.
Two things are clear:
Deportations are continuing under the Trump administration – though according to the USA Today, "The first major immigration raid under President Trump shows a clear shift in the federal government's deportation strategy, focusing more on undocumented immigrants without criminal records than under President Obama."[17]
The levels of anxiety in families where one or more of the parents is here without documentation is skyrocketing as they fear that their families may be torn apart by a deportation.[18]
Meanwhile, President Trump has tried yet again to ban travel from Syria, Iran, Libya, Sudan, Yemen, and Somalia – at least temporarily. (Yes, the last two countries on that list are facing famine.) The order also bans all refugees from entering the country for at least 120 days. While the ban has been halted by federal judges, it is clear what the President wants to do.
I don't want to argue the constitutionality of order – I'll let the lawyers and judges hash that out. What I want to talk about is how this legacy of racism in our immigration policies goes against the gospel of Jesus Christ. When our policies say – directly or indirectly – that you are more or less worthy because of your race (in this case, worthy or unworthy to become part of our country), that goes against the truth that we are all created in the image of God, that we are all precious in the heart of God, that we are all equal in the eyes of God.
Heck, it goes against one of the strongest through line in scripture. Listen to this.
Listen again to these words from our lesson from 1 John: "Those who say, "I love God," and hate their brothers or sisters, are liars; for those who do not love a brother or sister whom they have seen, cannot love God whom they have not seen. The commandment we have from him is this: those who love God must love their brothers and sisters also."
So, how do we as a church address this legacy of racism in our immigration policy? I've got a couple ideas. We could investigate becoming a sanctuary congregation. We could volunteer to sponsor a refugee family. A contingent of our congregation could participate in a border immersion program and report back to the congregation. And if you want to do something personally, you can volunteer at an immigrants' rights organization.
Since we are a non-creedal church, we generally don't recite creeds. I know I'm resistant to reciting creeds because I want to go through them with a pen so I can cross out things that I don't believe or that I think are too easily open to misinterpretation. Still, I'm going to invite you to join me in reciting a creed today – not as a statement of belief, but as a statement of hope.
Immigrants' Creed[19]
I believe in Almighty God, who guided the people in exile and in exodus, the God of Joseph in Egypt and Daniel in Babylon, the God of foreigners and immigrants.
I believe in Jesus Christ, a displaced Galilean, who was born away from his people and his home, who fled his country with his parents when his life was in danger. When he returned to his own country he suffered under the oppression of Pontius Pilate, the servant of a foreign power. Jesus was persecuted, beaten, tortured, and unjustly condemned to death.
But on the third day Jesus rose from the dead, not as a scorned foreigner but to offer us citizenship in God's kingdom.
I believe in the Holy Spirit, the eternal immigrant from God's kingdom among us, who speaks all languages, lives in all countries, and reunites all races.
I believe that the Church is the secure home for foreigners and for all believers. I believe that the communion of saints begins when we embrace all God's people in all their diversity. I believe in forgiveness, which makes us all equal before God, and in reconciliation, which heals our brokenness.
I believe that in the Resurrection God will unite us as one people in which all are distinct and all are alike at the same time.
I believe in life eternal, in which no one will be foreigner but all will be citizens of the kingdom where God reigns forever and ever. Amen.
[1] "UN aid chief urges global action as starvation, famine loom for 20 million across four countries," UN News Centre, http://www.un.org/apps/news/story.asp?NewsID=56339#.WM4hgxiZOH1 (posted 10 March 2017; accessed 15 March 2017).
[2] I think it's something like 13 or 14 "greats" between John Alden and Priscilla Mullins (they married once they were in the Americas) and me.
[3] Richard Lyon, "A History Of American Racist Immigration Law," Daily Kos, http://www.dailykos.com/story/2010/5/14/866285/- (posted 14 May 2010; accessed 15 March 2017).
[4] Ocean Malandra, "EarthRx: The Irish Potato Famine Was Caused by Capitalism, Not a Fungus," Paste, https://www.pastemagazine.com/articles/2017/03/earthrx-the-irish-potato-famine-was-caused-by-capi.html (posted 13 March 2016; accessed 17 March 2017).
[5] Wikipedia, "Nativism (politics)," https://en.wikipedia.org/wiki/Nativism_(politics) (accessed 18 March 2017).
[6] Lyon, op. cit.
[7] Wikipedia, "Chinese Exclusion Act," https://en.wikipedia.org/wiki/Chinese_Exclusion_Act (accessed 18 March 2017).
[8] Lyon, op. cit.
[9] Ibid.
[10] Wikipedia, "Immigration and Nationality Act of 1952," https://en.wikipedia.org/wiki/Immigration_and_Nationality_Act_of_1952 (accessed 18 March 2017).
[11] These are sample numbers shared with my by Jim Peck.
[12] Students at the University of Washington-Bothell, "1965 Immigration and Nationality Act …" U.S. Immigration Legislation Online, http://library.uwb.edu/Static/USimmigration/1965_immigration_and_nationality_act.html (accessed 18 March 2017).
[13] David Cook-Martin and David Scott FitzGerald, "How Legacies of Racism Persist in U.S. Immigration Policy," Scholars Strategy Network, http://www.scholarsstrategynetwork.org/brief/how-legacies-racism-persist-us-immigration-policy (posted June 2014; accessed 18 March 2017).
[14] Ibid.
[15] Ibid.
[16] "Population Distribution by Citizenship Status," The Henry J. Kaiser Family Foundation, http://kff.org/other/state-indicator/distribution-by-citizenship-status/?currentTimeframe=0&sortModel=%7B%22colId%22:%22Location%22,%22sort%22:%22asc%22%7D (accessed 18 March 2017).
[17] Alan Gomez, "Trump immigration raids show greater focus on non-criminals," USA Today, http://www.usatoday.com/story/news/nation/2017/02/16/president-trump-immigration-raids-target-fewer-criminals/97988770/ (posted 16 February 2017, accessed 19 March 2017).
[18] See, for instance, Andrew Gumbel, "Doctors see a new condition among immigrant children: fear of Trump," The Guardian, https://www.theguardian.com/us-news/2016/nov/25/donald-trump-immigration-deportation-children-doctors (posted 25 November 2016; accessed 18 March 2017).
[19] Written by José Luis Casal, now director of Presbyterian World Mission, prepared it for a worship service for the Assembly of APCE in Chicago around 1998 or 1999.
A sermon preached at Niles Discovery Church, Fremont, California,
on Sunday, March 12, 2017, by the Rev. Jeffrey Spencer.
Scriptures: Galatians 3:23-39 and Daniel 1:1-21
Copyright © 2017 by Jeffrey S. Spencer
"Despite bitter cold, wind, rain and hail," the PBS Newshour reports, "hundreds of members of Native American tribes and supporters from around the country turned out Friday to march on the White House, in an effort to turn the momentum of the Standing Rock protests [against the building of a oil pipeline through and near reservation land] into a more sustained movement for native rights.
"The march and a rally in Lafayette Square across from the White House came after four days of protest, prayer and lobbying on Capitol Hill, where Native communities called for the protection of natural resources and demanded the new administration honor treaties with indigenous peoples."[1]
Five and a quarter centuries after the Doctrine of Discovery emboldened Europeans to come to the Americas and claim them, five and a quarter centuries after the people living on America's soil were first enslaved or killed with the blessing of the church, the descendants of those first nations are still fighting for their rights and their sovereignty.
If you're wondering how it is possible that the Doctrine of Discovery is still active in our society, the answer is easy: It's in our cultural DNA. Let me explain what I mean.
Last week, I talked about how the church is responsible for creating the Doctrine of Discovery and blessing the colonial expansion of Christian nations, which of course meant European countries. Thanks to the Doctrine, by the 1600s, Spain had established colonies in Central and South America, the Caribbean, and what is now Florida. Likewise, the Portuguese had established a foothold in South American.
England had gained military power and started establishing colonies in North America. The Doctrine of Discovery gave the justification for the English to do this. Back in 1497, just a few years after Columbus' first voyage to the Americas, a English-financed explorer planted the English flag in what is now Newfoundland, so they felt they could claim they had "discovered" the land. In 1607, they founded Jamestown, and in 1621 the Plymouth colony was established by English Pilgrims.
In 1619, a year before the Pilgrims set out to establish their utopia, a Dutch ship arrived in Jamestown that would have repercussions for the next four hundred years. The ship carried Africans, but they were not passengers. They were the cargo. While they may have been the first slaves brought to an English colony as cargo, they were hardly the first slave brought from Africa to the Americas. "By 1619, a million blacks had already been brought from Africa to South America and the Caribbean, to the Portuguese and Spanish colonies, to work as slaves."[2]
The African slave trade was justified the same way the conquest of the Americas and the enslavement or murder of the native peoples living there was justified: the Doctrine of Discovery. Successive Popes had said that European kings should "invade, capture, vanquish, and subdue … all Saracens and Pagans and all enemies of Christ … to reduce their persons in perpetual slavery … and to take away all of their possessions and property" (to quote the 1452 Papal Bull Dum Diversas). Historian Howard Zinn notes, "By 1800, 10 to 15 million blacks had been transported as slaves to the Americas, representing perhaps one-third of those originally seized in Africa. It is roughly estimated that Africa lost 50 million human beings to death and slavery in those centuries we call the beginnings of modern Western civilization, at the hands of slave traders and plantation owners in Western Europe and America, the countries deemed the most advanced in the world."[3]
A century and a half after the English started establishing colonies in North America and importing Africans to work as slaves, the colonists decided it was time to break ties with the king. And so they fought a war and managed to win, declaring their independence with the words, "We hold these truths to be self-evident, that all men are created equal, that they are endowed by their Creator with certain unalienable Rights, that among these are Life, Liberty and the pursuit of Happiness." Of course, when they said "all men," they didn't mean all people. They meant all property-owning, white, males.
Although this new nation was founded on freedom from tyranny, the idea that white people and Christians had certain divine rights was nevertheless ingrained in our nation's cultural DNA and quite literally into our policies. As someone raised in New England and whose family goes back to the Mayflower, I like to think of myself as coming from a people who opposed the evils of slavery. But New Englanders profited directly and indirectly from the slave trade and the three-fifths compromise in our constitution was pushed by the Yankees. They didn't want Blacks counted as people when it came to deciding how many Representatives southern states received. And nobody wanted the Indians counted. Thus, it was compromised that the population of the states would be set by "adding to the whole Number of free Persons, including those bound to Service for a Term of Years [that is, indentured servants], and excluding Indians not taxed, three fifths of all other Persons."[4] Well, the only other people who were left were slaves of African ancestry.
Another way this supremacy of the white people because part of our policies and cultural DNA was through the court. The 1823 Supreme Court decision in Johnson v. M'Intosh is a key example. While the decision is often framed as "private citizens could not purchase lands from Native Americans,"[5] what it really said is that Indians really didn't own the property in the first place. The decision "begins with a lengthy discussion of history of the European discovery of the Americas and the legal foundations of the American Colonies. In particular, [the decision] focuses on the manner in which each European power acquired land from the indigenous occupants. Synthesizing the law of nations, [it] traces the outlines of the 'discovery doctrine' – namely, that a European power gains radical title (also known as sovereignty) to the land it discovers. As a corollary, the discovering power gains the exclusive right to extinguish the 'right of occupancy' of the indigenous occupants, which otherwise survived the assumption of sovereignty."[6]
Then the decision says that when the United States "declared independence from Great Britain, the United States government inherited the British right of preemption over Native American lands. The legal result is that the only Native American conveyances of land which can create valid title are sales of land to the federal government."[7] The decision literally calls the Native peoples "heathens" in justifying this decision.
For Native Americans, this decision foreshadowed the Trail of Tears and almost two hundred years of forced removals, violence, and broken treaties. The very things the Standing Rock Sioux were protesting this weekend are a direct legacy of these attitudes and this decision.
In 1845, the political leader and prominent editor named John L. O'Sullivan gave the Doctrine of Discovery a uniquely American flavor when he coined the term "Manifest Destiny" to defend U.S. expansion and claims of new territory to the west. It furthered the sense among U.S. citizens of an inevitable or natural right to expand the nation and to spread "freedom and democracy" (though only to those deemed capable of self-government, which certainly did not include Blacks or Native Americans). Of course, Johnson v. M'Intosh gave the legal cover for simply taking the land from the inhabitants as our nation pushed west.
Our denominations are not immune from the racism of the Doctrine of Discovery and the United States' spin on it, Manifest Destiny. The Christian Church (Disciples of Christ) was complicit in white American exceptionalism. The denomination's founders, Barton Stone and Alexander Campbell, were 19th century men. As white, free, land-owning, educated, males, they acquired great privilege. There is little wonder they adopted, most likely without any conscious thought, the American power construct.
Campbell was an immigrant from Scotland. Immigrants choose to live in a land different from their birth, and Campbell had a deep desire for his chosen nation to be the best. Fully adopting the social concept of manifest destiny, adding a touch of Protestant superiority, mixing in some white superiority, and Campbell developed a social construct for Disciples. Writing "The Destiny of Our Country" in the August 1852 edition of the Millennial Harbinger, Campbell pronounced, "In our countries [sic] destiny is involved the destiny of Protestantism, and in its destiny the destiny of all the nations of the world. God has given, in awful charge, to Protestant England and Protestant America – the Anglo-Saxon race – the fortunes, not of Christendom only, but of all the world."[8]
As the issue of slavery took on a greater and greater importance in the United States, Campbell wrote, "Much as I may sympathize with a black man, I love the white man more," thus endorsing a church system that places white folk first and theologically supported Aquinas' argument of soul layering (which I talked about last week), placing the white soul a notch higher than the soul of a person of color.[9]
After the Civil War, during the initial months of his administration, President Ulysses S. Grant decided he needed to address the so-called "Indian Problem." Disciples pastor David Bell points out, "five years earlier the United States had ended a war to ensure only one nation would occupy the land from sea to shining sea. However, once the Civil War was over, the reality that years of treaty making between the U.S. and American Tribes had created multiple independent Indian nations across the American landscape confronted the Grant administration. The question before the Grant administration was how to eliminate the Indian nations – thus the Grant Peace policy.
"To eliminate Tribal sovereignty and nationhood the U.S. had to first 'abrogate' existing treaties. A rider on the March 3, 1871 Indian appropriation bill made it a reality that, 'no Indian nation or tribe within the territory of the United States shall be acknowledged or recognized as an independent nation, tribe, or power with whom the United States may contract by treaty' [U.S. Statutes at Large, 16:566]. This radical congressional action of dismantling Tribal identity and structure changed the U.S. government's opinion of American Tribes from that of sovereign nations to that of designated 'wards.'"[10]
Now that Native Americans were considered wards, the United States initiated a program to do away with Indian identity. In 1870, Congress passed an appropriation for Indian education. This allowed the government to recruit a wide variety of Christian denominations to establish Indian mission school with the goal of converting and civilizing the Indians. Attendance at these mission schools was made mandatory on many reservations for all native children aged six through sixteen.[11] I'm not sure if the Disciples of Christ actually ran such a school on the Yakama Reservation in Washington, but I do know that the DOC has had a mission on the reservation since about this time, a mission that still functions today.
The good news is that how the mission functions has changed in many ways since it was founded. Just this year, they have supported the call for Native rights at the Standing Rock demonstrations and at Oak Flats, and they will be working with the Inter-Tribal coalition of the Diné, Ute Mountain, Hopi, Zuni, and Ute to bring awareness and support for the Bears Ears National Monument. The Yakama Christian Mission has gone from a tool of white supremacy to a vehicle of protection of "the North American Landscape and her Indigenous People."[12]
The United Church of Christ is also complicit in white supremacy. The Congregationalists (one of the predecessor denominations of the UCC) sent missionaries out into the world – that is, out to the heathens who just happened to be non-whites – to bring them Christianity and civilization. One of the places they went was Hawaii. The Congregationalist missionaries and perhaps moreso their children were complicit in the overthrow of Queen Liliʻuokalani.
As the UCC said in their 1993 apology to the Hawaiian people, "Some of these [missionary] men and women … sometimes confused the ways of the West with the ways of the Christ. Assumptions of cultural and racial superiority and alien economic understanding led some of them and those who followed them to discount or undervalue the strengths of the mature society they encountered. Therefore, the rich indigenous values of na Kanaka Maoli, their language, their spirituality, and their regard for the land, were denigrated. The resulting social, political, and economic implications of these harmful attitudes contributed to the suffering of na Kanaka Maoli in that time and into the present." The United Church of Christ's apology came with some money for restitution, too.[13]
Apologies and restitution are a start. Changing behavior to demonstrate a new attitude is a start. But what else can we as a church do to overcome how deeply ingrained racism is not just in our society, but in the churches as well?
If we really believe what Paul wrote to the Galatians, that distinctions of ethnicity and distinctions of economic and societal status and even distinctions of gender do not matter, for we are all one in Christ, then we need to do our best to remove racism from our cultural DNA.
The culture that Daniel and his friends were forced into wanted them to violate their consciences. The Babylonians wanted them to do things that went against their values, but they held fast and made a way of conscience when one might of thought there could be no way. My hope is that we can do the same – that we will hold fast to our values of equality and community even when the culture around us continues to allow white supremacy to function.
Last year, the General Board of the Disciples of Christ received a report from the "Racist Language Audit Task Force." The report goes through the official documents of the denomination – the bylaws (called the "Design"), the standing rules for meetings, denominational policies, and other such documents – and makes specific recommendations of how these documents can be changed to be less racist. In essence, they made recommendations for how the General Ministries of the DOC can work to remove some of the racism from the denomination's DNA.
As you know, during this sermon series, I am making a suggestion of a possible action we as a congregation or we as individuals can take to respond to some aspect of racism. My suggestion for this week is that we create our own Racist Language Audit Task Force to recommend how our bylaws, policies, and meeting rules (and even our Strategic Plan, if it's needed) could be less racist.
That's one concrete example of something we can do to be less racist. I want to offer one more concrete example of something some other people did. I'm not sure how we can apply it to our congregation, but it is a story that gives me hope.
About five weeks ago, a Native American man told Diana Butler Bass a story about something that had happened at the Standing Rock protests in the preceding months. She wrote about this story: "At the height of the prayer protest, there was also great violence. At one point, a white man stood up and called out, 'Everyone here who is white, come to the front! We will form a shield that the security forces must shoot us first!' And they did so. All the white folks who had gathered at Standing Rock surrounded all the native people, all holding hands, and stood between the water protectors and the guns.
"The native man told me this story with tears in his eyes. 'Yes,' he said, 'terrible things are happening. But never in my life – never in the history of my tribe – did white people stand between us and the bullets. Terrible things are happening. And beautiful, brave things as well.'"[14]
May we all find beautiful, brave things to do. Amen.
[1] Elizabeth Flock and Iman Smith, "Strengthened by Standing Rock, Native Americans march on D.C. What's next for the movement?" PBS Newshour, http://www.pbs.org/newshour/updates/strengthened-standing-rock-native-americans-march-d-c-whats-next-movement/ (posted and accessed 10 March 2017).
[2] Howard Zinn, "Drawing the Color Line," History Is a Weapon, http://www.historyisaweapon.com/defcon1/zinncolorline.html (accessed 10 March 2017).
[3] Ibid.
[4] The Constitution of the United States of America, Article 1, Section 2.
[5] "Johnson v. M'Intosh," Wikipedia, https://en.wikipedia.org/wiki/Johnson_v._M'Intosh (accessed 10 March 2017).
[6] Ibid.
[7] Ibid.
[8] Alexander Campbell, quoted by David B. Bell, "Disciples Unified Destiny," Landscape Mending, https://landscapemending.wordpress.com/bent-grass-a-breif-history-of-cdod-and-doc/ (posted 20 July 2011; accessed 10 March 2017).
[9] Ibid.
[10] David B. Bell, "An 1870 Faith Based Initiative," Landscape Mending, https://landscapemending.wordpress.com/bent-grass-a-breif-history-of-cdod-and-doc/ (posted 20 July 2011; accessed 10 March 2017). Verb tenses changed to fit the past tense voice of the sermon.
[11] Ibid.
[12] The Yakama Christian Mission's mission statement is "To advocate and educate in favor of the North American Landscape and her Indigenous People." Learn more at https://yakamamission.org/.
[13] The Rev. Mr. Paul Sherry, as part of his formal apology to the Hawaiian people on behalf of the United Church of Christ, recorded at https://uccapology.wordpress.com (accessed 10 March 2017).
[14] Diana Butler Bass, in a Facebook post https://www.facebook.com/Diana.Butler.Bass/posts/10154589452273500 on 11 February 2017 (accessed most recently on 10 March 2017).
A sermon preached at Niles Discovery Church, Fremont, California,
on Sunday, March 5, 2017, by the Rev. Jeffrey Spencer.
Scriptures: Matthew
Copyright © 2017 by Jeffrey S. Spencer
My mother, it turns out, was right. I was in ninth grade when I announced that I wanted to become a minister when I grew up. While my parents thought this was just the latest in a string of professions I wanted to pursue (in third grade, I wanted to be a forest ranger), my mother took full advantage of the announcement.
The public high school I went to was large enough and well funded enough that it offered several options and several levels for classes in many subjects. Several languages were taught at various levels. Everything from math basics to second year calculus were taught by the math department. The social studies department offered several choices of subjects.
I was taking World Civilizations I in ninth grade and had no desire to take World Civilizations II in tenth grade – too much reading and writing. But my mother said that if I wanted to be a minister, I needed to know my history so I needed to take World Civ II in tenth grade.
That's right: my mom knew how to take advantage of whatever resources were at hand to get her kids to do what she wanted. And, yes, she was right: Understanding history is important for doing theology.
Today, we're going to do a little history because it's a necessary part of understanding the church's role in normalizing racism in the United States. Oh, but the history we learn versus the history that actually happened …
For instance, in fourteen hundred and ninety-two, Columbus sailed the ocean blue. And what is Columbus famous for? Well, I was taught that Columbus discovered America. But I'm getting ahead of myself.
We actually need to start before Jesus. We need to start back with Aristotle. Aristotle thought that all living things (plants, animals, humans) have a structure. Plants have a vegetative structure that is primarily about taking in nutrients, reproducing, and such. Animals have this structure plus a sensitive structure that interacts via the sense with the environment and that creates desire. Humans add to this a rational structure – which, according to Aristotle, makes us unique. Thus, Aristotle thought there was a hierarchy of living things, with humans at the pinnacle.[1]
Saint Augustine of Hippo took Aristotle's argument and restructured it into a theological construct. In his famous Confessions, Augustine held "… a perfect man to be in Christ – not the body of a man only, nor, in the body, an animal soul without a rational one as well, but a true man. And this man I held to be superior to all others, not only because he was a form of the Truth, but also because of the great excellence and perfection of his human nature, due to his participation in wisdom."[2]
If I'm reading this correctly, Augustine held that humans were superior to other creatures because of our connection to and our participation in wisdom. That is, humans are special because of our rationality. And I think he may also be suggesting (or at least he could be interpreted to be suggesting) that Christians (that is, those who are in Christ) are more connected to rationality than other humans.
"Thomas Aquinas furthers Augustine's work of setting the 'rational soul' of humans against that of the 'animal soul.' Aquinas holds much of creation has a soul, yet there is clearly a difference between the rational soul of humans and [the soul] of, say, a dog. This standpoint places the rational human soul as better than and therefore above all other created souls. Thus, Aquinas argues for soul layering where the human rational soul is above all other created souls. This soul layering argument allowed Christianity to create a structure of belief where not only does the animal soul reside at a level lower than that of the rational human soul, but also, those humans who are not rational have a soul that resides somewhere between that of the rational person and that of a dog."[3]
A couple hundred years before Aquinas, "in 1095, at the beginning of the Crusades, Pope Urban II issued an edict – the Papal Bull Terra Nullius (meaning empty land). It gave the kings and princes of Europe the right to 'discover' or claim land in non-Christian areas. This policy was extended in 1452 [a couple hundred years after Aquinas] when Pope Nicholas V issued the bull Romanus Pontifex, declaring war against all non-Christians throughout the world and authorizing the conquest of their nations and territories. These edicts treated non-Christians as uncivilized and subhuman, and therefore without rights to any land or nation. Christian leaders claimed a God-given right to take control of all lands and used this idea to justify war, colonization, and even slavery.
"By the time Christopher Columbus set sail in 1492, this Doctrine of Discovery was a well-established idea in the Christian world. When he reached the Americas, Columbus performed a ceremony to 'take possession' of all lands 'discovered,' meaning all territory not occupied by Christians. Upon his return to Europe in 1493, Pope Alexander VI issued the bull Inter Cetera, granting Spain the right to conquer the lands that Columbus had already 'discovered' and all lands that it might come upon in the future. This decree also expressed the Pope's wish to convert the natives of these lands to Catholicism in order to strengthen the 'Christian Empire.'"[4]
Keep in mind that all of this is happening before the Reformation. So this is action by our direct spiritual ancestors. And I can't escape a connection to this Doctrine by saying that I'm a Mayflower descendant, not a descendant of the Spanish. You see, the Doctrine of Discovery is baked into our United States culture (and I'll get into that next week).
No, this Doctrine of Discovery, which allowed European kings and princes to send armies into non-Christian lands (that is non-European lands), allowed Europeans to come to the Americas and subjugate the peoples already living here, for they were judged to be insufficiently rational to be equal to the European conquerors.
I find this philosophy that allowed Christians to come and kill people just because they were not Christian to be directly contradicted by the brief section of the Sermon on the Mount we heard today. When Jesus said, "Love you enemies," I don't think he meant we should kill them, or enslave them, or commit genocide against them. Yet that is what Christians did when they "discovered" the Americas.
But maybe that's too easy, too glib a biblical response to this history of ours. The story of Jesus and the Syrophoenician woman invites us to a little more nuance, in part because the story is troubling. The story is troubling because Jesus comes across as a bit of a jerk. A desperate woman with a seriously sick child comes to Jesus seeking help, and Jesus response is an ethnic slur. No theological tap dance can avoid it: Jesus calls this unnamed woman a dog, and that's an ethnic slur. And though the modern concept of "race" had not yet been developed, this ethnic slur is pretty close to being a racial slur.
"To be clear," writes David Henson, "while there is some debate about the social and cultural dynamics at work here, Jesus holds all the power in this exchange. The woman doesn't approach with arrogance or a sense of entitlement associated with wealth or privilege. Rather she comes to him in the most human way possible, desperate and pleading for her daughter. And he responds by dehumanizing her with ethnic prejudice, if not bigotry. In our modern terms, we know that power plus [racial] prejudice equals racism."[5]
When faced with the complexities of the sin of personal and systemic racism, it is much easier to think of Jesus as transcending them all and loving all peoples regardless of skin color or culture of origin. We want Jesus to be the simple, easy answer to all our problems and to all of society's problems. Jesus loves the little children of the world, and their little dogs, too.
In truth, at least in Mark's gospel, rather than being part of the solution to ethnic prejudice, Jesus seems to be very much part of the problem, according to this story. When confronted with the gentile pagan in this story, he explains that his message and ministry are for Israelites only, a comment of ethnic exclusion and prejudice that calls to mind a similar refrain from a more modern time – whites only – that reverberated throughout our country not too long ago, and seems to be echoing still. It wouldn't be fair, Jesus explains, to take the banquet prepared for his people – the children, the humans – and give it to gentiles – the dogs, the less than human.
If it does nothing else, the story of the Syrophoenician woman teaches us the dynamics of power and prejudice, of how even the best of humanity (I'm talking Jesus here) can get caught up in systems of oppression, in a culture of supremacy. Just as we are today in our culture, Jesus was reared into the prejudiced worldview of his culture. He could not easily escape it. And neither can we.
"But being caught in such evil, however, does not make one an overt racist.  It is what happens in the moments afterwards that makes that determination. How we respond, when confronted with the narratives of the oppressed or the Other, reveals who we truly are. Do we continue to ignore or deny these realities of oppression? Mock them? Continue to brush them aside with dismissive prejudice as dogs?
"Or do we, like Jesus, do the miraculous and listen to them, be changed by the power of the truth they are speaking?
"When this woman, in boldness, confronts Jesus and his ethnic slur, Jesus listens. And he hears.
"[I think] it is the only time recorded in the gospels in which Jesus changes his mind.
"'But even the dogs get table scraps,' she replies, a subtle calling out of his dehumanizing language.
"Jesus is astounded, the holy wind knocked out of him. A moment before, she was but a dog to him. In the next, the scales fall from his eyes as he listens to her and sees her for what she truly is, a woman of great faith.
"Jesus does the most difficult thing for those of us born into prejudice and power.
"He listens. And allows himself to be fundamentally changed.
"When it happens, when we finally have ears to hear, we will never be the same, will never be able to listen to the lies of the dominant oppressors the same way again."[6]
The movie The Mission (a movie that connects to the sin of the Doctrine of Discovery deeply) ends with the slaughter of a group of native peoples in South America by European "discoverers." Then, in the penultimate scene, Señor Hontar, the governor of the Portuguese-claimed territories and the Papal emissary Cardinal Altamirano are together in a room when they get news of the slaughter.
Hontar says to the Cardinal: We must work in the world, your eminence. The world is thus.
The Cardinal corrects him: No, Señor Hontar. Thus have we made the world.
The Christian church, through the Doctrine of Discovery, has made this corner of the world racist. So what do we do about it?
My goal in this sermon series is to give you something concrete you can do individually or we can do as a congregation to address some aspect of racism. Here's what I have in mind this week. Because the church has normalized the sin of racism by espousing the Doctrine of Discovery, it seems to me that the first thing we can do it to repudiate the Doctrine.
And we actually have an opportunity to do this as a congregation. The Disciples of Christ will hold their General Assembly this summer and one of the resolutions that will be voted on will be a repudiation of the Doctrine of Discovery. We can, as a congregation, endorse this resolution formally and send word to the General Assembly of our action. Copies of the resolution are in the fellowship hall, I believe on the snack table.
I think that, if we are to endorse the resolution, endorsement should be done by a formal vote of the congregation, and there are three ways we can do that:
One or more of you can request that the Cabinet call a Special Congregational Meeting, which could be held in April, for the purpose of voting on endorsement.
One or more of you can ask the Cabinet to put endorsement of the resolution on the Annual Meeting agenda (which will be held on May 7).
Or, if it's not on the Annual Meeting agenda, one of you can make a motion at the Annual Meeting that we endorse the resolution.
How we proceed – if we proceed – is really up to you.
[1] John G. Messerly, "Summary of Aristotle's Theory of Human Nature," Reason and Meaning, http://reasonandmeaning.com/2014/10/17/theories-of-human-nature-chapter-9-aristotle-part-1/ (posted 17 October 2014; accessed 4 March 2017).
[2] Quoted by David B. Bell, "When Reason Becomes Faith," Bent Grass: DoD and DOC History, https://landscapemending.wordpress.com/bent-grass-a-breif-history-of-cdod-and-doc/ (posted 2 July 2011; accessed 4 March 2017).
[3] Bell, "When Reason Becomes Faith," op. cit.
[4] "Lewis and Clark: The Unheard Voices," Anti-Defamation League, http://archive.adl.org/education/curriculum_connections/doctrine_of_discovery.html (posted 2005; accessed 4 March 2017).
[5] David R. Henson, "Crumbs: Jesus and the Ethnic Slur," Patheos, http://www.patheos.com/blogs/davidhenson/2015/09/crumbs-jesus-and-the-ethnic-slur-lectionary-reflection-mark-724-37/ (posted 2 September 2015; accessed 4 March 2017).
[6] Ibid.