You are currently browsing the category archive for the 'Justice' category.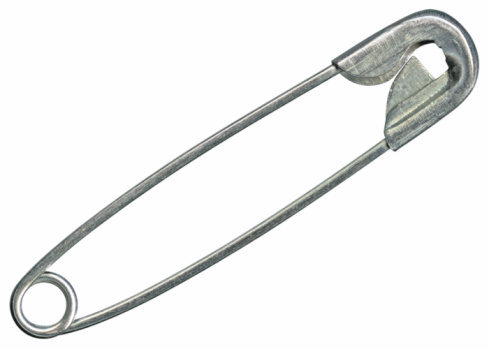 I've decided to wear a safety pin.
By now, you've probably heard about a simple act that many are taking to show others that they are safe: wearing a safety pin. I'm not sure if it started in Australia or was inspired by the #illridewithyou movement in Australia. In any event, it took root in Great Britain after the Brexit vote. People wore empty safety pins after the vote by the UK to leave the European Union to let people who might be targeted with harassment after the vote (especially immigrants) know that the person wearing the pin was safe, was an ally, would stand with the vulnerable person to support them.
After the election of Donald Trump (I'm assuming the Electoral College will actually elect him on December 19), many people – especially women, minorities, immigrants, and members of the lgbt community – felt vulnerable. Not surprising, since the Southern Poverty Law Center has noted as significant spike in acts of "hateful harassment and intimidation" since the election. People who walk through life with privilege (men, whites, etc.) are recognizing that they can leverage this privilege to help create safe space for vulnerable people. The safety pin is a sign of this. I should quickly add that people with less privilege than me are also wearing safety pins.
I was initially jazzed by the idea of wearing the pin. And then I started to read articles and blogs offering some push-back (for instance, this piece written by a white male). As my friend and colleague Sandhya Jha said in a Facebook post, "I have a mild concern that people are drawn to these safety pins as a form of absolution: 'I'm ok. I'm not THAT kind of white person. I am not to blame.' I also have a mild concern that it is less about learning the skills to put one's body on the line for another (and there are skills to practice) than about getting credit for being a good white person for publicly announcing one's ally status. As my LGBTQ+ activist friends helpfully remind me, I don't get a cookie for being an ally. That's just being a decent human being, and that doesn't warrant brownie points."
And Sandhya is absolutely right about there being skills to practice. As another blog post point out, those of us who wear the pin need to know what the pin means, know how much risk we're willing to take, learn how to de-escalate volatile situations, know what you'll do if de-escalation doesn't work or if the situation gets violent, and practice. I recommend you read this blog post if, like me, you're plan to wear a safety pin.
I'll wear my pin for me as well as for people who I might meet along the way. I'll wear my pin to remind me of the commitment I make to be a person who will help if needed (and wanted). And, as Sandhya concluded in her post:  "[The safety pin] can become a symbol of accountability, that white people see it and acknowledge to each other, 'we have a lot of work to do to unify our people around a different vision. We have a lot of work to do to protect other people from our people. We have a lot of work to do to create a different way of being white. Let's make sure to hold each other to that.'"
I'm staying at a friend's home on the east coast of the United States right now. I sat up with him and his wife into the wee hours last night watching the returns come in. The three of us were stunned that our nation had elected Donald Trump to be our next President. I supported Hillary Clinton and my friends worked hard for her election.
My friend's wife's question as we went to bed was this: "How do we explain this to the kids tomorrow?" Their boys are 4 and 6.
I wondered about such a question. They're at an age when the question, "Why?" is often on their lips. I suspect there are lots of reasons why my fellow countrypeople voted for Mr. Trump. Some people probably thought that his tax proposals will put more money in their pockets and didn't care about the consequences for the wider community (their neighbors). Some probably thought that he will change the economy in such a way that their lives and their neighbors' lives will be better. Some probably voted out of their sexism, not wanting a woman to be our President. Some probably voted against Hillary Clinton and would have voted for anyone as long as it wasn't her.
And many, I think, voted from their fear.
So what would I say to a 6-year-old who asked me why Mr. Trump won and Secretary Clinton lost? Recognizing that I couldn't explain the electoral college to a 6-year-old, I think I would say something like, "He won because he got more votes in more states." And when this 6-year-old asks, "Why did people vote for him?" I'd say something like,"When people are afraid or jealous or angry, they don't make the best choices. So some people voted for Mr. Trump because they really liked him better than Secretary Clinton, and some people voted for Mr. Trump because they didn't make the best choice."
I don't know if that answer would satisfy a 6-year-old, but it's the best I have today, a day when I am disappointed, and maybe even a little fearful myself about what the next four years will hold.
At around 1:00 a.m. (Eastern time), as the reality that my country (the USA) had elected Donald Trump to be President started to take hold in my mind, the poem "When the Song of the Angels Is Stilled" by Howard Thurman came to mind. I tweeted a link to it.
This morning, I found that I was not the only one who thought of that poem. Maren Tirabassi posted a poem of her own, inspired by the same poem.
(with thanks to Howard Thurman's deeply meaningful "The Work of Christmas"*) When the speeches and debates are stilled, when the signs have come down from our yards, the traveling journalists are home, and even the pundits have turned to other predictions, jokes, memes, hashtags — The work of community begins: to listen to the hurting, […]
While I will not be at this Clergy Day of Action, my prayers will be … and I hope to find a way to be physically present with those who are protecting our mother earth some time in the new year.
Gifts in Open Hands
Ephesians 6:10-18
Put on the whole blanket of God, to keep you warm in the Great Plains November. Our struggle is not only against corporations and against the authorities that line up with them, but mostly against the almost cosmic powers of racism, against the spiritual evil with so much terrible history, so much powerful media, and so many insidious whispers – this is not my battle.
Therefore take up the whole blanket of God, so that you may be united on November 3, having come from the love in your heart to stand firm in justice. Therefore fasten the belt of listening to those whose land this is and who have been here since April, and put on the sweater or jacket or poncho of community. As shoes for your feet put on whatever will make you ready to dance, walk or be jailed for the water of life…
View original post 125 more words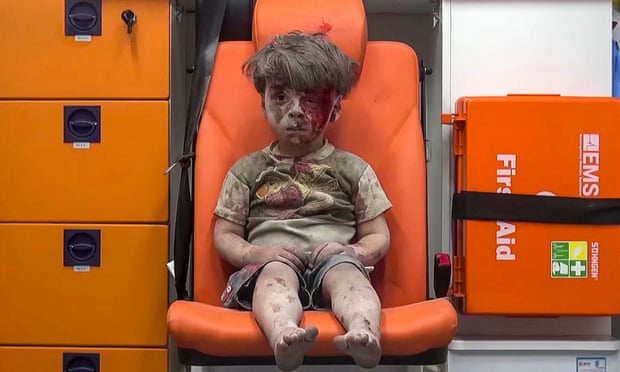 Alex is a 6-year-old child from Scarsdale, New York. When he saw this image, he wrote a letter to the one person he thought could make a difference, President Obama. Alex asked the President to find the Syrian boy (Alex assumed the boy, 5-year-old Omran Daqneesh, was an orphan after he was rescued from the rubble of his bombed out home) and to bring Omran to live with Alex's family. "We will give him a home, and he will be our brother," Alex wrote.
Alex also told the President that he has a friend at school from Syria named Omar, implying that he wouldn't have any problem befriending another Syrian, and he thought the two of them, Omran and Omar, could be friends. I like that Alex thought that he could be part of teaching Omran English, but more than that, I like that Alex knew that Omran would bring something to teach, too:  "another language."
The White House published the letter and the President read it at a U.N. Summit on Refugees. According to President Obama, "Those are the words of a six-year-old boy — a young child who has not learned to be cynical, or suspicious, or fearful of other people because of where they come from, how they look, or how they pray."
While Omran and his family were injured when their house was destroyed by the airstrike, perhaps miraculously, everyone in his immediate family survived.
You can read the letter from Alex here. You can read a news report about this story here.
Yesterday, I found myself needing to simply turn off Twitter. The news from the Standing Rock Sioux Tribe in North Dakota was too depressing.
Today, I am feeling angry, a righteous anger about how racism is continuing to play itself out in government policy and action. And I am wanting to "do something." So I started by researching what I could do and now I share this incomplete list of things you and I can do, even though most of us are far away from the front lines.
Background
The Seattle Times published a pretty good (though overly simple) summary about the Dakota Access Pipeline (DAPL) and the water protectors (led by the Standing Rock Sioux Tribe) who are protesting the DAPL. You can read it here.
The summary fails to note some important things:
While the pipeline is probably safer than transporting the oil by rail (Bakkan oil is extremely volatile, making train transport very risky), that does not mean that the pipeline is safe. Spills (and explosions) are still probable at some point along the almost 1200-miles of the DAPL route. (Bullet point updated 11/29/16.)
For the Native Americans on the front lines, this is an act of prayer, a spiritual practice.
There is insufficient explanation why they call themselves "Protectors," not "protesters." See video below. #WaterIsLife
The article fails to speak about the dangers of extracting any (Bakkan or otherwise) carbon (in the form of fossil fuels) from the ground and putting it in the atmosphere. While the Standing Rock Tribe's objections are about the dangers to the waters and the lands, the dangers of climate change are an important reason to oppose all fossil fuel infrastructure construction. As the hashtag says, when it comes to fossil fuels, we need to #KeepItInTheGround.
The conduct of police agencies has been questionable throughout this protest, including shooting at media and protester drones, strip searching people arrested for misdemeanors, and jamming cell phone service during mass arrests.
Gathering a full background picture would be incomplete without reading the Standing Rock Sioux Tribe's two-page background paper. You can read it here.
The specifics of the Standing Rock Tribe's legal claims can be found in this court filing.
Things You Can Do
Keep Learning 
Some news sources are covering the issue better than others. I've appreciated NPR's coverage.
Bill McKibben wrote a great piece on the pipeline in the New York Times on 10/28/16. Read it here. (This link added 10/29/16.)
Social media are proving to be helpful, often providing more accurate and more up-to-the-minute coverage than classic news media. I'm following #NoDAPL (No Dakota Access Pipeline) and #IStandWithStandingRock on Twitter; they probably work on other social media, too.
Sign Petitions
Contact Politicians directly
When leaving a message stating your thoughts about this subject please be professional.
Call North Dakota Governor Jack Dalrymple at 701-328-2200.
Call the White House at (202) 456-1111 or (202) 456-1414
Call the Department of Justice, Civil Rights Division, (202) 514-4609, asking them to send observers to make sure the Protectors civil rights are not violated.
Tweet to these officials on a daily basis (or as close to that as you can manage): @NDGovDalrymple, @POTUS, @BarackObama, @DOJ, Attorney General @LorettaLynch
Call the Army Corps of Engineers and demand that they reverse the permit: (202) 761-5903
Call the Companies
Call, email, and/or write the executives of the companies that are building the pipeline:
Lee Hanse Executive Vice President Energy Transfer Partners, L.P. 800 E Sonterra Blvd #400 San Antonio, Texas 78258 Telephone: (210) 403-6455 Lee.Hanse@energytransfer.com
Glenn Emery Vice President Energy Transfer Partners, L.P. 800 E Sonterra Blvd #400 San Antonio, Texas 78258 Telephone: (210) 403-6762 Glenn.Emery@energytransfer.com
Michael (Cliff) Waters Lead Analyst Energy Transfer Partners, L.P. 1300 Main St. Houston, Texas 77002 Telephone: (713) 989-2404 Michael.Waters@energytransfer.com
Make a donation
Join an action
This is gleaned from https://nodaplsolidarity.org. Go there for more ideas and details.
Take action in your own community. Target the Army Corp of Engineers, banks, pipeline companies, corporations and elected officials behind the pipeline. Taking action includes lock-downs at offices, sit-ins, taking up space, rallies, call-in days, divesting from banks, mass mailings, and interruptions. Register at NoDAPLSolidarity.org to join the network of Global Solidarity.
Organize yourself and/or large groups of people from your community to come to Standing Rock. Contact them at Organizing@NoDAPLSolidarity.org to discuss details and schedule a time frame.
When you think back to 2015, about what happened that year, what events come to your mind?
I've been digging through back issues of the Christian Century that I hadn't read over the past 18 months or so, finding little gems (some of which I've posted here; some of which I've filed away for future sermons). The 23 December 2015 edition included a collection of quotes from they year — this is something that they do in their final issue of the year. The collection brought back memories of things that happened that year, some of them echoing through this year. Here are a few of the quotes (with a definite USA bias).
UK columnist Giles Fraser had an important insight about the "war on terror," which could be repeated this year (if you increase the number of years he mentioned):
The war on terror is now in its 15th year. And yet things are demonstrably no better. Why? Because we still have no vision of what peace might look like.
Do you remember that Pope Francis spoke to the US Congress in 2015? Sadly, still true today.
Why are deadly weapons being sold to those who plan to inflict untold suffering on individuals and society? Sadly, the answer, as we all know, is simply for money: money that is drenched in blood, often innocent blood.
One of the major tragedies of 2015 was the murder of nine members of a Bible study at Emmanuel AME Church in Charleston, South Carolina. I was stuck by how quickly members of that church offered forgiveness to the accused shooter, Dylann Roof. I wasn't surprised by devout Christians offering forgiveness; I am surprised — impressed, really — at how quickly they could offer it. Speaking to Roof, Nadine Collier, who lost her mother in the shooting, said:
You took something very precious away from me. I will never get to talk to her ever again. I will never be able to hold her again, but I forgive you, and have mercy on your soul.
Wouldn't it be nice if we could all move toward forgiveness as faithfully.
Justice took a huge step forward in the United States in 2015 when equal marriage rights were granted same-gender-loving people in all 50 states. This right continues to be celebrated in 2016, and Justice Kennedy's words were and are important. Here's a brief example:
It would misunderstand these men and women to say they disrespect the idea of marriage. Their plea is that they do not respect it, respect it so deeply that they seek to find its fulfillment for themselves.
One of the amazing things that happened during the presidential campaign was when Bernie Sanders when to fundamentalist Christian Liberty University. He said how important it is to talk with and listen to people you disagree with, and so he went to this setting. Here's one of the things he said about the income and wealth gap in the United States.
There is no justice … when the top one-tenth of 1 percent — not 1 percent, the top one-tenth of 1 percent — today in America owns almost as much wealth as the bottom 90 percent. And it your hearts, you will have to determine the morality of that, and the justice of that.
And, of course, 2015 was the hottest year on record (until then – 2016 will be even hotter). I don't have a great quote about this, but it's a news story that can't be ignored.
Do you have a quote from 2015 (or event) that you think was really important? Add it in a comment.
Scientists have concluded that the emotional responses to terrorism are out of proportion to the actual risk. After 9/11 about 30 percent of the population thought they themselves would personally experience terrorism with[in] a year. Women tend to respond to terrorism with fear, men with anger. Anger reduces the ability to respond to perceived threats rationally and leads people to take greater risks in response to perceived threats.
from "Century Marks," Christian Century, 20 January 2016 edition, page 8.
citing NPR, 22 December 2015, as their source for this information
You've probably seen statistics about how inaccurate this perceived threat really is. Assuming this refers to 30% of the U.S. population, we should be more afraid of toddlers than terrorists. In the US in 2015, more people were shot and killed by toddlers than by terrorists. However, what I find really interesting about this little article is the response to the perceived threat (as unfounded as it may be): fear and anger.
In my experience, fear and anger often walk hand-in-hand within the individual. One may seem bigger or stronger at any given time, but when one is there the other probably is, too. I suspect the gender difference noted has more to do with enculturalization than anything else: culture teaches us that it's okay for woman to be afraid but not angry; that it's okay for men to be angry but not afraid.
But what if we were to choose to respond to perceived threats (no matter how realistic they are) with love? What if we were to follow Jesus' instruction to love our enemies? Even if our love doesn't change those who we find threatening, it would change us. For the better.
Elections are about answering questions — not just about who will be elected, but about what we as a society value. We are just a little over two weeks away from an election in my country, the United States of America, and the presidential contest is getting all the attention and press. Interesting since who gets elected to that office will still leave  some important questions unanswered. The President's powers are limited, so who holds that office will not determine the answers to questions like:
Will low-income Americans earn a higher minimum wage?
How will the public pensions issue be resolved without leaving current and future retirees financially insecure?
How will funding be allocated to public universities or for child-care assistance or for mental health care?
Will poor people have access to health insurance?
It's the so-called "down ticket" elections that will answer these questions and others like them. And I'm not just talking about who we elect as U.S. Senators and Representatives. As an editorial in The Christian Century put it (11 November 2015), "The real action is at the state and local levels. This is where minimum wage ordinances are being debated and passed, where public unions and social welfare advocates are squaring off against budget hawks, where federal money often arrives in the form of flexible block grants that might or might not be put to effective use."
The editorial goes on, "Local levels of government are also where an individual's voice and vote count the most. And the smaller the jurisdiction, the more likely a political conversation will involve citizens who know each other — people whose real relationships can help get them past slogans and entrenched positions."
So, pay attention to those "down ticket" elections. Please.
Before the 1980 election, Ronald Reagan asked voters (and encouraged votes to ask themselves), "Am I better off now than I was four years ago?"
In this presidential election year, my answer is, "Yes. Yes, I'm better off than I was four years ago and eight years ago. And that's the wrong question to ask."
Or maybe it's only one of may questions we should be asking.
How about my neighbor (whom I'm supposed to love as myself)? Is my neighbor better off them she was four or eight years ago? And not just my next door neighbor. I should be asking this about all my neighbors in my city and state and country. And I should be asking this about my neighbors in other countries.
But let's not stop there. We should be asking it about other species and the environment as a whole.
And lest you think this is just about the current presidential election, it's not. Let's consider the TPP – the Trans-Pacific Partnership – under consideration by Congress right now. The TPP is a complex trade agreement between 12 Pacific Rim countries (including the United States). And when I say, "complex," I mean complex. It took ten years to develop and has over 30 chapters.
I have yet to hear any politician speak to the particulars. In this election year, the TPP is really not much more than a symbol, a symbol that is being spun primarily to represent global trade that threatens American jobs. "A Trump Administration will end [the war on the American worker] by getting a fair deal for the American people. The era of economic surrender will finally be over," is how Trump is spinning the symbol.
The Clinton campaign isn't much different. "I will do everything in my power to defend American jobs and American workers. Any trade deal must meet three tests to earn my support: it must create good American jobs, raise wages, and advance our national security."
Both candidates are only asking if the TPP will make us better off in four years than we are now. What about asking how it impacts our international neighbors? What about asking how it impacts the environment? What about asking how it circumvents legal system in the partner countries, perverting justice? What about asking how it protects (or fails to protect) the environment?
The TPP aims to cut 18,000 different tariffs, all in the name of "free trade" across international borders. If the only thing I have to trade is my labor and I can't freely transport it across international borders, is it really a "free trade deal"?
Given the complexity of international trade – including national differences in resources, worker skills, labor supply, labor laws and protects, markets, and political and social conditions – the terms of mutually beneficial trade can't be reduced to a bumper sticker or a 30-second sound bite in the spin room.
I oppose the TPP and will until my questions are satisfactorily answered. But that's really not the point of this post. The real point is that we need to move beyond our shortsighted, self-centered questions and think about our local and international neighbors (and not just our human neighbors) when it comes to trade deals and elections and really any policy decision we make.