You are currently browsing the category archive for the 'Justice' category.
A sermon preached at Niles Discovery Church, Fremont, California,
on Sunday, January 1, 2017, by the Rev. Jeffrey Spencer.
Scriptures: Revelation 21:1-6a and Psalm 8
Copyright © 2017 by Jeffrey S. Spencer
I've enjoyed some of the things that have been posted this past week on Facebook about New Year's resolutions.
I'd like to do a quick poll: How many of you make New Year's resolutions? I don't tend to. Why set myself up for failure?
I've done some reading about New Year's resolutions and what makes them effective. One author[1] includes this advice:
Begin with the end in mind. In other words, know why you're making the resolution. This is important advice for any planning. Know your why. In fact, this is such an important point, I want to share a video clip about it.
This author also suggests:
Make SMART resolutions: Specific, Measureable, Attainable, Realistic, and Trackable.
Have a plan that is incremental. In other words, know what you need to do today to fulfill your resolution.
Celebrate you accomplishments along the way.
Limit your number of resolutions. This is needed to keep you focused. If you have too many resolutions, you can end up not knowing where to begin or which resolution should get your attention.
Share your resolutions with someone(s) to help build support in your efforts.
Let yourself adjust your resolutions to respond to changes in circumstances. As a friend of mine is fond of saying, "Life happens."
It seems to me that this advice is as applicable to congregational strategic planning as it is to New Year's resolutions. And I'd start with the same first piece of advice for congregational planning: know your why. Our congregation's why, informally stated, is to share God's love with everyone, no exceptions; to grow in our relationships with God; and to serve you neighbors near and far.
Stanley Hauerwas, American theologian, ethicist, and intellectual, put it more boldly: "We would like a church that again asserts that God, not nations, rules the world, that the boundaries of God's kingdom transcend those of Caesar, and that the main political task of the church is the formation of people who see clearly the cost of discipleship and are willing to pay the price."[2]
As we enter the new year, there are plenty of us in this congregation who are feeling anxious. The causes of the anxiety are varied. Some of us are facing medical concerns, or have family who are, and that leads to anxiety. Some of us are facing job uncertainty or other economic challenges, and that leads to anxiety. Some of us are anxious because of what we have heard from politicians and their supporters over the past year that makes us worried about the future of freedom and equality in our country.
While I have a little medical issue that I'm dealing with as we enter the new year,[3] that's not what is causing my anxiety. My anxiety comes from our national political situation. Based on the rhetoric I've heard coming from President-elect Trump during the campaign and since, and based on his Cabinet and advisor nominations, I am worried about what direction President Trump will lead our country. While I am not sure he is sure about what his political vision is, I fear what it could be or what it could become. Mr. Trump's presidency could very easily be leading toward authoritarian rule.
The greatness to which he says he wants to lead America seems to be based on a scapegoating of minorities – racial, religious, immigrant, gender, and sexual orientation and identity. And the path to get there seems to be anti-science and anti-fact. The conclusion I've reached is that we cannot protect our nation from this vision with dialogue and fact-checking.[4] It will take action.
And I know that when I'm feeling anxious, it is hard for me to act.
So, I have two things I want to say about our anxieties, as much for me as for anyone else. First, I think what Bishop Steven Charleston said recently bare repeating: "[I] offer … the reassurance of a holy irony: what seems weak is strong, what seems lost will be found, what seems empty will overflow, what is broken will be mended. The peacemakers and the poor will overcome the warmongers and the greedy. Logic is on our side. Not the logic of power, but the logic of an endless grace. Do not fear, but believe. Faith turns anxiety upside down."[5]
Second, if we let our faith turn our anxieties upside down, we will be empowered to act. Whether that action helps us fulfill our New Year's resolutions or it helps us stand up for the vulnerable, our faith empowers action. This is important to me because "[m]oderate neutral theology will not help us during these times. Our faith and our 'God' either sides with the oppressed or with the oppressor. For Christians committed to justice, this is a time to tap into the radical and progressive strands of our tradition and vigorously oppose any justification or cooperation with [anything that even sniffs of] fascism."[6]
I hope that we, as a church, will take action this year. Perhaps it will start with making a public witness by adopting a commitment like the one that St. Mark's Episcopal Cathedral adopted in Seattle recently.[7] This isn't the time or place to read their statement in its entirety, but I think we need to take similar bold and clear action. We need to proclaim clearly our rejection of White Nationalism, our determination to protect our neighbors from hate speech and attacks, our support of religious liberty, our commitment to end misogyny and sexual violence, and our determination to protect the environment as we work for climate justice.
And then, after adopting such a statement, I hope we will fulfill it with our hand and feet and voices.
Parker Palmer wrote a column about New Year's resolutions last year,[8] but when he sat down to write his draft, he mistyped "resolutions." His left hand didn't type the first "s." Instead, it typed a "v".
If we take seriously the vision John of Patmos saw, then instead of New Year's resolutions, maybe we should make New Year's revolutions. With the plight of millions of refugees, the continued grief of mass killings, "the persistence of racism and the violence it fosters, the growing number of people living in or on the edge of poverty, the failures of our justice system, the downward spiral of a democracy en route to becoming an oligarchy, [and] the ongoing degradation of Earth itself,"[9] it will take a revolutionary approach to help build the new heaven and new earth that John of Patmos saw was God's plan for creation. When faced with the principalities and powers of the Roman Empire, John proclaimed that a different way was possible – just as there is a different way for us, regardless of who the current Caesars turn out to be.
Palmer's five revolutions cover much of the same ground as St. Mark's statement. He calls for a revolution against our fear of "otherness," and against those who manipulate this fear for their self-serving ends; a revolution against the state of denial in which most white American's live about white privilege and white supremacy in our lives; a revolution against the nonstop attacks on our K-12 teachers and public education; a revolution against gun-related policies driven by the delusional mentality of policy-makers and power brokers; and a revolution against the fantasy that a few of us can live secure private lives while ignoring our complicity in conditions that put many other in mortal risk.
Three years ago, I decided to make some New Year's resolutions. I had what I thought was a clever approach. I asked myself, what can I do in my life for sake of my environment and for the nourishment of my body, mind, and spirit. One resolution for each of these four parts of my life. For the environment, I resolved to start my laundry in the morning so I could use the line to dry my clothes. For my body, I resolved (with some specificity) shifts to my eating habits. For my mind, I resolved to keep up with reading The Christian Century as the magazine arrived.
I did not do so well with these three resolutions.
But I am still living with the resolution I made three years ago for my spirit: Be the "be this guy" guy. This is the "be this guy" guy.
And here he is in context.
Notice what he's doing with his arms and what everyone else around him is doing with their arms.
He is believed to be August Landmesser. Born in 1910, he was a worker at shipyard in Hamburg, Germany, when a naval training vessel, the Horst Wessel was launched and this picture was taken. It was June 13, 1936. Though he had joined the Nazi party, he got into trouble with them because of his relationship with Irma Eckler, a Jewish Woman. Landmesser was later imprisoned, eventually drafted, and was killed in action. Eckler was sent to a concentration camp where she was presumably killed.[10]
I've decided to make only one resolution for this new year, and it's really a renewal of that three-year old resolution: Be the "be this guy" guy. I know it's not a SMART resolution. It's not Specific, Measureable, or Trackable. It might not even be Attainable or Realistic. But it's sure seems gospel-grounded and necessary for helping to create the new heaven and earth that John of Patmos saw. So it's the right resolution – at least for me.
I hope you find a resolution that right for you, too. And as we move into our time of quiet reflection, I invite you to think about your resolution for the coming year.
[1] Steve Poos-Benson, "Twelve Steps for New Years Resolutions," Cowboy Jesus, http://stevescowboyjesus.blogspot.com/2016/12/twelve-steps-for-new-years-resolutions.html (posted 28 December 2016; accessed 30 December 2016).
[2] Quoted by Diana Butler Bass on her Facebook page https://www.facebook.com/Diana.Butler.Bass/posts/10154446201803500 (posted 28 December 2016; accessed 30 December 2016).
[3] On Wednesday, I did something to my back and it's been hurting since.
[4] Daniel José Camacho, "Fascism can't be stopped by fact-checking," The Christian Century, https://www.christiancentury.org/blog-post/fascismfactchecking (posted 26 December 2016, accessed 30 December 2016).
[5] Stephen Charleston's post from 29 December 2016, https://www.facebook.com/bishopstevencharleston/posts/1221986484552888 (accessed 30 December 2016).
[6] Camacho, op. cit.
[7] "Renewing Our Covenant: A Statement of Commitment and Action, St. Mark's Cathedral Parish," Saint Mark's Episcopal Cathedral, http://www.saintmarks.org/serve/volunteer/governance/renewing-our-covenant/ (adopted 20 December 2016; accessed 30 December 2016).
[8] Parker J. Palmer, "My Five New Year's Revolutions," On Being, http://www.onbeing.org/blog/parker-palmer-my-five-new-years-revolutions/8290 (posted 30 December 2015; accessed 30 December 2016).
[9] Ibid.
[10] "August Landmesser," Wikipedia, https://en.wikipedia.org/wiki/August_Landmesser (accessed 30 December 2016).
A sermon preached at Niles Discovery Church, Fremont, California,
on Sunday, December 11, 2016, by the Rev. Jeffrey Spencer.
Scriptures: Matthew 2:13-18 and Matthew 5:38-47
Copyright © 2016 by Jeffrey S. Spencer
Whatever happened to the overture?
I suspect there are enough theatre nerds in this congregation (I count myself among them – obviously) that I can't be the only one who's wondered this. The musical theatre overture has, for the most part, disappeared. And it's been fading away for a long time. According to a National Public Radio story from eight years ago, one reason the overture has pretty much disappeared is money. Tighter budgets have led to smaller orchestras, which means simpler orchestrations, which means no overture.[1] An article in The New York Times from ten years ago says the demise of the overture goes back now 40 years. Here are a few paragraphs from the article.
"Who could forget the great overture to 'A Chorus Line'? First there's that infectious hop-step vamp from the song 'One.' Then come some of the show's most familiar melodies: 'I Hope I Get It,' 'Nothing,' 'What I Did for Love.' Finally the orchestra swings back for a rousing half-chorus of 'One' that would make even gouty musical-theater-phobes want to leap to their feet with excitement.
"Oh, wait – 'A Chorus Line' doesn't have an overture.…
"Back in 1975, a month before the original production's debut, Marvin Hamlisch did write a 'Chorus Line' overture like the one described. But the director, Michael Bennett, and the show's other creators decided not to include it, fearing it would destroy the illusion that the audience was watching an actual audition as the lights went up.…
"Thanks in part to 'A Chorus Line,' the Broadway orchestra and the Broadway overture would rarely emerge from that obscurity again."[2]
No, I haven't lost my mind, and, yes, I do remember that this is a sermon. I just want to remind you of what an overture is – or was. The overture, typically several minutes long, was "made up of melodies heard later in the show and [was] played by an orchestra before the curtain [went] up."[3] It introduced musical themes to the audience, acting "like a bridge between real life and the world they're about to enter."[4]
And that's exactly what Matthew is doing in the first two chapters of his gospel, the chapters where Matthew talks about Jesus' birth and childhood. This is an idea that is new to me, introduced by Marcus Borg and John Dominic Crossan in their book The First Christmas. Luke does it, too, with his birth and childhood narrative, also the first two chapters of his gospel. Both authors introduce the themes that will play out in the rest of their gospels.
The big theme we hear in Matthew's overture is that Jesus is the new Moses. It's here in our first lesson. Just as Moses was born under an evil ruler, the Pharaoh, Jesus is born under the evil King Herod. Just as Moses needed to escape the slaughter of Jewish newborns, Jesus needs to escape the slaughter of the children in Bethlehem.[5]
Crossan and Borg go on to suggest that the number five is important. There are in this overture, five dreams move the story along and five prophetic fulfillments are cited. This calls to mind the Torah, they say, because it is made up of the first five books of the Hebrew Bible. These are also called "the books of Moses." And like the five books of Moses, the main body of Matthew's gospel is easily divided into five sections:
the Law discourse (the Sermon on the Mount, where Jesus reinterprets the law Moses received – on a mountain);
the missionary discourse;
the parable discourse;
the community discourse; and
the eschatological discourse.[6]
Borg and Crossan point to other ways this overture introduces the theme that Jesus is the new Moses, but I don't want to get lost in the weeds (or bulrushes) digging into these. Instead, I want to you hear this general idea:
The Christmas stories in Matthew and Luke – their overtures – are important not because any of it happened historically (and aside from Mary being pregnant and giving birth, is likely that little else in the story happened historically). No, the Christmas stories in Matthew and Luke are important because they tell us where the story is going.
And where does Matthew tell us where the story is going? Just in the reading we heard today, we hear both that non-Jews will seek Jesus and that wise ones will seek him. We hear that Jesus will be the new Davidic king (a subtheme in the overture lifted up elsewhere). We hear that the principalities and powers will find Jesus threatening and will seek to kill him. We hear that God has an escape plan for Jesus, that death won't have the final word.
Do you see one reason why it's important to keep Herod in Christmas? The overture doesn't work without him.
Of course it's not the only reason to keep Herod in Christmas. Any first or second century Jew would know what a despot Herod the Great was. Yes, he rebuilt the Temple in Jerusalem, an important sign of Jewish identity. But he was a puppet king, dependent on the Roman empire for his status. "Cruel and ruthless, he used slave labor for his huge building projects. He had a reputation for assassinating anyone he considered a threat – including his wife and two of his own sons."[7]
You can see why it was not a far-fetched storyline to have Herod kill all the infant and toddler boys in Bethlehem in Matthew's overture. There are some important questions that are raised by having Herod in this story. We know how Herod managed power and dealt with threats. How will we? We know how Herod used violence to get his way. Will we?
"Herod – and Pharaoh before him – model one way: violence is simply one tool, used in varying degrees, to gain or maintain power.
"The baby whom Herod seeks to kill will model another way. His tool will be service, not violence. And his goal will not be gaining and maintaining power, but using his power to heal and empower others. He will reveal a vision of God that is reflected more in the vulnerability of children than in the violence of men, more in the caring of mothers than in the cruelty of kings."[8]
Brian McLaren points out, "All this can sound quite abstract and theoretical unless we go one step deeper. The next war – whoever wages it – will most likely resemble every war in the past. It will be planned by powerful older men in their comfortable offices, and it will be fought on the ground by people the age of their children and grand children. Most of the [uniformed] casualties will probably be between eighteen and twenty-two years old – in some places, much younger. So the old, sad music of the ancient story of Herod and the slaughter of the children will be replayed again. And again, the tears of mothers will fall."[9]
By keeping Herod in Christmas, we are forced to grapple with what we believe about God. "Does God promote or demand violence? Does God favor the sacrifice of children for the well-being of adults? Is God best reflected in the image of powerful old men who send the young and vulnerable to die on their behalf? Or is God best seen in the image of a helpless baby, identifying with the victims, sharing their vulnerability, full of fragile but limitless promise?"[10]
Our second lesson answers these question – but in a whole new way. From the Sermon on the Mount, Jesus holds up the ethic of love as the real fulfillment of the law. And this love needs to be deep, deep enough to turn your enemies into friends. When faced with oppression, the typical responses are fight or flight. "An eye for an eye" is a call to meet violence with violence. The other response is to let the violence crush you.
Jesus offers a third way: meet violence with non-violent activism. Because someone would only strike you with their right hand, if someone strikes you on the right cheek, they've backhanded you. Doing that means they are treating you as an inferior. By offering your left cheek, you are saying, "If you want to hit me, you'll have to hit me as your equal." If someone sues you for your only possession, the clothes off your back, give them your underwear, too. If they reduce you to being naked, they have lost face. The only person who would force you to go a mile would be a Roman soldier. They were known for forcing locals to carry their packs and were restricted to only forcing that for one mile. By insisting that you go two miles, you'll get the occupying soldier in trouble.
There is a third way, Jesus says, to fight for the dignity of the oppressed without becoming an oppressor.
"To be alive in the adventure of Jesus," McLaren says, "is to face at every turn the destructive reality of violence. To be alive in the adventure of Jesus is to side with the vulnerable … in defiance of the [oppressors] who see [the vulnerable] as expendable. To walk the road with Jesus is to withhold consent and cooperation with the powerful, and to invest it instead with the vulnerable. It is to refuse to bow to all the Herods and all their ruthless regimes – and to reserve our loyalty for a better king and a better kingdom.
"Jesus has truly come, but each year during the Advent season, we acknowledge that the dream for which he gave his all has not yet fully come true. As long as elites plot violence, as long a children pay the price, and as long as mothers weep, we cannot be satisfied.
"… In this Advent season, we dare to believe that God feels their pain and come near to bring comfort. If we believe that is true, then of course we must join God and come near, too. That is why we must keep Herod and the ugliness [of the story] of his mass murder in the beautiful Christmas story."[11]
Now, as we move into our time of quiet, I invite you to reflect on …
… anything in the sermon or scripture readings that caught your interest; or
… a time when you were a child and an adult other than a parent showed you great respect or kindness; or
… the idea that Matthew's birth narrative is an "overture" to his gospel; or
… to hold in your mind both the image of Herod, ruthless and power-hungry, and the image of Jesus, a vulnerable baby—then observe what happens in your heart and offer a prayer of response.
[1] Jeff Lunden, "Broadway's Best Musical Revival: The Overture?" National Public Radio, http://www.npr.org/templates/story/story.php?storyId=91480130 (posted 15 June 2008; accessed 8 December 2016).
[2] Jesse Green, "Whatever Happened to the Overture?" The New York Times, http://www.nytimes.com/2006/10/01/theater/01gree.html (posted 1 October 2006; accessed 8 December 2016).
[3] Ibid.
[4] Lunden, op. cit.
[5] Borg, Marcus J., and John Dominic Crossan, The First Christmas (New York: HarperCollins, 2007), 41-42.
[6] Ibid, 42-46.
[7] Brian McLaren, We Make the Road by Walking [Kindle version], chapter 16, page 71. Retrieved from amazon.com.
[8] Ibid, 71-72.
[9] Ibid, 72-73.
[10] Ibid, 73.
[11] Ibid, 73-74.
A sermon preached at Niles Discovery Church, Fremont, California,
on Sunday, November 27, 2016, by the Rev. Jeffrey Spencer.
Scriptures: Isaiah 40:9-11 and Luke 1:67-79
Copyright © 2016 by Jeffrey S. Spencer
I wonder what it is like for Cubans today. With Fidel Castro's death on Friday, I wonder what sort of dreams and hopes, what sort of griefs and fears average Cubans are feeling. Fidel Castro took power in 1959. That means that 75% of the Cuban population has only known the Castro form of Communism and a Castro at the helm.[1] Are they feeling grief at Fidel's death? Are they feeling like there is a power vacuum (even though Fidel handed power to his brother Raúl eight years ago)? Are they fearful that they may lose all they've known, or are they hopeful about changes that might be able to come? Or maybe they're feeling a combination of these things.
I wonder what it is like for people in Syria and Iraq who live in the shadow of ISIS. Are their lives filled with fear or are they (at least some of them) somehow holding on to hopes and dreams?
And I wonder what it is like for the refugees – whose who fled Cuba generations ago and those who have fled ISIS in this generation. Is there hope in their fleeing or is it only desperation? Do they hope to return home or have they oriented their lives to the new land they how inhabit?
Brian McLaren points out, "Prophets in the Bible have a fascinating role as custodians of the best hopes, desires, and dreams of their society. They challenge people to act in ways consistent with those hopes, desires, and dreams. And when they see people behaving in harmful ways, they warn them by picturing the future to which that harmful behavior will lead.
"One of the most important prophetic compositions was the Book of Isaiah. Most scholars today agree that at least three people contributed to the book over a long period of time, but their combined work has traditionally be attributed to one author. The first thirty-nine chapters of Isaiah were situated in the southern Kingdom of Judah, just before the northern Kingdom of Israel was invaded and colonized by the Assyrians. The prophet saw deep spiritual corruption and complacency among his people and warned them that this kind of behavior would lead to decline and defeat.
"That defeat came in 587 BC at the hand of the Babylonians. After the invasion, many survivors were taken as exiles to Babylon. Chapters 40-55, often called Second Isaiah, addressed those Judean exiles, inspiring hope that they would someday return to their homeland and rebuild it. That soon happened, beginning in 538 BC under the leadership of Ezra and Nehemiah. That era of rebuilding was the setting for Third Isaiah, chapters 56-66."[2]
Imagine with me for a moment what it was like for the people of Second Isaiah. Imagine what it was like for those who had been forcibly removed from their homes and taken into exile by the Babylonians. Yahweh, they believed, had promised them this land, but a foreign army had conquered them, removed them from their homes, and sent them into exile. Yahweh's home was in Jerusalem, but they were forced to live in Babylon. Yahweh's house, the Temple, had been destroyed. Where and how could they find hope?
Not that I was trying to mimic Isaiah, but my sabbatical can be divided into three parts. The first part was a great road trip that took me up the coast, across to Glacier National Park, south to Yellowstone and the Grand Tetons, and back home. It included, almost by accident, a stop at the Minidoka Internment Camp outside Twin Falls, Idaho. There is very little at the National Historical Park now: mostly open fields and gravel paths; a few concrete pads that were the foundations of garages and warehouses; a collapsing root cellar. The sentry tower and barbed wire fence are reconstructions. Only one of the original tarpaper barracks remains; the others were demolished or sold to farmers in the area, but only to white farmers. None of the internees were allowed to purchase any of the buildings or equipment that was deemed surplus after the war.
At its height, there were over 9,000 Japanese immigrants and Japanese-American citizens incarcerated in the camp, making Minidoka something like the fourth largest community in Idaho at the time. These thousands upon thousands of people of Japanese heritage are America's 20th century exiles. Like the Babylonian army, the U.S. Army forced these people out of their homes and businesses and placed them in concentration camps.
According to the stories I read and heard at Minidoka, it was only through community that they were able to find hope. And, while the United States built the barracks, it was the people concentrated in the camp that built the community.
Of course, the internment of people of Japanese ancestry is not the only exile in United States history. The government's treatment of the people who were here first, the Native Americans, was our original forced exile. I won't rehearse the history; I can't; I don't know all of it. I know just enough of the Trail of Tears and the concentration on "Reservations" and the violations of treaties and the attempts to "kill the Indian" to save the child to know it was a story all too similar to that of the Judean exile in Babylon.
Aside from the elections, there was one news story that held my attention during my sabbatical: the story of the Standing Rock Sioux protesting the routing of the Dakota Access Pipeline through sacred lands and along and under important water sources for the Standing Rock and everyone downstream of them. Up until the past few weeks, the mainstream news media were pretty much ignoring the story. However, because the Dakota Access Pipeline is new fossil fuel infrastructure, organizations fighting climate change were paying attention, and that got my attention starting in August.
On one level, this story sounds like every other story of the Indian Exile: white people with their police and military and corporations and courts giving Indians the shaft. Again.
But something different is happening this time. The National Public Radio podcast, "Code Switch" notes that the history "of indigenous people fighting to protect not just their land, but the land, is centuries old." But this time, "The scope of the resistance at Standing Rock exceeds just about every protest in Native American history."[3] The big thing that's different is that Native tribes and nations from across North America, in both what is now the United States and what is now Canada, are showing up in support of the Standing Rock Sioux. Not only that, but indigenous groups from around the world are offering their support.[4]
This gives me hope, this community and solidarity that is growing around the globe. And because of that solidary (at least in part), this is now about way more than a particular pipeline in a particular place. What's happening along the Cannonball River is becoming a clash of ideas and systems that have been at odds on this continent for five centuries. The thing is, because the Standing Rock are grounding their movement in prayer, this clash has the real potential to work itself out in a way where we are all transformed and we are all winners. And that gives me hope.
"To be alive is to desire, to hope, and to dream," Brian McLaren writes.[5] Unfortunately, throughout human history, "some of us desire power and kill, enslave, and oppress others. Enslaved and oppressed people hope for liberation. Wilderness wanderers desire a promised land where they can settle. Settled people dream of a promised time when they won't be torn apart by internal factions, ruled by corrupt elites, or dominated by stronger nations nearby."[6]
If we read the prophets and the gospels in the Bible, one thing will be clear: While God loves everyone, God takes the side of the enslaved and oppressed, the wilderness wanderers and exiles, the people yearning for justice and peace. We heard the words in today's scripture lessons.
And you, child, will be called the prophet of the Most High;
for you will go before the Lord to prepare his ways,
to give knowledge of salvation to his people
by the forgiveness of their sins.
By the tender mercy of our God,
the dawn from on high will break upon us,
to give light to those who sit in darkness
and in the shadow of death,
to guide our feet into the way of peace."

The Lord God … will feed his flock like a shepherd;
he will gather the lambs in his arms,
and carry them in his bosom,
and gently lead the mother sheep.
And there's so much more in Isaiah.
They shall beat their swords into ploughshares,
and their spears into pruning-hooks;
nation shall not lift up sword against nation,
neither shall they learn war any more. (Isaiah 2:4)

The wolf shall live with the lamb,
the leopard shall lie down with the kid,
the calf and the lion and the fatling together,
and a little child shall lead them.
The cow and the bear shall graze,
their young shall lie down together;
and the lion shall eat straw like the ox. (Isaiah 11:6-7)

Here is my servant, whom I uphold,
my chosen, in whom my soul delights;
I have put my spirit upon him;
he will bring forth justice to the nations.
He will not cry or lift up his voice,
or make it heard in the street;
a bruised reed he will not break,
and a dimly burning wick he will not quench;
he will faithfully bring forth justice. (Isaiah 42:1-3)
Isaiah's words and images inspire so much hope that Jesus and his followers quote this book more than any other writer.
"Many other prophets added their own colors to this beautiful vision of hope. In Ezekiel's vision, people's hearts of stone will be replaced with hearts of flesh. For Malachi, the hearts of parents would turn to their children, and children to their parents. Joel describes the Spirit of God being poured out on all humanity – young and old, men and women, Jew and Gentile. Amos paints the vivid scene of justice rolling down like a river, filling all the lowest places. And Daniel envisioned the world's beastlike empires of violence being overcome by a simple unarmed human being, a new generation of humanity.
"In the centuries between the time of the prophets and the birth of Jesus, these prophetic dreams never completely died. But they were never completely fulfilled, either.… [So] their dream lived on. It remained alive in people like Elizabeth and Zechariah, Mary and Joseph, and Anna and Simeon, and even among humble shepherds who lived at the margins of society.
"To be alive in the adventure of Jesus is to have a desire, a dream, a hope for the future."[7] To be alive in the adventure of Jesus is to believe that the promised time is coming and that the promised land will be received. It is what we pray for every time we say, "Thy kin-dom come on earth." But that is only a wish and not true hope if it does not spur us to action. To be alive in the adventure of Jesus is to translate hope for the future into action in the present and to keep acting in light of it, no matter the disappointments, no matter the setbacks and delays.
Now, as we enter a time of quiet, I invite you to reflect on …
… anything for the sermon or scripture readings that caught you attention; or
… recall a time when you kept hope or lost hope; or
… the imagery from Isaiah ("He shall feed his flock …"), and how you would translate that imagery from the ancient Middle East into imagery from today's world; or
… an image from today's scripture readings – hold it in your heart, in God's presence and let it inspire a simple prayer.
[1] "Cuba Age structure," Index Mundi, http://www.indexmundi.com/cuba/age_structure.html (accessed 26 November 2016).
[2] Brian McLaren, We Make the Road by Walking [Kindle version], chapter 14, page 64. Retrieved from amazon.com.
[3] Leah Donnella, "The Standing Rock Resistance Is Unprecedented (It's also Centuries Old)," Code Switch, http://www.npr.org/sections/codeswitch/2016/11/22/502068751/the-standing-rock-resistance-is-unprecedented-it-s-also-centuries-old (posted 22 November 2016; accessed 26 November 2016).
[4] Just as an example, Maori have set up a Facebook page in solidarity (https://www.facebook.com/maorisolidarity/) and have sent people to pray and stand in solidarity to the protest camps.
[5] McLaren, page 63.
[6] Ibid.
[7] Ibid, 65-66.
According to the Mayo Clinic website, the "DSM-5 criteria for narcissistic personality disorder include these features:
Having an exaggerated sense of self-importance
Expecting to be recognized as superior even without achievements that warrant it
Exaggerating your achievements and talents
Being preoccupied with fantasies about success, power, brilliance, beauty or the perfect mate
Believing that you are superior and can only be understood by or associate with equally special people
Requiring constant admiration
Having a sense of entitlement
Expecting special favors and unquestioning compliance with your expectations
Taking advantage of others to get what you want
Having an inability or unwillingness to recognize the needs and feelings of others
Being envious of others and believing others envy you
Behaving in an arrogant or haughty manner"
Some people (me included) think that Donald Trump may have narcissistic personality disorder (NPD). It is, like most personality disorders, very hard to treat and very hard to live with. A person named Nell Ziehl wrote a post on Facebook that is getting forwarded with advice about dealing with someone who has NPD. I don't know who Nell is or what Nell's credentials are, but from my personal experience with people who have personality disorders, this seems like good, basic advice. So, I'm reposting Nell's advice here:
I want to talk a little about narcissistic personality disorder. I've unfortunately had a great deal of experience with it, and I'm feeling badly for those of you who are trying to grapple with it for the first time because of our president-elect, who almost certainly suffers from it. Here are a few things to keep in mind:

1) It's not curable and it's barely treatable. He is who he is. There is no getting better, or learning, or adapting. He's not going to "rise to the occasion" for more than maybe a couple hours. So just put that out of your mind.

2) He will say whatever feels most comfortable or good to him at any given time. He will lie a lot, and say totally different things to different people. Stop being surprised by this. While it's important to pretend "good faith" and remind him of promises, as Bernie and others are doing, that's for his supporters, so *they* can see the inconsistency. He won't care. So if you're trying to reconcile or analyze his words, don't. It's 100% not worth your time. Only pay attention to and address his actions.

3) You can influence him by making him feel good. There are already people like Bannon who are ready to use him for their own ends. The GOP is excited to try. Watch them, not him. President Obama, in his wisdom, is treating him well in hopes of influencing him and possibly averting the worst. If he gets enough accolades for better behavior, he might continue to try it. But don't count on it.

4) Ultimately, he will betray anyone who tries to get close to him. It might take a while, though, so we can't count on that.

5) He only cares about himself and those he views as extensions of himself, like his children. (People with NPD can't understand others as fully human or distinct.) He desires accumulation of wealth and power because it fills a hole. (Melania is probably an acquired item, not an extension.) He will have no qualms *at all* about stealing everything he can from the country, and he'll be happy to help others do so, if they make him feel good. That is likely the only thing he will intentionally accomplish.

6) It's very, very confusing for non-disordered people to experience a disordered person with NPD. They do not observe social conventions or demonstrate basic human empathy. It's very common for non-disordered people to lower their own expectations and try to normalize the behavior. DO NOT DO THIS AND DO NOT ALLOW OTHERS, ESPECIALLY THE MEDIA, TO DO THIS. If you start to feel foggy or unclear about this, step away until you recalibrate.

7) People with NPD often recruit helpers, referred to in the literature as "enablers" when they allow bad behavior and "flying monkeys" when they perpetrate bad behavior on behalf of the narcissist. Although it's easiest to prey on vulnerable or malicious people, good people can be unwittingly recruited. It will be important to support good people around him if and when they attempt to stay clear or break away.

8) They like to foster competition for sport in people they control. Expect lots of chaos, firings and recriminations. He will probably behave worst toward those closest to him, but that doesn't mean (obviously) that his actions won't have consequences for the rest of us. He will punish enemies. He may start out, as he has with the NYT, with a confusing combination of punishing/rewarding, which is a classic abuse tactic for control. If you see your media cooperating or facilitating this behavior for rewards, call them on it.

9) Gaslighting — where someone tells you that the reality you've experienced isn't true — is real and torturous. He will gaslight, his followers will gaslight. The GOP has been gaslighting for 30 years. Learn the signs and find ways to stay focused on what you know to be true.

10) Whenever possible, do not focus on the narcissist or give him attention. Don't circulate his stupid tweets or laugh at him — you are enabling him and getting his word out. (I've done this, of course, we all have… just try to be aware.) Pay attention to your own emotions: do you sort of enjoy his clowning? is this kind of fun and dramatic, in a sick way? You are adding to his energy. Focus on what you can change and how you can resist, where you are. We are all called to be leaders now, in the absence of leadership.

Much love and I'll post something fun for the holidays too, I promise.

On November 15, Timothy Snyder (Housum Professor of History at Yale University) posted the following on Facebook. I repost it here because I think it is good advice for lovers of democracy in this and every age.
Americans are no wiser than the Europeans who saw democracy yield to fascism, Nazism, or communism. Our one advantage is that we might learn from their experience. Now is a good time to do so. Here are twenty lessons from the twentieth century, adapted to the circumstances of today.

1. Do not obey in advance. Much of the power of authoritarianism is freely given. In times like these, individuals think ahead about what a more repressive government will want, and then start to do it without being asked. You've already done this, haven't you? Stop. Anticipatory obedience teaches authorities what is possible and accelerates unfreedom.

2. Defend an institution. Follow the courts or the media, or a court or a newspaper. Do not speak of "our institutions" unless you are making them yours by acting on their behalf. Institutions don't protect themselves. They go down like dominoes unless each is defended from the beginning.

3. Recall professional ethics. When the leaders of state set a negative example, professional commitments to just practice become much more important. It is hard to break a rule-of-law state without lawyers, and it is hard to have show trials without judges.

4. When listening to politicians, distinguish certain words. Look out for the expansive use of "terrorism" and "extremism." Be alive to the fatal notions of "exception" and "emergency." Be angry about the treacherous use of patriotic vocabulary.

5. Be calm when the unthinkable arrives. When the terrorist attack comes, remember that all authoritarians at all times either await or plan such events in order to consolidate power. Think of the Reichstag fire. The sudden disaster that requires the end of the balance of power, the end of opposition parties, and so on, is the oldest trick in the Hitlerian book. Don't fall for it.

6. Be kind to our language. Avoid pronouncing the phrases everyone else does. Think up your own way of speaking, even if only to convey that thing you think everyone is saying. (Don't use the internet before bed. Charge your gadgets away from your bedroom, and read.) What to read? Perhaps "The Power of the Powerless" by Václav Havel, 1984 by George Orwell, The Captive Mind by Czesław Milosz, The Rebel by Albert Camus, The Origins of Totalitarianism by Hannah Arendt, or Nothing is True and Everything is Possible by Peter Pomerantsev.

7. Stand out. Someone has to. It is easy, in words and deeds, to follow along. It can feel strange to do or say something different. But without that unease, there is no freedom. And the moment you set an example, the spell of the status quo is broken, and others will follow.

8. Believe in truth. To abandon facts is to abandon freedom. If nothing is true, then no one can criticize power, because there is no basis upon which to do so. If nothing is true, then all is spectacle. The biggest wallet pays for the most blinding lights.

9. Investigate. Figure things out for yourself. Spend more time with long articles. Subsidize investigative journalism by subscribing to print media. Realize that some of what is on your screen is there to harm you. Bookmark PropOrNot or other sites that investigate foreign propaganda pushes.

10. Practice corporeal politics. Power wants your body softening in your chair and your emotions dissipating on the screen. Get outside. Put your body in unfamiliar places with unfamiliar people. Make new friends and march with them.

11. Make eye contact and small talk. This is not just polite. It is a way to stay in touch with your surroundings, break down unnecessary social barriers, and come to understand whom you should and should not trust. If we enter a culture of denunciation, you will want to know the psychological landscape of your daily life.

12. Take responsibility for the face of the world. Notice the swastikas and the other signs of hate. Do not look away and do not get used to them. Remove them yourself and set an example for others to do so.

13. Hinder the one-party state. The parties that took over states were once something else. They exploited a historical moment to make political life impossible for their rivals. Vote in local and state elections while you can.

14. Give regularly to good causes, if you can. Pick a charity and set up autopay. Then you will know that you have made a free choice that is supporting civil society helping others doing something good.

15. Establish a private life. Nastier rulers will use what they know about you to push you around. Scrub your computer of malware. Remember that email is skywriting. Consider using alternative forms of the internet, or simply using it less. Have personal exchanges in person. For the same reason, resolve any legal trouble. Authoritarianism works as a blackmail state, looking for the hook on which to hang you. Try not to have too many hooks.

16. Learn from others in other countries. Keep up your friendships abroad, or make new friends abroad. The present difficulties here are an element of a general trend. And no country is going to find a solution by itself. Make sure you and your family have passports.

17. Watch out for the paramilitaries. When the men with guns who have always claimed to be against the system start wearing uniforms and marching around with torches and pictures of a Leader, the end is nigh. When the pro-Leader paramilitary and the official police and military intermingle, the game is over.

18. Be reflective if you must be armed. If you carry a weapon in public service, God bless you and keep you. But know that evils of the past involved policemen and soldiers finding themselves, one day, doing irregular things. Be ready to say no. (If you do not know what this means, contact the United States Holocaust Memorial Museum and ask about training in professional ethics.)

19. Be as courageous as you can. If none of us is prepared to die for freedom, then all of us will die in unfreedom.

20. Be a patriot. The incoming president is not. Set a good example of what America means for the generations to come. They will need it.

–Timothy Snyder, Housum Professor of History, Yale University,
15 November 2016.
If you follow this blog, you know that I hoped Secretary Clinton would be elected President. More than that, I really didn't want Mr. Trump to be elected President. That hope and wish were not fulfilled. Instead, a man who I have seen as misogynist, racist, and dangerous (his denial of climate change, his openness to using nuclear weapons) has won enough states that, assuming the electoral college votes as they are pledged, he will be the next President of the United States.
I've been told that in 1960, after John F. Kennedy narrowly defeated Richard Nixon, staunch Hollywood conservative John Wayne declared, "I didn't vote for him, but he's my president and I hope he does a good job."
I'm having a hard time following John Wayne's lead. Yes, I hope Mr. Trump does a good job, but based on his campaign and the signals coming from his transition team, I don't think he will. I've read his plan for this first 100 days in office. If he follows through on his plan, he will wreak havoc on the economy, the environment, the Supreme Court's protection of freedom, our public schools, the incomplete health insurance net that's being stitched together through Obama Care, families that include at least one undocumented worker, and the national debt.
While the plan does not say anything overt about removing right of religious, ethnic, or sexual minorities, the rhetoric surrounding the Trump campaign and the people he has named to his transition team is frightening. Since election day, many people – especially women, minorities, immigrants, and members of the lgbt community – have felt vulnerable. Not surprising, since the Southern Poverty Law Center has noted as significant spike in acts of "hateful harassment and intimidation" since the election. And now, with the naming of white nationalist Steve Bannon to be "Chief Strategist to the President," the pit in my stomach that had been slowly dissolving has re-solidified. White male privilege is, I fear, solidifying in our culture, right along side the pit in my stomach.
Bishop Dwayne Royster's words in this blog post posted late on election day resonate with me – particularly when he rights about his anger that people who say they follow Christ voted for a person whose words during this campaign paint him as sexist, racist, xenophobic, misogynistic, homophobic, and not someone to be trusted with nuclear weapons. And I like that he calls us to be "Prophets that will speak truth to power unequivocally and will speak truth to the people as well."
Senator Bernie Sanders (the presidential candidate I supported in the primaries) issued this statement the day after the election. In four sentences he says where I want to be politically.
Donald Trump tapped into the anger of a declining middle class that is sick and tired of establishment economics, establishment politics and the establishment media.  People are tired of working longer hours for lower wages, of seeing decent paying jobs go to China and other low-wage countries, of billionaires not paying any federal income taxes and of not being able to afford a college education for their kids – all while the very rich become much richer.

To the degree that Mr. Trump is serious about pursuing policies that improve the lives of working families in this country, I and other progressives are prepared to work with him. To the degree that he pursues racist, sexist, xenophobic and anti-environment policies, we will vigorously oppose him.
And while I want to be ready to work with Mr. Trump where I can (and vigorously against him where his proposals and policies are harmful), I am worried about how we respond to people who are vulnerable now, as attacks continue. I turn to my Twitter feed as I write this, knowing that there are other people who have posted things that have inspired me or at least given me hope, but what I'm reading about are instances of people of color being threatened by whites, of people of Muslim faith afraid to express it. Trump has turned a populist anger into hatred for "the other" by turning economic resentment into racial, religious, and gender resentment.
As a pastor, I wonder what my congregation can do. My greatest personal fear about the Trump presidency is that the little progress we've made as a nation to combat climate change will be reversed and the struggle to address this (the most important moral issue of our day) may be too late. Others have different primary fears as they try to imagine the coming Trump presidency – and with good reason; check out "Day 1 in Trump's America." The Rev. Michael Denton, Conference Minister of the Pacific Northwest Conference of the United Church of Christ, identified how the Trump presidency will make the lives of so many less safe and more traumatic – and some ideas for churches on his Facebook page:
For millions of people in our country and beyond, this world is suddenly and significantly less safe. Hate crimes had already increased in recent months and will even more, now. Many hard fought for laws that had protected the rights and lives of the queer community are in danger of being rolled back. Survivors of sexual assault will have to look into the eyes of someone who bragged about assaulting others every time they turn on the news. Those with disabilities will have to look into the eyes of someone who has mocked them. Migrants and refugees who found a home here are wondering if they'll have to be migrants and refugees, again. People of color who already knew the life threatening daily reality of systemic racism are faced with one more blatant systemic expression of it. Those whose religious expression does not fall into a relatively narrow expression of Christianity can expect to be treated as suspect. Someone who has talked about his intention to use military force preemptively and often now has the ability to do so.

The idea of providing sanctuary is not a new one. It is the idea of opening up our churches and making them a safe space for people who are feeling threatened by the world. Over the coming hours, days, weeks, months and years more and more people are going to be asking for us to provide some sort of sanctuary; everything from providing a space for prayer and a listening ear to a place where they can find physical safety from a world that endangers them. We need to start that conversation of how to do that within and between our churches, now.
When it was becoming clear that Mr. Trump was going to win the electoral college, I honestly wondered if it was time to consider emigrating. I have a friend in New Zealand who said she will take me in while I look for a job if it's ever needed. But then I read a tweet (I don't remember who posted it) that called those of us who have privilege and care about justice not to abandon those who do not have privilege. Privilege comes in many forms in the USA. I have gender (I'm a cisgender male), race (I'm European-America of British descent), and economic (within the USA I'm probably upper-middle class) privilege, privileged enough to be able to seriously consider emigration. But I will stay and look for ways to justly use my privilege to protect those who are vulnerable and to dismantle the system that makes this privilege possible.
Those of us with privilege must not abandon those who do not have privilege. Those of us who follow Christ must serve, lift up, empower, and follow the vulnerable who are all the more vulnerable now.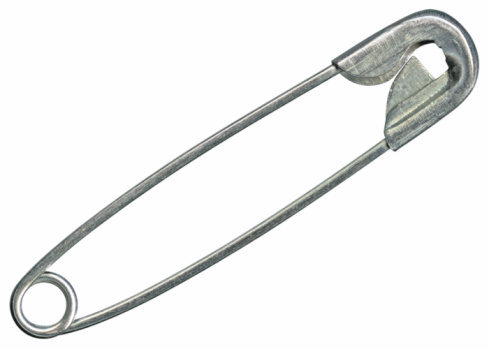 I've decided to wear a safety pin.
By now, you've probably heard about a simple act that many are taking to show others that they are safe: wearing a safety pin. I'm not sure if it started in Australia or was inspired by the #illridewithyou movement in Australia. In any event, it took root in Great Britain after the Brexit vote. People wore empty safety pins after the vote by the UK to leave the European Union to let people who might be targeted with harassment after the vote (especially immigrants) know that the person wearing the pin was safe, was an ally, would stand with the vulnerable person to support them.
After the election of Donald Trump (I'm assuming the Electoral College will actually elect him on December 19), many people – especially women, minorities, immigrants, and members of the lgbt community – felt vulnerable. Not surprising, since the Southern Poverty Law Center has noted as significant spike in acts of "hateful harassment and intimidation" since the election. People who walk through life with privilege (men, whites, etc.) are recognizing that they can leverage this privilege to help create safe space for vulnerable people. The safety pin is a sign of this. I should quickly add that people with less privilege than me are also wearing safety pins.
I was initially jazzed by the idea of wearing the pin. And then I started to read articles and blogs offering some push-back (for instance, this piece written by a white male). As my friend and colleague Sandhya Jha said in a Facebook post, "I have a mild concern that people are drawn to these safety pins as a form of absolution: 'I'm ok. I'm not THAT kind of white person. I am not to blame.' I also have a mild concern that it is less about learning the skills to put one's body on the line for another (and there are skills to practice) than about getting credit for being a good white person for publicly announcing one's ally status. As my LGBTQ+ activist friends helpfully remind me, I don't get a cookie for being an ally. That's just being a decent human being, and that doesn't warrant brownie points."
And Sandhya is absolutely right about there being skills to practice. As another blog post point out, those of us who wear the pin need to know what the pin means, know how much risk we're willing to take, learn how to de-escalate volatile situations, know what you'll do if de-escalation doesn't work or if the situation gets violent, and practice. I recommend you read this blog post if, like me, you're plan to wear a safety pin.
I'll wear my pin for me as well as for people who I might meet along the way. I'll wear my pin to remind me of the commitment I make to be a person who will help if needed (and wanted). And, as Sandhya concluded in her post:  "[The safety pin] can become a symbol of accountability, that white people see it and acknowledge to each other, 'we have a lot of work to do to unify our people around a different vision. We have a lot of work to do to protect other people from our people. We have a lot of work to do to create a different way of being white. Let's make sure to hold each other to that.'"
I'm staying at a friend's home on the east coast of the United States right now. I sat up with him and his wife into the wee hours last night watching the returns come in. The three of us were stunned that our nation had elected Donald Trump to be our next President. I supported Hillary Clinton and my friends worked hard for her election.
My friend's wife's question as we went to bed was this: "How do we explain this to the kids tomorrow?" Their boys are 4 and 6.
I wondered about such a question. They're at an age when the question, "Why?" is often on their lips. I suspect there are lots of reasons why my fellow countrypeople voted for Mr. Trump. Some people probably thought that his tax proposals will put more money in their pockets and didn't care about the consequences for the wider community (their neighbors). Some probably thought that he will change the economy in such a way that their lives and their neighbors' lives will be better. Some probably voted out of their sexism, not wanting a woman to be our President. Some probably voted against Hillary Clinton and would have voted for anyone as long as it wasn't her.
And many, I think, voted from their fear.
So what would I say to a 6-year-old who asked me why Mr. Trump won and Secretary Clinton lost? Recognizing that I couldn't explain the electoral college to a 6-year-old, I think I would say something like, "He won because he got more votes in more states." And when this 6-year-old asks, "Why did people vote for him?" I'd say something like,"When people are afraid or jealous or angry, they don't make the best choices. So some people voted for Mr. Trump because they really liked him better than Secretary Clinton, and some people voted for Mr. Trump because they didn't make the best choice."
I don't know if that answer would satisfy a 6-year-old, but it's the best I have today, a day when I am disappointed, and maybe even a little fearful myself about what the next four years will hold.
At around 1:00 a.m. (Eastern time), as the reality that my country (the USA) had elected Donald Trump to be President started to take hold in my mind, the poem "When the Song of the Angels Is Stilled" by Howard Thurman came to mind. I tweeted a link to it.
This morning, I found that I was not the only one who thought of that poem. Maren Tirabassi posted a poem of her own, inspired by the same poem.
(with thanks to Howard Thurman's deeply meaningful "The Work of Christmas"*) When the speeches and debates are stilled, when the signs have come down from our yards, the traveling journalists are home, and even the pundits have turned to other predictions, jokes, memes, hashtags — The work of community begins: to listen to the hurting, […]
While I will not be at this Clergy Day of Action, my prayers will be … and I hope to find a way to be physically present with those who are protecting our mother earth some time in the new year.
Gifts in Open Hands
Ephesians 6:10-18
Put on the whole blanket of God, to keep you warm in the Great Plains November. Our struggle is not only against corporations and against the authorities that line up with them, but mostly against the almost cosmic powers of racism, against the spiritual evil with so much terrible history, so much powerful media, and so many insidious whispers – this is not my battle.
Therefore take up the whole blanket of God, so that you may be united on November 3, having come from the love in your heart to stand firm in justice. Therefore fasten the belt of listening to those whose land this is and who have been here since April, and put on the sweater or jacket or poncho of community. As shoes for your feet put on whatever will make you ready to dance, walk or be jailed for the water of life…
View original post 125 more words