You are currently browsing the category archive for the 'sexism' category.
A sermon* preached at Niles Discovery Church, Fremont, California,
on Sunday, April 7, 2019, by the Rev. Jeffrey Spencer.
Scriptures:  Genesis 2:4b-17 and Job 38:1-11; 39:5-8, 26-30
Copyright © 2019 by Jeffrey S. Spencer
This last sermon in this series is the most personal of the bunch.  Jim Antal and abby mohaupt are two of my climate heroes, and when I decided to include them in this series on Saints, I didn't realize I was also going to need to include Bill McKibben.  The thing is, Bill has had an important influence on Jim, abby, and me, and so, I'm going to start with him.
Bill and I grew up in Lexington, Massachusetts.  Though Bill was a year ahead of me in school and we went to different junior highs, our lives managed to overlap.  We both gave tours of "the historic Lexington Battle Green" when we were in junior high, and we were in church youth group together (though I was more involved than he), and we were the prime organizers of local protests against President Jimmy Carter's reinstitution of draft registration the summer after my first year of college.  Bill had completed his second year at Harvard when we gathered on the Lexington Battle Green on a weekly basis to protest – an appropriate spot if ever there was one to stand in opposition to the government.
When he graduated from Harvard, Bill got a job writing for The New Yorker magazine.  The next time I heard from Bill was on the radio when he was on a tour promoting his 1989 book The End of Nature.  This was the first book published in the United States for a general audience on global warming.  He had done the research to see just what a dangerous situation human beings were putting ourselves into by changing the chemistry of the atmosphere.
I wish I could tell you that Bill's book was the thing that got me to be serious about the dangers of global warming.  It (and some articles he wrote for various journals and magazines) started building my awareness, but it was Al Gore's 2006 film, An Inconvenient Truth, that really converted me.  The film made something click.  I don't know how I managed to almost immediately see the connections as clearly as I did.  Somehow, I saw that a warmer planet would change weather patterns, which would shift where and how much water would be available, which would change how and where and if crops grew, which would lead to famines and mass migrations, which would likely lead to war.
People starving, people forced to leave their homes, and war are moral issues.  And that is why, for over a decade, I've been saying that climate change is the moral issue of our day.
The End of Nature impacted Jim Antal, too, though he was aware of the dangers of climate change before Bill's book was published.  Jim is the recently retired Conference Minister of the Massachusetts Conference of the United Church of Christ.  I think the first time I met him face-to-face was at a General Synod, the every two-years meeting of people from across the UCC, where we worship and eat and learn, and where delegates vote on resolutions.  One of the resolutions before the Synod that year called for the various settings of the United Church of Christ to divest from fossil fuels.  It turned out that Jim was a champion of that resolution and that resolution was the most important one to me of all the resolutions coming before Synod that year.
Jim's traces his journey to being one of the strongest voices in the UCC calling for us to address climate change back to a road trip he took with his father when he was 15.  Jim's parents had divorced, and he moved to California to live with his father.  That summer, they did a tour of some of the National Parks out here in the western United States as a way to get reacquainted with each other.  Jim fell in love with the outdoors.  Over the next two summers, Jim hiked the John Muir Trail.
He went off to college and, while he was there, he organized his campus's celebration of the first Earth Day.  Jim reminded me that the first Earth Day was organized by a Republican Senator as a cross-country teach-in and that a massive 10% of Americans participated.
Jim's father, the man who took Jim on the tour of National Parks that caused Jim to fall in love with the outdoors and led him to his passion for environmental ethics, worked in the fossil fuel industry.  He was a chemical engineer for Mobil Oil.  Jim's brother followed their father into the sciences and is a world expert on charcoal.  Though Jim didn't pursue science as a career, the exposure to science and scientific thinking caused Jim to pay attention to Carl Sagan's writing about global warming in the 1970s.  And Jim paid attention when NASA scientist James Hansen testified before Congress about the dangers of global warming in 1988.  That's when he started preaching about climate change.  The following year, his commitment to preaching on climate change was strengthened by Bill McKibben's book, The End of Nature.
Jim describes himself as a "big picture thinker."  "I take in the whole thing first [and then the details].  The greenhouse effect started getting talked about and I saw the whole picture and the threat to the earth," he told me.
When I asked Jim to expand on that threat, he said, "God provided humanity with sufficient freedom that we can extinguish life as God created it."  Jim suggested that I check out the United Nations' website pages on climate change because I'll find that they intersect with their pages about population.  Jim told me that if we don't do anything about climate change, sometime between 2045 and 2070, the world's population will plummet because of water and food shortages, wars, and massive refugee movements.  We will go from 9 billion people to 2 billion people.
"What are the theological implications of living in a world where the gift of nature is good for only one quarter of the people on the earth?" he asked me rhetorically.  "In one or two generations, when 3 of 4 people are dying off?  The theological implications are infinite."
"Imagine a world where the earth is no longer friendly to life as we've known it."
"If we're not preaching once a month on climate change, in a couple generations every sermon we preach will be on grief."
abby mohaupt also sees the grave dangers climate change is posing to humanity and the rest of creation.  abby and I met in Richmond on August 3, 2013.  We were protesting at the Chevron refinery, and Bill McKibben had something to do with our presence.  For several years, Bill had been calling for upper-middle class white people to start engaging in civil disobedience to protest the fossil fuel industry.  He especially called on middle-aged people, people like me, people with the most privilege when it came to the American criminal justice system, to engage in these acts.  abby isn't middle-aged, but she, too, answered the call.  I won't go into what happened that day, but you can read about it in the sermon I preached the following day.
abby started reflecting on ecology and theology in broad strokes while she was in seminary – "both where the earth is hurting and where the earth brings joy."  When she did her internship at First Presbyterian Church of Palo Alto, she was assigned to staff their ecology group, and during that year, Bill McKibben was part of a cross-country bus tour.  It was called the "Do the Math" tour, and it was calling on people like you and me to organize both institutions – like churches and pension funds and cities – and ourselves to divest from fossil fuels.  abby took 20 people from her church to the Palo Alto tour stop.  That got her interested in divestment and she is a leader in getting the Presbyterian Church (USA) to divest from fossil fuels.
In addition to organizing her denomination and seminaries to divest, abby is working on her PhD dissertation on feminist and womanist theology, climate change, and environmental racism.  Yet this isn't just an academic issue for abby.  She currently lives in Pescadero.  "I live near the ocean now," she told me, "so when I hear stories about the oceans rising, it is the ocean I live next to, the ocean that I love that will take over the land where I live now.  It's real.  It's very real."
I asked abby and Jim what they do to enable them to hope in the midst of this reality.  Jim told me, "Every morning my first thought is gratitude.  Having this big picture, I'm just astonished that there is such a thing as life.…  [I wake up in the morning and think] 'Oh my God, there is such a thing as life and I can bear witness to the truth [today].'  [That's why] I can be dedicated to what can otherwise be depressing work."
He also told me that over the course of his career he has had a theological shift, from a concern about personal salvation to collective salvation.  He noted that he is hardly the first to talk about this shift and he pointed me to the work of Richard Rohr and Teilhard de Chardin.  Jim said, "I don't spend conscious time thinking about my personal salvation; but of humanity standing before God having set the stage of wrecking God's creation."  That is why Jim has been an activist in his ministry and continues to be an activist in retirement.
"When consciousness and all that is around you is infused with God, that naturally leads to activism if it turns out that you're living on the hinge of history, when that very creation is in jeopardy."
Presbyterianism comes out of Calvinism, which can have a focus on the depravity of humanity.  abby said, "Everything we do has a taint of sin in it.…  Everything we do has a carbon foot print.  This has led me to a place of confession.…  We need each other and we need God to make a way."
She went on:  "Once we understand everything we do has a carbon footprint, we can't be in judgment about each other's carbon footprint.  We need to be open to God's grace, which helps us understand and face the real reality of climate change.  In this reality of climate chaos, where everything we do adds to the chaos, we can be overwhelmed or we can turn into God's grace which will give me courage and humility to respond to the reality of climate change.…
"Every time I try to make my carbon foot print smaller, I try to think about how this impacts my relationship with God, Jesus, the Holy Spirit.  The closer we feel to the earth, the closer we feel to God."
If I'm right (and I think I am) that climate change is the moral issue of our day, we need saints like Jim Antal and abby mohaupt to help us find our way, a way that includes protest and activism and policy lobbying, and a way that includes confession and community and spiritual grounding.
Amen.
_______________
Questions for reflection:
What confession are you/we called to in response to the witness of Jim and abby?
What action can you/we take to address climate change this month?
_______________
*The quotes in this sermon are from interviews I had with Jim Antal and abby mohaupt over the past few weeks. I deeply appreciate their openness and willingness to share.
A sermon preached at Niles Discovery Church, Fremont, California,
on Sunday, October 7, 2018, by the Rev. Jeffrey Spencer.
Scriptures:  Genesis 12:1-9 and Luke 1:26-38
Copyright © 2018 by Jeffrey S. Spencer
This past week, I've been thinking about the importance of 'no,' even though the theme for this sermon is on the importance and power of 'yes.'  I find the Senate's 'yes' to Judge Kavanaugh troublesome.  I wanted their 'no,' though I didn't expect it.
I could list my reasons why I find his confirmation troublesome, but I don't want to go down the rabbit hole of our personal assessments.  I'll leave that for a blog post I may get to before the week is out.  Today, or at least during this sermon, I invite you to use the confirmation of Judge Kavanaugh as an object lesson for my larger point:  that choosing 'no' and choosing 'yes' has impact and repercussions, not just for the people saying 'yes' or 'no,' but for others as well.
Three-and-a-half years ago, an organizational consultant named Tony Schwartz wrote an article for The New York Times about "the power of starting with 'yes'" for business leaders and managers.  He begins with a little anecdote.  "As I write this column, my two dogs have been lying quietly near my desk.  I just conducted a little experiment with them.  First, I said a single word – 'Yes' – with unbridled enthusiasm.  The dogs leapt to their feet, their tails wagging, and raced over to me.  Next I said 'No,' firmly.  Both dogs looked down and slunk away.  I felt as bad as they did."[1]
I suspect the dogs were responding as much to his tone of voice as the actual words.  Still, you know how empowering it feels to be told, 'Yes.'  I'm sure Barack Obama chose "Yes, we can!" as a 2008 campaign slogan for many reasons.  One of them had to be that the slogan felt affirming and empowering as it drew people into community and common purpose.
Schwartz points out, "'No' is first and foremost a fear response, most useful in situations of genuine danger.  It's something you say instinctively and protectively to a 3-year-old when he's about to pull a lamp off a table and onto himself or to a 15-year-old who announces she's planning to take up cliff jumping.
"In situations like those, the instinct to say 'no' serves us well."[2]  It even has an evolutionary benefit.  Quoting a psychologist, Schwartz adds, "'Organisms … attuned to bad things would have been more likely to survive threats.  Survival requires urgent attention to possible bad outcomes, but it is less urgent with regard to good ones.'"[3]
"There is a difference," Schwartz points out, "between surviving and thriving.  Because our survival is no longer under constant threat, many more of us have the opportunity to focus on thriving.  The problem with 'no' as a starting place is that it polarizes, prompts defensiveness, and shuts down innovation, collaboration, and connection."[4]
For an example, Schwartz points to research by the psychologist John Gottman and his colleagues, that has found that when the ratio of positive to negative interactions between a married couple falls below 5 to 1 – if it falls below five positive interactions for every one negative interaction – divorce is far more likely.[5]  Negative interactions are so powerful in a relationship that it takes five positive interactions to outweigh the impact of one negative interaction.
Starting with 'yes,' stepping into a situation with an attitude of 'yes,' is important, not simply because such an attitude is energizing and builds safety and trust, but because starting with 'no' is so destructive.
Imagine how different the world would be if, instead of saying, "Let it be with me just as you say,"[6] Mary had said, "Nope.  No way!"  Mary's 'yes' to God changed the world.  As did Abram's.  Though Abram's 'yes' needs a little more unpacking, I think.
Abram's story seems to start with our reading in chapter 12.  It seems to start almost out of the blue.  "Now Yahweh said to Abram …"  Of course, none of our stories start out of the blue.  We all come from somewhere.
Abram's story starts in chapter 11, and his ancestors' stories start even earlier.  It's not much more than a genealogical mention in chapter 12, and I know I'm typically tempted to skip over the biblical genealogies.  But in those last verses of the genealogy in chapter 11, we learn that Abram is the son of Terah, brother of Nahor and Haran, husband of Sarai, and uncle of Lot.  And we learn that even though their family was from Ur, Terah took his family and left Ur, for reasons that are not enumerated, and headed off for the land of Canaan.
This is significant because, when God shows up in chapter 12, in today's reading, Abram is already headed in the direction of Canaan.  True, their journey seems to have stalled at Haran (that is, the community of Haran, not to be confused with Abram's brother Haran).  Perhaps the invitation from God acts as a kick in the pants to get them moving again.
In any event, this call from God isn't as dramatic a "change the course of your life" call as I've generally thought it to be.  It is more of an invitation to continue or to get back to what had already begun.  Still, I think there is something new happening here.  I think the key to that new thing is found in the blessing God gives Abram:  "I will make of you a great nation, and I will bless you, and make your name great, so that you will be a blessing."[7]
If you were at Tim Weible's installation last week, you heard me preach about how tribalism in human evolution led to violence.  (It still does, as far as I can tell.)  Still, tribalism served a purpose.  In hunter/gatherer cultures, the tribe provided protection, belonging, and identity.  That is why tribes are inward-focused.
Here, in the blessing God gives Abram, God invites Abram to look outward.  Abram's tribe, the "great nation" he will father, rather than turning inward for defense, is called to turn outward for blessing, to be a blessing.
"The purpose of the blessing is to be a blessing to others.  From the very beginning, the invitation to be part of God's people is a call to look outward to the needs of others.  The generous sharing of our gifts, financial and otherwise, is then a natural and necessary action for those of us who call ourselves the people of God.  Our blessings never stop with us.  They always flow onward to someone else."[8]  Our blessings never stops with us.
Lee Hull Moses, who wrote a commentary on this passage I used in creating today's sermon, shared a story that explains what I mean.  "Years ago, when my parents bought me my first used car – primarily so they could stop driving back and forth to pick me up from college – my dad included a note along with the instructions to keep the oil changed and gas tank filled:  Use this to help people.  I don't know that I followed that advice as often as he would have liked, but it's been a good reminder to me that the things we own are best understood as tools by which we serve our neighbors."[9]
The things we own are best understood as tools of blessing.
That would be our ideal relationship with our stuff.  I know I'm some distance from that ideal relationship.  But I'm working on it.
I think it's worth noting that when Abram brought his 'yes' to God's invitation to continue to Canaan, he didn't drop everything to follow.  Quite the opposite.  He packed up all his possessions, including "the persons whom they had acquired in Haran," to set off on the journey.  And there's no mention that he discussed the matter with Sarai.  He made a decision and off they all went.  While these aspects of the story are disturbing, it's nice to know that God calls people who aren't perfect.
And when Abram led his family and possessions to Canaan, they didn't do it all at once.  The journey takes quite a while, first to Shechem, then Moreh, then Bethel, and on to the Negeb.  At each stop along the way, Abram did the same thing.  He pitched a tent and built an altar.  Then he did it again.
It's not a bad way to structure a life:  listen for God, follow the call, set up an altar, worship, be a blessing … rinse and repeat.
As I wrote in my newsletter column (which I'm sure you all read and memorized), we hold a pledge campaign each fall for at least two reasons – one practical and one theological.  The practical reason is that it helps us create a budget.  Knowing about how much money will be coming in can help us plan our spending.
The theological reason is to encourage us to look at our stewardship.  And not just at our stewardship of our money.  This season is about our stewardship of our whole lives.  Today we are invited to consider how we are stewards of 'yes' and 'no.'  And we are invited to consider how we are stewards of our listening for God's invitations to take the next step on our journeys – our individual journeys and our congregation's journey.
The invitation is to bring your 'yes' to God so that we might be a greater blessing to the world and so that we might join God in changing the world.
Amen.
Questions for contemplation:
What might God be kicking our church in the pants to continue (or start)?
What will it take to do this?
How will we show our 'Yes'?
_______________
[1] Tony Schwartz, "The Power of Starting With 'Yes'," The New York Times, https://www.nytimes.com/2015/04/18/business/dealbook/the-power-of-starting-with-yes.html (posted 17 April 2015; accessed 26 September 2018).
[2] Ibid.
[3] Schwartz, quoting Roy Baumeister, "Bad is strong than good," link broken.
[4] Schwartz, op. cit. Oxford commas added.
[5] See, for instance, Kyle Benson, "The Magic Relationship Ratio, According to Science," The Gottman Institute, https://www.gottman.com/blog/the-magic-relationship-ratio-according-science/ (posted 4 October 2017; accessed 6 October 2018).
[6] Luke 1:38, The Message.
[7] Genesis 12:2, The New Revised Standard Version, emphasis added.
[8] From a commentary by Lee Hull Moses that is part of the stewardship campaign materials Niles Discovery Church purchased from the Center for Faith and Giving, https://centerforfaithandgiving.org.
[9] Ibid.
A sermon preached at Niles Discovery Church, Fremont, California,
on Sunday, September 30, 2018, by the Rev. Jeffrey Spencer.
Scriptures:  The Book of Esther
(focus scriptures:  Esther 4:9-17 and Esther 7:1-6)
Copyright © 2018 by Jeffrey S. Spencer
I love the story of Esther.  And I hate it.
I tend to love an underdog story to begin with, especially when the underdog wins.  And in the Esther story we have a woman who has no power and who, due to circumstances beyond her control, ends up in a position to save an entire people from annihilation.  But those circumstances that are beyond her control as so patriarchal, and the story is so disturbingly quite about that.  That silence drives me crazy.
Here's what I mean by patriarchal circumstances.  To start off with, Queen Vashti gets banished because she says, "No," to the king's desire to display her as a sexual object.  Then, the selection process to find a new queen is essentially a stripped-down beauty pageant with only the bathing suit competition.  (And, yes, I meant that double entendre.)  To add insult to patriarchy, it seems that the women have no choice about entering the contest.  And then there's the whole thing about Esther not being able to talk to her husband without being summoned by him.  Who cares if the woman has something on her mind?  She only gets to talk to her husband the king if he has something on his mind.
I would really love it if the book made it clear that this sort of patriarchal supremacy was wrong.  The book sort of hints at this.  The main character is a woman – that's helpful.  This woman's cultural location dictates she have no power, and she finds power anyway.  This woman's cultural location places no value on her intellect, ability to understand, and her ability to plan – all of which the story does because they are vital to her successfully rescuing her people.  Yes, it's scary.  Yes, it could cost even her her life.  She has all kinds of reasons to take no risks, but she takes the risks anyway.  As her cousin and adoptive parent points out, "Perhaps you have come to regal dignity for just such a time as this."
There is a theological challenge in that line (probably the most famous line from the book).  It implies that there is some grand plan that is known only to the mind of God.  It implies that, while we may think we have free will, God is actually calling the shots, moving people around some humongous chess board, playing both the black and white pieces, so the great plot of this grand plan will unfold as scripted.  And if that's what's going on, God, why not do away with the Hamans of the world to start with.
No, I do not believe there is a grand plan that God is making unfold.  And I don't even believe God has seven and a half billion little plans – one for each of us on the planet.  I do believe in callings – that God has desires for goodness and love and that God sees ways (plural) for each of us to help move the world toward that goodness and love.  But God hasn't scripted how we will get there.  So that means that there will be plenty of suffering along the way.  God does not will for us this pain and suffering.  Rather, I believe that God suffers with us and collaborates with us to bring healing and life and love, even out of our sufferings, to the world.  So, if I were writing this story, I would have Mordecai say, "Look where you are, Esther.  You can take advantage of this unique position to bring the world closer to God's goodness and love in such a time as this."
I understand the urge to say it's all part of some divine plan.  Who but God could have known that the US news cycle would be caught up with the allegations of sexual assault against a Supreme Court Justice nominee this week when I decided two months ago to preach on the story of Esther?  Who but God could have known that on Thursday well over ten million people would turn in to TV, cable, and radio stations to hear the testimony offered before the Senate Judiciary Committee?  Who but God could have known how timely the quotes that ran on our church's Facebook page all last week would be when I scheduled them ten days ago?
It's easy to look back and see God's hand at work guiding all this.  And maybe it was.  I think it more likely, though, that it is coincidence.  For if God is guiding this, making it unfold this way, I would rather God guide sexual and physical abusers away from their abuse to begin with.  No, I think it is coincidence that I am preaching on Esther today and the Senate Judiciary Committee scheduled Dr. Blasey Ford's testimony for Thursday.  And that coincidence preaches.
Dr. Blasey Ford's testimony is a reminder that the Esther story is very much alive today.  I could not bring myself to listen to all of Dr. Blasey Ford's testimony nor to all of Judge Kavanaugh's testimony on Thursday.  I told myself I had too much work to do, and I did have work to do.  But that may have been a protective reaction.  I didn't want to subject myself to the pain that I knew both of them would express.  And taking care of ourselves is important.  If my reflecting on this testimony is or becomes too uncomfortable for you, I will not be offended if you choose to step outside for a while.  Take someone with you if that will make you feel safer.  I hope you'll come back for communion.  I know I need that shared meal today, and you might, too.
I could not bring myself to listen to all of their testimony, but I did listen to some of it.  And I was right:  it was difficult to listen to.  Part of what made it so difficult for me to listen to Dr. Blasey Ford's testimony was the fear I heard in her voice.  She didn't want to be there.  She didn't want to relive this horrific experience in vivid detail and then have it dissected by powerful people who were used to being in the spotlight, who enjoy being in the spotlight, who were literally sitting above her in physical positions of power.
But no one else could have shared her truth.  No one else could speak up in this way in such a time as this.
Another part of what made listening to Dr. Blasey Ford's testimony so hard is that I knew and I know there are people of all genders (and especially women) for whom this testimony and this news reporting has and will continue to bring up memories of abuse they have suffered – that you have suffered.  For you I have a message, a message that may be easier to hear coming from women.
I think it is important for me, a white man, to listen, especially to women.  Late yesterday morning I put a post on Facebook inviting women in our church to post their reactions to the news, comments that I could quote in today's sermon.[1]  I really didn't leave people much time to respond, so only a few did.  Here's what they had to say.
Tarrah Henrie said, "We need to raise our daughters to be brave and wise like Esther.  We need to raise our sons to care for and respect others like Jesus taught.  Each generation is moving in the right direction.  Also, I think Matthew 5:29 is clear in stating that it is not the woman's fault if a man feels lust.  It is really up to him to control himself.  And seriously, the majority of men are good people.  There is a small percent of men that are making women unsafe."
Without further comment, Joane Luesse pointed me to the video of two women, sexual assault survivors, who confronted Senator Flake after he announced his intention to vote to confirm Judge Kavanaugh.[2]  It was the first words on the video that were hardest for me.  "Don't look away from me!  Look at me!"  The raw pain in her voice and those words summed up the larger issues that the accusations against Kavanaugh represent – that the people who are victimized by sexualize assaults are not being seen, and in not being seen, their humanity is being denied.
In one of her posts about this news (a post she referred me to), Cindy Sojourner pointed out how important it is to be prepared to hear and believe when a loved one, people in our own families, discloses their victimization.
Delya Stoltz connected up Christine Blasey Ford's testimony about having her mouth covered by Brett Kavanaugh and fearing that he might inadvertently kill her to the work she (Delya) is doing on strangulation prevention, particularly in intimate partner assaults.  The people who are studying and training first responders in this field (like Delya) include any form of restricting a person's access to oxygen or blood – smothering, strangulation, suffocation, positional asphyxia, etc. – in this family of assault.  Delya pointed out to me, "People without a willingness to restrict another's breath in a violent and controlling setting don't suddenly become willing to do so when intoxicated.  It's a distinct personality profile and it's deeply concerning."[3]
The longest response came from Lauren D'Ambrosio who offered specific advice of what we can do.  "Men:  call out your friends, sons, nephews, coworkers, and even bosses when they show sexist or misogynistic behavior (words, actions, storytelling, etc).  Yes, it's uncomfortable.  Yes, it may make you cringe.  Yes, it may affect the relationship – but is that the kind of relationship you want to keep?  If you see women being ignored, interrupted, or undermined … call it out.  Something like, 'I didn't hear what Kristine was saying because she was interrupted.  What was that?'  It is important to call out the cause that is unacceptable (i.e. the interrupting), not just the effect (that you didn't hear her).  … Use your position of power/privilege to give [women] their voice back.
"Everyone:  Don't force your children to hug/kiss their relatives hello if they don't want to; a wave is fine.  Grandpa's disappointment is less important than your child's autonomy.  Don't [shrug] off poor behavior on your/your friend's part with 'oh, it's no big deal,' 'you're being too sensitive,' or 'jeez, everything is bothering you.'  Be reflective, and ask the individual if something is truly bothering them.  Discuss a boundary, then respect it.  This goes for grown adults and children/teens.  You will not be seen as weak for asking them for more information about how to not make someone uncomfortable, but you will be seen as rude if you ignore it because it makes you uncomfortable."
I am grateful for the women who chose to share a response with me and for allowing me to include it in this sermon.  It makes me think about how, really, every day is a "for such a time as this" moment.  Until God's kindom is established, there will be injustices that need to be confronted, truths that need to be told.
Each and every one of us has come to some station in life that makes us a perfect person to speak out.  "Whoever said anybody has a right to give up?" the contemporary prophet Marian Wright Edelman asks us.  The answer, of course, is, "No one."
Yes, speaking up, confronting power, standing up for those who cannot stand on their own, for those who have not come to their own version of royal dignity, will be scary.  Speaking truth to power is scary.  It is dangerous.  Power sometimes rolls over and crushes you.  But nobody ever said we have the right to give up.
So, hear some advice from some of other prophets of the past several decades.[4]
Usually, after the sermon we have some time for contemplation.  Today, instead, I invite you to recite this statement written by Professor Sharon Fennema.[5]  She calls it "A Creed for Days Like This."  I think of it as "A Creed for Such a Time as This."
The word "creed" comes from the Latin credo, which is translated, "I believe."  We've come to think of creeds as dogmatic statements.  Please don't read this one dogmatically.  Read it as an invitation.
I believe that God weeps for the ways we shatter each other.
I believe that my body is not an apology or an invitation.
I believe that Jesus, revolutionary love incarnate, trusted the wisdom of women.
I believe that we have the right to say what happens to our bodies.
I believe that the Spirit moves in acts of resistance to patriarch, misogyny, white supremacy and colonialism.
I believe that both those of us who report and those of us who can't or don't report are courageous and praiseworthy.
I believe in a church that listens to and learns from the resilience of women.
I believe that our vulnerability is our strength.
I believe that the communion of saints lives in the flesh and bones of survivors.
I believe that no means no.
I believe that the forgiveness of sins must center the sinned-against
I believe that the time's up.
I believe that bodies are resurrected when we bear witness to and believe the stories, when we name femicide for what it is, and when we refuse to acquiesce to rape culture.
I believe that when we dedicate ourselves to movements that build the world we are seeking as we fight to make it real, the kindom comes on earth as it is in heaven.
I believe women.
Amen.
_______________
[1] See https://www.facebook.com/RevJSS/posts/10214366059719919 for my post and the exact responses.
[2] Niraj Chokshi and Stead W. Herndon, "Jeff Flake Is Confronted on Video by Sexual Assault Survivors," The New York Times, https://www.nytimes.com/2018/09/28/us/politics/jeff-flake-protesters-kavanaugh.html (posted 28 September 2018; accessed 29 September 2018).
[3] From a conversation via text message with Delya on 29 September 2018; Delya granted me permission to quote her.
[4] These quotes are from Kathryn Matthews, "Sermon Seeds September 30, 2018," United Church of Christ, http://www.ucc.org/worship_samuel_sermon_seeds_september_30_2018 (accessed 19 September 2018).
[5] Sharon Fennema, "A Creed for Days Like This," Facebook, https://www.facebook.com/sharon.fennema/posts/10156022719207449 (posted and accessed 28 September 2018). Use by permission of the author.
A sermon preached at Niles Discovery Church, Fremont, California,
on Sunday, August 5, 2018, by the Rev. Jeffrey Spencer.
Scriptures:  Mark 5:21-43
Copyright © 2018 by Jeffrey S. Spencer
While I was on vacation and study leave last month, I had occasion to visit several churches.  In reverse chronological order:  I worshipped at Glide Memorial Church in San Francisco (I'll share more about why I did that next month in another sermon).  I prayed twice a day in the Abbey during my week on Iona.  I toured the Glasgow Cathedral.  I worshipped at an evening service at St. George's Tron church, in Glasgow.  I toured the Chester Cathedral.  I sang in the Bath Abbey with the Golden Gate Men's Chorus.
I rehearsed at St. Michael's Without in Bath.  "Without what?" you ask?  Without the city medieval city walls.  There is a St. Michael's Within in Bath as well.  I was taken by a door handle at St. Michael's Without.
I sang in Christ Church Cathedral at Oxford University.  I worshiped at the Evensong service at St. Paul's Cathedral in London.  And I worshipped at St Bartholomew-the-Great (not to be confused with St. Bartholomew-the-Less) in the City of London.
The music at St. Bartholomew-the-Great was very impressive.  They have a professional quartet who sang a contemporary setting of the traditional lyrics for a mass.  The sermon, on the other hand, was dreadful.  The scripture was the gospel reading we heard today, and the Anglican priest did a riff on sandwiches and a British retail chain called Marks & Spencer.  Despite their auspicious name (you can't go wrong with Spencer in your company name) and the wide variety of things they sell, they are apparently especially known for packaged sandwiches.
At this point, I am hoping there is someone in the congregation who is wondering about what sandwiches have to do with this gospel lesson.  There is, actually, a connection – more of a literary one than a theological one.  The story telling device Mark uses has a formal name that I never remember.  I remember its informal name:  a sandwich.
In a sandwich, a storyteller starts one story, interrupts it with another, and then finishes the first.  The story of Jairus' daughter is the bread of the sandwich; the story of the hemorrhaging woman is the filling of the sandwich.
It's helpful to understand how a sandwich works as a literary device.  Understanding the remarkable retail success of Marks & Spencer's packaged sandwiches, not so much.  Literary sandwiches typically have common themes in the stories, as well as differences.  The similarities typically act to help tie the two stories together.  They are the toothpick in the sandwich.  The differences typically help point you to the storyteller's point.  The story in the middle, the sandwich's filling, is the more important story for the storyteller.
I was listening as the scripture was being read.  I recognized the sandwich.  As the reading comes to its conclusion, Mark makes a comment.  It seems parenthetical, as if it's not important, as if it's just something he's mentioning.  In fact, the New Revised Standard Version puts this comment in parentheses.  Mark mentions that the girl was 12 years old.
"Hang on," I thought.  "Hadn't the woman in the crowd been hemorrhaging for 12 years?"  I took out my mobile phone and opened by Bible app.  (I wonder what my neighbors thought I was doing.)  Sure enough:  12 years.
"That's not just an imposed similarity to tie the stories together," I thought.  "That's not just a parenthetical comment.  Mark is doing something here."  And I started wondering what that might be.
12 years.  That's why I'm preaching on this text today.  I've been wondering about those 12 years for a month now.
Let's take a closer look at the text.  Start by noting that Jesus was not opposed by all Jewish leaders.  Jairus is a leader of the local synagogue and he sought out this popular healer to assist his daughter.  He even begs Jesus to help, falling at his feet.
Jesus agrees, but his trip to Jairus' house is interrupted.  An unnamed woman approaches Jesus secretly – unlike the named religious leader.  Why secretly?  We have to guess, but the best guesses are that she is a woman and a woman shouldn't speak in public with a man who is not kin, and her medical condition.
Though Mark never says that her hemorrhaging is caused by a uterine issue, that's the likely candidate.  If she had a wound that would not heal and that kept bleeding, I don't see how she could be stealthy in her approach to Jesus.  She has a condition of continuous bleeding that she can, to some extent, hide.  However, if it is a uterine condition that is causing this, if this woman has what is essentially a non-stop period, she is rendered non-stop ritually unclean.  This is why her medical condition would push her to stay separated from the larger community.
What we know about this unnamed woman is that she has a medical condition that makes her suffer, and that she once had money to spend on doctors, but all of that money is now spent and it brought her no relief.  We can assume that she is now poor.  If she had male relations, they are not on the scene at this point.  They are not present to lift up her case (unlike the sick girl who has her father).  And, if she had any male relations earlier, they may well have abandoned her by now.
We don't know what spurred her boldness or her belief that simply touching Jesus' clothing would be enough to make her well.  We simply see a bold woman who acted to take care of herself.  She carries out her plan.  She approaches Jesus and touches his clothing.
"Just as the woman understood the changes in her body, so Jesus recognized a change in his body."[1]  Notice that Jesus plays no active role in this woman's healing.  She touches Jesus' clothing and is healed.  Jesus only knows that something has happened, not what has happened.  But he wants to know what happened.  So he asks, "Who touched me?"
Again, the woman comes forward, this time driven by fear rather than boldness.  She tells the whole truth.  She could have snuck away with her healing, but she comes back and testifies to what happened.  And rather than being angry for stealing his power, Jesus commends her.  "Daughter," he calls her, recognizing her full humanity, her connection to the human family, making her his kin, "your faith has made you well; go in peace."
The story returns to the journey to Jairus' house.  People traditionally interpret the healing of the unnamed woman as causing a delay, and blame that delay with keeping Jesus from reaching the girl in time to keep her from dying.  That is not in this story.  It is in the story about Jesus being delayed from healing Lazarus in John's gospel, but it's not here in Mark.  In Mark, Jesus is on the way to Jairus' house when word reaches Jairus that between the time he set out to find Jesus and that moment, his daughter has died.  There is no need to bother the teacher any more.
Jesus challenges Jairus to hold on to his faith ("only believe," he says), the faith that led him to the healer in the first place.  Jesus goes to where she is laying, takes her by the hand, and tells her to get up.  And she does.  Then Jesus tells her parents to give her a Marks & Spencer sandwich.
As the Anglican priest prattled on about sandwiches, I started thinking about the 12 years.  It is not just some unnamed illness that is causing this 12-year-old girl to be facing death.  With the onset of puberty, she is becoming fertile.  She has or will soon being menstruating.  She is entering the age when, in her culture, she would be eligible for marriage.  The girl is dying, and a woman is being born.
I thought, too, about the woman who has suffered from non-stop bleeding for 12 years, presumably vaginal bleeding, that (thank you, Jesus) has suddenly stopped.  Depending on the cause of this condition, a modern treatment would be hormone therapy or a hysterectomy, either of which would cause her fertility to end.  In the reading from Mark, her fertility comes to an end with her encounter with Jesus.
In many pagan traditions, womanhood is divided into three stages – Maiden, Mother, and Crone.  The title "Crone" gets a bad rep these days – thank you, fairytales.  That's too bad, because a Crone in these traditions is a possessor of wisdom.  In this reading from Mark, we see Jesus embracing, celebrating, and empowering the transformations that are necessary to move from one life-stage of womanhood to another.
And there's more healing transformation happening in this story, too.  We think of the girl as being the one with the illness that led to her death.  We think of the woman as being the one with an illness that caused her to suffer and make her poor and marginalized.  Jesus doesn't heal only them.  He heals their communities as well.
This is something that is happening in almost all (and perhaps all) of the healing stories in the gospels.  Dee Dee Risher notes, that Jesus' "healings took place primarily outside synagogues – outdoors in streets and deserts – is no surprise.  There were practical reasons rooted in social divisions.  The priestly code made many of those with illnesses (leprosy, bleeding, deformed parts of the body, lameness, blindness) social outcasts.  If Jesus was a healer, his ministry would necessarily focus on the most marginal and powerless members of the social order.  His healing challenged the assumptions of a society that drew lines around who was in and who was out.  It redefined community and social class.  This attention to societal and communal wholeness is a challenge to conservative healing theologies that pay no attention to social placement and do nothing to challenge marginalization in our communities."[2]
Jairus' family's and friends' grief is transformed into joy.  And when the family is told to give the girl something to eat, all of us are reminded to feed the bodies and souls of all people.  When Jesus calls the woman who reached out to him, "Daughter," her whole community was challenge to see her as kin.
12 years is a long time to wait for wholeness.  May we work so that people who are suffering – including those gathered in this room – find wholeness more quickly.
Amen.
_______________
[1] Except where otherwise noted, this summary is based on Emerson Powery, "Commentary on Mark 5:21-43," Working Preacher, https://www.workingpreacher.org/preaching.aspx?commentary_id=1323 (accessed 31 July 2018).
[2] Dee Dee Risher, "The Stumbling Block of Healing," Sojourners, https://sojo.net/preaching-the-word/stumbling-block-healing (accessed 31 July 2018).
A sermon preached at Niles Discovery Church, Fremont, California,
on Sunday, March 18, 2018, by the Rev. Jeffrey Spencer.
Scriptures:  Acts 2:43-47 and Mark 6:31-44
Copyright © 2018 by Jeffrey S. Spencer
"What you're describing, Jeff, sure sounds an awful lot like communism."
I can understand why this was an initial response to this Lenten sermon series.  The Sabbath economy does sound a lot like communism.  In the story of the manna in the wilderness, our introduction to God's alternative to the Imperial economy, everyone has enough to eat every day.  Those who gather more than they needed somehow ended up with only what they needed, and those who gathered less than they needed somehow ended up with enough.  From each according to their abilities; to each according to their needs.
And when we read in Acts how the earliest Christian lived, it sounds like communism.  They held all property in common and distributed resources according to each person's needs.
There is, of course, one big difference between what these stories in the Bible describe and how communism has been practiced in the 20th and 21st centuries:  Totalitarianism.
The early Christians we read about in Acts chose to be part of this economy of sharing, of sufficiency, of self-restraint, of rest.  It was not mandated from outside.  No strongman forced people into this economy.  The participants chose to live this way.
And it has been pointed out to me that there are things to be said for capitalism.  Great innovations have come within our capitalist system.  I'm very grateful for medical advances.  And I love that I can send my nephew (who always seems to be wearing shorts) a goofy meme in a text massage that he gets instantaneously even though he lives 750 miles away.  750 miles north.  Where it gets cold.
Would these innovations have happened if we lived with a different economic system?  Who's to say?  I suspect some of them would have, at least eventually.  To say they all required capitalism to be innovated is to say that only the accumulation of capital – that is, only greed – drives innovation.  And I don't believe that's true.
Still, many of the amazing things in our lives came about under capitalism.  So, why knock capitalism?
It can be argued that Western capitalism was built on cotton and slavery.  And, in fact, Harvard professor Sven Beckert makes exactly that argument:  "When we marshal big arguments about the West's superior economic performance, and build these arguments upon an account of the West's allegedly superior institutions like private-property rights, lean government, and the rule of law, we need to remember that the world Westerners forged was equally characterized by exactly the opposite:  vast confiscation of land and labor, huge state intervention in the form of colonialism, and the rule of violence and coercion.  And we also need to qualify the fairy tale we like to tell about capitalism and free labor.  Global capitalism is characterized by a whole variety of labor regimes, one of which, a crucial one, was slavery."[1]
The class stratification of capitalism largely mirrors the class stratification of the Imperial economy (at least not here in the USA; it's not so drastic in Scandinavian countries and in Japan).  The use of slavery to build capitalism mirrors the Imperial economy.  And the Imperial economy is the economy the biblical witness encourages us to reject, in favor of God's Sabbath economy.
It's not just the witness of the Torah to promotes the Sabbath economy.  Jesus preached the Sabbath Jubilee, the Jubilee that calls for the forgiveness of debts and the return of lands (which was wealth redistribution).  Jesus pointed out the corruption of the Imperial system and lifted up as heroes people who resisted it.  And Paul rejected the patronage system that is so integral to the Imperial economy.
And it is not just that our capitalist economy mirrors the Imperial economy.  Add to it this reality.  Since World War II, the basis of capitalism has become, increasingly, consumption beyond what is needed.  Build-in obsolescence and manipulated desire move us to consume what is not needed.[2]  In 2001, after the terrorist attacks along the east coast of the USA, we were told that the way to fight back was to go to the store and buy stuff.  Why?  Because the economy is dependent on consumption.  That wouldn't be such a problem except that consumption destroys the environment.  When we consume more than we need, our impact on all of life on earth is detrimental.
We need a new economic system.
But what might that be?
I don't have an answer to this question.
We could, I suppose, withdraw from the common economy and create our own enclave.  We could do what the Amish have done, separating ourselves from the world.  If that means doing without those innovations I spoke about earlier, I'm not too keen on that idea.
We could create a new monasticism, I suppose.  If we go back the fall of the Roman empire we might be able to learn something from the rise of monastic movement in European Christianity.  Benedict, who is seen as the granddaddy of monasticism, wrote a rule that called for various disciplines, including these three (that remain the basic vows of Roman Catholic religious life):  poverty, chastity, and obedience.  According to Ched Myers, those "early monks understood three key things about the dominant culture of their time:
It was built upon the concentration of wealth and exploitation. If their communities were to repent [of this sin,] they must become as self-sufficient as possible.
The root of wealth-concentration was private property. If they wanted to resist the 'temptations of the world' they must renounce exclusive ownership.
The exploitation of human labor was the root of all alienation … If their communities were to restore human dignity they must practice manual (that is, unalienated) labor.
For the first monastic communities the vow of 'poverty' [was] actually intended to inspire a social model that would eradicate poverty."[3]
I think that ancient monastic evaluation of their times applies to our times.  If we can't change the system that allows for the concentration of wealth in the hands of a tiny portion of the population, but we don't want to support it, we might need to withdraw from it.  But that was easier to do in an agrarian culture.  I don't know how we could truly withdraw from the capitalist system.  Would we do without bank accounts?  It's hard to live in a capitalist economy, even in a separate community, without some capital.  I'm not sure creating a new monasticism would really free us from participation in the contemporary version of the Imperial economy.  Besides, I'm not too keen on that chastity and obedience bit.
I caught a snippet of one part of the Humankind two-part radio program on Dorothy Day this weekend.[4]  She and family adopted a voluntary poverty as a way of living out Sabbath economics (I'd call it that; I'm not sure what she would call it).  It was an imperfect Sabbath economics, but it sure was a lot closer to the real thing than I've managed to do.  At some point, I'll go back and listen to the full two-parts to learn more about her.  In the meantime, I'll let her example of voluntary poverty – which she saw as different from destitution, so perhaps it's more accurate to call it voluntary simplicity – continue to challenge me.
Ched Myers suggests four things churches can do to help transform how we participate in the contemporary Imperial economy.[5]
We can cultivate a "Jubilee literacy." We can come to a deeper, maybe even a bones-deep, understanding of the Sabbath economy and what it means for follow the Jubilee proclaimer Jesus.  When we do that, it will give us a lens to look at all we do in life.
We can cultivate a deeper practice of repentance and forgiveness. This needs to apply to our personal lives and become so normal to us that it starts to influence our societal lives.  This might even move us to look at who the contemporary Imperial economy has hurt and move us to work for reparations.
We can cultivate a deeper practice around practical economic disciplines. Individually, we can look at consumption, finances, and work.  We can form support groups for this reflective and ongoing work.  And we can consider our consumption and finances as a community.
We can participate in political movements that address issues of economic policy. This goes back to cultivating a Jubilee literacy.  That literacy has to influence our involvement so it is theologically grounded.  This involvement can, of course, be at local, state, national, and international levels.
I would add a fifth thing that we as a church can do, though maybe this fits in as part of Myers' third suggestion.  We can examine our practices of outreach.  The history of mainline American Protestant mission work has been modeled on the patron-client paradigm.  We need to build within our church culture a sensitivity to this so we can combat it.  Our mission work must become fully mutual and based in solidarity with, rather than service to.
The issues of economy – Sabbath verses Imperial – do not stand alone.  50 years ago, the Rev. Dr. Martin Luther King, Jr., diagnosed the connections.  "When machines and computers, profit motives and property rights, are considered more important than people, the giant triplets of racism, extreme materialism, and militarism are incapable of being conquered."[6]  He saw the repercussions of embracing the Imperial economy, of serving the Imperial economy, of remaining beholden to the Imperial economy.  He cited three major consequences:  racism, poverty, and militarism.
We know there are other consequences.  I made reference just a little while ago to the consequence of environmental degradation.  Sexism, xenophobia, homophobia, transphobia, and ableism could easily be added to the list.
King knew it then, and we know it now:  these are moral issues.  When people in the riches country in the world live in poverty, it is a moral issue.  When systems won't allow people of color to move ahead economically, to exercise their right (including the right to vote), and to pursue their dreams, it is a moral issue.  When we spend over 50% of our federal discretionary budget on wars (past, present, and future) and on more and more weapons, it is a moral issue.  When we refuse to protect ourselves and our neighbors around the world from the devastation of climate change, it is a moral issue.
And it demands a moral response.
That is why I have joined the Poor People's Campaign:  A National Call for Moral Revival.  I have joined tens of thousands of people across the country to challenge the evils of systemic racism, poverty, the war economy, ecological devastation – the nation's distorted morality.  This is a nation-wide, coordinated, nonviolent mobilization.  Beginning on Mother's Day, the campaign will begin 40 days of widespread civil disobedience, nonviolent direct action, and voter education.
I hope you will join me as we work to move our nation – if not to a Sabbath economy, at least a little further away from the Imperial economy.
Amen.
_______________
[1] Sven Beckert, "How the West got rich and modern capitalism was born," PBS News Hour, https://www.pbs.org/newshour/nation/west-got-rich-modern-capitalism-born (posted 13 February 2015; accessed 13 March 2018).
[2] See, for instance, https://storyofstuff.org for information about how this has worked.
[3] Ched Myers, The Biblical View of Sabbath Economics (Washington, D.C.: Tell the Word, 2001), 61-62.
[4] For more on the program, go to https://www.humanmedia.org/product/dorothy-day/.
[5] Myers, op. cit., 61.
[6] Quoted by Lindsay Koshgarian, "This Martin Luther King Day, Militarism, Racism and Poverty are Still With Us," National Priorities Project, https://www.nationalpriorities.org/blog/2018/01/15/martin-luther-king-day-militarism-racism-and-poverty-are-still-us/ (posted 15 January 2018; accessed 17 March 2018).
SaveSave
A sermon preached at Niles Discovery Church, Fremont, California,
on Sunday, February 11, 2018, by the Rev. Jeffrey Spencer.
Scriptures:  Genesis 1:26-31 and Galatians 3:19-29
Copyright © 2018 by Jeffrey S. Spencer
We planned this sermon series because there was so much news about sexual violence.  It is an issue that we simply needed to address here in the church, from the pulpit.  As we planned the series, as I dug into the issue and learned more, I realized that the vast majority of sexual violence is connected to patriarchy.  Yes, men are sometimes the victims of sexual violence.  Yes, women are sometimes to the perpetrators of sexual violence.  And the vast majority of those targeted with sexual violence are women, and the vast majority of those who perpetrate sexual violence are men.  Sexual violence is, in our society at large, foremost an issue of men wielding their power in sexualized ways toward some sexual end for themselves.
Since this is the last sermon in this series, perhaps it's time I explained what I mean by 'patriarchy.'[1] Patriarchy is a social order that favors men (particularly cisgender, heterosexual men) at the expense of everyone else.  To do this, patriarchy relies on dualistic thinking.  A person is either male or female, and this is determined at birth,  so there is no room for gender fluidity or transgender identity.  To do this, patriarchy names certain qualities as masculine and superior, and other qualities as feminine and inferior.  Power, control, rationality, and competitiveness are examples of masculine-labeled qualities and they are considered superior to feminine-labeled qualities like emotional expressiveness, compassion, and nurture.  This leads to men and women having specific roles, with men leading and women supporting, and with male-labeled job getting paid more than female-labeled jobs.
Patriarchy supports (demands) male domination, and when women move into positions of power (become corporate executives, politicians, etc.), they are expected to behave "like men."  The weird thing is that most men I know are not interested in dominating women.  Rather, it is the system people of all genders have been born into and participate in unconsciously.  So, while male-identified people reap most of the benefits of patriarchy, people of all genders support it – unless we consciously resist it.
Much of the Bible seems to support patriarchy.  The formative stories of the Hebrew scriptures are steeped in patriarchy.  I think this is more an example of the authors participating in patriarchy unconsciously than it is an endorsement of it.  Similarly, patriarchy has (probably unconsciously) influenced the way we translate the Bible into English (and other languages).  See the first sermon in this series for more on that.
Yet, despite the omnipresence of patriarchy, there are glimpses in scripture of another way.  The first creation story says that people are created in the image of God, regardless of their gender.  And in his letter to the Galatians, Paul says that in the community of Jesus-followers, cultural distinctions, class distinctions, and gender distinctions are unimportant, for we are all one, we are all equal in Christ.  In other words, patriarchy is not part of God's desire for humanity and the beloved community Jesus is leading us to is not patriarchal.
So, how do we get to that non-patriarchal, beloved community?  Let me tell you a story.
Once upon a time, a person went for her daily walk along the banks of the river that ran through town.  As she walked along, she heard what sounded an awful lot like a baby crying.  When she looked around, she realized that the sound was coming from a basket in the middle of the river that was floating downstream with the current.  Our heroine jumped into the river, swam out to the basket, and brought the baby ashore.  She dropped the baby off at her parent's home and they agreed to care for the baby.
The next day, our heroine went for her daily walk along the river and, sure enough, another basket was floating along.  Worrying that it, too, might hold a baby, our heroine jumped into the river and rescued the baby.  She took this baby to her neighbor's home to be cared for.
You can probably tell where this story is going.  The third day, our heroine had an appointment and couldn't go for her daily walk along the river, so she had another friend take the walk for her.  Sure enough, the friend went into the river to pull out another baby.
It wasn't long before our heroine organized a river patrol.  And then some friends built an orphanage, and before you knew it, the whole town was organized to take care of the babies that kept getting pulled out of the river.
Then one day, at one of the organizing meetings, somebody made a bold suggestion.  "I was thinking," this person said, "maybe some of us might go upstream to find out why these babies keep getting loaded into baskets and plopped into the river.  Maybe there's something we can do to stop it."
We can look at the work of the church, particularly the mission work, as having two components: downstream mission work and upstream mission work.  Both are vital.  The downstream mission work looks at the needs that are right before us and addresses them.  It pulls the babies out of the water and cares for them.  Upstream mission work looks at the needs that are right before us and asks why they're happening.  It goes upstream and asks, "Why?" and "How do we change it?"
There are people who don't have enough money each month to keep a roof over their head and to buy groceries, and they have transportation limitations.  So we are helping our local food bank bring the food to them with the mobile food van project.  This is virally important downstream work and makes a huge difference in the lives of the people served.  There is also an upstream aspect to this need.  Why are people so poor that they can't afford both rent and food?  This is a question about the system.
It is my hope that the #MeToo movement will lead our society to holding perpetrators of sexual violence accountable.  This is a type of downstream work.  It is a vital type of downstream work.  Holding an individual perpetrator of sexual violence accountable will make an important difference, especially for the target of that violence.
I mentioned some other downstream work in my sermon last week.  I mentioned how important it is to believe the stories we hear from people (especially from women) who have experienced sexual violence.  And it's important that we tell them that we believe them.  Maybe something we (as a church) could do is to create a space where people can tell their stories – and be believed.  And when those stories are about experience of sexual harassment and abuse that took place in the church (for this can happen in the church just as easily as it takes place anywhere else in society), we could figure out what act of repentance by the church is needed.
I also suggested last week that one of the things we can do when we witness some form of harassment or abuse taking place is to interrupt it.  Have you heard about the New York superhero known as Snackman?  He defused a fight on the subway by standing between the combatants while eating potato chips.  Let's go to the film.
We don't have to use potato chips to interrupt.  We can get the target out of the situation or we can distract the assailant.  All it took was a woman walking by and slowing down to create the moment for me to escape from a sexual assault when I was a teen.
There are ways to confront a harasser (I wouldn't do this with an assaulter).  Later, "when the harasser is less likely to escalate the situation, [we can ask] questions like:  'Were you aware of how you came off in that conversation?'  Researchers also suggest talking openly about inappropriate behavior, like asking colleagues:  'Did you notice that?  Am I the only one who sees it this way?'  It might seem obvious, but researchers say it's crucial to check in with a victim and offer to help."[2]  In the work setting, that help might take the form of offering to go with them to Human Resources, if they want.  At church, it might take the form of offering to go with them to talk to a pastor.
Sharyn Potter, a sociologist at the University of New Hampshire who runs a research group for sexual violence prevention, says, "A bystander saying 'This isn't your fault, you didn't do anything wrong,' is really, really important."[3]
These are just a few examples of downstream work that we can do.  Upstream work is always harder than the downstream work because it's the work that changes whole systems.[4]  Yet, because so much about sexual violence is powered by patriarchy, only by overcoming patriarchy will we be able to curtail the sexual violence.
You've probably heard about girls being sent home from school because their outfits were deemed to be "distracting."  But think about the message that sends.  When we interrupt a girl's school day to force her to change her clothes, or when we send her home because her shorts are too short or her bra strap is visible, we are telling her that making sure boys have a distraction-free learning environment is more important than her own education.  Instead of shaming girls for their bodies, maybe we could teach boys that girls are not sexual objects.  But that would take a systemic change.
Patriarchy effects all of us and we all participate in it, but because men benefit from it, men bear the primary responsibility for disestablishing it.  As Lindy West pointed out, "Only 2.6 percent of construction workers are female.  We didn't install this glass ceiling, and it is not our responsibility to demolish it."[5]  In this sense, overcoming patriarchy is more a men's issue than a women's issue.
One of the ways we could address a part of patriarchy is for us to stop teaching sex education in our public school and start teaching sexuality education.  The difference between sex education and sexuality education is that the former focuses on plumbing and mechanics and the latter focuses on the whole human being.  Imagine if we taught that we need to listen to each other in our intimate relationships, that sexual expression should happen in the context of an affirmative 'yes,' rather than teaching merely that 'no means no.'
And if our schools won't do it, maybe our churches (at least progressive churches like ours) should offer holistic sexuality education to the general public.
We're also going to have to hold media accountable.  Whether this is for male-dominated journalism, for the glass ceilings and unequal pay that persist in Hollywood, or for the victim-blaming that gets echoed in media, they all need to be held accountable.
And we need to address legislation.  When bills are introduced that take away a woman's agency and when bills are introduced that support male domination, we must condemn them and fight against them.
Finally, and perhaps most importantly, we need to change how we raise our children, especially how we raise our sons.  There is a lot I could say about this, but for now I'll limit myself to just a couple ideas.  First, I want to say that changing the way we raise our sons is difficult.  It means going against all the messages they will receive from our patriarchal society.  All the more reason to be intentional about it.  There was a great article in The New York Times back in June about raising feminist sons.[6]  It offers a dozen specific attitudes and actions for parents to adopt in how they raise their children, especially their sons.  It covers things like helping our sons increase their emotional intelligence, and providing them with positive role models, and considering how work is divided up in the home, and the importance of our sons having different kinds of friendships.  I think these suggests apply to teachers and grandparents and church friends, too.  I encourage you to read it.
We need to teach our sons – and all men, really – that power and position are not an end in themselves.  Nor are they a license to prey upon those who are less strong or in subordinate positions.  Rather, when men have them, for whatever reason, they allow a man more ways to be of service to those around him.  That's what Jesus taught.  By itself it means little that you are bigger or stronger or more exalted.  The measure of a man – the measure of a person – is found in what you do with those things.[7]
Amen.
_______________
[1] This definition and explanation is based largely on Drew Serres, "Why Patriarchy Persists (and How We Can Change It)," Organizing Change, https://organizingchange.org/patriarchy-persists-can-change/ (posted at least two years ago; accessed 29 January 2018).
[2] Claire Cain Miller, "The #MeToo Moment: How to Be a (Good) Bystander," The New York Times, https://www.nytimes.com/2017/12/12/us/the-metoo-moment-how-to-be-a-good-bystander.html (posted 12 December 2017; accessed 29 January 2018).
[3] Quoted in ibid.
[4] Many of the following ideas come from Drew Serres, op cit.
[5] Lindy West, "Why Is Fixing Sexism Women's Work?" The New York Times, https://www.nytimes.com/2018/01/03/opinion/why-is-fixing-sexism-womens-work.html (posted 3 January 2018; accessed 29 January 2018).
[6] Agnes Lee, "How to Raise a Feminist Son," The New York Times, https://www.nytimes.com/2017/06/02/upshot/how-to-raise-a-feminist-son.html (posted 2 June 2017; accessed 29 January 2018).
[7] Based on Leonard Pitts, Jr., "What does it really mean to be a man?" The Bellingham Herald, http://digital.olivesoftware.com/Olive/ODN/BellinghamHerald/shared/ShowArticle.aspx (posted 25 November 2017; accessed 29 January 2018).
This is the second sermon of the four-part sermon series on patriarch and sexualized violence being preached at Niles Discovery Church this winter. The third in the series was actually posted just before this one.
A sermon preached at Niles Discovery Church, in Fremont, California,
on January 28, 2018, by the Rev. Brenda Loreman.
Scripture:  John 4:7-30, 39 and Judges 19:16-30
Copyright © 2018 by Brenda Loreman
My guess is that, unless you've read the Bible cover to cover or been to seminary, you are unfamiliar with our text from Judges. I think there are many reasons for this. For one thing, the passage is not part of any church service in the liturgical year and is not part of the revised Common Lectionary, the three-year cycle of Bible readings that many churches use for worship and preaching—and so it is not read out loud in church unless a preacher deliberately chooses to have it read. The passage is so gruesome and brutal that most readers and listeners rightly find it offensive. The passage defies any hopeful interpretation or message of the good news of God's redeeming work in the world.
Through the millennia, the church's primary response to this text has been a vast silence. And so we rarely read it and rarely confront what it has to say to us, and about us. But I think it's imperative that we end that silence. Because our silence in the face of this text—and others like it in the Bible—and our inability to confront it, is connected to our silence and inability to confront how our society normalizes sexual assault and sexual violence.
It's impossible for me to fully explicate or interpret this complicated text in a twenty-minute sermon; I know I won't do it justice. But I want to point out some important ideas about it and connect those ideas to the legacy of silence and misogyny they have left in our Christian tradition.
In the chronology of the narrative of the Hebrew Bible, the book of Judges happens after the Israelites have followed Moses from Egypt to Canaan, and before the twelve tribes of Israel were gathered into one kingdom under the leadership of Saul, David, and Solomon. The ancient editors of Judges repeatedly remind the reader of the book that this was a time when there was no king in the land, implying that a lack of strong leadership is the reason for such a gruesome act happening; when there is no king, lawlessness will prevail.
The primary historical interpretation of this text is not that it is a commentary on society's brutality against women. Instead, the crime of Gibeah is a crime perpetrated on the Levite, whose property had been destroyed, and who was not shown proper hospitality by the Benjaminites. Additionally, there is often an assumption among historical interpreters that the concubine must have done something to disturb the peace in her household and anger the Levite.
Notice that the Levite shows no concern for the welfare of his concubine throughout the night. Notice that he shows no sorrow over her assault and death. Notice that he doesn't even check to make sure she's actually dead before he dismembers her. He never even acknowledges her humanity. Her only purpose for him is a way to seek revenge against a community who had wronged him.
Feminist biblical scholar Phyllis Trible offers an alternative interpretation of the concubine's story. For Trible, it is important that we interpret this story "of outrage on behalf of [its] female [victim] in order to recover a neglected history, to remember a past that the present embodies, and to pray that these terrors shall not come to pass again."[1] When we speak for the nameless woman of the story, we "interpret against the narrator, plot, other characters, and the biblical tradition," and we "recognize the contemporaneity of the story," because "misogyny belongs to every age."[2]
It seems a stretch to apply an ancient dismembered concubine to our culture today, but I don't think it is. The culture that was willing to see the concubine as nothing more than a collection of body parts still exists today, and feminists and sociologists call it "rape culture."
According to feminist authors Emilie Buchwald Pamela Fletcher, and Martha Roth:
A rape culture is a complex of beliefs that encourages male sexual aggression and supports violence against women. It is a society where violence is seen as sexy and sexuality as violent. In a rape culture, women perceive a continuum of threatened violence that ranges from sexual remarks to sexual touching to rape itself. A rape culture condones physical and emotional terrorism against women as the norm.
In a rape culture both men and women assume that sexual violence is a fact of life, inevitable as death or taxes. This violence, however, is neither biologically nor divinely ordained. Much of what we accept as inevitable is in fact the expression of values and attitudes that can change.[3]
Like racism and white privilege, rape culture is so deeply embedded in our culture and part of societal norms that most of us don't realize it's there. Here's an example.
I'm almost certain that everyone in the room has seen this photo, of a sailor kissing a nurse to celebrate to end of World War II. Even if you aren't old enough to remember it appearing on the cover of Life magazine the week after August 14, 1945, you've probably seen it since then. It has become an iconic expression of the wild exuberance and joyful release that the country experienced on that day.
Photographer Albert Eisenstaedt didn't pause long enough to get the names of the sailor and nurse after he took the photo, and for many years their identities remained a mystery. The image of a passionate kiss seems romantic—a couple sharing their joy at the brutal war being over. But later research in the years following the release of the photo have determined that the pair are most likely George Mendonça, a sailor on leave in New York City, and Greta Zimmer Friedman, a dental assistant working in the city. They had never met before, but found themselves in the crowds gathering in the streets as people began to celebrate after hearing the announcement from President Truman that Japan had surrendered.
I have always liked this photo, thinking it captured so well the euphoria at the end of the war. But in the light of my study of rape culture and living in the present moment of the #MeToo moment, I've been reevaluating the image and its message.
Look carefully at the body language of Friedman. Her body is turned awkwardly away from Mendonça, at a stiff angle. Mendonça is holding her tightly, essentially putting her in a head lock, and she is not returning his embrace.
Like any good photographer, Eisenstaedt snapped several photos of the pair in an effort to capture the best exposure and composition. Here's another image of the same scene. In this version, notice that Friedman's hand is wedged between the two of them.
And in a third version, Friedman's hand is clenched in a fist next to Mendonça's face.
Nothing about her posture in any of the photos says that she is a willing participant in the kiss.
I might be tempted to dismiss my suspicions about the nature of Mendonça's and Friedman's encounter if it weren't for what Friedman herself has said about it in interviews:
"That man was very strong. I wasn't kissing him. He was kissing me."
"I did not see him approaching, and before I knew it, I was in this vise-grip."
"It wasn't my choice to be kissed. The guy just came over and grabbed!"
"You don't forget this guy grabbing you."[4]
Unwanted and nonconsensual sexual touching is sexual assault; rather than an image of a romantic encounter, this is an image of an assault. The fact that we tend to explain it away by saying it's from a different time—or that Friedman herself didn't consider it assault, or that the sailor couldn't be blamed for having some fun on such a joyful day, or that it's just a kiss—is part of the deep, underlying problem with rape culture. We live in a society where we are willing to explain away and excuse sexual assault. It's time to stop. It's time to tell the ancient hidden stories of the nameless concubines, and it's time to allow, encourage, and provide a safe space for women everywhere to tell their own stories, to acknowledge our complicity in allowing rape culture to flourish, and to find a way to make a change so that we no longer confuse sexual assault with romance.
Statistics tell us that one in four women and one in six men will be sexually assaulted in their lifetime.[5] These statistics are appalling, but I think we need to remember that they only refer to the sexual assaults that actually get reported to authorities. In all likelihood, the number is greater. And I tend to believe that every woman has a story to tell about sexual harassment, abuse, and assault.
Late last year, the Rev. Amy Butler, the Senior Minister of Riverside Church in New York City told a story about a gathering of parishioners she had at her home. As a small but diverse group gathered around her table for dinner, "one of the men in the group brought up the subject of sexual harassment allegations we're seeing all over the media. He asked what he could do. As a woman sitting at that table," Butler said, "I appreciated his questions. But it quickly became apparent that those questions were not the most pressing issues on our minds." Every woman at Butler's table began to share her own "Me, Too" story:
"I remember the first time I saw a male teacher looking down my shirt. When I complained, I was told to button more buttons."
"The first time a man exposed himself to me, I was at a neighborhood pool. I was 7."
"In my all-girl's elementary school, I had to stay after school some days when my mom was working late. I hated it because the janitor would push me up against the counter and touch my body. When I reported it, I was told just to stay away from him."[6]
Around Butler's intergenerational and interracial table, table, it became clear that for many women, "sexual harassment and abuse of women is part of everyday life."[7] In my own conversations with women—and some men as well—I have discovered the same thing.
And the church has been complicit in upholding rape culture and misogyny, "implicated by thousands of years of institutional and personal abuse of women, almost an entire existence of keeping women subverted and victimized. I don't think we even know how deep and inbred this sin of the church actually is. But like most things, the church will be dragged kicking and screaming into the conversation. Because women, like all the women around [Rev. Butler's] dinner table […], will start telling their stories. And we will not stop."[8]
For the sake of argument, I assume that "most Christians agree that Jesus wouldn't appreciate the sexual exploitation or abuse of women." So it's time that the church, "an institution claiming to represent the values of Jesus, take necessary steps to enter a conversation we should have been leading long ago."[9]
It's time for us start talking about misogyny, sexual harassment, sexual assault and sexism in general. It's time to acknowledge the "constant, wearing, culturally inbred experience of sexual harassment."[10]  It's time for us to listen to women, to provide a platform for us to tell our stories and to honor those stories as holy.
It's time for us to lift up the story of the nameless concubine, to take to heart her story and confess its present reality.  It's time for us to hear the stories of women the way Jesus encounters the Samaritan woman at the well: to listen without judgement, to engage in respectful conversation, and to offer the gift of living water, the spirit that binds human life together, that brings about wholeness and healing. Amen.
_______________
[1] Phyllis Trible, Texts of Terror: Literary-Feminist Readings of Biblical Narratives (Philadelphia: Fortress, 1984), 3.
[2] Trible, 86-87. Emphasis mine.
[3] Emilie Buchwald, Pamela Fletcher, and Martha Roth, eds. Transforming a Rape Culture (Minneapolis: Milkweed, 2005), xi.
[4] "The Kissing Sailor, or 'The Selective Blindness of Rape Culture,'" blog post at Crates and Ribbons, https://cratesandribbons.com/2012/09/30/the-kissing-sailor-or-the-selective-blindness-of-rape-culture-vj-day-times-square/ (accessed January 25, 2018).
[5] Connecticut Alliance to End Sexual Violence. https://endsexualviolencect.org/resources/get-the-facts/national-statistics-on-sexual-violence/ (accessed January 25, 2018).
[6] Amy Butler, "What Churches Must Do Right Now to Stop Being Part of The Sexual Harassment Problem," Washington Post, December 1, 2017. https://www.washingtonpost.com/news/acts-of-faith/wp/2017/12/01/what-churches-must-do-right-now-to-stop-being-part-of-the-sexual-harassment-problem/?utm_term=.c4328f0b0843. Accessed January 25, 2017.
[7] Butler, ibid.
[8] Butler, ibid.
[9] Butler, ibid.
[10] Butler, ibid.
A sermon preached at Niles Discovery Church, Fremont, California,
on Sunday, February 4, 2018, by the Rev. Jeffrey Spencer.
Scriptures:  John 8:2-11 and Luke 24:1-11
Copyright © 2018 by Jeffrey S. Spencer
I have long considered the passage we heard from John 8 to be a pretty good argument against the death penalty.  The law says that the death penalty is the appropriate punishment for adultery.  Jesus stops the crowd from carrying out that penalty.  It seems pretty clear that Jesus is anti-death penalty.
At least in the case of adultery.
When only one of the party is brought to justice.
And that last statement is an important one for this sermon series.  The crowd is only seeking to punish the woman, as if the adultery is her fault.  She was caught in the act, they say.  That means the other party was there.  Why aren't they hauling the man away to be killed, too?  It's as if the guy gets a pass.
For generations, we've been letting men get away with sexual harassment and sexual assault.  We've been slut-shaming the women and giving the men a pass.  In my studying for this sermon series, I've learned some of the reasons why people sexually harass.
According to John Pryor, a psychologist at Illinois State University, there are three personality factors that increase the likelihood that a man will be a sexual harasser:  a lack of empathy, a belief in traditional gender roles, and a tendency toward authoritarianism.  In his research, Pryor found that when men with these personality traits are in an environment or system that suggests they can get away with it, they will do it.[1]
Add to this information the results of more recent studies showing that power makes people impulsive, less worried about social conventions, and less concerned about the effect of ones actions on others.  Other studies show that powerful people become more focused on themselves, are more likely to objectify others, and are more likely to overestimate how much others like them.  Sometimes powerful people will think that there are sexual signals coming from subordinates that simply aren't there.[2]
Why men are much more likely to sexually harass than women is not completely clear.  "It's not like women are somehow immune from dark personality traits," psychologist Louise Fitzgerald said, "but we know from gender research that men are more aggressive, more socialized to seek sex and believe they have a right to it."[3]
I do not think this greater aggression is simply biological.  It is not, as Andrew Sullivan proposed in a column for New York magazine,[4] simply a matter of testosterone.  There is something about the ways we raise boys that makes the men they grow into more aggressive than women, particularly more sexually aggressive.  One of the dangerous ways we do this is by doing what happened in the story from John's gospel.  We give the men a pass.
Consider these three things we tell boys and girls that gives boys a pass.
Boys will be boys.
He does that because he likes you.
It's just locker room talk.
Perhaps a little more strongly than the other two phrases (though I think all three do this), saying, "Boys will be boys," teaches that there is only one way to be a boy, and that way is to be violent, rough, and tumble.  It implies that boys are biologically wired to be violent and that they should be excused from the consequences of that behavior.  It turns out, according to neuroscientist Lise Eliot, that there is very little difference between the brains of girls and boys.[5]  When our culture buys into the idea that maleness is to be equated with violence, we excuse behaviors that hurt others physically or emotionally.
The junior high boy snaps the bra strap of the junior high girl in the hallway.  When the girl informs a teacher, the teacher says the boy did it because "he likes you and doesn't know another way to tell you."  It gets said again and again.  I am guilty of saying it – not at the junior high level, but with elementary kids.  When we say it, we are reinforcing that idea that boys are incapable of expressing themselves through any means other than violence.
"When we dismiss boys' aggression as evidence of affection,… we sell all children short.  To girls, the message is, 'That violent act to which you did not consent means that he feels love for you.'  And the message to boys is, 'When you feel an emotion, you should express it through violence.'"[6]
Consider what those messages do.  They imply "that it's strange for boys to have feelings of love that are disconnected from feelings of violence [or power over another].…  When we tell our boys it's normal to show that they like someone by hurting them, we don't just excuse toxic masculinity – we encourage it.  We are effectively not teaching our children what safe and consensual relationships look like at the moments when they are just starting to come of age sexually."[7]
Likewise, we give boys and men a pass when we excuse their stories of sexual assault as "locker room talk."  We're essentially saying "boys will be boys," but in an advanced way.  We are saying not only that it is okay, but that it is appropriate, that it is expected for boys and men to perform their masculinity and their sexuality in aggressive ways.  And that is toxic for all of us.
About three weeks ago, a pseudonymous woman's account of a difficult encounter with comedian Aziz Ansari was published online.[8]  They met, exchanged phone numbers, exchanged text messages, and then went out on a date.  The date ended in Ansari's apartment and became very sexual very quickly – from kissing to undressing to Ansari saying he was going to go grab a condom, all in a matter minutes.  "Grace [the woman's pseudonym] voiced her hesitation explicitly.  'I said something like, "Whoa, let's relax for a sec, let's chill."'  She says he then resumed kissing her, briefly performed oral sex on her, and asked her to do the same thing to him.  She did, but not for long."[9]  The date ended, and she left – very upset.  For her, this was a #MeToo moment.
There was a lot of push back about this article – a lot.  The woman was not an employee of Ansari, so there were no workplace dynamics in the situation.  "Her repeated objections and pleas that they 'slow down' were all well and good, but they did not square with the fact that she eventually gave Ansari oral sex.  Finally, crucially, she was free to leave.  "Why didn't she just get out of there as soon as she felt uncomfortable? many people explicitly or implicitly asked."[10]
This question is, I think, the other side of the enculturation issue I just scratched the surface of about male sexual aggression.  And I'll tell you, I don't know all the possible reasons.  But I found a very informative article online that opened my eyes, titled "The female price of male pleasure."  I hope you will read it; click here.
It's thesis is this:  "Women are enculturated to be uncomfortable most of the time.  And to ignore their discomfort."[11]  Loofbourow, the author of the article, starts with this little factoid:  According to a study published on the National Institutes of Health website, 30 percent of women report pain during vaginal sex, 72 percent report pain during anal sex, and "large proportions" don't tell their partners when sex hurts.[12]  She goes on to explore how and why women and men have entirely different understandings of what makes sexual intercourse "bad sex."
She notes that there are five times as many clinical trials studying men's sexual pleasure as there are studies into the severe physical pain some women experience during sex.  Why?  "Because," she concludes, "we live in a culture that sees female pain as normal and male pleasure as a right."
She writes about women who continue having sexual intercourse even though it is painful.  She writes about women being taught to expect the first time they have sexual intercourse to be painful – and if the first time, why not the second time?  And then there's the discomfort the fashion industry pushes on women, largely for the sexual gratification of men.
One of the reasons women don't just leave when a social encounter turns uncomfortable sexually is that they are taught that uncomfortable is the norm.  This is probably also a reason that some women don't realize that the uncomfortable situation they just had – in the workplace or at school or at church or at the sports club – was sexual harassment.  And even if they do recognize it as such, it may be a reason they don't bother reporting it.
There are two other reasons I can think of that people (of all genders) don't report sexual harassment and sexual assaults.  The first is that they don't think they're going to be believed.  It's what happened to the women in the story we heard from Luke's gospel, and they weren't even reporting an assault.  The women go to the tomb where Jesus' body was laid after the crucifixion to give it a proper preparation.  But when they get there, the body is gone and they have an angelic visitation.  When they report what happened to the men who were followers of Jesus, they are not believed.  The men don't believe them.
The other reason I can think of that people don't report sexual harassment and sexual violence is that they worry that their reporting will be met with more violence.  You may remember the recent special election for Alabama's vacant Senate seat.  One of the candidates, Roy Moore, was accused of sexual misconduct in the weeks leading up to the election.  This is what happened to home of Tina Moore, one of the accusers.[13]
The fire is being investigated as an arson.  The fear that reporting will be met with more violence is reasonable.
Which brings me to the last thing I want to touch on in this sermon:  What do we do about all this?  I'll go into this in much more detail next week.  This week, I want to say there are at least three basic things we can do when we see harassment, or even assault, taking place:
We can disrupt the situation. This needs to be done in a way that is as safe as possible.  You may want some support from another when you do this.  I'll offer some examples of how this can be done next week.
We can confront the harasser. This doesn't have to be done in the moment and it isn't appropriate in all situations.  But when it's appropriate there are ways to do this.  More next week.
And we can ask the target of the harassment how we can help. This might seem obvious, but researchers say it's crucial to check in the with target of harassment and offer to help – like offering to go with them to Human Resources if the harassment takes place at work.
The other thing that's important to do when someone discloses harassment or abuse.  Believe them.  Telling someone, "I believe you," can give them the support they need to get the help they need to get the healing they deserve.  We can do a better job than the male disciples did on Easter morning.
Amen.
_______________
[1] William Wan, "What makes some men sexual harassers? …" The Washington Post, https://www.washingtonpost.com/news/speaking-of-science/wp/2017/12/20/what-makes-some-men-sexual-harassers-science-tries-to-explain-the-harvey-weinsteins-of-the-world/ (posted 22 December 2017; accessed 29 January 2018).
[2] Ibid.
[3] Quoted in ibid.
[4] http://nymag.com/daily/intelligencer/2018/01/sullivan-metoo-must-choose-between-reality-and-ideology.html
[5] Colleen Clemens, "Say No to 'Boys Will Be Boys,'" Teaching Tolerance, https://www.tolerance.org/magazine/say-no-to-boys-will-be-boys (posted 17 December 2017; accessed 29 January 2018).
[6] Ibid.
[7] Ibid.
[8] Katie Way, "I went on a date with Aziz Ansari. It turned into the worst night of my life," babe.net, https://babe.net/2018/01/13/aziz-ansari-28355 (posted 14 January 2018 [as best I can tell]; accessed 3 February 2018).
[9] Ibid.
[10] Lili Loofbourow, "The female price of male pleasure," The Week, http://theweek.com/articles/749978/female-price-male-pleasure (posted 25 January 2018; accessed 29 January 2018).
[11] Ibid.
[12] https://www.ncbi.nlm.nih.gov/pubmed/25648245
[13] M.L. Nestel, "Over $150,000 raised after Roy Moore accuser's home burns down in suspicious fire," ABC News, http://abcnews.go.com/US/100000-raised-roy-moore-accusers-home-burns-suspicious/story?id=52192189 (posted 7 January 2018; accessed 3 January 2018).
A sermon preached at Niles Discovery Church, Fremont, California,
on Sunday, January 21, 2018, by the Rev. Jeffrey Spencer.
Scriptures:  Genesis 21:8-21 and Mark 14:3-9
Copyright © 2018 by Jeffrey S. Spencer
This headline ran in the online version of the Daily News last week.  "Mich. man's wife says he was deported to Mexico after legal error."  The person who is doing the talking, the person being quoted is the woman.  And yet she is identified as "Mich. man's wife."  She is identified in terms of whose she is.
Why didn't the headline say, "Mich. woman says her husband was deported to Mexico after legal error"?  Patriarchy.
Was the headline writing trying to be sexist?  Who knows, but I suspect not.  The problems is that male dominance is so pervasive in our culture, most of us won't even hear it or see it when it's happening.
Part of our sacred texts includes a story of a man who wields his power, power he has because he is a man, and the way he wields his power is to throw a slave and her child out of the household and into the wilderness to fend for themselves, presumably to die.  It's the story we heard today.  It's part of the story of the patriarch of the Hebrew people (who is also seen as the patriarch of Christian and Muslim people).  It's part of a larger saga that is filled with call and response, promise and impatience, deceit and intrigue, forcing God's hand and God tolerating it, jealousy and betrayal, abuse and salvation, and much, much more.  The story offers (among many other things) a window into the gender issues and gender power dynamics of its time.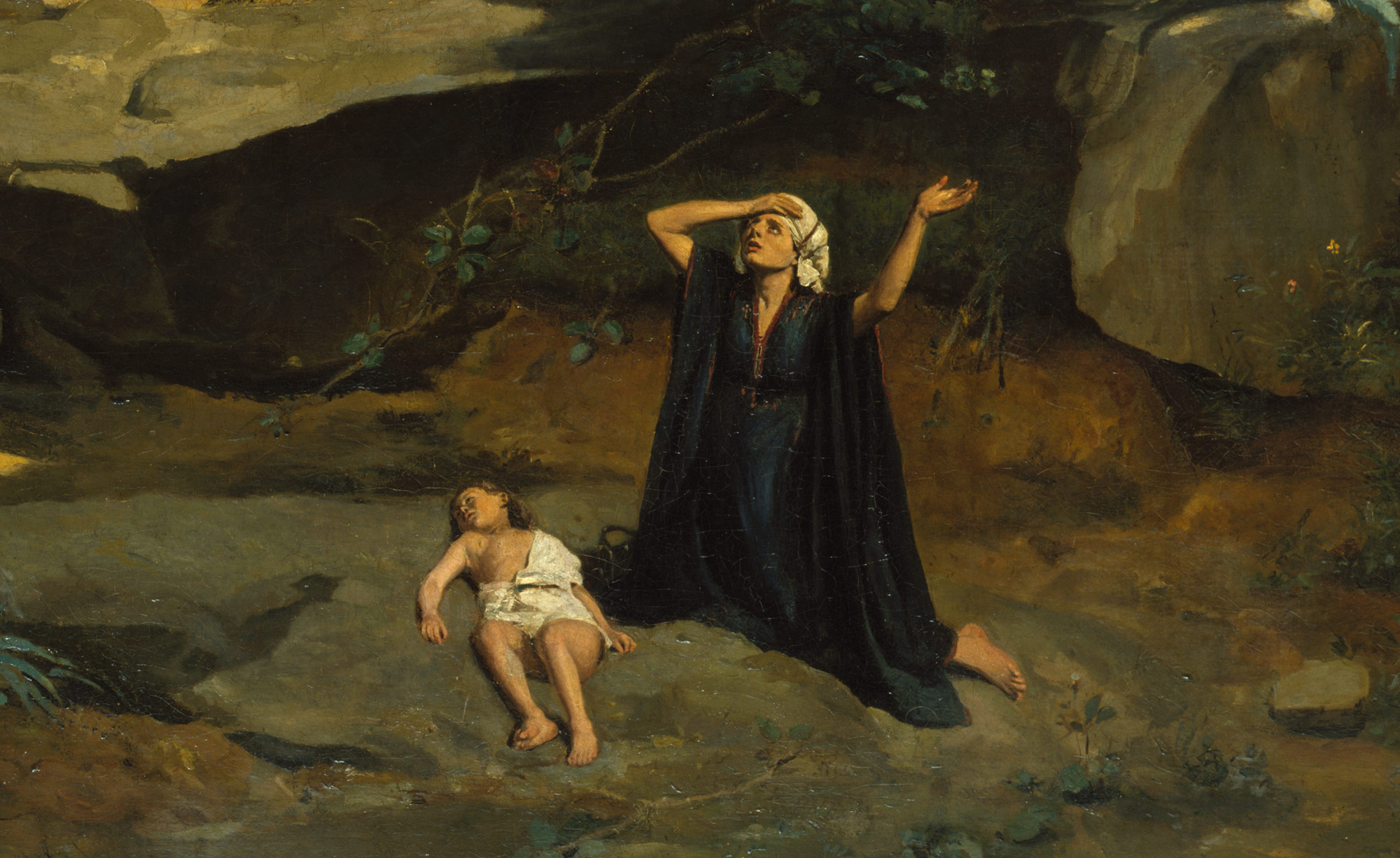 In the small part of the story we heard today, we see that the male is the head of the household.  Sarah may be the one who is feeling insecure and jealous, but Abraham – the male head of the household – is the one who makes the decisions.  And it's worth noting that Sarah's insecurity and jealousy is because of a male child.  Had either Ishmael or Isaac been a girls, Sarah wouldn't have worried.
If you're not familiar with the story, I encourage you to read it.  Here's a synopsis.  Abraham senses that he is called by God to leave his home and strike out on an adventure, so he packs up his household and off they go.  God, he believes, promises to make him and his wife Sarah the parents of a new nation – despite the fact that they are already old and have never had any children.  Eventually they get impatient waiting for the child that God has promised, so Sarah suggests that they have a surrogate child.  She suggests that Abraham have sexual intercourse with the slave Hagar.  Abraham does; Hagar gets pregnant; and a son is born who is named Ishmael.
Wouldn't you know it.  Once they've agreed that they aren't going to have children together and Ishmael is born, Sarah gets pregnant.  She has a son who is named Isaac.  And when Isaac is weaned … well, that's where we pick up the story.
Suddenly, the son born to Hagar is a threat to Isaac inheriting the household and the promise.  So Sarah lobbies Abraham, the head of the household, to have Hagar and Ishmael thrown out.  And Abraham does just that.
This story isn't just about Abraham wielding his power as a man.  It is also about sex trafficking – for that is what Hagar suffers at Sarah's hands.  It is also about rape – because Hagar didn't have an opportunity to give her consent to having sex with Abraham.  There are aspects of this story – like all the stories about families in the Hebrew scriptures – that are very disturbing if they go unchallenged.  These stories reflect the patriarchal culture in which they were written.
In this story, the sexism inherent in the culture even creeps into the way God is portrayed.  Did you notice that the angel comes to a sobbing Hagar to reassure her that God has heard the boy's cries?  Hagar is the one sobbing, but God hears the boy and it's the boy's cries that seem to move God to action.  Oy vey!
I suppose it's good news that the Christian church isn't responsible for creating the theological context in which sexism took hold, the way it is for creating the theological context in which racism took hold.[1]  No, the Christian church is only responsible for perpetuating and codifying patriarchy.  Consider, for instance, how things get translated.
If you're looking for a patriarchal text, check out 1 Corinthians 14:26-40.
Paul is writing about the practice of worship in the Corinthian church in chapter 14, and we get to this passage.[2]
            What then, brethren?  When you come together, each one has a hymn, a lesson, a revelation, a tongue, or an interpretation.  Let all things be done for edification.  If any speak in a tongue, let there be only two or at most three, and each in turn; and let one interpret.  But if there is no one to interpret, let each of them keep silence in church and speak to himself and to God.  Let two or three prophets speak, and let the others weigh what is said.  If a revelation is made to another sitting by, let the first be silent.  For you can all prophesy one by one, so that all may learn and all be encouraged; and the spirits of prophets are subject to prophets.  For God is not a God of confusion but of peace.
As in all the churches of the saints, the women should keep silence in the churches.  For they are not permitted to speak, but should be subordinate, as even the law says.  If there is anything they desire to know, let them ask their husbands at home.  For it is shameful for a woman to speak in church.  What!  Did the word of God originate with you, or are you the only ones it has reached?
If any one thinks that he is a prophet, or spiritual, he should acknowledge that what I am writing to you is a command of the Lord.  If any one does not recognize this, he is not recognized.  So, my brethren, earnestly desire to prophesy, and do not forbid speaking in tongues; but all things should be done decently and in order.
Whenever I read scripture aloud, I try to do some interpretation of it in the way I do the reading.  What I emphasize orally comes across as more important than what I de-emphasize.  I don't know what to do with verse 36.  I don't understand what the word "What!" is doing there.  Still, this is how the passage has been translated.
I'm not a Greek scholar, so I can't argue with the translation.  So, about two decades ago, I asked a Greek scholar if this was a good translation of the Greek.  He said it was – in terms of the words.  But the oldest text from which the translations are derived do not have punctuation.  So figuring out where sentences begin and end or where paragraphs begin and end is potentially problematic.
We do know that the letters we have that were written by Paul were parts of exchanges.  Letters were sent between churches and Paul – in both directions.  That means that Paul is likely responding to a letter that, given the content of Paul's letter, was probably about (among other things) arguments about worship in the Corinthian church.  I can imagine Paul standing there, with a letter from the Corinthians in his hands, dictating his response to a scribe.  And I can imagine him, from time to time, quoting the Corinthian's letter back to them, particularly if they wrote something that really got under his skin.  So, imagine if we got the punctuation wrong.  What if what Paul wrote was this:
… For you can all prophesy one by one, so that all may learn and all be encouraged; and the spirits of prophets are subject to prophets.  For God is not a God of confusion but of peace, as in all the churches of the saints.
[Quoting from a letter from Corinth:]  "The women should keep silence in the churches.  For they are not permitted to speak, but should be subordinate, as even the law says.  If there is anything they desire to know, let them ask their husbands at home.  For it is shameful for a woman to speak in church."
What?!  Did the word of God originate with you, or are you the only ones it has reached?
If any one thinks that he is a prophet, or spiritual,…
Suddenly Paul is offended by the sexist assumptions in the Corinthian church, not supporting them.  And now, finally, that "What!" makes sense.  It's an expression of his outrage.
And yet, for hundreds of years, the Christian church has punctuated the text so that it supports patriarchy, so that it codifies patriarchy.  My Greek scholar friend insisted that this way of punctuating the passage totally works in the Greek.
We've done the same sort of thing with our Gospel lesson.  Jesus is in the house of Simon the leper – which, let's acknowledge, is a pretty radical thing on its own.  A woman comes in, breaks open a bottle of nard, and anoints Jesus, pouring it on his head.  It's shocking, I tell you!  Shocking!  The people who were there were shocked.  And they said so.  Jesus, on the other hand, sees it as an act of love, of caring.  Mark tells us that Jesus saw this as an act of preparing his body for burial (this happens just a day or two before his crucifixion).
It is not uncommon for people to assume that the woman who did this must have been a prostitute, it being such a sensual act.  Mark doesn't tell us anything about the woman's character.  They may also be merging this story with a different story in Luke 7 where a woman whom we're told is "a sinner," anoints and cries on Jesus feet, only to dry them with her hair.  She, too, is demonized as a prostitute even though there is nothing in the text to point us in that direction.
And did you catch that Jesus says to the people at Simon's house, "wherever the good news is proclaimed in the whole world, what she has done will be told in remembrance of her"?  This act will be told in remembrance of her – and we have no idea what her name is.
The Christian church may not be responsible for creating patriarchy, but we are responsible for perpetuating it, for codifying it.  We do that with the stories we tell that we don't challenge.  We do it with the way we translate texts.  We do it with the assumptions and interpretations we make.
And we codified patriarchy in the 494 when Pope Gelasius I banned women from even participating in the celebration of the Eucharist.[3]  The ban on the ordination of women probably begun before that.  It wasn't until after the Reformation that women started being ordained (again).  Here in the United States, it began with the ordination by the Congregational Church of Antoinette Brown in 1853.  The Christian church suffered without the ordained leadership of women for at least 1300 years, and probably longer.  Why?  Because we codified patriarchy into our way of being church.
And this is stunningly confounding to me.  For me, "Christmas is not the birth of an alpha male who plays by the old set of patriarchal rules, but rather, it is the celebration of the omega male:  the model of a new humanity for both women and men.  The way of Christ, as [I] understand it, is not a way of eye-for-eye revenge, but a way of nonviolent resistance, forgiveness, and reconciliation.  It is not a way of domination, but service.  It is not a way of leading through displays of physical, sexual, or financial prowess, but through displays of love, joy, peace, patience, kindness, gentleness, faithfulness, goodness, and self-control."[4]
"Although he frequently refers to God as Father, I believe Jesus is a deconstructor of patriarchy, not a defender.  Consider:  His fatherly metaphor decenters the dominant kingly metaphor of his day, toning down kingly patriarchy to familial patriarchy.  The familial patriarchy of his parables and aphorisms (If you, being evil, know how to give good gifts to your children, how much more …?) emphasizes kindness, compassion, and love, not power, domination, punishment, and revenge.  He exposes the inherent dishonesty of patriarchy with powerful political insight when he says, 'Call no one Lord … Call no one Father.' (Matthew 23)  He turns patriarchy upside down and inside out when he washes his disciples' feet.  Peter's negative reaction can be seen as Peter's (and the church's?) resistance to Jesus' radical rejection of patriarchy.  … Jesus' self-giving on the cross is the most powerful rejection of patriarchy imaginable.  Instead of seizing and holding power by killing others, Jesus lays down his life and offers his broken, torn body as a life-giving gift … Jesus is, we might say, the anti-Caesar, the antithesis of patriarchy."[5]
May we help the church universal find ways to de-codify patriarchy and to more closely follow the way of Jesus.
Amen.
____________
Questions for Reflection:
How aware are you of impact and affect of patriarchy in everyday life?
When have you been a co-conspirator with patriarchy's destructive powers?
How does your image of God support or oppose patriarchy?
____________
[1] See my sermon, "The Church's Role in Normalizing Racism," Jeff's Jottings, https://jeffsjottings.wordpress.com/2017/03/05/the-churchs-role-in-normalizing-racism/ (preached 5 March 2017).
[2] This is from the Revised Standard Version.  I use this version because when I re-punctuate it below, I don't have to change any of the words.  Because of the way translating works, I would have to change some of the words if I used a different translation.
[3] "Ordination of women," Wikipedia, https://en.wikipedia.org/wiki/Ordination_of_women (accessed 20 January 2018).
[4] Post by Brian McLaren on Facebook, https://www.facebook.com/mclaren.brian/posts/10155976325702990, 27 November 2017.
[5] Ibid.
A sermon preached at Niles Discovery Church, Fremont, California,
on Sunday, January 7, 2018, by the Rev. Jeffrey Spencer.
Scriptures:  Matthew 2:13-23 and Psalm 137:1-6
Copyright © 2018 by Jeffrey S. Spencer
With today's reading, we come to the end of the overture to Matthew's gospel.  He's been setting up the themes that will run through his gospel.  He's set scenes and told stories to get us thinking about Jesus as the new David, as the promised Messiah, and as the fulfillment of prophecy.
In other places in his overture and here to today's reading, he's inviting us to think of Jesus as the new Moses.
If you read the beginning of Exodus, you'll see that Moses was born at a time when Pharaoh (the Egyptian emperor) was seeking to kill all the newborn Hebrew boys, but through cunning and non-cooperation with the powers that be, Moses survived.  And when he grew up, Moses led his people out of Egyptian bondage into freedom.
Matthew tells us that in reaction to hearing the news of the birth of Jesus and interpreting that birth to be a threat to his rulership, Herod tries to have Jesus killed and ends up killing all the toddlers and infants in and around Bethlehem.  Jesus is born and threatened with death from Herod.  And when he grows up, Jesus will lead his people, us, out of bondage into freedom.
People have noted that this story of the slaughter of the innocents is in keeping with Herod's suspicious (if not downright paranoid) character.  I think this points to Matthew writing a realistic story, but there is no archeological evidence that this is an historic event.  No, Matthew isn't writing history; he's introducing themes.  And one of the theme here is that Jesus is even greater than the great Moses.  Later in the gospel, for instance, we will read about Jesus going up on a mountain and sharing his beatitudes, evoking and supplanting Moses' trip up the mountain to receive the ten commandments.
Marcus Borg and John Dominic Crossan point out one more Moses reference, but with a twist, that Matthew makes in this story:  "Escape for Moses is from Egypt, but for Jesus it is to Egypt.  The place of past doom and death for Moses had become the place of refuge and life for Jesus."[1]
Another theme that plays out in this story in one I mentioned last week:  The Roman-appointed Herod seeks to kill Jesus in this story.  This theme of the principalities and powers seeking to kill Jesus will play again and again in the gospel.  And the theme will reach a climax when the Roman-appointed governor, Pilate, succeeds in killing Jesus.  Borg and Crossan put it this way:  "The clash between Jesus the Messiah and Caesar Augustus the emperor started right from the birth of Jesus."[2]
"Though his [birth narrative overture] sounds the theme of fulfillment, its emotional tone is ominous.  Driven and dominated by Herod's plot to kill Jesus, it is dark and foreboding.  It speaks of the murderous resistance of the rulers of this world to the coming of the kingdom of God.…  What is hoped for … is very different from the way things are and points forward to the conflict that will be engendered by Jesus's public activity.…  Christmas brings joy and conflict.  It did so then, and it does so now."[3]
To be sure, as a child I focused on the joy of Christmas.  My parents tried hard to hide the themes of conflict in the Christmas story, as (I suspect) their parents did for them.  It has been as an adult that I have become aware of the conflict Christmas brings, that Jesus brings.  Jesus upsets the social order – then and now.
We hide the conflict Christmas brings in the paintings we choose to see and in nativity scenes we set up in our living rooms.  We don't want to see the conflict.  Can you imagine getting a Christmas card with "Scene of the massacre of the Innocents," the image on your announcement folders, on it?
This must be one of the most haunting Christmas paintings ever.  "A terrified mother cowers in a darkened corner, muffling the cries of her small infant, while around her the chaos and horror of Herod's slaughter of the children of Bethlehem rages."[4]  Rather than painting the bloodshed, the artist focuses our attention on one person, a mother who fears she is about to lose her child.  Her arms envelop the child.  The mother's feet are bare, as the child may be, revealing how vulnerable they are.  There is nowhere to run to.  She is cornered.
In the background, we see people fleeing.  A woman carries her children, one under each arm, rushing down the stairs, running for their lives.  A man – is he covering his eyes so he doesn't have to witness the carnage, or is the trying to protect himself?  A soldier grabs a woman's shoulder as she turns from him to move her baby further away.  And is that small figure in midair with only the wall as a background a baby being thrown to their death?
These figures are in the background and washed out, out of focus, drawing our attention to the woman cowering in the corner, to her face, as she looks out.  As she stares out – at us.  What is she saying to you?
This painting brings up a conflict I have with Matthew's story.  I am grateful for the angel's intervention in the story.  Three times, Matthew tells us, angels came to Joseph in dreams to tell him where he should be living.  First, there is a dream telling Joseph to take his family out of the country to escape Herod's plot to kill Jesus.  Years later, an angel comes in a dream to let Joseph know that Herod the Great is dead and that they can return to their home country.  But when they return and find that one of Herod's son is ruling much of the country, an angel advises Joseph in a third dream to move to Galilee and they settle in Nazareth.
How nice of the angels to make sure Jesus survives.  But what about the other families in Bethlehem?  What about the woman in the painting and her child?  Why do some people escape the mayhem in their own countries and find refuge in other countries, while other families remain and suffer?  And what about when the refuge they find is its own kind of hell?
On Christmas Eve, I talked about the Moria refugee camp on the Island of Lesbos in Greece.  Writing in The New York Times, Stephanie Saldaña describes the camp.  It is a space designed for 2,330 people.  More than 6,000 souls (over two-and-a-half times as many people as it was designed for) fleeing the world's most violent conflicts – in Syria, Iraq, Afghanistan, Yemen and the Democratic Republic of Congo – are crowded into the space.
"The scene is grim:  piles of trash, barbed wire, children wailing, rows of cheap summer tents with entire families crammed inside and fights regularly breaking out on the camp's periphery.  The stench is overwhelming.…
"Moria opened as a 'hot spot,' or refugee processing center, in 2015, a year in which more than a million refugees streamed into Europe.  Lay the blame for the squalid conditions in the camp on the 2016 European Union-Turkey agreement, struck to discourage refugees from taking the sea route to Europe.  Those who arrive on the Greek islands now must wait to be processed by the European Union before proceeding to the mainland.  The wait can be months, with no guarantee that requests for asylum will be granted.  The combination of waiting, uncertainty, overcrowding and unlivable conditions has created what appears to be an intentional epidemic of despair, meant to dissuade refugees from seeing Europe as a haven.…"[5]
While we may call Jesus Emmanuel, God with us, the Prince of Peace, we forget that his other titles, like King of kings and Lord of lords, carry with them the seeds of conflict.  And even though we call his family "Holy," we forget that other titles are just as appropriate:  Impoverished.  Peasants.  Homeless (according to Luke's version of the Christmas story).  Refugees (according to Matthew's version of the story).
Back in September, Diana Butler Bass wrote an amazing Twitter thread about refugees and immigrants:  "The whole biblical tradition is about immigration, about the movement of people from one home to another.  Adam and Eve leave Eden and have to make home and family in a place they never intended.  The first story of the Bible is a story of exile and finding home.  And so it continues.
"Noah and his family flee the flood, survive, and build a new home.
"God calls Abraham and Sarah out from their home.  The founder of the three great faiths left Ur to find a home with God.  In this story, hospitality emerges as the most important virtue of faith.  Welcoming the stranger is like welcoming God.  Judaism, Christianity, and Islam teach that human beings are all wanderers, exiles and aliens.  Thus, we welcome as we dream of being welcomed.
"Jacob was an exile who returned to reconcile with his brother.
"Joseph went unwillingly to Egypt, eventually leading God's people to a rich and abundant land.
"In Egypt, the Hebrew immigrants prospered.  But they were so successful that they scared Pharaoh and he made them slaves.  Moses set them free and led them back to the land of Israel.  Exiles back to their home.
"The history following was one of constant movement, of settlement, exile, immigration, return.
"The New Testament opens with two stories of movement.  Mary and Joseph must leave their town and register in a government census [as Luke tells the story].  Thus, Jesus was born away from home.  [And Matthew tells us that,] as a result of a prophecy, Herod seeks to kill [Jesus].  Mary, Joseph, and baby flee to Egypt to escape, not to return for years.
"Jesus first instruction to his disciples is not 'believe in me.'  But it is 'Follow me.'  Because faith is a life of being an immigrant, homeless to find a home in God.  And that's exactly how the early church lived.  They left Jerusalem and went to Judea and out into the whole Roman world.
"The Bible is a document of immigrants, itinerants, exiles, strangers, and sojourners of all sorts.  And that's why we are all Dreamers.  We dream of being settled in grace, in the love and full embrace of God.  We dream of a world where all exiles find home, where all strangers rest in peace, comfort, and joy.  We dream of the time where we all plant vine and fig tree, where milk and honey flow.  We dream of no boundaries that create war and division.  We dream of swords beaten into plowshares.  We dream God's dream.
"If you are in the family of biblical faith, you are a dreamer.  Like Adam, Eve, Abraham, Sarah, Hagar, the patriarchs, matriarchs, prophets, followers, disciples, and lovers of God through time.  A vast human family of exiles [and refugees], seeking and finding, offering hospitality, and caring for all on the journey.  Keep dreaming.  Always.  For it is a biblical dream, one that is the very center of the human drama of creation, redemption, and joy.
"And hospitality, being both guests and hosts, must be practiced that this dream manifests in the world.  Without hospitality – welcoming the stranger – movement of peoples results in colonization, exclusion, and violence.  The Biblical dream turns to nightmare without that practice of welcome, of sharing table, of food and gifts.
"So, dream.  Live graciously as sojourner and live generously as citizen.  Practice hospitality.  Love one another."[6]
Amen.
____________
Questions for Reflection:
What is the woman in Léon Cogniet's painting saying to you?
In what ways are you a refugee?
In what ways can you offer hospitality to the displaced?
What part of God's dream are you called to make real?
____________
[1] Marcus Borg and John Dominic Crossan, The First Christmas (New York: HarperOne, 2007), 145.
[2] Ibid, 138.
[3] First Christmas quoted by The Marcus J. Borg Foundation Facebook page, https://www.facebook.com/MarcusJBorgFoundation/posts/1617274701663960, posted and accessed 28 December 2017).
[4] Michael Frost, "Is this the greatest Christmas painting of all time?" Mike Frost, http://mikefrost.net/greatest-christmas-painting-time/ (posted 22 December 2017; accessed 2 January 2018).
[5] Stephanie Saldaña, "Where Jesus Would Spend Christmas," The New York Times, https://www.nytimes.com/2017/12/22/opinion/christmas-jesus-refugee-crisis.html (posted 22 December 2017; accessed 23 December 2017).
[6] Diana Butler Bass, Twitter, https://twitter.com/dianabutlerbass (posted and accessed 7 September 2017); I have done some minor editing, for instance, adding Oxford commas, changing ampersands to the word "and," and changing all-caps words into italics.