You are currently browsing the category archive for the 'sexism' category.
What follows is a lengthy report, which, honestly, I would have made shorter if I could have figured out how.
Assembly and Synod – background
Both the Christian Church (Disciples of Christ) and the United Church of Christ (which are commonly abbreviated as DOC and UCC respectively) are covenantally based; each congregation has autonomy to govern their own affairs and all the congregations live in covenant with the other congregations and expressions of the denominations. In the DOC, congregations are grouped geographically into Regions (we're part of the Christian Church in Northern California-Nevada). In the UCC, congregations are grouped geographically into Associations (we're part of the Bay Association) and the Associations are grouped geographically into Conferences (we're part of the Northern California-Nevada Conference).
Both denominations have denomination-wide ministries. In the DOC there are the National Benevolent Association (that's right, the NBA), Disciples Home Mission, the Council for Christian Unity, and the Division of Oversea Ministries/Global Ministries (to name just four of the at least fifteen General Ministries of the denomination. In the UCC there are Local Church Ministries, Justice and Witness Ministries, and Wider Church Ministries/Global Ministries (to name just three of the six National Settings of the denomination).
We are a part of the regional and general ministries of our denominations both because of our congregation's covenant to be part of the denominations and because of our financial support of these ministries through our annual budget.
I spent the first two weeks of July attending the national/international gatherings of our two denominations. For the UCC, it is a national gathering because our churches are all within the USA. For the DOC, it's an international gathering because we have congregations in both Canada and the USA. There aren't very many DOC congregations in Canada so, sadly, much of the language used at the meeting tended to forget about them.
These meetings happen every two years on the odd numbered years. The UCC's gathering is called General Synod and the DOC's gathering is called General Assembly. Delegates to the UCC's General Synod are selected by Conferences; I attended General Synod as a "visitor" and got to participate in banquets, worship, and workshops, but I didn't get a voice or a vote on the resolutions that came before the Synod. Delegates to the DOC's General Assembly are potentially all the pastors in the DOC plus delegates selected by congregations (typically two per congregation). We could have sent four delegates (me, Pastor Brenda, and two church members), but I was the only person representing the congregation at General Assembly.
Synod and Assembly – themes
General Synod was held in Baltimore and happened first. The theme for General Synod was "Make Glad," based on a verse from Psalm 46. Psalm 46 is a scripture that is very meaningful to me and I will be preaching on it on August 20 when we mark the thirtieth anniversary of my ordination.
It seems to me that General Synod focuses primarily on the resolutions they consider. The whole resolution process is very involved. The resolutions typically come from Conferences or ministries in the national settings of the church. Then they are assigned to committees randomly made up of delegates from across the UCC. The committee can modify the resolution, wordsmithing it, hopefully improving it, and (in some cases) combining it with other similar resolutions that come to Synod. Once the committee has modified the resolution, it is presented to the whole Synod, where it is debated, potentially further amended, and voted on. It's quite an involved process and it means that the schedule is different every day.
There are some workshops that are offered. I attended one where the Disciple of Christ minister the Rev. Dr. William Barber, II, spoke. Actually, I'm not sure Dr. Barber knows how to give a speech; he knows how to preach. He also spoke (I mean preached) at a Gala that night. It was one of two amazing sermons I heard at Synod. Dr. Barber is helping to organize a new, nationwide Poor People's Campaign here on the fiftieth anniversary of the original Poor People's Campaign organized by the Rev. Dr. Martin Luther King, Jr. I will be preaching about this new Poor People's Campaign in September.
Another highlight of Synod was a keynote conversation with Glennon Doyle, an author and the founder of Momastery, an online community where millions of readers meet each week to experience her shameless and laugh-out-loud funny essays about faith, freedom, addiction, recovery, motherhood and serving the marginalized. To be honest, I had low expectations, but Glennon was engaging, witty, and insightful. She has a YouTube channel (https://www.youtube.com/user/glennonmelton) that you might want to check out.
General Assembly was held in Indianapolis. The theme for this General Assembly was "One" and the focus scripture was John 17:20-21, a line from the lengthy prayer Jesus prays in the Gospel of John before his arrest and crucifixion. "I ask not only on behalf of these [the disciples], but also on behalf of those who will believe in me through their word, that they may all be one. As you, Father, are in me and I am in you, may they also be in us, so that the world may believe that you have sent me." Some of you may recognize that the official motto of the UCC comes from these two verses: "That they may all be one." I was amused that it was the DOC that was focusing on this verse.
The really big thing that happened at General Assembly was the election of a new General Minister and President. Sharon Watkins completed two six-year terms so it was time for someone new. We elected Teresa "Terri" Hord Owens as the new GMP. Terri is the first African American woman to take a leadership role like this in an historically mainline church in the USA. She may even be the first African American woman to take leadership of any denomination in the USA. I think her election points to the strides the DOC has made in addressing racism within the denomination and how the General Assembly's theme, 'One,' is being lived out in the church.
Assembly has a higher emphasis on education and worship than does Synod (at least that's my experience) and maybe that's why there seem to be more visitors at Assembly. Instead of spending so much time on wordsmithing resolutions, the Assembly either says, "Yes, this is the sense of the Assembly" or "No, this isn't the sense of the Assembly" or "This needs more work before we will vote on it." This allows the Assembly to talk about the issues rather than the wording, but I still noticed a lack of voices of opposition to issues being discussed. One of the issues we discussed was how to include more voices in the discussions about the issues, both before Assembly within local churches and during Assembly. No decisions were made, but it is something that the DOC is seeking to do. And it is a reminder to me that we need to find creative ways to make sure all voices are heard when the church (in all its settings) seeks to understand God's will and call.
Synod and Assembly – Resolutions
I guess it's not surprising that similar issues came before both the Synod and the Assembly. Both gatherings adopted resolutions calling both the church and the nation to grow in our welcome of immigrants. Both bodies adopted resolutions condemning Israel for its treatment of Palestinian juveniles arrested in the occupied territories. Both bodies made amendments to their organizing documents (the Constitution and Bylaws in the case of the UCC and the Design in the case of the DOC); the amendments to the UCC's Constitution still need to be ratified by the Conferences.
Both the Synod and the Assembly adopted resolutions on climate change, though their foci were different. The Synod resolution focused on the prophetic role of the church in addressing climate change. In addition to calling on the church to continue learning about and advocating for policies that address climate change, the Assembly resolution calls for members, congregations, and ministries of the denomination to become carbon neutral by 2030 and carbon positive by 2035. This is a bold invitation and I hope we will take it seriously. I think our biggest challenge as a congregation will be figuring out how to make up for the carbon we release by burning natural gas to heat the church.
The Assembly adopted the resolution endorsed by our congregation, repudiating the Doctrine of Discovery. I spoke in favor of this resolution, telling the Assembly of your endorsement of it. The UCC had adopted a repudiation a few Synods ago. The Synod adopted a resolution on the economy that calls for a $15 per hour minimum wage.
The Synod adopted a resolution that will change the way some of our denominational ministries do fundraising. I am not yet clear on the implications of this resolution for our congregation. It will be interesting to see how it is lived out. Meanwhile, the Assembly received and commended to the congregations a study document on "Stewardship as a Spiritual Discipline," a document I hope we will engage with in the coming biennium.
Synod and Assembly – the non-meeting (the really good) stuff
While I'm always fascinated by the process of writing, (in the case of the UCC) amending, discussing, and voting on resolutions, they are not the only important thing that happens at these events for me. The most important thing for me is the sense of connection attending brings me. I am reminded how we, our congregation and each of us, are part of something bigger. I get to hear stories about what's happening at other churches, what's going well and what they're struggling with. I am reminded that we are not alone.
I also treasure the opportunity to hear great preaching. Sometimes this happens at the formal worship services. Sometimes this happens at banquets and rallies. Banquets may be too strong a word. Eating cafeteria scrambled eggs off of plastic plates (yeah, I'll be complaining about the plastic plates) at 7:00 in the morning is hard to think of as a banquet. Still, it is worth going because you never know what you'll learn. Two of the best sermons I heard were at breakfast banquets. And even when there isn't a great preacher, the banquets are interesting. They are sponsored by one or two of the ministries or special interest groups of the denominations and they are one of the best ways to network with people in the denominations who are passionate about those issues and ministries.
I got to hear the Rev. Traci Blackmon (who was elected one of the executive ministers of the UCC at Synod) preach at both gatherings. Her sermon at General Synod was built around an image that I may well use sometime in the future. Her sermon at General Assembly (at a breakfast meeting, really) is making me rethink protesting and nonviolent tactics. And as I mentioned earlier, I got to hear the Rev. Dr. William Barber, II, a few times at the meetings. Every time he spoke about a resolution being considered by the General Assembly (and I think he did three times), the whole assembly knew they had heard the word of God.
If you would like to see photos from General Synod, check out bit.ly/2uH94NR. I'm not aware of a central gathering of photos from General Assembly, but if you do a photo search on Facebook for #docweareone or search for that hashtag on Twitter, you'll find some.
SaveSave
SaveSave
A sermon preached at Niles Discovery Church, Fremont, California,
on Sunday, May 21, 2017, by the Rev. Jeffrey Spencer.
Scriptures:  John 6:35-40 and John 15:1-11
Copyright © 2017 by Jeffrey S. Spencer
Of the many images for God used in the Bible, the image of bread and vine is one – perhaps the one – I can most relate to.  God as shepherd – I know someone up in Washington who has a herd of sheep, but she didn't get them until after I moved to Fremont and we've never talked about them.  God as king – Queen Elizabeth is the most prominent monarch in my mind, and she's more of a figurehead then a ruler, so that image seems a little hollow.  But God as bread and vine – that I can relate to.  Especially the bread part.
When I was a kid, there was one particular brand of bread that we bought:  Arnold's Brick Oven white bread.  The only time my mother would buy Wonder bread was if she decided to let us eat fluffernutters – which is a type of sandwich that proves I grew up in New England.  Because my mom didn't drive and we were a family of six, my mother went to the grocery store almost every day – or she sent one of us kids.  I suppose it was because I was sometimes responsible for bringing home the right brand of bread that I remember what it was.
I also remember when whole wheat bread just started getting some buzz.  My mother thought that maybe we should switch breads, but my father (I think jokingly) insisted that the reason whole wheat bread was brown is that they used the flour they had swept up from the floor.
"White bread has an interesting history.  For centuries, people have been striving to produce ever whiter flour and ever whiter loaves.  This is a story of cultural preference and symbolism, and it is also a story of technology.  According to food activist and writer Michael Pollan, 'The prestige of white flour is ancient and has several sources, some practical, others sentimental.  Whiteness has always symbolized cleanness, and … the whiteness of flour symbolized its purity.'  For centuries, white flour was hard to obtain; only the rich could afford white bread.  But in the middle of the nineteenth century, roller milling – in which millstones were replaced with metal or porcelain drums that were arranged to grind the flour more finely – made white flour inexpensive, readily available, 'and whiter than it had ever been.'  So even people of modest means began to buy porcelain-white flour and bake pretty white loaves in their ovens.
"Within a few decades, further technological innovation – developments in 'microbiology, cereal chemistry, climate control, and industrial design' – had again reshaped people's daily bread:  in 1890, 90 percent of bread eaten in the United States was made by women at home; by 1930, 90 percent of America's bread 'was baked outside the home by men in increasingly distant factories.'  In a study called White Bread: A Social History of the Store-Bought Loaf, Aaron Bobrow-Strain suggests that the appeal of 'modern bread' – industrial white bread – went beyond convenience.  People loved the 'streamline' look of company-baked bread.  When the first automatically sliced bread was sold in the United States (in the summer of 1928, in Chillicothe, Missouri), a reporter wrote, 'The housewife can well experience a thrill of pleasure when she first sees a loaf of this bread with each slice the exact counterpart of its fellows.  So near and precise are the slices, and so definitely better than anyone could possibly slice by hand with a bread knife that one realizes instantly that here is a refinement that will receive a hearty and permanent welcome.'  The guaranteed perfection of a store-bought loaf appealed to an America in love with science and captive to fantasies of scientific perfection.  The Ladies' Home Journal wrote in 1923 that in contrast to the housewife who baked by guesswork and was likely to produce the occasionally underdone or misshapen loaf, 'modern inventions have made an exact science of baking, and there is no reason whatever for failure.'
"Americans loved the bread's predictable uniformity, and they loved its whiteness.  Echoing Pollan, Bobrow-Strain argues that white bread 'had long stood as a symbol of wealth and status – and in America, racial purity,' but in the early twentieth century, Americans' preference for white flour took on still new meanings.  In an era obsessed with hygiene and sanitation the color white came to represent 'scientific control' – all those white lab coats, all those sparkling white kitchen appliances.  Physicians took to the pages of national magazines to urge families, especially immigrant families and poor families, to whitewash their walls; dark walls would camouflage dirt, but on white walls dirt would, in the words of one pundit-physician, be 'so conspicuous that shame' would 'compel … the Polacks and Hungarians' to clean.…
"So, in short, the history of the lovely white loaf may be found in American's optimistic quest for scientific perfectibility and in American's history of [racism,] shaming immigrants and shaming women."
Lauren Winner concludes, "It seems an odd genealogy for the bread that, week in and week out, Christians name as Jesus.  Jesus, who consorted with shamed women.  Jesus, who is neither orderly nor predictable.  Jesus, who, with his parents, became a migrant to Egypt when his own country turned inhospitable to him.  Jesus, who makes possible our immigration to the Kingdom of God.  Jesus, whose skin is darker than the flour we prize."[1]
Perhaps Jesus is more pumpernickel than sourdough.  Rather than the modern white loaf, perhaps Jesus is a misshapen, burnt around the edges, under-baked-in-the-middle, hand-made loaf of bread.
"In calling Himself 'the bread of life' – and not, say crème caramel or caviar – Jesus is identifying with basic food, with sustenance, with the food that, for centuries afterward, would figure in the protest efforts of poor and marginalized people.  No one holds caviar riots; people riot for bread.  So to speak of God as bread is to speak of God's most elemental provision for us.
"Especially for people who have lived with hunger, this is a powerful, palpable image.  But I admit that it is a biblical metaphor at which I sometimes find myself staring blankly.  I have never been hungry for more than thirty-five minutes, and, though I always need to be nourished, I rarely notice this need, and I rarely credit God with my nourishment (more often I either take my nourishment for granted or credit myself – my labors, which provide the money to buy the food …).  So for me (and maybe for you), the image of bread as provision can be a bit of a corrective, showing me how insensible to my dependence on God I really am.  But instructing me in my hunger is not all this image can do.  Bread is basic food, but bread nonetheless contains meanings beyond sustenance."[2]
And there is something sweet (pun intended) about imaging God not just as bread, but as toast with strawberry jam.  God as the potato bread of the grilled cheese sandwich I dip into the tomato soup on a cold, rainy, winter day.  God as the chocolate tea bread my goddaughter's mother served at my goddaughter's tea party when she was three.  God is not just provision; God is delight.  God is not just necessity; God is enjoyment.  God is not just sustenance; God is pleasure.[3]
Winner writes, "In the Middle Ages, several female mystics compare the soul in union with God to bread that soaks up – and grows engorged with – honey or mead.…  Jesus means for us to see bread as a metonym for Him, for His body, for His nearness."[4]  These sentences sent me scurrying off to a dictionary – well, to Google – to find out what a "metonym" is.  A metonym is "a word, name, or expression used as a substitute for something else with which it is closely associated.  For example, Washington is a metonym for the federal government of the US."[5]  So Jesus means for us to hear "bread" as a word that substitutes for him, for his body, for his nearness.
Winner goes on:  "The mystics' prayers would suggest that our own bodies, too, are metonymed as bread, bread that expands with Jesus when we draw close to Him."[6]  We are the bread, dipped, not into any old honey, but dipped into the honey of life.  Our lives are expanded and sweetened by our relationship with Jesus, by our union with Jesus.
"This is a reverse Communion image.  Usually, at Communion, we draw near to God by opening our hands to receive a crumb of bread."[7]  In this image, we draw near to God and find God's hand opened to us.  And we place into God's hand the crumbs of our pain, our fear, our grief, knowing they soak in God's sweetness.
"'Who will enable me to find rest in you?  Who will grant me that you come to my heart and intoxicate it, so that I forget my evils and embrace my one and only good, yourself?'  So prayed Augustine at the beginning of his Confessions.  His plea that God intoxicate his heart is a good reminder that our defining meal as Christians doesn't just include bread," but also the juice of the vine.[8]  Jesus identifies himself as the vine, God as the vinedresser, and his own blood as that which is pressed from the fruit of the vine.
Jesus wasn't the first to use this vineyard imagery.  Centuries earlier, the prophets used vine and vineyard imagery to describe life with God.  "God has brought the vines out of Egypt, cleared the ground, planted the vines, and watched over them."[9]  But the fruit these rescued vines produce is not always good.  Injustice and idolatry lead to a clearing of the vineyard, Isaiah says.  God's desire for the vineyard has always been righteousness and justice.
I think it's safe to assume that the original people for whom John wrote his gospel would have been familiar with this prophetic imagery.  "They would have known that they were the vines, and God was the vinedresser who cleared the field and tended it.…"[10]
"Usually we hear in Jesus's identification of Himself as vine a statement of our dependence on Him, and an instruction about what we need to thrive – if we abide in Jesus, we will have life; if we try to separate ourselves from Jesus, we will not.  But perhaps Jesus the true vine tells us about something beyond our reliance on God.  Perhaps the image also tells us about the perils of incarnation.  It is as if Jesus studied the Hebrew scriptures and found the most precarious depiction of humanity He could, and said, 'That is who I am:  I am allying with humanity when it is most endangered.'  When I am producing bad fruit and farthest from God's pleasure, Jesus is already in that place.  It is not alien to Him, and I am not alone."[11]
I don't want to ignore or in any way diminish the seriousness of the excessive use or abuse of alcohol or the addiction to alcohol, but I do want to return to Augustine's prayer.  "Perhaps," Winner writes, "if I receive Jesus as wine, I would know divine intoxication again.  (Would it be bearable?  Just as being drunk [on love] seems to interfere with what I think I am supposed to do in a given day, or a given life, surely being intoxicated with Jesus would, too.)  I get hints of divine intoxication now and again – quick flashes in prayer once or twice a year.  Perhaps at the heavenly banquet, we will find good, true inebriation, excess that is somehow not unsafe.  Or excess in a place where safety is no longer a concern; excess in a place where, since everything has been reordered for and by God, there is no other order, no other program, for divine intoxication to disrupt.
"In the Bible, men and women observing others caught up in intense devotion to God tended to mistake those people … as drunk:  Hannah was 'pouring out [her] soul to the Lord,' beseeching the Lord for a child, and a priest who happened upon her thought she was blotto; those observing the apostles, newly filled with the Holy Spirit on Pentecost, made the same charge."[12]
Of course, one of the side effects of getting drunk is the hangover.  And because I do not live in constant ecstatic connection with God, I sometimes fear the after-effects.  Perhaps this might be one case where partaking of the hair of the dog might actually be good for you.
"I am the bread of life."  The bread of life is provision and delight, necessity and enjoyment, sustenance and pleasure.  And we, too, are bread, invited to dip ourselves into the sweetness of God that we may absorb all that goodness.
"I am the true vine."  We are dependent on God to help us produce good fruit in our lives.  And we are invited to drink of the fruit of the vine that we might be intoxicated with the love of God.
This is an invitation to feast.
Amen.
[1] Lauren F. Winner, Wearing God, (New York: HarperOne, 2015) 103-107.
[2] Ibid, 93-94.
[3] Ibid, 95.
[4] Ibid, 115.
[5] https://www.google.com/#q=metonym (20 May 2017).
[6] Winner, op. cit., 115-116.
[7] Ibid, 116.
[8] Ibid, 117.
[9] Ibid.
[10] Ibid, 119.
[11] Ibid, 120.
[12] Ibid, 127.
I've had a blog post churning inside me since people took to the sidewalks and street of Berkeley to shut down a scheduled speech by Milo Yiannopoulos at the University of California.
I wondered (before the protests) if the best response would have been to ignore him. If he came to a lecture hall and there was no audience, no newspaper reporter, no TV cameras, that would be the cruelest cut of all. But, a student group invited him so he was going to have some audience. And the things he typically says at these kinds of events are hate-filled (and sexist and Islamophobic and racist [and probably homophobic]) and allowing that kind of speech to go unchallenged can be dangerous, for that kind of speech insights violence. So something had to be done.
The students who wanted the event cancelled were not attempting to violate his freedom of speech. He would still have the right to speak, just as you and I have the right to speak. But you're right to speak does not give you the right so say hateful, hurtful things on my Facebook timeline or in my living room or on my campus home. Go speak somewhere else, Milo, just not here.
So the students who didn't want his hate-filled words spoken on their campus organized to stop them. I am proud of their purpose and I am proud of their success. I am sorry their protests ended up including property damage. I don't think it needed to in order to be successful and, in fact I think it hurt the long-term effectiveness of the progressive agenda of equality and inclusion (the very things Milo opposes).
A colleague and friend points out that the black bloc tacticians are not the only ones we need to be condemning. I have heard nothing about the role of the campus college Republicans in all this. She says, "That seems really important to me," and I agree with her. She goes on, "They invited someone they know incites violence towards women and people of color …" Are them culpable for what happened, too?
There needs to be engagement between the left and the right. We need to talk to one another and truly listen. But we can't have these conversations as if real people aren't being hurt. They are. Let's talk about real people, not just you and me.
There also needs to be better training in nonviolence. And that training has to include how to respond to black bloc infiltrators (and other agents/provocateurs). I spoke with a former State Department employee a few weeks ago, someone who is now an academic expert on Russia. She warned that the danger is not only from anarchists who utilize black bloc tactics. She warned that the extreme right may take a page out of Russia's playbook on the Crimea. Russia paid a woman and helped her move from one city to another to get interviewed on local TV, appearing to be a local little old lady, to say how horrible things were and how Russia was needed. The academic suggested that white nationalists could end up paying some people wearing Democratic Party-identifiable t-shirt to beat someone up (say someone who is African-American) and either hope that someone catches it on their cell phone or pay someone else to catch it on their cell phone and give it to local media (I'm so glad I was there to catch this) in an effort to discredit the Democratic Party.
Another friend described one such strategy to deal with people who would wield property damage as a tactic in what would otherwise be a peaceful protest. "… tell everyone to rapidly grab their neighbor protesters and put themselves physically between the black bloc idiots and whatever they want to destroy. Other protesters recruit help for you, fast, and message the protest leaders so they can respond. Once you have 3-5x more people than the local concentration of black bloc, you perform a 'show of force' — almost but not quite encircling the troublemakers, leaving only 1 exit. That is the direction you want them to go. And weirdly, it almost always works."
Working for justice is a moral duty. We need to learn how to do it effectively.
A sermon preached at Niles Discovery Church, Fremont, California,
on Sunday, January 29, 2017, by the Rev. Jeffrey Spencer.
Scriptures:  Mark 4:1-20 and Mark 4:21-34
Copyright © 2017 by Jeffrey S. Spencer
Who is Jesus to you?
If I call myself a Christian, I am saying that I am a follower of the one who is called the Christ, namely Jesus.  So my answer to the question, "Who is Jesus to you?" will impact how I live my life as a Christian.  If you don't mind me answering, at least to start, in the negative, I would say that I am becoming less and less convinced that Jesus saw himself as the Messiah.  After his death and resurrection, the early church clearly came to see him as the Messiah, but prior to that, I'm leaning toward Jesus not thinking of himself as the Messiah.  And if he didn't think of himself as the Messiah, I suspect he wasn't as eschatologically focused as the gospels make him out to be.  In other words, I don't think Jesus was as concerned about death and the afterlife and the end of time and the final judgment as he is often portrayed as being.  Jesus was much more concerned about this world and this life.
Jesus showed that concern in several ways.  He was a spirit person, someone who was experientially aware of the reality and presence of God.  He showed his concern for this world in his mediation of the sacred to others.  He was a healer.  I talked about this last week, and all I'll add today is that he showed his concern for this world by transforming the lives of people around him.  He was a social prophet, "similar to the classical prophets of ancient Israel.  As such, he criticized the elites (economic, political, and religious) of his time, was an advocate for an alternative social vision, and was often in conflict with authorities."[1]  We will touch on this today and next week.  He "was a movement founder who brought into being a Jewish renewal or revitalization movement that challenged and shattered the social boundaries of his day, a movement that eventually became the early Christian church."[2]  This also will be explored, at least a bit, this week and next.  And he was a teacher – the primary subject of today's sermon.
I suppose that all of these descriptions of Jesus overlap or intersect.  One of the ways he showed he was a spirit person was by healing people.  I don't think you can separate his social prophecy from his becoming a movement founder.  He taught through his healings.  "By healing blindness, for example, Jesus dramatized God's desire to heal our distorted vision of life.  By healing paralysis, he showed how God's reign empowers people who are weak or trapped.…  And by casting out unclean spirits, he conveyed God's commitment to liberate people from occupying and oppressive forces – whether those forces were military, political, economic, social, or personal."[3]
In synagogue gatherings and on hillsides, he gave talks about things theological.  At a dinner party when an uninvited guest showed up and in public places when his critiques tried to catch him with tricky questions, he found teachable moments.  His guerrilla-theater demonstrations (like on Palm Sunday) and his acts of civil disobedience (like chasing money changers from the Temple), provided learning opportunities for people who were paying attention.  "Once he demonstrated an alternative economy based on generosity rather than greed, inspired by a small boy's fish-sandwich donation."[4]
And then there were his parables.
Perhaps it is time for a quiz.  What is greater than God and more evil than the devil, the poor have it, the rich need it, and if you eat it you'll die?  (Answer:  Nothing.)  How about this one:  You threw away the outside and cooked the inside.  Then you ate the outside and threw away the inside.  What did you eat?  (Answer:  An ear of corn.)[5]
John Dominic Crossan points out that one of the primary ways to understand or interpret some of the parables attributed to Jesus in the gospels is to see them as riddles.  He says that when a parable is a riddle narrative, "not only the general story itself, but even its multiple parts each and all point elsewhere.  Such riddle parables are also called allegories."[6]
That is certainly how Mark treats the parable of the sower.  We heard this in our first lesson from Mark.  Jesus tells the story about a farmer who goes to sow some seed and the seed falls in six different kinds of soil.  We usually only notice that there are four kinds of soil – the path, the rocky, the thorny, and the good – but the good really comes in three kinds – soil that produces a thirty-fold crop, soil that produces a sixty-fold crop, and soil that produces a one-hundred-fold crop.  Still, we see a silly farmer, casting seed where even the horticulturally-challenged know it won't produce anything.
But, of course, the parable isn't about horticulture and it isn't about a sower.  The parable, as Mark understands it, is a riddle, an allegory.
Another way to understand and interpret some of the parables of Jesus is to see them as example parables.  Example parables are stories that invite us to go and do (or, in some cases, don't do) likewise.  Aesop's fables fall into this category.
You might remember the story of David and Bathsheba in 2 Samuel.  King David spies this sexy woman taking a bath and decides he wants her for himself.  To do this, he has to get rid of her husband, Uriah, one of his generals.  So David sends Uriah on a suicide mission and he is killed.  God is none too pleased with this and sends the prophet Nathan to David to set him straight.  Would you like that job?  Go and tell the king, who had one of his generals killed, that God is not pleased?  Nathan does this by telling an example parable.
"There were two men in a certain city, the one rich and the other poor.  The rich man had very many flocks and herds; but the poor man had nothing but one little ewe lamb, which he had bought.  He brought it up, and it grew up with him and with his children; it used to eat of his meager fare, and drink from his cup, and lie in his bosom, and it was like a daughter to him.  Now there came a traveler to the rich man, and he was loath to take one of his own flock or herd to prepare for the wayfarer who had come to him, but he took the poor man's lamb, and prepared that for the guest who had come to him." (2 Samuel 12:1-4)
Crossan says, "Although a ruler should always be apprehensive at the approach of a prophet, David walks right into Nathan's parabolic trap:"[7]
Then David's anger was greatly kindled against the man.  He said to Nathan, "As the Lord lives, the man who has done this deserves to die; he shall restore the lamb fourfold, because he did this thing, and because he had no pity."
Nathan said to David, "You are the man!"  (2 Samuel 12:5-7a)
Yes, it's sad that Nathan completely misses how the system promotes the objectification and possession of women, but his story is still a great example of an example parable.
Crossan has also identified a third way to understand and interpret Jesus' parables.  He says that Jesus' parables were challenge parables, at least originally, though they were changed into example parables and riddle parables by the gospel authors.  Challenge parables challenge "us to think, to discuss, to argue, and to decide about meaning."[8]  They challenge us, the hearers, "to step back and reflect on the world and on God in new, counter-intuitive ways.  They invite [us] their hearers to ponder 'whatever is taken totally for granted in our world'."[9]
While I haven't delved very deeply into Crossan's work on parables (yet), I think he is on to something.  I imagine that maybe half of Jesus' parables include the phrase "the kingdom of God" or "the kingdom of heaven" – and this kingdom totally challenges what is taken for granted in our world.  We heard this today in our second reading.  "The Kingdom, something great, is compared to something very tiny: it is like 'a grain of mustard seed.'  Moreover, mustard was a weed, thus, the Kingdom is like a weed.  [In another parable,] The Kingdom is compared to something impure:  it is like a woman (associated with impurity) putting leaven (which was impure) into flour."[10]  And on they go, overturning conventional wisdom.
"[F]or Jesus, the kingdom of heaven wasn't a place we go up to someday; it was a reality we pray to come down here now.  It was at hand, or within reach, today.  To better understand this pregnant term, we have to realized that kingdoms were the dominant social, political, and economic reality of Jesus' day.  Contemporary concepts like nation, state, government, society, economic system, and civilization all resonate in that one word:  kingdom."[11]
Brian McLaren writes, "The kingdom, or empire, of Rome in which Jesus lived and died was a top-down power structure in which the few on top maintained order and control over the many at the bottom.  They did so with a mix of rewards and punishments.  The punishments included imprisonment, banishment, torture, and execution.  And the ultimate form of torture and execution, reserved for rebels who dared to challenge the authority of the regime, was crucifixion.  It was through his crucifixion at the hands of the Roman empire that Jesus did his most radical teaching of all.
"Yes, he taught great truths through signs and wonders, public lectures, impromptu teachings, special retreats and field trips, public demonstrations, and parables.  But when he mounted Rome's most powerful weapon, he taught his most powerful lesson.
"By being crucified, Jesus exposed the heartless violence and illegitimacy of the whole top-down, fear-based dictatorship that nearly everyone assumed was humanity's best and only option.  He demonstrated the revolutionary truth that God's kingdom wins, not through shedding the blood of its enemies, but through gracious self-giving on behalf of its enemies.  He taught that God's kingdom grows through apparent weakness rather than conquest.  It expands through reconciliation rather than humiliation and intimidation.  It triumphs through a willingness to suffer rather than a readiness to inflict suffering.  In short, on the cross Jesus demonstrated God's nonviolent noncompliance with the world's brutal powers-that-be.  He showed God to be a different kind of king, and God's kingdom to be a different kind of kingdom."[12]
When Martin Luther King, Jr., talked about the "Beloved Community," I think he was talking about the kingdom of God.  The King Center explains it this way:  "Dr. King's Beloved Community is a global vision, in which all people can share in the wealth of the earth.  In the Beloved Community, poverty, hunger and homelessness will not be tolerated because international standards of human decency will not allow it.  Racism and all forms of discrimination, bigotry and prejudice will be replaced by an all-inclusive spirit of sisterhood and brotherhood.  In the Beloved Community, international disputes will be resolved by peaceful conflict-resolution and reconciliation of adversaries, instead of military power.  Love and trust will triumph over fear and hatred. Peace with justice will prevail over war and military conflict."[13]
As lofty and utopian as this may sound, when King talked about the Beloved Community, he wasn't talking about something found only in the great beyond.  He was talking about something attainable, something that is at hand.  "The Beloved Community was for him a realistic, achievable goal that could be attained by a critical mass of people committed to and trained in the philosophy and methods of nonviolence."[14]
We have seen in the past few weeks how our nation has moved away from the Beloved Community.  Most recently, the ban on refugees and immigrants and visitors from a handful of nations that are Muslim-majority is an example.  People with valid visas and green-cards are being detained at the border.  This is empire action that is completely contrary to the values of the Beloved Community, contrary to the values of the kingdom of God.  And that is why people have taken to the sidewalks and airport terminals – to help our country move in the direction of the Beloved Community, not away.
We still need Jesus the teacher.  We need to pay attention to his actions and his words.  We need to follow him toward the kingdom of God, the Beloved Community, the way of living and being in community that challenges the most basic values of the powers that be.
As we move into our time of quiet, I invite you to reflect …
… on anything from the scripture readings or sermon that caught your attention; or
… on the memory of one of the most important teachers in your life and what made him or her so significant; or
… how you might translate or reinterpret the term "kingdom of God;" or
… how the "kingdom of God" is coming in your life, your family, your community.
[1] Marcus Borg, Meeting Jesus Again for the First Time, (New York: HarperCollins, 1994). 30.
[2] Ibid.
[3] Brian McLaren, We Make the Road by Walking [Kindle version], chapter 22, page 101. Retrieved from amazon.com.
[4] Ibid, 102.
[5] These two riddles are from Mike Page, "Classic Riddles 1-100," Savage Legend, https://savagelegend.com/misc-resources/classic-riddles-1-100/ (accessed 28 January 2017).
[6] John Dominic Crossan, The Power of Parable: How Fiction by Jesus Became Fiction about Jesus, (New York:  HarperCollins, 2012), 18.
[7] Ibid, 35.
[8] Ibid, 47.
[9] Greg Carey, "Crossan on Parables and Gospels," The Huffington Post, http://www.huffingtonpost.com/greg-carey/dont-fear-this-book-cross_b_1417435.html (posted 16 April 2012; accessed 28 January 2017).
[10] Borg, op. cit., 80.
[11] McLaren, op. cit., page 103.
[12] Ibid, 103-104.
[13] "The King Philosophy," The King Center, http://www.thekingcenter.org/king-philosophy#sub4 (accessed 28 January 2017).
[14] Ibid.
A sermon preached at Niles Discovery Church, Fremont, California,
on Sunday, January 1, 2017, by the Rev. Jeffrey Spencer.
Scriptures: Revelation 21:1-6a and Psalm 8
Copyright © 2017 by Jeffrey S. Spencer
I've enjoyed some of the things that have been posted this past week on Facebook about New Year's resolutions.
I'd like to do a quick poll: How many of you make New Year's resolutions? I don't tend to. Why set myself up for failure?
I've done some reading about New Year's resolutions and what makes them effective. One author[1] includes this advice:
Begin with the end in mind. In other words, know why you're making the resolution. This is important advice for any planning. Know your why. In fact, this is such an important point, I want to share a video clip about it.
This author also suggests:
Make SMART resolutions: Specific, Measureable, Attainable, Realistic, and Trackable.
Have a plan that is incremental. In other words, know what you need to do today to fulfill your resolution.
Celebrate you accomplishments along the way.
Limit your number of resolutions. This is needed to keep you focused. If you have too many resolutions, you can end up not knowing where to begin or which resolution should get your attention.
Share your resolutions with someone(s) to help build support in your efforts.
Let yourself adjust your resolutions to respond to changes in circumstances. As a friend of mine is fond of saying, "Life happens."
It seems to me that this advice is as applicable to congregational strategic planning as it is to New Year's resolutions. And I'd start with the same first piece of advice for congregational planning: know your why. Our congregation's why, informally stated, is to share God's love with everyone, no exceptions; to grow in our relationships with God; and to serve you neighbors near and far.
Stanley Hauerwas, American theologian, ethicist, and intellectual, put it more boldly: "We would like a church that again asserts that God, not nations, rules the world, that the boundaries of God's kingdom transcend those of Caesar, and that the main political task of the church is the formation of people who see clearly the cost of discipleship and are willing to pay the price."[2]
As we enter the new year, there are plenty of us in this congregation who are feeling anxious. The causes of the anxiety are varied. Some of us are facing medical concerns, or have family who are, and that leads to anxiety. Some of us are facing job uncertainty or other economic challenges, and that leads to anxiety. Some of us are anxious because of what we have heard from politicians and their supporters over the past year that makes us worried about the future of freedom and equality in our country.
While I have a little medical issue that I'm dealing with as we enter the new year,[3] that's not what is causing my anxiety. My anxiety comes from our national political situation. Based on the rhetoric I've heard coming from President-elect Trump during the campaign and since, and based on his Cabinet and advisor nominations, I am worried about what direction President Trump will lead our country. While I am not sure he is sure about what his political vision is, I fear what it could be or what it could become. Mr. Trump's presidency could very easily be leading toward authoritarian rule.
The greatness to which he says he wants to lead America seems to be based on a scapegoating of minorities – racial, religious, immigrant, gender, and sexual orientation and identity. And the path to get there seems to be anti-science and anti-fact. The conclusion I've reached is that we cannot protect our nation from this vision with dialogue and fact-checking.[4] It will take action.
And I know that when I'm feeling anxious, it is hard for me to act.
So, I have two things I want to say about our anxieties, as much for me as for anyone else. First, I think what Bishop Steven Charleston said recently bare repeating: "[I] offer … the reassurance of a holy irony: what seems weak is strong, what seems lost will be found, what seems empty will overflow, what is broken will be mended. The peacemakers and the poor will overcome the warmongers and the greedy. Logic is on our side. Not the logic of power, but the logic of an endless grace. Do not fear, but believe. Faith turns anxiety upside down."[5]
Second, if we let our faith turn our anxieties upside down, we will be empowered to act. Whether that action helps us fulfill our New Year's resolutions or it helps us stand up for the vulnerable, our faith empowers action. This is important to me because "[m]oderate neutral theology will not help us during these times. Our faith and our 'God' either sides with the oppressed or with the oppressor. For Christians committed to justice, this is a time to tap into the radical and progressive strands of our tradition and vigorously oppose any justification or cooperation with [anything that even sniffs of] fascism."[6]
I hope that we, as a church, will take action this year. Perhaps it will start with making a public witness by adopting a commitment like the one that St. Mark's Episcopal Cathedral adopted in Seattle recently.[7] This isn't the time or place to read their statement in its entirety, but I think we need to take similar bold and clear action. We need to proclaim clearly our rejection of White Nationalism, our determination to protect our neighbors from hate speech and attacks, our support of religious liberty, our commitment to end misogyny and sexual violence, and our determination to protect the environment as we work for climate justice.
And then, after adopting such a statement, I hope we will fulfill it with our hand and feet and voices.
Parker Palmer wrote a column about New Year's resolutions last year,[8] but when he sat down to write his draft, he mistyped "resolutions." His left hand didn't type the first "s." Instead, it typed a "v".
If we take seriously the vision John of Patmos saw, then instead of New Year's resolutions, maybe we should make New Year's revolutions. With the plight of millions of refugees, the continued grief of mass killings, "the persistence of racism and the violence it fosters, the growing number of people living in or on the edge of poverty, the failures of our justice system, the downward spiral of a democracy en route to becoming an oligarchy, [and] the ongoing degradation of Earth itself,"[9] it will take a revolutionary approach to help build the new heaven and new earth that John of Patmos saw was God's plan for creation. When faced with the principalities and powers of the Roman Empire, John proclaimed that a different way was possible – just as there is a different way for us, regardless of who the current Caesars turn out to be.
Palmer's five revolutions cover much of the same ground as St. Mark's statement. He calls for a revolution against our fear of "otherness," and against those who manipulate this fear for their self-serving ends; a revolution against the state of denial in which most white American's live about white privilege and white supremacy in our lives; a revolution against the nonstop attacks on our K-12 teachers and public education; a revolution against gun-related policies driven by the delusional mentality of policy-makers and power brokers; and a revolution against the fantasy that a few of us can live secure private lives while ignoring our complicity in conditions that put many other in mortal risk.
Three years ago, I decided to make some New Year's resolutions. I had what I thought was a clever approach. I asked myself, what can I do in my life for sake of my environment and for the nourishment of my body, mind, and spirit. One resolution for each of these four parts of my life. For the environment, I resolved to start my laundry in the morning so I could use the line to dry my clothes. For my body, I resolved (with some specificity) shifts to my eating habits. For my mind, I resolved to keep up with reading The Christian Century as the magazine arrived.
I did not do so well with these three resolutions.
But I am still living with the resolution I made three years ago for my spirit: Be the "be this guy" guy. This is the "be this guy" guy.
And here he is in context.
Notice what he's doing with his arms and what everyone else around him is doing with their arms.
He is believed to be August Landmesser. Born in 1910, he was a worker at shipyard in Hamburg, Germany, when a naval training vessel, the Horst Wessel was launched and this picture was taken. It was June 13, 1936. Though he had joined the Nazi party, he got into trouble with them because of his relationship with Irma Eckler, a Jewish Woman. Landmesser was later imprisoned, eventually drafted, and was killed in action. Eckler was sent to a concentration camp where she was presumably killed.[10]
I've decided to make only one resolution for this new year, and it's really a renewal of that three-year old resolution: Be the "be this guy" guy. I know it's not a SMART resolution. It's not Specific, Measureable, or Trackable. It might not even be Attainable or Realistic. But it's sure seems gospel-grounded and necessary for helping to create the new heaven and earth that John of Patmos saw. So it's the right resolution – at least for me.
I hope you find a resolution that right for you, too. And as we move into our time of quiet reflection, I invite you to think about your resolution for the coming year.
[1] Steve Poos-Benson, "Twelve Steps for New Years Resolutions," Cowboy Jesus, http://stevescowboyjesus.blogspot.com/2016/12/twelve-steps-for-new-years-resolutions.html (posted 28 December 2016; accessed 30 December 2016).
[2] Quoted by Diana Butler Bass on her Facebook page https://www.facebook.com/Diana.Butler.Bass/posts/10154446201803500 (posted 28 December 2016; accessed 30 December 2016).
[3] On Wednesday, I did something to my back and it's been hurting since.
[4] Daniel José Camacho, "Fascism can't be stopped by fact-checking," The Christian Century, https://www.christiancentury.org/blog-post/fascismfactchecking (posted 26 December 2016, accessed 30 December 2016).
[5] Stephen Charleston's post from 29 December 2016, https://www.facebook.com/bishopstevencharleston/posts/1221986484552888 (accessed 30 December 2016).
[6] Camacho, op. cit.
[7] "Renewing Our Covenant: A Statement of Commitment and Action, St. Mark's Cathedral Parish," Saint Mark's Episcopal Cathedral, http://www.saintmarks.org/serve/volunteer/governance/renewing-our-covenant/ (adopted 20 December 2016; accessed 30 December 2016).
[8] Parker J. Palmer, "My Five New Year's Revolutions," On Being, http://www.onbeing.org/blog/parker-palmer-my-five-new-years-revolutions/8290 (posted 30 December 2015; accessed 30 December 2016).
[9] Ibid.
[10] "August Landmesser," Wikipedia, https://en.wikipedia.org/wiki/August_Landmesser (accessed 30 December 2016).
According to the Mayo Clinic website, the "DSM-5 criteria for narcissistic personality disorder include these features:
Having an exaggerated sense of self-importance
Expecting to be recognized as superior even without achievements that warrant it
Exaggerating your achievements and talents
Being preoccupied with fantasies about success, power, brilliance, beauty or the perfect mate
Believing that you are superior and can only be understood by or associate with equally special people
Requiring constant admiration
Having a sense of entitlement
Expecting special favors and unquestioning compliance with your expectations
Taking advantage of others to get what you want
Having an inability or unwillingness to recognize the needs and feelings of others
Being envious of others and believing others envy you
Behaving in an arrogant or haughty manner"
Some people (me included) think that Donald Trump may have narcissistic personality disorder (NPD). It is, like most personality disorders, very hard to treat and very hard to live with. A person named Nell Ziehl wrote a post on Facebook that is getting forwarded with advice about dealing with someone who has NPD. I don't know who Nell is or what Nell's credentials are, but from my personal experience with people who have personality disorders, this seems like good, basic advice. So, I'm reposting Nell's advice here:
I want to talk a little about narcissistic personality disorder. I've unfortunately had a great deal of experience with it, and I'm feeling badly for those of you who are trying to grapple with it for the first time because of our president-elect, who almost certainly suffers from it. Here are a few things to keep in mind:

1) It's not curable and it's barely treatable. He is who he is. There is no getting better, or learning, or adapting. He's not going to "rise to the occasion" for more than maybe a couple hours. So just put that out of your mind.

2) He will say whatever feels most comfortable or good to him at any given time. He will lie a lot, and say totally different things to different people. Stop being surprised by this. While it's important to pretend "good faith" and remind him of promises, as Bernie and others are doing, that's for his supporters, so *they* can see the inconsistency. He won't care. So if you're trying to reconcile or analyze his words, don't. It's 100% not worth your time. Only pay attention to and address his actions.

3) You can influence him by making him feel good. There are already people like Bannon who are ready to use him for their own ends. The GOP is excited to try. Watch them, not him. President Obama, in his wisdom, is treating him well in hopes of influencing him and possibly averting the worst. If he gets enough accolades for better behavior, he might continue to try it. But don't count on it.

4) Ultimately, he will betray anyone who tries to get close to him. It might take a while, though, so we can't count on that.

5) He only cares about himself and those he views as extensions of himself, like his children. (People with NPD can't understand others as fully human or distinct.) He desires accumulation of wealth and power because it fills a hole. (Melania is probably an acquired item, not an extension.) He will have no qualms *at all* about stealing everything he can from the country, and he'll be happy to help others do so, if they make him feel good. That is likely the only thing he will intentionally accomplish.

6) It's very, very confusing for non-disordered people to experience a disordered person with NPD. They do not observe social conventions or demonstrate basic human empathy. It's very common for non-disordered people to lower their own expectations and try to normalize the behavior. DO NOT DO THIS AND DO NOT ALLOW OTHERS, ESPECIALLY THE MEDIA, TO DO THIS. If you start to feel foggy or unclear about this, step away until you recalibrate.

7) People with NPD often recruit helpers, referred to in the literature as "enablers" when they allow bad behavior and "flying monkeys" when they perpetrate bad behavior on behalf of the narcissist. Although it's easiest to prey on vulnerable or malicious people, good people can be unwittingly recruited. It will be important to support good people around him if and when they attempt to stay clear or break away.

8) They like to foster competition for sport in people they control. Expect lots of chaos, firings and recriminations. He will probably behave worst toward those closest to him, but that doesn't mean (obviously) that his actions won't have consequences for the rest of us. He will punish enemies. He may start out, as he has with the NYT, with a confusing combination of punishing/rewarding, which is a classic abuse tactic for control. If you see your media cooperating or facilitating this behavior for rewards, call them on it.

9) Gaslighting — where someone tells you that the reality you've experienced isn't true — is real and torturous. He will gaslight, his followers will gaslight. The GOP has been gaslighting for 30 years. Learn the signs and find ways to stay focused on what you know to be true.

10) Whenever possible, do not focus on the narcissist or give him attention. Don't circulate his stupid tweets or laugh at him — you are enabling him and getting his word out. (I've done this, of course, we all have… just try to be aware.) Pay attention to your own emotions: do you sort of enjoy his clowning? is this kind of fun and dramatic, in a sick way? You are adding to his energy. Focus on what you can change and how you can resist, where you are. We are all called to be leaders now, in the absence of leadership.

Much love and I'll post something fun for the holidays too, I promise.

On November 15, Timothy Snyder (Housum Professor of History at Yale University) posted the following on Facebook. I repost it here because I think it is good advice for lovers of democracy in this and every age.
Americans are no wiser than the Europeans who saw democracy yield to fascism, Nazism, or communism. Our one advantage is that we might learn from their experience. Now is a good time to do so. Here are twenty lessons from the twentieth century, adapted to the circumstances of today.

1. Do not obey in advance. Much of the power of authoritarianism is freely given. In times like these, individuals think ahead about what a more repressive government will want, and then start to do it without being asked. You've already done this, haven't you? Stop. Anticipatory obedience teaches authorities what is possible and accelerates unfreedom.

2. Defend an institution. Follow the courts or the media, or a court or a newspaper. Do not speak of "our institutions" unless you are making them yours by acting on their behalf. Institutions don't protect themselves. They go down like dominoes unless each is defended from the beginning.

3. Recall professional ethics. When the leaders of state set a negative example, professional commitments to just practice become much more important. It is hard to break a rule-of-law state without lawyers, and it is hard to have show trials without judges.

4. When listening to politicians, distinguish certain words. Look out for the expansive use of "terrorism" and "extremism." Be alive to the fatal notions of "exception" and "emergency." Be angry about the treacherous use of patriotic vocabulary.

5. Be calm when the unthinkable arrives. When the terrorist attack comes, remember that all authoritarians at all times either await or plan such events in order to consolidate power. Think of the Reichstag fire. The sudden disaster that requires the end of the balance of power, the end of opposition parties, and so on, is the oldest trick in the Hitlerian book. Don't fall for it.

6. Be kind to our language. Avoid pronouncing the phrases everyone else does. Think up your own way of speaking, even if only to convey that thing you think everyone is saying. (Don't use the internet before bed. Charge your gadgets away from your bedroom, and read.) What to read? Perhaps "The Power of the Powerless" by Václav Havel, 1984 by George Orwell, The Captive Mind by Czesław Milosz, The Rebel by Albert Camus, The Origins of Totalitarianism by Hannah Arendt, or Nothing is True and Everything is Possible by Peter Pomerantsev.

7. Stand out. Someone has to. It is easy, in words and deeds, to follow along. It can feel strange to do or say something different. But without that unease, there is no freedom. And the moment you set an example, the spell of the status quo is broken, and others will follow.

8. Believe in truth. To abandon facts is to abandon freedom. If nothing is true, then no one can criticize power, because there is no basis upon which to do so. If nothing is true, then all is spectacle. The biggest wallet pays for the most blinding lights.

9. Investigate. Figure things out for yourself. Spend more time with long articles. Subsidize investigative journalism by subscribing to print media. Realize that some of what is on your screen is there to harm you. Bookmark PropOrNot or other sites that investigate foreign propaganda pushes.

10. Practice corporeal politics. Power wants your body softening in your chair and your emotions dissipating on the screen. Get outside. Put your body in unfamiliar places with unfamiliar people. Make new friends and march with them.

11. Make eye contact and small talk. This is not just polite. It is a way to stay in touch with your surroundings, break down unnecessary social barriers, and come to understand whom you should and should not trust. If we enter a culture of denunciation, you will want to know the psychological landscape of your daily life.

12. Take responsibility for the face of the world. Notice the swastikas and the other signs of hate. Do not look away and do not get used to them. Remove them yourself and set an example for others to do so.

13. Hinder the one-party state. The parties that took over states were once something else. They exploited a historical moment to make political life impossible for their rivals. Vote in local and state elections while you can.

14. Give regularly to good causes, if you can. Pick a charity and set up autopay. Then you will know that you have made a free choice that is supporting civil society helping others doing something good.

15. Establish a private life. Nastier rulers will use what they know about you to push you around. Scrub your computer of malware. Remember that email is skywriting. Consider using alternative forms of the internet, or simply using it less. Have personal exchanges in person. For the same reason, resolve any legal trouble. Authoritarianism works as a blackmail state, looking for the hook on which to hang you. Try not to have too many hooks.

16. Learn from others in other countries. Keep up your friendships abroad, or make new friends abroad. The present difficulties here are an element of a general trend. And no country is going to find a solution by itself. Make sure you and your family have passports.

17. Watch out for the paramilitaries. When the men with guns who have always claimed to be against the system start wearing uniforms and marching around with torches and pictures of a Leader, the end is nigh. When the pro-Leader paramilitary and the official police and military intermingle, the game is over.

18. Be reflective if you must be armed. If you carry a weapon in public service, God bless you and keep you. But know that evils of the past involved policemen and soldiers finding themselves, one day, doing irregular things. Be ready to say no. (If you do not know what this means, contact the United States Holocaust Memorial Museum and ask about training in professional ethics.)

19. Be as courageous as you can. If none of us is prepared to die for freedom, then all of us will die in unfreedom.

20. Be a patriot. The incoming president is not. Set a good example of what America means for the generations to come. They will need it.

–Timothy Snyder, Housum Professor of History, Yale University,
15 November 2016.
If you follow this blog, you know that I hoped Secretary Clinton would be elected President. More than that, I really didn't want Mr. Trump to be elected President. That hope and wish were not fulfilled. Instead, a man who I have seen as misogynist, racist, and dangerous (his denial of climate change, his openness to using nuclear weapons) has won enough states that, assuming the electoral college votes as they are pledged, he will be the next President of the United States.
I've been told that in 1960, after John F. Kennedy narrowly defeated Richard Nixon, staunch Hollywood conservative John Wayne declared, "I didn't vote for him, but he's my president and I hope he does a good job."
I'm having a hard time following John Wayne's lead. Yes, I hope Mr. Trump does a good job, but based on his campaign and the signals coming from his transition team, I don't think he will. I've read his plan for this first 100 days in office. If he follows through on his plan, he will wreak havoc on the economy, the environment, the Supreme Court's protection of freedom, our public schools, the incomplete health insurance net that's being stitched together through Obama Care, families that include at least one undocumented worker, and the national debt.
While the plan does not say anything overt about removing right of religious, ethnic, or sexual minorities, the rhetoric surrounding the Trump campaign and the people he has named to his transition team is frightening. Since election day, many people – especially women, minorities, immigrants, and members of the lgbt community – have felt vulnerable. Not surprising, since the Southern Poverty Law Center has noted as significant spike in acts of "hateful harassment and intimidation" since the election. And now, with the naming of white nationalist Steve Bannon to be "Chief Strategist to the President," the pit in my stomach that had been slowly dissolving has re-solidified. White male privilege is, I fear, solidifying in our culture, right along side the pit in my stomach.
Bishop Dwayne Royster's words in this blog post posted late on election day resonate with me – particularly when he rights about his anger that people who say they follow Christ voted for a person whose words during this campaign paint him as sexist, racist, xenophobic, misogynistic, homophobic, and not someone to be trusted with nuclear weapons. And I like that he calls us to be "Prophets that will speak truth to power unequivocally and will speak truth to the people as well."
Senator Bernie Sanders (the presidential candidate I supported in the primaries) issued this statement the day after the election. In four sentences he says where I want to be politically.
Donald Trump tapped into the anger of a declining middle class that is sick and tired of establishment economics, establishment politics and the establishment media.  People are tired of working longer hours for lower wages, of seeing decent paying jobs go to China and other low-wage countries, of billionaires not paying any federal income taxes and of not being able to afford a college education for their kids – all while the very rich become much richer.

To the degree that Mr. Trump is serious about pursuing policies that improve the lives of working families in this country, I and other progressives are prepared to work with him. To the degree that he pursues racist, sexist, xenophobic and anti-environment policies, we will vigorously oppose him.
And while I want to be ready to work with Mr. Trump where I can (and vigorously against him where his proposals and policies are harmful), I am worried about how we respond to people who are vulnerable now, as attacks continue. I turn to my Twitter feed as I write this, knowing that there are other people who have posted things that have inspired me or at least given me hope, but what I'm reading about are instances of people of color being threatened by whites, of people of Muslim faith afraid to express it. Trump has turned a populist anger into hatred for "the other" by turning economic resentment into racial, religious, and gender resentment.
As a pastor, I wonder what my congregation can do. My greatest personal fear about the Trump presidency is that the little progress we've made as a nation to combat climate change will be reversed and the struggle to address this (the most important moral issue of our day) may be too late. Others have different primary fears as they try to imagine the coming Trump presidency – and with good reason; check out "Day 1 in Trump's America." The Rev. Michael Denton, Conference Minister of the Pacific Northwest Conference of the United Church of Christ, identified how the Trump presidency will make the lives of so many less safe and more traumatic – and some ideas for churches on his Facebook page:
For millions of people in our country and beyond, this world is suddenly and significantly less safe. Hate crimes had already increased in recent months and will even more, now. Many hard fought for laws that had protected the rights and lives of the queer community are in danger of being rolled back. Survivors of sexual assault will have to look into the eyes of someone who bragged about assaulting others every time they turn on the news. Those with disabilities will have to look into the eyes of someone who has mocked them. Migrants and refugees who found a home here are wondering if they'll have to be migrants and refugees, again. People of color who already knew the life threatening daily reality of systemic racism are faced with one more blatant systemic expression of it. Those whose religious expression does not fall into a relatively narrow expression of Christianity can expect to be treated as suspect. Someone who has talked about his intention to use military force preemptively and often now has the ability to do so.

The idea of providing sanctuary is not a new one. It is the idea of opening up our churches and making them a safe space for people who are feeling threatened by the world. Over the coming hours, days, weeks, months and years more and more people are going to be asking for us to provide some sort of sanctuary; everything from providing a space for prayer and a listening ear to a place where they can find physical safety from a world that endangers them. We need to start that conversation of how to do that within and between our churches, now.
When it was becoming clear that Mr. Trump was going to win the electoral college, I honestly wondered if it was time to consider emigrating. I have a friend in New Zealand who said she will take me in while I look for a job if it's ever needed. But then I read a tweet (I don't remember who posted it) that called those of us who have privilege and care about justice not to abandon those who do not have privilege. Privilege comes in many forms in the USA. I have gender (I'm a cisgender male), race (I'm European-America of British descent), and economic (within the USA I'm probably upper-middle class) privilege, privileged enough to be able to seriously consider emigration. But I will stay and look for ways to justly use my privilege to protect those who are vulnerable and to dismantle the system that makes this privilege possible.
Those of us with privilege must not abandon those who do not have privilege. Those of us who follow Christ must serve, lift up, empower, and follow the vulnerable who are all the more vulnerable now.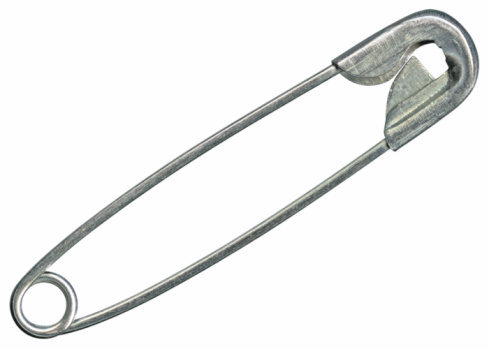 I've decided to wear a safety pin.
By now, you've probably heard about a simple act that many are taking to show others that they are safe: wearing a safety pin. I'm not sure if it started in Australia or was inspired by the #illridewithyou movement in Australia. In any event, it took root in Great Britain after the Brexit vote. People wore empty safety pins after the vote by the UK to leave the European Union to let people who might be targeted with harassment after the vote (especially immigrants) know that the person wearing the pin was safe, was an ally, would stand with the vulnerable person to support them.
After the election of Donald Trump (I'm assuming the Electoral College will actually elect him on December 19), many people – especially women, minorities, immigrants, and members of the lgbt community – felt vulnerable. Not surprising, since the Southern Poverty Law Center has noted as significant spike in acts of "hateful harassment and intimidation" since the election. People who walk through life with privilege (men, whites, etc.) are recognizing that they can leverage this privilege to help create safe space for vulnerable people. The safety pin is a sign of this. I should quickly add that people with less privilege than me are also wearing safety pins.
I was initially jazzed by the idea of wearing the pin. And then I started to read articles and blogs offering some push-back (for instance, this piece written by a white male). As my friend and colleague Sandhya Jha said in a Facebook post, "I have a mild concern that people are drawn to these safety pins as a form of absolution: 'I'm ok. I'm not THAT kind of white person. I am not to blame.' I also have a mild concern that it is less about learning the skills to put one's body on the line for another (and there are skills to practice) than about getting credit for being a good white person for publicly announcing one's ally status. As my LGBTQ+ activist friends helpfully remind me, I don't get a cookie for being an ally. That's just being a decent human being, and that doesn't warrant brownie points."
And Sandhya is absolutely right about there being skills to practice. As another blog post point out, those of us who wear the pin need to know what the pin means, know how much risk we're willing to take, learn how to de-escalate volatile situations, know what you'll do if de-escalation doesn't work or if the situation gets violent, and practice. I recommend you read this blog post if, like me, you're plan to wear a safety pin.
I'll wear my pin for me as well as for people who I might meet along the way. I'll wear my pin to remind me of the commitment I make to be a person who will help if needed (and wanted). And, as Sandhya concluded in her post:  "[The safety pin] can become a symbol of accountability, that white people see it and acknowledge to each other, 'we have a lot of work to do to unify our people around a different vision. We have a lot of work to do to protect other people from our people. We have a lot of work to do to create a different way of being white. Let's make sure to hold each other to that.'"
I'm staying at a friend's home on the east coast of the United States right now. I sat up with him and his wife into the wee hours last night watching the returns come in. The three of us were stunned that our nation had elected Donald Trump to be our next President. I supported Hillary Clinton and my friends worked hard for her election.
My friend's wife's question as we went to bed was this: "How do we explain this to the kids tomorrow?" Their boys are 4 and 6.
I wondered about such a question. They're at an age when the question, "Why?" is often on their lips. I suspect there are lots of reasons why my fellow countrypeople voted for Mr. Trump. Some people probably thought that his tax proposals will put more money in their pockets and didn't care about the consequences for the wider community (their neighbors). Some probably thought that he will change the economy in such a way that their lives and their neighbors' lives will be better. Some probably voted out of their sexism, not wanting a woman to be our President. Some probably voted against Hillary Clinton and would have voted for anyone as long as it wasn't her.
And many, I think, voted from their fear.
So what would I say to a 6-year-old who asked me why Mr. Trump won and Secretary Clinton lost? Recognizing that I couldn't explain the electoral college to a 6-year-old, I think I would say something like, "He won because he got more votes in more states." And when this 6-year-old asks, "Why did people vote for him?" I'd say something like,"When people are afraid or jealous or angry, they don't make the best choices. So some people voted for Mr. Trump because they really liked him better than Secretary Clinton, and some people voted for Mr. Trump because they didn't make the best choice."
I don't know if that answer would satisfy a 6-year-old, but it's the best I have today, a day when I am disappointed, and maybe even a little fearful myself about what the next four years will hold.