You are currently browsing the tag archive for the 'call' tag.
A sermon preached at Niles Discovery Church, Fremont, California,
on Good Friday, April 14, 2017, by the Rev. Jeffrey Spencer.
Copyright © 2017 by Jeffrey S. Spencer
Scriptures quoted from the New Revised Standard Version
            Simply put, I reject penal substitutionary atonement.  Well, maybe that's not so simply put.  So, let me unpack that phrase, "penal substitutionary atonement."  An atonement is an act that makes reparation for a wrong or injury.  It is an act that allows two parties to become at one again, thus the division of the word as "at-one-ment."
Substitutionary atonement is an act made, not by the one who harmed the aggrieved person, but by someone on their behalf.  So, when a parent acts on behalf of a child who has done something to wrong or injury a neighbor, that substitutionary atonement.
And penal substitutionary atonement is a substitutionary act of atonement that involves punishment or penalty.
In Christian theology, penal substitutionary atonement is the belief that the only way for us sinners to be at-one with God again was if someone – someone who was perfect, without sin – paid the penalty on our behalf with their life.  This theology looks at the death of Jesus on the cross as the punishment (penal) borne on our behalf (substitutionary) so that we may be in right relationship with God (atonement).  In this theology, Good Friday is "good" because we are saved through Jesus' sacrifice on the cross.
There are lots of reasons I reject this theology.  The most basic of these reasons is the portrait it paints of God.  I reject the idea that God requires suffering of anyone to forgive and reconcile.
So, then, if Jesus didn't die as part of some substitutionary atonement scheme, why did Jesus die?  Jesus died because he was seen to be a threat to the established power structure.  The principalities and powers of his day – the Roman government and the Jewish religious establishment – say the good news that Jesus preached to threaten their power.  Whatever mob that came together against Jesus did not do so because God caused it.  The principalities and powers wanted him gone, and that was enough.  The contagion of violence is enough.
Jesus died for us, but not for God.  The cross is not what God requires in order to forgive, but what God endures as God forgives.  Episcopal Bishop Steven Charleston says, "Good Friday is the ultimate reality check, the graphic reminder that there is an end to all things.  We are called to confront our mortality.  We cannot escape into worlds of our own creation, but we must stand before the final authority of change.  Nothing stays the same.  And there, in that one truth, hidden away in the apparent darkness of this day, is the small seed of our liberation.  Nothing stays the same.  No, thank God, it doesn't.  The deep message of Good Friday speaks a profound truth: nothing lives forever.  Nothing.  Not even death.  Even it has to change.  It has to become something new."[1]
And this reality check is one of the two big things that make Good Friday "good" for me.  The other is the way of courage it reveals.
The gospels tell us that in what turned out to be the last months of his life, Jesus turned his face to Jerusalem – in theory the city of peace, but in reality the city of the principalities and powers of his life.  He headed to Jerusalem to face off against the principalities and powers, the systems that believe that we can be saved through violence, to proclaim his way of peace and justice and love.  And at some point along the way, he came to realize that the way he was walking and talking would be seen as a threat and lead to his arrest and execution.  Still, he kept walking.  It was his call.
Even in the hours before his arrest, when he knew it was just around the corner, he prayed about it, and somehow managed to maintain his integrity to the call.  He managed to stay on the path, even though it would cost him his life.  He got to his "okay."  In the presence of God, he moved to the place where he could say, "Okay.  Not my will, but your will be done."
Listen again to the story.
            Then Jesus went with his disciples to a place called Gethsemane; and he said to his disciples, "Sit here while I go over there and pray."  He took with him Peter and the two sons of Zebedee, and began to be grieved and agitated.  Then he said to them, "I am deeply grieved, even to death; remain here, and stay awake with me."  And going a little farther, he threw himself on the ground and prayed, "My Father, if it is possible, let this cup pass from me; yet not what I want but what you want."

Then he came to the disciples and found them sleeping; and he said to Peter, "So, could you not stay awake with me one hour?  Stay awake and pray that you may not come into the time of trial; the spirit indeed is willing, but the flesh is weak."

Again he went away for the second time and prayed, "My Father, if this cannot pass unless I drink it, your will be done."  [Matthew 26:36-42]
Jesus seemed to know that the path he was on would lead to his death.  And, even though it was leading to his death, he sensed that the path he was on was still, somehow, the will of God.  It wasn't God's will that he die, but that he remain faithful to God's call for justice and love, even in the shadow of death.  In prayer, Jesus got to his "okay."  "Okay, God, I don't want to be killed, but I know you call me to embody your love, and your love is leading me this way.  So, okay, your will, not mine, be done."
Matthew goes on tell about Jesus' arrest and his so-called trials before the Sanhedrin and the Roman Governor, Pilate.  He tells about Jesus being mocked and beaten and being led away to be crucified.
            And when they had crucified him, they divided his clothes among themselves by casting lots; then they sat down there and kept watch over him. Over his head they put the charge against him, which read, "This is Jesus, the King of the Jews." …

From noon on, darkness came over the whole land until three in the afternoon. And about three o'clock Jesus cried with a loud voice, "Eli, Eli, lema sabachthani?" that is, "My God, my God, why have you forsaken me?" When some of the bystanders heard it, they said, "This man is calling for Elijah." At once one of them ran and got a sponge, filled it with sour wine, put it on a stick, and gave it to him to drink. But the others said, "Wait, let us see whether Elijah will come to save him." Then Jesus cried again with a loud voice and breathed his last.…

When it was evening, there came a rich man from Arimathea, named Joseph, who was also a disciple of Jesus. He went to Pilate and asked for the body of Jesus; then Pilate ordered it to be given to him. So Joseph took the body and wrapped it in a clean linen cloth and laid it in his own new tomb, which he had hewn in the rock. He then rolled a great stone to the door of the tomb and went away. Mary Magdalene and the other Mary were there, sitting opposite the tomb.  [Matthew 27:35-37, 45-50, 57-61]
[1] Steven Charleston, a post on Facebook, https://www.facebook.com/bishopstevencharleston/posts/1327331527351716 (posted and accessed 14 April 2017).
A sermon preached at Niles Discovery Church, Fremont, California,
on Sunday, July 17, 2016, by the Rev. Jeffrey Spencer.
Scriptures: Philemon 1:8-19 and Hebrews 13:1-8
Copyright © 2016 by Jeffrey S. Spencer
It's been a difficult couple weeks for my soul. I expect the same is true for many of you. In addition to the triumphs and tragedies of our personal lives, there has been so much violence in the news:
a particularly brutal attack in Bangladesh;
car bombs in Baghdad;
2 police shootings that were caught on tape (and at least 29 others that did not make the national news[1]);
5 police officers killed in Dallas (and at least five others who were killed by guns or cars that did not make the national news[2]);
this morning there are stories of police officers shot and killed in Baton Rogue;
a truck driving through a crowd celebrating in Nice, France.
In an act of self-care, I decided not to watch the videos of the police shootings in Baton Rogue and Falcon Heights. And, in my efforts to protect my soul from this heart-rending news, I may have missed other attacks and violence that took place in the first two weeks of this month.
Yesterday, I posted this picture on the church's Facebook page. Dietrich Bonhoeffer, a German Lutheran pastor and theologian, was a staunch anti-Nazi dissident who was arrested and eventually connected with an attempt to assassinate Hitler. He was 39 when he was executed by the Nazis.
"Silence in the face of evil is itself evil: God will not hold us guiltless. Not to speak is to speak. Not to act is to act."
I agree with Bonhoeffer. Not to speak is to speak. Not to act is to act. But what to say and how to act – that's not always clear. Here's what I wrote with the picture:
It's not always easy to figure out how to speak out against evil. How do we speak out against the evil of the murders in Nice, France, on Thursday and not participate in evil ourselves?
The traps are too easy. As a nation, we could speak out with our own violence through our military. As a church, we could easily lump together all people from one ethnicity or religion and blame them all for the actions of a few or of one. We could write a post on Facebook, but does that really speak God's truth to evil?
While there are no simple answers, the call is clear. We cannot remain silent when we are aware of evil.
This call, to speak and to act, is part of our call as followers of Jesus. We are called to join the Spirit Conspiracy to bring blessings to others. "Conspire" literally means "to breathe with," which I find interesting, since the Greek word for spirit, pneuma, is also the Greek word for breath. Another way to think about this call is that we are called to get our breathing in sync with the Breath of Life.
And there are plenty of areas of our lives, plenty of circles of influence where, if we get our breathing in sync with the Breath of Life, we will bring blessings to others. Consider these circles of influence.
There's your family. No one is in a better position than you to bring blessing to your family – your spouse, your kids, your siblings, your parents – than you. There are others who are in an equal position to you, but there's on one in a better position than you. "When Jesus wanted to confront religious hypocrisy in his day, he pointed out the way hypocrites served their religion at the expense of their families."[3] Paul wrote about family relationships in ways that probably brought more blessing than the social norms, as sexist as those writings seems to us today. My point is that it's not just the Spirit calling us to conspire to bring blessing to our families; there are biblical calls, too.
Then there are our economic choices that are a circle of influence. We can conspire with the Spirit to bring blessing through our economic choices. If you're an employer, you can offer a wage that brings a blessing. If you're a consumer, you can make purchase choices in ways that bring blessings – are the people all along the supply chain paid justly? Is the environment protected or damaged by this product and its manufacture?
Likewise, our neighborhoods can be blessed by our conspiring with the Spirit. As we address the sins of racism, sexism, xenophobia, homophobia, transphobia, and so forth, we bring a blessing to our neighborhoods. As we extend hospitality, we bring a blessing to our neighborhoods.
"The Spirit is looking for conspirators who are interested in plotting goodness in their communities. 'What would our community look like if God's dreams for it were coming true?' we [can] ask. The answer gives us a vision to work toward."[4]
Likewise, we can conspire with the Spirit to bring a blessing to vulnerable people, the people who are typically forgotten or ignored. The biblical mandate is to care for widows and orphans, for immigrants, prisoners, the sick, and the poor. We can easily add to that list: the homeless, the under-educated, the unemployed, the underpaid, refugees, and more.
And if conspiring with the Spirit to bring blessing to these circles of influence isn't challenging enough for you, I've got another: your critiques, opponents, and enemies. Imagine what the election season would be like if the candidates and their supporters conspired with the Spirit to bring a blessing to their opponents. That's probably a pipedream, but we – you and I – could start. And not just when it comes to politics. We can conspire with the Spirit to bring a blessing to people who annoy us (and the people we annoy). We can conspire with the Spirit to bring a blessing to people who don't understand us and who we don't understand, to people who try our patience and whose patience we try.
"Rather than write them off as unimportant and unwanted, we need to rediscover them as some of the most important people we know. If we ignore them, our growth in the Spirit will be stunted. If we let the Spirit guide us in what we say to their faces and behind their backs, we will become more Christ-like."[5]
White House photographer Pete Souza has taken something close to two million photographs of President Obama, since Obama took office. Each year he posts 75 to 100 that he thinks are the best of the year. Several people have sifted through the photos claiming that these 16 are Souza's favorites. He denies the claim. Still, from those annual postings, people have gathered what they think are a good sampling of them.
One such collection[6] includes photos that are humorous, photos that are cute, and photos that are poignant. One photo from early in Obama's presidency shows him fist-bumping one of the White House custodians. They are in a hallway, moving from one meeting to another. Aids accompany the President. And the President pauses to acknowledge a staff worker who cleans floors and toilets and empties the trash.
What we say or fail to say can make a difference in someone else's life. We can use our words as part of our conspiracy with the Spirit to being blessings, or we can wound. In the letter of James, the author says that if your life were a ship, your words would be its rudder. A fist-bump here, and "thank you" there can make a difference in steering us in the Spirit's direction. As McLaren puts it, "If you're a part of the Spirit's conspiracy, you can be God's secret agent of blessing to anyone in any of these circles."[7]
There's one circle of influence that I haven't mentioned: work. I did this because in the book we're using for this yearlong sermon series, Brian McLaren uses the letter to Philemon as an example here. McLaren points out that Paul used the opportunity of Onesimus running away to him to urge slave owners to treat their slaves better. My problem is that Paul appealed to his love for Onesimus rather than to Onesimus' own personhood. My problem is that Paul sent Onesimus back to Philemon.
Yes, Paul moves the needle. Yes, Paul suggests that owners should treat their slaves with respect and kindness. Yes, Paul urges slaves to work with pride and dignity. But he fails to condemn slavery.
There's probably a lesson here for our contemporary workplaces. We should treat each other with respect and kindness. We should treat each other fairly, and bosses should pay their employees a just wage. But the issue at hand for Onesimus was whether Paul was going to send him back to slavery or order Philemon to end Onesimus' slavery. And Paul failed to get his breathing fully in sync with the Breath of Life.
McLaren begins the chapter that is the fodder for next week's sermon by saying, "Sooner or later, everyone should be arrested and imprisoned for a good cause. Or if not arrested and imprisoned, put in a position of suffering and sacrifice. Or if not that, at least be criticized or inconvenienced a little. Because if we're co-conspirators with the Spirit of God to bring blessing to our world, sooner or later it's going to cost us something and get us in trouble."[8]
Sometimes this mission is pretty easy to fulfill. Sometimes a fist-bump in the hallway will make the difference. Sometimes it's hard and it will get us in trouble. Sometimes we're faced with great evil, and the way to speak out, the way to act is not clear, and so we will struggle to conspire with the Spirit. Sometimes, like Paul, we will act and not go as far as we should. Sometimes, like Bonhoeffer, we will be asked to pay a great price.
Still, the mission is before us: "to be a secret agent of God's commonwealth, conspiring with others [and the Holy Spirit] behind the scenes to plot goodness and foment kindness wherever you may be."[9]
As we move into our time of quiet reflection, I invite you to reflect on:
Anything from the sermon or scripture that caught your attention.
A time when you felt the Spirit guided you to go above and beyond your normal way of responding to a situation.
A time when the words you chose steered you either toward or away from the Spirit's guidance.
Or imagine a walk through your typical day, from waking to going to bed – and imagine yourself as a portal of blessing in each circle of influence you move in and out of in that day.
[1] "Fatal Force," The Washington Post, https://www.washingtonpost.com/graphics/national/police-shootings-2016/ (updated regularly, The Washington Post tracks police shootings in the United States; accessed 16 July 2016, when the last update was for a police shooting on 13 July 2016).
[2] "Honoring Officers Killed in 2016," Officer Down Memorial Page, https://www.odmp.org/search/year (updated regularly; accessed 16 July 2016, when the last officer death noted was on 12 July 2016).
[3] Brian McLaren, We Make the Road by Walking [Kindle version], Chapter 47. Retrieved from amazon.com.
[4] Ibid.
[5] Ibid.
[6] "The White House's Pete Souza Has Shot Nearly 2M Photos of Obama, Here are 55 of His Favorites," Twisted Sifter, http://twistedsifter.com/2016/07/pete-souza-white-house-photog-favorite-obama-photos/ (posted 7 July 2016; accessed 16 July 2016).
[7] Brian McLaren, We Make the Road by Walking [Kindle version], Chapter 47. Retrieved from amazon.com.
[8] Brian McLaren, We Make the Road by Walking [Kindle version], Chapter 48. Retrieved from amazon.com.
[9] Brian McLaren, We Make the Road by Walking [Kindle version], Chapter 47. Retrieved from amazon.com.
The Uprising of Discipleship
A sermon preached at Niles Discovery Church, Fremont, California,
on Sunday, April 10, 2016, by the Rev. Jeffrey Spencer.
Scriptures: John 21:1-19
Copyright © 2016 by Jeffrey S. Spencer
"Religion is not a lottery, though some may believe otherwise. If our faith was only a question of picking the winning number to earn us an exclusive afterlife of luxury, then we would miss the whole point. Spiritual life is defined by service, not by salvation. We are called to practice justice, exercise compassion, give generously to help others. That is the hard work of living by faith. We do all of this without demand of a reward for love is its own reward. Heaven is not a winning ticket separating winners and losers but a promise we all inherit when we put service before self."[1]
            This quote from Episcopal Bishop Steven Charleston has lingered with me since he posted it at the beginning of the month on Facebook. And it informs today's sermon.
Today is the third Sunday of Easter. We are in the season of resurrection. Just as Christmas lasts for 12 days, Easter lasts for 50 days. Today's scripture lesson is an epilogue to John's gospel. Most people think that John's gospel ended with what we call chapter 20 and that chapter 21 was added sometime later. But that tidbit of text criticism is neither here nor there as far as today's sermon is concerned. Today, we look at the bulk of chapter 21 as one more story from the texts we call "scripture," one more story that talks about the uprising that began on Easter.
The disciples have had a series of experiences of the palpable presence of Jesus even though he was killed. First Mary of Magdala had an experience in the cemetery where Jesus' body had been buried. Then Jesus showed up in a locked room with the disciples. And again a week later, he showed up in a room with the disciples, even though the door was shut.
It is now sometime later and the disciples have left Jerusalem and returned to Galilee. Peter announces that he's going fishing. John doesn't share what Peter's motivation was. I've always read into the story that Peter, impulsive fellow that he was, felt like he had to do something. Jesus was dead, but he wasn't. But he wasn't around all the time like he used to be. And here we are back in Galilee and we're hanging out together because, well, what else are we going to do. And suddenly Peter announces his going fishing. So what are the rest of us going to do? We go with him.
Peter in a fishing boat makes me think of when Jesus called Peter. Peter and his brother Andrew were on the Sea of Galilee (or as John calls it here, the Sea of Tiberius), and Jesus came by and called them, "Come follow me and I'll make you fish for people." Only that's not in John; that's in the synoptic gospels. John doesn't tell us how Peter put food on the table, just that his brother Andrew called Peter to come check out Jesus because Andrew thought Jesus just might be the Messiah. Nonetheless, I can't help but wonder if John's community knew the synoptic story of Peter's call.
This is a story in John's gospel, and we're not at the beginning of the story of Jesus ministry. We're at the other end of the story, sometime after the resurrection. Peter declares to the other disciples that he's going fishing, and a bunch of the other disciples went with him. And they were out all night and caught nothing. At daybreak, a stranger shows up on the shore and tells them to cast their nets on the other side of the boat. They cast their nets and there are so many fish the net should break.
One of the disciples declares, "It's the Lord." On hearing this, Peter puts on some clothes and jump in the water to swim to shore. Which seems backwards to me – putting on clothing and jumping in the water. Walter Wink points out that this story has the feeling of a farce in its deliberate playfulness: "no fish, too many fish; non-recognition, recognition; Peter swimming fully clothed; the entire fish-count, in unison; Jesus as short-order cook."[2]
And I have to agree – especially about the fish thing. Why 153 fish? Why that exact number? Theologians and biblical commentators have debated through the ages. "St. Jerome imagined it was the total number of fish species in the world, signifying the church's worldwide mission. But first century people already knew more than that many fish."[3] St. Augustine does some impressively convoluted math (that I don't get) to force the number into making some symbolic sense.[4]
I like the chutzpah of one commentary who suggested the number may have been picked because that is the number of fish that were in the net. The problem with this interpretation is that it assumes this is a factual story rather than a theological story, and like the rest of John, the truth of the stories are in their theology, not their facts.
For an explanation, I like Wink's idea that it's all part of the farce. You see, things shift as soon as everybody's ashore and gather around Jesus. Jesus serves them breakfast, bread and fish. Just like with the multitude on the hillside months earlier, Jesus serves his followers bread and fish. It's an Easter communion scene.
And then Jesus pulls Peter aside. Jesus takes aside the man who was so upset that the only thing he could think to do was to go fishing. Jesus takes aside the man who promised he would never desert Jesus and within hours had denied even knowing him – three times. Jesus takes Peter aside and asks him, "Do you love me?" Jesus asks him this question three times. And three times, Peter declares his love for Jesus. Perhaps the symmetry is purposeful. Perhaps with each question, Peter is working out his guilt and finding forgiveness and reconciliation.
But John was written in Greek and the Greeks have several words that we translate as "love" in English, and two of them are used here. "Peter, do you agapas (the highest, self-giving love, agape) me?
Peter: 'Yes, Lord; you know that I philo (to have friendship, affection for) you.'
Jesus: 'Feed my lambs.'
A second time Jesus asks: Do you agapas me?
'Yes Lord; you know that I philo you.'
'Tend my sheep.'
A third time Jesus asks, Do you phileis me?
Peter, grieved that this third time Jesus had adopted his word, replies, 'You know everything; you know that I philo you.'
'Feed my sheep.'"[5]
Even without the response of "Feed my sheep," it's clear that there's something going on with the use of these two words we translate "love." Is there something about the call to love and follow Jesus without reservation, to love him unconditionally? Is there some acknowledgement of our inability to love without condition and Jesus' accepting us all the same? Is there something being said about our inability to truly, fully reciprocate God's love for us? I think, perhaps, yes.
With the response of "Feed my sheep," I also hear the reassurance that we, like Peter, are called to act in response to Jesus' love for us, even if imperfectly. The text continues with Jesus speaking to Peter: "Very truly, I tell you, when you were younger, you used to fasten your own belt and to go wherever you wished. But when you grow old, you will stretch out your hands, and someone else will fasten a belt around you and take you where you do not wish to go."
Jesus has been telling Peter to care for the community: Feed my sheep. And, "in case he doesn't understand what this entails, Jesus assures him that the kingdom requires total servanthood.… Though the first half of his life was spent planning, controlling, and going wherever he wished, discipleship means that 'someone else will fasten a belt around you and take you where you do not wish to go.'
"Though the text claims that this was meant to foreshadow the way in which Peter would die, it actually says much more about the way Peter would live his life in Jesus: in full obedience to the gospel."[6] Is it any wonder that the last thing Jesus says to Peter in John's gospel are the same words that, according to Mark's gospel, were the first said by Jesus to Peter?
Follow me.
These words are a literal call to discipleship. A disciple is "a follower, a student, an apprentice, one who learns by imitating a master."[7]
On Easter Sunday, I said that the resurrection was much more about what happens to us than about what happened to Jesus. Maybe the resurrection is about getting a first-class ticket to eternity, but if it is, that's not what's important. Easter is the inauguration of an uprising. One mark of this uprising is fellowship, a fellowship of scarred and scared and doubting people – I talked about that last week. Another mark of this uprising is discipleship. The people that are part of this uprising are disciples of Jesus, the one who, on the day before his execution, knelt at his disciples' feet and washed them. And then he told them that he had a commandment for them: Love one another.
This is the one Peter was called to follow. And how does he follow? How is he a disciple? By feeding Jesus' flock.
That's why I quoted Bishop Charleston at the beginning of the sermon. "Spiritual life is defined by service, not by salvation. We are called to practice justice, exercise compassion, give generously to help others. That is the hard work of living by faith." That is the hard work of discipleship.
Like Peter, if we want to be part of this uprising, we are called to follow Jesus. That doesn't mean we have to be perfect – just look at Peter with his philia-love of Jesus. "But it does mean we are growing and learning, always humble and willing to get up again after we fall, always moving forward on the road we are walking."[8]
It's a strange position to be in, being part of the flock that Peter is called to feed and being called like Peter to feed the flock. But that's what we're called to be as part of this uprising. We are disciples who are learning even as we are teaching new disciples. Yes, we will make mistakes. Yes, some of our efforts will prove fruitless. And when that happens, Jesus will come by and encourage us to give it one more try, maybe a little differently this time, casting our nets on the other side of the boat.
As we move into our time of reflection, I invite you to meditate on anything in the sermon to strikes you, or to consider one or more of these questions:
Hold the image of tired fishers at daybreak, being told to cast their nets one more time. What does this image say to your life right now?
How have you been drawn toward discipleship by another person?
How do you relate to the story of Peter with its dramatic ups and downs?
[5] Wink, op. cit.
[7] Brian McLaren, We Make the Road by Walking (New York: Jericho Books, 2014), 179.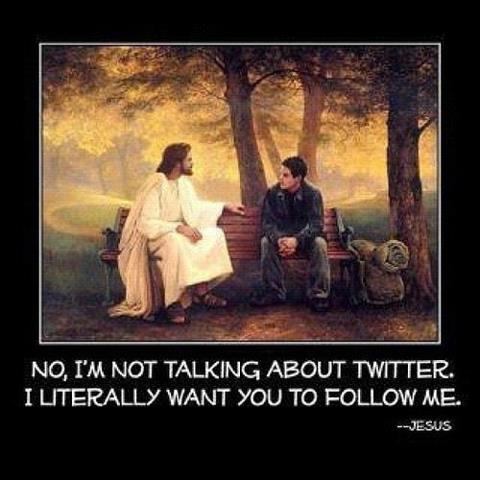 A sermon preached at Niles Discovery Church, Fremont, CA
on Sunday, September 8, 2013, by the Rev. Jeffrey Spencer.
Scripture:  Jeremiah 1:4-10
Copyright © 2013 by Jeffrey S. Spencer
This was an interactive sermon, one in which the congregation was invited to participate.  Their responses are not recorded here.
Sermon has two parts – I need your help with both parts.
Let me start by talking about the job of a prophet.  Basically, I think it boils down to this:  To speak God's truth.  Another way to put it is to explain God's vision to the world.
Some prophets did this with memorable words:
Amos:  Let justice roll down like waters and righteous like an everflowing stream.
Isaiah:  They shall beat their swords into plowshares, and their spears into pruninghooks: nation shall not lift up sword against nation, neither shall they study war any more.
Micah:  What does the Lord require of you but to do justice, love kindness, and walk humble with your God.
But those poetic words are really too long even for a bumper stickers, and I'd like to find a way to articulate God's vision on these pins.[*]  So, we need to figure out a way to summarize God's vision in a word or two.  So, how would you summarize God's vision?
PARTICIPATION
Stuff gets in the way of sharing that vision.  Stuff gets in the way of speaking it to the world.  Most of that stuff comes from inside us.  We heard in today's reading that Jeremiah said he couldn't share God's vision because he was too young.  What gets in the way for you?  What's your excuse?
PARTICIPATION
God runs into excuses all the time.  We heard Jeremiah's excuse, that he was too young.  Think about these other people God used:[†]
Noah would get drunk.
Abraham was too old.
Jacob was a liar.
Leah wasn't pretty enough.
Joseph was abused,
Moses had a stutter.
Samson had long hair and was a womanizer.
Rahab was a prostitute.
Timothy was another one who was "too young."
David had an affair and was a murderer.
Isaiah preached naked.
Jonah ran from God.
Naomi was a widow.
Job went bankrupt.
Peter denied Christ.
The Disciples fell asleep while praying.
Martha worried about everything and simply had too much to do.
The Samaritan woman was divorced, more than once.
Zaccheus was too small.
Paul was too religious.
Even Lazarus' excuse – he was dead – wasn't good enough.
The news – you can decide it if it's good or bad news – is that God has always used imperfect people.  In fact, God seems to prefer imperfect people.  Which means that God would be happy to use imperfect us.
Forget your excuses; God wants to use you.  So, given the fact that God wants to use the imperfect you, are you ready to sing our next hymn?[‡]
---
[*] I had a dozen or so pins, like a political campaign pin, that said, "God's Vision:  _____________" and a bunch of magic markers.  People were invited to share their summary of God's vision and to write it on a pin, and then wear the pin.
[†] This list is kicking around the internet in one form or another.  I forget where I first saw it.
[‡] The hymn that immediately followed the sermon was "Here I Am, Lord," by Dan Schutte.
A sermon preached at Niles Discovery Church
a new church for a new day, in Fremont, California,
on Sunday, August 18, 2013, by the Rev. Jeffrey Spencer
Scripture:  Luke 12:49-56 and Isaiah 5:1-7
Copyright © 2013 by Jeffrey S. Spencer
One of my favorite places on earth is high in the northern Cascade Mountains.  Holden Village was originally a copper mine and the village that sprang up around it.[1]  The mine was opened in 1938 and for 19 years copper ore was dug out from deep inside the mountain.  It was milled and separated and concentrated.  A slurry of the concentrated ore was trucked down the over ten miles of treacherous dirt road switchbacks to barges, where it was taken down Lake Chelan for further processing.  The tailings (the portion of the slurry that wasn't useful) were pumped to several spots on the valley floor and, over the years, large piles of the tailings grew.
The mine was closed in 1957, leaving behind a deep shaft that filled with water, the tailings, and the old mill that eventually collapsed, along with the dormitories, the houses, the recreation hall, and the dining hall that made up the Village.  In 1960, the property was gifted to the Lutheran Bible Institute and, within a few years, it was transformed into a retreat center.  For over 50 years now, Holden Village has offered hospitality and spiritual growth and transformation to people who take the trip up Lake Chelan and then the ten-plus miles up the switchback filled dirt road in an old school bus to the village.  Only small groups brave the cold and deep (sometimes very deep) snow of a northern Cascades winter.  Most of the volunteers and guests come for part or all of the summer.
Except this year.
For 50 years, the water has drained from the flooded mine, carrying various metals and toxins down into Railroad Creek.  For 50 years, rain fell onto and drained through the tailings.  Snow has melted through the tailings.  And that water has carried various metals and toxins downstream to Lake Chelan.
This summer, Holden Village is filled – but not with guests.  This summer, the Village bustles with men and women executing several major construction projects.  The company that bought the company that bought the company that ran the mine has returned in partnership with the EPA, US Forest Service, and Holden Village to do long-delayed remediation.  The old mill will be demolished, a water treatment center will be built, and the leaching from the tailings and mine will be stemmed.  The Holden staff remains on site doing deferred maintenance on Village buildings and reclaiming the wood from trees felled in the construction projects.  But they've been impacted by these changes.
The days are still punctuated by morning and evening prayer, but few if any of the 150 to 200 construction workers participate.  Meals are still served in the dining hall, but the fare has changed dramatically from low on the food chain, simple dining to three meat-filled entrée options at dinner and a Coke machine.  None of the typical programming of study and reflection is taking place.  "It is tempting to see the remediation workers coming into the Village as temporary or invaders," writes co-executive director Chuck Carpenter.[2]
In our gospel lesson for today, "Jesus announces that it is 'crunch time.'  It's time to decide, to take sides at some risk, to be with Jesus or against him.  He chides his listeners for their inability to notice that in his very person the world comes to a dangerous moment to decide for or against God's rule.  Jesus calls his listeners beyond their casual conversation about the weather to face the grand drama of the world being played out before their eyes."[3]
The picture Jesus paints is hardly a comforting one.  "I have come to bring fire," Jesus said.  "How I wish it were already kindled!"  Or as the Jerusalem Bible puts it, "How I wish it were blazing already!"
"The fire he refers to here is not, strictly speaking, the Holy Spirit (although Luke certainly uses that image for the Spirit in Acts 2:3).  The context suggests that he's referring to the fire of purification, of inspiration, and of judgment.  John the Baptist had promised that Jesus would 'baptize you with the Holy Spirit and fire,' that he would 'gather the wheat into his granary; but the chaff he will burn with unquenchable fire' (Luke 3:16-17).
"To bring the fire, though, there is a 'baptism" Jesus must still receive (Luke 12:50).  Jesus knows that he is to be immersed (baptizein) in suffering … and that this is not mere fate or an accident, but necessary for the fulfillment of his destiny.  'What stress I am under,' he says, 'until it is completed' – the Greek word translated 'stress' (or more commonly, 'distress') means to be totally dominated by a thought.  In other words, Jesus is telling his disciples that he will be completely focused on this until it is finally accomplished – even knowing the cup of which he is about to drink, nothing can divert him from his proper end.
"The fulfillment of his mission, however, does not lead to peace, but to division.  As one translation puts it, 'I came to make people choose sides.'"[4]  No wonder the old union song, "Which Side Are You On," had been drifting in and out of my consciousness all week.
We might be tempted to postpone this fire Jesus came to bring until the afterlife.  We might hope that Jesus is talking about the fires of purgatory or hell.  But that's only a dodge.  Jesus comes to cast fire on earth.  As soon as possible.
That's why Jesus is heading to Jerusalem in Luke's gospel.  Jesus is on his way to confront the principalities and powers.  And it's never pretty when the powers that be are confronted.  "Jerusalem could no more face what Jesus brought than we [can].  It is far easier to destroy the messenger of our darkness than to face it in ourselves and our social system."[5]  Jesus was dealing with a huge, collective, inert, vindictive mass of embedded selfishness that permeated society.  Much like he is today.
"Jesus comes, not as a mediator, but as a stone of stumbling, a creator of dissension."[6]  It can happen quite simply.  Any time we objectify someone, any time we strip another human being of his or her humanity, we are buying into the status quo.  The status quo tells the Holden Village staff to see the remediation workers coming into Holden Village as temporary or invaders, to make them objects.
But Jesus trips up the status quo.  Jesus says we are to separate ourselves from that point of view.  "Do you see that person as your brother, as your sister?" he asks us.
One of the ironic things about that question is that if we answer it "yes," we can end up losing our blood brothers and sisters.  The dissension starts, Jesus seems to be saying in the family.  A family of five will be divided 3 against 2.  Parent and child will be divided against each other.  Women, you think your mothers-in-law are difficult now?  Just you wait.
But maybe that's appropriate.  While family structures and systems have changed since Jesus' day, they are still the breeding grounds of domination and male supremacy, gender traps and hierarchies.  No wonder Jesus says the upset will start there, or at least it should.
We hear echoes of this cry in our reading from Isaiah.  "God looked for judgment, but see, bloodshed!  For justice, by hark, the outcry!"  The call is for repentance.  And remember, repentance isn't about beating yourself up for doing bad things.  Repentance isn't about feeling shame.  Repentance is about making a new choice, picking a new direction.  And that will often shake things up.
Maybe that's why "we do not often dwell on this passionate and seemingly divisive side of Jesus; it is usually overlooked or downplayed since it doesn't match the docile image often attributed to him.  But Jesus is perfectly clear in these readings and others:  The gospel is divisive, and many people have much to lose from its realization.  Insisting upon kingdom ideals such as justice for the outcast was no more popular then than it is now.  For this reason, the anger and passion evidenced by Jesus is vital to our own ability to identify, renounce, and work for justice in all that we do."[7]
The story's told of a sociology professor who for years began his course on "The Family" by reading to his class a letter, from a parent, written to a government official.  "In the letter the parent complains that his son, once obedient and well-motivated, has become involved with some weird new religious cult.  The father complains that the cult has taken over the boy's life, has forced him to forsake all of his old friends, and has turned him against his family."[8]
After reading the letter, the professor asked the class. "What do you think the father is talking about in this letter?"  Almost without exception, the classes immediately assumed that the subject of the letter is a child mixed up some cult.  Dating this story to the 70s, the "cult" was typically identified is "the Moonies."  After the class put out all of the possible conclusions they can think of, the professor told them that the letter was written by a third century father to the Roman governor of his province, complaining about this weird religious group called "The Christians."[9]
The gospel of Jesus Christ is divisive.  It is offensive.  It calls for a reordering of society and priorities.
Jesus complains to the crowds that they know how to forecast the weather, but they don't know how to "interpret the present time."  It is not straightforward what Jesus means by "interpreting the present time," but given the context, I can reach only one conclusion:  Jesus is talking about seeing what is going on.  Jesus is talking about opening their eye – and us opening our eyes – to the realities, the anti-kin-dom of God realities of the present time.
You see the clouds rising in the west and you know it's going to rain.  And when the south wind blows, you know it's going to be a scorcher.  But you don't see what is just as plainly before you.
Worldwide, about 25,000 people die every day of hunger or hunger-related causes, according to the United Nations.  That is one person every three and a half seconds.[10]
As of early yesterday evening, the official death toll in the most recent rounds of violence in Egypt is well over 600, and the violence is not stopping.[11]  And that is just one of many countries where violence continues unabated.
There are an estimated 27 million slaves in the world today – even though slavery is illegal everywhere.[12]
Atmospheric carbon dioxide levels have reached 400ppm and global average temperatures are up over 1oF.  And both continue to rise.
If we know how to interpret the present time, we will respond to these crises and others by taking action.  That action will offend and scandalize those who are committed to the status quo and domestic security in a familiar world.   Families especially will try to deter us and reclaim us.
My friends, faithfulness to Christ will involve cutting through the ties that would bind us to conventional values.[13]  But nobody every said discipleship was easy.
---