You are currently browsing the tag archive for the 'Donald Trump' tag.
A sermon preached at Niles Discovery Church, Fremont, California,
on Sunday, January 1, 2017, by the Rev. Jeffrey Spencer.
Scriptures: Revelation 21:1-6a and Psalm 8
Copyright © 2017 by Jeffrey S. Spencer
I've enjoyed some of the things that have been posted this past week on Facebook about New Year's resolutions.
I'd like to do a quick poll: How many of you make New Year's resolutions? I don't tend to. Why set myself up for failure?
I've done some reading about New Year's resolutions and what makes them effective. One author[1] includes this advice:
Begin with the end in mind. In other words, know why you're making the resolution. This is important advice for any planning. Know your why. In fact, this is such an important point, I want to share a video clip about it.
This author also suggests:
Make SMART resolutions: Specific, Measureable, Attainable, Realistic, and Trackable.
Have a plan that is incremental. In other words, know what you need to do today to fulfill your resolution.
Celebrate you accomplishments along the way.
Limit your number of resolutions. This is needed to keep you focused. If you have too many resolutions, you can end up not knowing where to begin or which resolution should get your attention.
Share your resolutions with someone(s) to help build support in your efforts.
Let yourself adjust your resolutions to respond to changes in circumstances. As a friend of mine is fond of saying, "Life happens."
It seems to me that this advice is as applicable to congregational strategic planning as it is to New Year's resolutions. And I'd start with the same first piece of advice for congregational planning: know your why. Our congregation's why, informally stated, is to share God's love with everyone, no exceptions; to grow in our relationships with God; and to serve you neighbors near and far.
Stanley Hauerwas, American theologian, ethicist, and intellectual, put it more boldly: "We would like a church that again asserts that God, not nations, rules the world, that the boundaries of God's kingdom transcend those of Caesar, and that the main political task of the church is the formation of people who see clearly the cost of discipleship and are willing to pay the price."[2]
As we enter the new year, there are plenty of us in this congregation who are feeling anxious. The causes of the anxiety are varied. Some of us are facing medical concerns, or have family who are, and that leads to anxiety. Some of us are facing job uncertainty or other economic challenges, and that leads to anxiety. Some of us are anxious because of what we have heard from politicians and their supporters over the past year that makes us worried about the future of freedom and equality in our country.
While I have a little medical issue that I'm dealing with as we enter the new year,[3] that's not what is causing my anxiety. My anxiety comes from our national political situation. Based on the rhetoric I've heard coming from President-elect Trump during the campaign and since, and based on his Cabinet and advisor nominations, I am worried about what direction President Trump will lead our country. While I am not sure he is sure about what his political vision is, I fear what it could be or what it could become. Mr. Trump's presidency could very easily be leading toward authoritarian rule.
The greatness to which he says he wants to lead America seems to be based on a scapegoating of minorities – racial, religious, immigrant, gender, and sexual orientation and identity. And the path to get there seems to be anti-science and anti-fact. The conclusion I've reached is that we cannot protect our nation from this vision with dialogue and fact-checking.[4] It will take action.
And I know that when I'm feeling anxious, it is hard for me to act.
So, I have two things I want to say about our anxieties, as much for me as for anyone else. First, I think what Bishop Steven Charleston said recently bare repeating: "[I] offer … the reassurance of a holy irony: what seems weak is strong, what seems lost will be found, what seems empty will overflow, what is broken will be mended. The peacemakers and the poor will overcome the warmongers and the greedy. Logic is on our side. Not the logic of power, but the logic of an endless grace. Do not fear, but believe. Faith turns anxiety upside down."[5]
Second, if we let our faith turn our anxieties upside down, we will be empowered to act. Whether that action helps us fulfill our New Year's resolutions or it helps us stand up for the vulnerable, our faith empowers action. This is important to me because "[m]oderate neutral theology will not help us during these times. Our faith and our 'God' either sides with the oppressed or with the oppressor. For Christians committed to justice, this is a time to tap into the radical and progressive strands of our tradition and vigorously oppose any justification or cooperation with [anything that even sniffs of] fascism."[6]
I hope that we, as a church, will take action this year. Perhaps it will start with making a public witness by adopting a commitment like the one that St. Mark's Episcopal Cathedral adopted in Seattle recently.[7] This isn't the time or place to read their statement in its entirety, but I think we need to take similar bold and clear action. We need to proclaim clearly our rejection of White Nationalism, our determination to protect our neighbors from hate speech and attacks, our support of religious liberty, our commitment to end misogyny and sexual violence, and our determination to protect the environment as we work for climate justice.
And then, after adopting such a statement, I hope we will fulfill it with our hand and feet and voices.
Parker Palmer wrote a column about New Year's resolutions last year,[8] but when he sat down to write his draft, he mistyped "resolutions." His left hand didn't type the first "s." Instead, it typed a "v".
If we take seriously the vision John of Patmos saw, then instead of New Year's resolutions, maybe we should make New Year's revolutions. With the plight of millions of refugees, the continued grief of mass killings, "the persistence of racism and the violence it fosters, the growing number of people living in or on the edge of poverty, the failures of our justice system, the downward spiral of a democracy en route to becoming an oligarchy, [and] the ongoing degradation of Earth itself,"[9] it will take a revolutionary approach to help build the new heaven and new earth that John of Patmos saw was God's plan for creation. When faced with the principalities and powers of the Roman Empire, John proclaimed that a different way was possible – just as there is a different way for us, regardless of who the current Caesars turn out to be.
Palmer's five revolutions cover much of the same ground as St. Mark's statement. He calls for a revolution against our fear of "otherness," and against those who manipulate this fear for their self-serving ends; a revolution against the state of denial in which most white American's live about white privilege and white supremacy in our lives; a revolution against the nonstop attacks on our K-12 teachers and public education; a revolution against gun-related policies driven by the delusional mentality of policy-makers and power brokers; and a revolution against the fantasy that a few of us can live secure private lives while ignoring our complicity in conditions that put many other in mortal risk.
Three years ago, I decided to make some New Year's resolutions. I had what I thought was a clever approach. I asked myself, what can I do in my life for sake of my environment and for the nourishment of my body, mind, and spirit. One resolution for each of these four parts of my life. For the environment, I resolved to start my laundry in the morning so I could use the line to dry my clothes. For my body, I resolved (with some specificity) shifts to my eating habits. For my mind, I resolved to keep up with reading The Christian Century as the magazine arrived.
I did not do so well with these three resolutions.
But I am still living with the resolution I made three years ago for my spirit: Be the "be this guy" guy. This is the "be this guy" guy.
And here he is in context.
Notice what he's doing with his arms and what everyone else around him is doing with their arms.
He is believed to be August Landmesser. Born in 1910, he was a worker at shipyard in Hamburg, Germany, when a naval training vessel, the Horst Wessel was launched and this picture was taken. It was June 13, 1936. Though he had joined the Nazi party, he got into trouble with them because of his relationship with Irma Eckler, a Jewish Woman. Landmesser was later imprisoned, eventually drafted, and was killed in action. Eckler was sent to a concentration camp where she was presumably killed.[10]
I've decided to make only one resolution for this new year, and it's really a renewal of that three-year old resolution: Be the "be this guy" guy. I know it's not a SMART resolution. It's not Specific, Measureable, or Trackable. It might not even be Attainable or Realistic. But it's sure seems gospel-grounded and necessary for helping to create the new heaven and earth that John of Patmos saw. So it's the right resolution – at least for me.
I hope you find a resolution that right for you, too. And as we move into our time of quiet reflection, I invite you to think about your resolution for the coming year.
[1] Steve Poos-Benson, "Twelve Steps for New Years Resolutions," Cowboy Jesus, http://stevescowboyjesus.blogspot.com/2016/12/twelve-steps-for-new-years-resolutions.html (posted 28 December 2016; accessed 30 December 2016).
[2] Quoted by Diana Butler Bass on her Facebook page https://www.facebook.com/Diana.Butler.Bass/posts/10154446201803500 (posted 28 December 2016; accessed 30 December 2016).
[3] On Wednesday, I did something to my back and it's been hurting since.
[4] Daniel José Camacho, "Fascism can't be stopped by fact-checking," The Christian Century, https://www.christiancentury.org/blog-post/fascismfactchecking (posted 26 December 2016, accessed 30 December 2016).
[5] Stephen Charleston's post from 29 December 2016, https://www.facebook.com/bishopstevencharleston/posts/1221986484552888 (accessed 30 December 2016).
[6] Camacho, op. cit.
[7] "Renewing Our Covenant: A Statement of Commitment and Action, St. Mark's Cathedral Parish," Saint Mark's Episcopal Cathedral, http://www.saintmarks.org/serve/volunteer/governance/renewing-our-covenant/ (adopted 20 December 2016; accessed 30 December 2016).
[8] Parker J. Palmer, "My Five New Year's Revolutions," On Being, http://www.onbeing.org/blog/parker-palmer-my-five-new-years-revolutions/8290 (posted 30 December 2015; accessed 30 December 2016).
[9] Ibid.
[10] "August Landmesser," Wikipedia, https://en.wikipedia.org/wiki/August_Landmesser (accessed 30 December 2016).
According to the Mayo Clinic website, the "DSM-5 criteria for narcissistic personality disorder include these features:
Having an exaggerated sense of self-importance
Expecting to be recognized as superior even without achievements that warrant it
Exaggerating your achievements and talents
Being preoccupied with fantasies about success, power, brilliance, beauty or the perfect mate
Believing that you are superior and can only be understood by or associate with equally special people
Requiring constant admiration
Having a sense of entitlement
Expecting special favors and unquestioning compliance with your expectations
Taking advantage of others to get what you want
Having an inability or unwillingness to recognize the needs and feelings of others
Being envious of others and believing others envy you
Behaving in an arrogant or haughty manner"
Some people (me included) think that Donald Trump may have narcissistic personality disorder (NPD). It is, like most personality disorders, very hard to treat and very hard to live with. A person named Nell Ziehl wrote a post on Facebook that is getting forwarded with advice about dealing with someone who has NPD. I don't know who Nell is or what Nell's credentials are, but from my personal experience with people who have personality disorders, this seems like good, basic advice. So, I'm reposting Nell's advice here:
I want to talk a little about narcissistic personality disorder. I've unfortunately had a great deal of experience with it, and I'm feeling badly for those of you who are trying to grapple with it for the first time because of our president-elect, who almost certainly suffers from it. Here are a few things to keep in mind:

1) It's not curable and it's barely treatable. He is who he is. There is no getting better, or learning, or adapting. He's not going to "rise to the occasion" for more than maybe a couple hours. So just put that out of your mind.

2) He will say whatever feels most comfortable or good to him at any given time. He will lie a lot, and say totally different things to different people. Stop being surprised by this. While it's important to pretend "good faith" and remind him of promises, as Bernie and others are doing, that's for his supporters, so *they* can see the inconsistency. He won't care. So if you're trying to reconcile or analyze his words, don't. It's 100% not worth your time. Only pay attention to and address his actions.

3) You can influence him by making him feel good. There are already people like Bannon who are ready to use him for their own ends. The GOP is excited to try. Watch them, not him. President Obama, in his wisdom, is treating him well in hopes of influencing him and possibly averting the worst. If he gets enough accolades for better behavior, he might continue to try it. But don't count on it.

4) Ultimately, he will betray anyone who tries to get close to him. It might take a while, though, so we can't count on that.

5) He only cares about himself and those he views as extensions of himself, like his children. (People with NPD can't understand others as fully human or distinct.) He desires accumulation of wealth and power because it fills a hole. (Melania is probably an acquired item, not an extension.) He will have no qualms *at all* about stealing everything he can from the country, and he'll be happy to help others do so, if they make him feel good. That is likely the only thing he will intentionally accomplish.

6) It's very, very confusing for non-disordered people to experience a disordered person with NPD. They do not observe social conventions or demonstrate basic human empathy. It's very common for non-disordered people to lower their own expectations and try to normalize the behavior. DO NOT DO THIS AND DO NOT ALLOW OTHERS, ESPECIALLY THE MEDIA, TO DO THIS. If you start to feel foggy or unclear about this, step away until you recalibrate.

7) People with NPD often recruit helpers, referred to in the literature as "enablers" when they allow bad behavior and "flying monkeys" when they perpetrate bad behavior on behalf of the narcissist. Although it's easiest to prey on vulnerable or malicious people, good people can be unwittingly recruited. It will be important to support good people around him if and when they attempt to stay clear or break away.

8) They like to foster competition for sport in people they control. Expect lots of chaos, firings and recriminations. He will probably behave worst toward those closest to him, but that doesn't mean (obviously) that his actions won't have consequences for the rest of us. He will punish enemies. He may start out, as he has with the NYT, with a confusing combination of punishing/rewarding, which is a classic abuse tactic for control. If you see your media cooperating or facilitating this behavior for rewards, call them on it.

9) Gaslighting — where someone tells you that the reality you've experienced isn't true — is real and torturous. He will gaslight, his followers will gaslight. The GOP has been gaslighting for 30 years. Learn the signs and find ways to stay focused on what you know to be true.

10) Whenever possible, do not focus on the narcissist or give him attention. Don't circulate his stupid tweets or laugh at him — you are enabling him and getting his word out. (I've done this, of course, we all have… just try to be aware.) Pay attention to your own emotions: do you sort of enjoy his clowning? is this kind of fun and dramatic, in a sick way? You are adding to his energy. Focus on what you can change and how you can resist, where you are. We are all called to be leaders now, in the absence of leadership.

Much love and I'll post something fun for the holidays too, I promise.

If you follow this blog, you know that I hoped Secretary Clinton would be elected President. More than that, I really didn't want Mr. Trump to be elected President. That hope and wish were not fulfilled. Instead, a man who I have seen as misogynist, racist, and dangerous (his denial of climate change, his openness to using nuclear weapons) has won enough states that, assuming the electoral college votes as they are pledged, he will be the next President of the United States.
I've been told that in 1960, after John F. Kennedy narrowly defeated Richard Nixon, staunch Hollywood conservative John Wayne declared, "I didn't vote for him, but he's my president and I hope he does a good job."
I'm having a hard time following John Wayne's lead. Yes, I hope Mr. Trump does a good job, but based on his campaign and the signals coming from his transition team, I don't think he will. I've read his plan for this first 100 days in office. If he follows through on his plan, he will wreak havoc on the economy, the environment, the Supreme Court's protection of freedom, our public schools, the incomplete health insurance net that's being stitched together through Obama Care, families that include at least one undocumented worker, and the national debt.
While the plan does not say anything overt about removing right of religious, ethnic, or sexual minorities, the rhetoric surrounding the Trump campaign and the people he has named to his transition team is frightening. Since election day, many people – especially women, minorities, immigrants, and members of the lgbt community – have felt vulnerable. Not surprising, since the Southern Poverty Law Center has noted as significant spike in acts of "hateful harassment and intimidation" since the election. And now, with the naming of white nationalist Steve Bannon to be "Chief Strategist to the President," the pit in my stomach that had been slowly dissolving has re-solidified. White male privilege is, I fear, solidifying in our culture, right along side the pit in my stomach.
Bishop Dwayne Royster's words in this blog post posted late on election day resonate with me – particularly when he rights about his anger that people who say they follow Christ voted for a person whose words during this campaign paint him as sexist, racist, xenophobic, misogynistic, homophobic, and not someone to be trusted with nuclear weapons. And I like that he calls us to be "Prophets that will speak truth to power unequivocally and will speak truth to the people as well."
Senator Bernie Sanders (the presidential candidate I supported in the primaries) issued this statement the day after the election. In four sentences he says where I want to be politically.
Donald Trump tapped into the anger of a declining middle class that is sick and tired of establishment economics, establishment politics and the establishment media.  People are tired of working longer hours for lower wages, of seeing decent paying jobs go to China and other low-wage countries, of billionaires not paying any federal income taxes and of not being able to afford a college education for their kids – all while the very rich become much richer.

To the degree that Mr. Trump is serious about pursuing policies that improve the lives of working families in this country, I and other progressives are prepared to work with him. To the degree that he pursues racist, sexist, xenophobic and anti-environment policies, we will vigorously oppose him.
And while I want to be ready to work with Mr. Trump where I can (and vigorously against him where his proposals and policies are harmful), I am worried about how we respond to people who are vulnerable now, as attacks continue. I turn to my Twitter feed as I write this, knowing that there are other people who have posted things that have inspired me or at least given me hope, but what I'm reading about are instances of people of color being threatened by whites, of people of Muslim faith afraid to express it. Trump has turned a populist anger into hatred for "the other" by turning economic resentment into racial, religious, and gender resentment.
As a pastor, I wonder what my congregation can do. My greatest personal fear about the Trump presidency is that the little progress we've made as a nation to combat climate change will be reversed and the struggle to address this (the most important moral issue of our day) may be too late. Others have different primary fears as they try to imagine the coming Trump presidency – and with good reason; check out "Day 1 in Trump's America." The Rev. Michael Denton, Conference Minister of the Pacific Northwest Conference of the United Church of Christ, identified how the Trump presidency will make the lives of so many less safe and more traumatic – and some ideas for churches on his Facebook page:
For millions of people in our country and beyond, this world is suddenly and significantly less safe. Hate crimes had already increased in recent months and will even more, now. Many hard fought for laws that had protected the rights and lives of the queer community are in danger of being rolled back. Survivors of sexual assault will have to look into the eyes of someone who bragged about assaulting others every time they turn on the news. Those with disabilities will have to look into the eyes of someone who has mocked them. Migrants and refugees who found a home here are wondering if they'll have to be migrants and refugees, again. People of color who already knew the life threatening daily reality of systemic racism are faced with one more blatant systemic expression of it. Those whose religious expression does not fall into a relatively narrow expression of Christianity can expect to be treated as suspect. Someone who has talked about his intention to use military force preemptively and often now has the ability to do so.

The idea of providing sanctuary is not a new one. It is the idea of opening up our churches and making them a safe space for people who are feeling threatened by the world. Over the coming hours, days, weeks, months and years more and more people are going to be asking for us to provide some sort of sanctuary; everything from providing a space for prayer and a listening ear to a place where they can find physical safety from a world that endangers them. We need to start that conversation of how to do that within and between our churches, now.
When it was becoming clear that Mr. Trump was going to win the electoral college, I honestly wondered if it was time to consider emigrating. I have a friend in New Zealand who said she will take me in while I look for a job if it's ever needed. But then I read a tweet (I don't remember who posted it) that called those of us who have privilege and care about justice not to abandon those who do not have privilege. Privilege comes in many forms in the USA. I have gender (I'm a cisgender male), race (I'm European-America of British descent), and economic (within the USA I'm probably upper-middle class) privilege, privileged enough to be able to seriously consider emigration. But I will stay and look for ways to justly use my privilege to protect those who are vulnerable and to dismantle the system that makes this privilege possible.
Those of us with privilege must not abandon those who do not have privilege. Those of us who follow Christ must serve, lift up, empower, and follow the vulnerable who are all the more vulnerable now.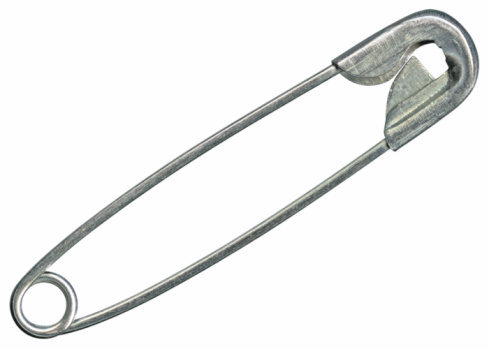 I've decided to wear a safety pin.
By now, you've probably heard about a simple act that many are taking to show others that they are safe: wearing a safety pin. I'm not sure if it started in Australia or was inspired by the #illridewithyou movement in Australia. In any event, it took root in Great Britain after the Brexit vote. People wore empty safety pins after the vote by the UK to leave the European Union to let people who might be targeted with harassment after the vote (especially immigrants) know that the person wearing the pin was safe, was an ally, would stand with the vulnerable person to support them.
After the election of Donald Trump (I'm assuming the Electoral College will actually elect him on December 19), many people – especially women, minorities, immigrants, and members of the lgbt community – felt vulnerable. Not surprising, since the Southern Poverty Law Center has noted as significant spike in acts of "hateful harassment and intimidation" since the election. People who walk through life with privilege (men, whites, etc.) are recognizing that they can leverage this privilege to help create safe space for vulnerable people. The safety pin is a sign of this. I should quickly add that people with less privilege than me are also wearing safety pins.
I was initially jazzed by the idea of wearing the pin. And then I started to read articles and blogs offering some push-back (for instance, this piece written by a white male). As my friend and colleague Sandhya Jha said in a Facebook post, "I have a mild concern that people are drawn to these safety pins as a form of absolution: 'I'm ok. I'm not THAT kind of white person. I am not to blame.' I also have a mild concern that it is less about learning the skills to put one's body on the line for another (and there are skills to practice) than about getting credit for being a good white person for publicly announcing one's ally status. As my LGBTQ+ activist friends helpfully remind me, I don't get a cookie for being an ally. That's just being a decent human being, and that doesn't warrant brownie points."
And Sandhya is absolutely right about there being skills to practice. As another blog post point out, those of us who wear the pin need to know what the pin means, know how much risk we're willing to take, learn how to de-escalate volatile situations, know what you'll do if de-escalation doesn't work or if the situation gets violent, and practice. I recommend you read this blog post if, like me, you're plan to wear a safety pin.
I'll wear my pin for me as well as for people who I might meet along the way. I'll wear my pin to remind me of the commitment I make to be a person who will help if needed (and wanted). And, as Sandhya concluded in her post:  "[The safety pin] can become a symbol of accountability, that white people see it and acknowledge to each other, 'we have a lot of work to do to unify our people around a different vision. We have a lot of work to do to protect other people from our people. We have a lot of work to do to create a different way of being white. Let's make sure to hold each other to that.'"