You are currently browsing the tag archive for the 'election 2016' tag.
If you follow this blog, you know that I hoped Secretary Clinton would be elected President. More than that, I really didn't want Mr. Trump to be elected President. That hope and wish were not fulfilled. Instead, a man who I have seen as misogynist, racist, and dangerous (his denial of climate change, his openness to using nuclear weapons) has won enough states that, assuming the electoral college votes as they are pledged, he will be the next President of the United States.
I've been told that in 1960, after John F. Kennedy narrowly defeated Richard Nixon, staunch Hollywood conservative John Wayne declared, "I didn't vote for him, but he's my president and I hope he does a good job."
I'm having a hard time following John Wayne's lead. Yes, I hope Mr. Trump does a good job, but based on his campaign and the signals coming from his transition team, I don't think he will. I've read his plan for this first 100 days in office. If he follows through on his plan, he will wreak havoc on the economy, the environment, the Supreme Court's protection of freedom, our public schools, the incomplete health insurance net that's being stitched together through Obama Care, families that include at least one undocumented worker, and the national debt.
While the plan does not say anything overt about removing right of religious, ethnic, or sexual minorities, the rhetoric surrounding the Trump campaign and the people he has named to his transition team is frightening. Since election day, many people – especially women, minorities, immigrants, and members of the lgbt community – have felt vulnerable. Not surprising, since the Southern Poverty Law Center has noted as significant spike in acts of "hateful harassment and intimidation" since the election. And now, with the naming of white nationalist Steve Bannon to be "Chief Strategist to the President," the pit in my stomach that had been slowly dissolving has re-solidified. White male privilege is, I fear, solidifying in our culture, right along side the pit in my stomach.
Bishop Dwayne Royster's words in this blog post posted late on election day resonate with me – particularly when he rights about his anger that people who say they follow Christ voted for a person whose words during this campaign paint him as sexist, racist, xenophobic, misogynistic, homophobic, and not someone to be trusted with nuclear weapons. And I like that he calls us to be "Prophets that will speak truth to power unequivocally and will speak truth to the people as well."
Senator Bernie Sanders (the presidential candidate I supported in the primaries) issued this statement the day after the election. In four sentences he says where I want to be politically.
Donald Trump tapped into the anger of a declining middle class that is sick and tired of establishment economics, establishment politics and the establishment media.  People are tired of working longer hours for lower wages, of seeing decent paying jobs go to China and other low-wage countries, of billionaires not paying any federal income taxes and of not being able to afford a college education for their kids – all while the very rich become much richer.

To the degree that Mr. Trump is serious about pursuing policies that improve the lives of working families in this country, I and other progressives are prepared to work with him. To the degree that he pursues racist, sexist, xenophobic and anti-environment policies, we will vigorously oppose him.
And while I want to be ready to work with Mr. Trump where I can (and vigorously against him where his proposals and policies are harmful), I am worried about how we respond to people who are vulnerable now, as attacks continue. I turn to my Twitter feed as I write this, knowing that there are other people who have posted things that have inspired me or at least given me hope, but what I'm reading about are instances of people of color being threatened by whites, of people of Muslim faith afraid to express it. Trump has turned a populist anger into hatred for "the other" by turning economic resentment into racial, religious, and gender resentment.
As a pastor, I wonder what my congregation can do. My greatest personal fear about the Trump presidency is that the little progress we've made as a nation to combat climate change will be reversed and the struggle to address this (the most important moral issue of our day) may be too late. Others have different primary fears as they try to imagine the coming Trump presidency – and with good reason; check out "Day 1 in Trump's America." The Rev. Michael Denton, Conference Minister of the Pacific Northwest Conference of the United Church of Christ, identified how the Trump presidency will make the lives of so many less safe and more traumatic – and some ideas for churches on his Facebook page:
For millions of people in our country and beyond, this world is suddenly and significantly less safe. Hate crimes had already increased in recent months and will even more, now. Many hard fought for laws that had protected the rights and lives of the queer community are in danger of being rolled back. Survivors of sexual assault will have to look into the eyes of someone who bragged about assaulting others every time they turn on the news. Those with disabilities will have to look into the eyes of someone who has mocked them. Migrants and refugees who found a home here are wondering if they'll have to be migrants and refugees, again. People of color who already knew the life threatening daily reality of systemic racism are faced with one more blatant systemic expression of it. Those whose religious expression does not fall into a relatively narrow expression of Christianity can expect to be treated as suspect. Someone who has talked about his intention to use military force preemptively and often now has the ability to do so.

The idea of providing sanctuary is not a new one. It is the idea of opening up our churches and making them a safe space for people who are feeling threatened by the world. Over the coming hours, days, weeks, months and years more and more people are going to be asking for us to provide some sort of sanctuary; everything from providing a space for prayer and a listening ear to a place where they can find physical safety from a world that endangers them. We need to start that conversation of how to do that within and between our churches, now.
When it was becoming clear that Mr. Trump was going to win the electoral college, I honestly wondered if it was time to consider emigrating. I have a friend in New Zealand who said she will take me in while I look for a job if it's ever needed. But then I read a tweet (I don't remember who posted it) that called those of us who have privilege and care about justice not to abandon those who do not have privilege. Privilege comes in many forms in the USA. I have gender (I'm a cisgender male), race (I'm European-America of British descent), and economic (within the USA I'm probably upper-middle class) privilege, privileged enough to be able to seriously consider emigration. But I will stay and look for ways to justly use my privilege to protect those who are vulnerable and to dismantle the system that makes this privilege possible.
Those of us with privilege must not abandon those who do not have privilege. Those of us who follow Christ must serve, lift up, empower, and follow the vulnerable who are all the more vulnerable now.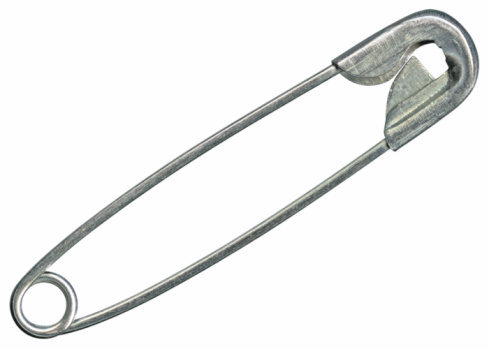 I've decided to wear a safety pin.
By now, you've probably heard about a simple act that many are taking to show others that they are safe: wearing a safety pin. I'm not sure if it started in Australia or was inspired by the #illridewithyou movement in Australia. In any event, it took root in Great Britain after the Brexit vote. People wore empty safety pins after the vote by the UK to leave the European Union to let people who might be targeted with harassment after the vote (especially immigrants) know that the person wearing the pin was safe, was an ally, would stand with the vulnerable person to support them.
After the election of Donald Trump (I'm assuming the Electoral College will actually elect him on December 19), many people – especially women, minorities, immigrants, and members of the lgbt community – felt vulnerable. Not surprising, since the Southern Poverty Law Center has noted as significant spike in acts of "hateful harassment and intimidation" since the election. People who walk through life with privilege (men, whites, etc.) are recognizing that they can leverage this privilege to help create safe space for vulnerable people. The safety pin is a sign of this. I should quickly add that people with less privilege than me are also wearing safety pins.
I was initially jazzed by the idea of wearing the pin. And then I started to read articles and blogs offering some push-back (for instance, this piece written by a white male). As my friend and colleague Sandhya Jha said in a Facebook post, "I have a mild concern that people are drawn to these safety pins as a form of absolution: 'I'm ok. I'm not THAT kind of white person. I am not to blame.' I also have a mild concern that it is less about learning the skills to put one's body on the line for another (and there are skills to practice) than about getting credit for being a good white person for publicly announcing one's ally status. As my LGBTQ+ activist friends helpfully remind me, I don't get a cookie for being an ally. That's just being a decent human being, and that doesn't warrant brownie points."
And Sandhya is absolutely right about there being skills to practice. As another blog post point out, those of us who wear the pin need to know what the pin means, know how much risk we're willing to take, learn how to de-escalate volatile situations, know what you'll do if de-escalation doesn't work or if the situation gets violent, and practice. I recommend you read this blog post if, like me, you're plan to wear a safety pin.
I'll wear my pin for me as well as for people who I might meet along the way. I'll wear my pin to remind me of the commitment I make to be a person who will help if needed (and wanted). And, as Sandhya concluded in her post:  "[The safety pin] can become a symbol of accountability, that white people see it and acknowledge to each other, 'we have a lot of work to do to unify our people around a different vision. We have a lot of work to do to protect other people from our people. We have a lot of work to do to create a different way of being white. Let's make sure to hold each other to that.'"
I'm staying at a friend's home on the east coast of the United States right now. I sat up with him and his wife into the wee hours last night watching the returns come in. The three of us were stunned that our nation had elected Donald Trump to be our next President. I supported Hillary Clinton and my friends worked hard for her election.
My friend's wife's question as we went to bed was this: "How do we explain this to the kids tomorrow?" Their boys are 4 and 6.
I wondered about such a question. They're at an age when the question, "Why?" is often on their lips. I suspect there are lots of reasons why my fellow countrypeople voted for Mr. Trump. Some people probably thought that his tax proposals will put more money in their pockets and didn't care about the consequences for the wider community (their neighbors). Some probably thought that he will change the economy in such a way that their lives and their neighbors' lives will be better. Some probably voted out of their sexism, not wanting a woman to be our President. Some probably voted against Hillary Clinton and would have voted for anyone as long as it wasn't her.
And many, I think, voted from their fear.
So what would I say to a 6-year-old who asked me why Mr. Trump won and Secretary Clinton lost? Recognizing that I couldn't explain the electoral college to a 6-year-old, I think I would say something like, "He won because he got more votes in more states." And when this 6-year-old asks, "Why did people vote for him?" I'd say something like,"When people are afraid or jealous or angry, they don't make the best choices. So some people voted for Mr. Trump because they really liked him better than Secretary Clinton, and some people voted for Mr. Trump because they didn't make the best choice."
I don't know if that answer would satisfy a 6-year-old, but it's the best I have today, a day when I am disappointed, and maybe even a little fearful myself about what the next four years will hold.
At around 1:00 a.m. (Eastern time), as the reality that my country (the USA) had elected Donald Trump to be President started to take hold in my mind, the poem "When the Song of the Angels Is Stilled" by Howard Thurman came to mind. I tweeted a link to it.
This morning, I found that I was not the only one who thought of that poem. Maren Tirabassi posted a poem of her own, inspired by the same poem.
(with thanks to Howard Thurman's deeply meaningful "The Work of Christmas"*) When the speeches and debates are stilled, when the signs have come down from our yards, the traveling journalists are home, and even the pundits have turned to other predictions, jokes, memes, hashtags — The work of community begins: to listen to the hurting, […]
Before the 1980 election, Ronald Reagan asked voters (and encouraged votes to ask themselves), "Am I better off now than I was four years ago?"
In this presidential election year, my answer is, "Yes. Yes, I'm better off than I was four years ago and eight years ago. And that's the wrong question to ask."
Or maybe it's only one of may questions we should be asking.
How about my neighbor (whom I'm supposed to love as myself)? Is my neighbor better off them she was four or eight years ago? And not just my next door neighbor. I should be asking this about all my neighbors in my city and state and country. And I should be asking this about my neighbors in other countries.
But let's not stop there. We should be asking it about other species and the environment as a whole.
And lest you think this is just about the current presidential election, it's not. Let's consider the TPP – the Trans-Pacific Partnership – under consideration by Congress right now. The TPP is a complex trade agreement between 12 Pacific Rim countries (including the United States). And when I say, "complex," I mean complex. It took ten years to develop and has over 30 chapters.
I have yet to hear any politician speak to the particulars. In this election year, the TPP is really not much more than a symbol, a symbol that is being spun primarily to represent global trade that threatens American jobs. "A Trump Administration will end [the war on the American worker] by getting a fair deal for the American people. The era of economic surrender will finally be over," is how Trump is spinning the symbol.
The Clinton campaign isn't much different. "I will do everything in my power to defend American jobs and American workers. Any trade deal must meet three tests to earn my support: it must create good American jobs, raise wages, and advance our national security."
Both candidates are only asking if the TPP will make us better off in four years than we are now. What about asking how it impacts our international neighbors? What about asking how it impacts the environment? What about asking how it circumvents legal system in the partner countries, perverting justice? What about asking how it protects (or fails to protect) the environment?
The TPP aims to cut 18,000 different tariffs, all in the name of "free trade" across international borders. If the only thing I have to trade is my labor and I can't freely transport it across international borders, is it really a "free trade deal"?
Given the complexity of international trade – including national differences in resources, worker skills, labor supply, labor laws and protects, markets, and political and social conditions – the terms of mutually beneficial trade can't be reduced to a bumper sticker or a 30-second sound bite in the spin room.
I oppose the TPP and will until my questions are satisfactorily answered. But that's really not the point of this post. The real point is that we need to move beyond our shortsighted, self-centered questions and think about our local and international neighbors (and not just our human neighbors) when it comes to trade deals and elections and really any policy decision we make.
Here are my recommendations for the 17 (count them: 17) proposition on the California Ballot this fall. You can gauge my support based on how it's typed – from YES! to YES to yes to no to NO to NO!
51 – School bonds: YES
Today's students will be supporting me in my old age. I want them well educated. Children in substandard buildings do 6-11% less well than children in excellent school facilities. Sometimes local school districts can't afford to improve their facilities without some help from others in the state, so let's come together to give our children their best chance at their best education.
52 – State Fees on Hospitals: YES
This makes permanent (it would require a 2/3 vote to cancel or reduce the fees) a fee that the Legislature routinely raises and maintains, paid by private hospitals, to be in compliance with federal regulations that qualify California for MediCal funding. Until we have MediCare for everyone, we need insurance programs like MediCal, and making sure we're eligible for federal funding for the program is completely worthwhile.
53 – Statewide voter approval of revenue bonds: NO
Let the Legislature legislate. If they think state funding of a local project to deal with a crisis situation (like the drought or rising sea levels is appropriate) or some other local need (like building a new public hospital), let them fund it. There's no reason the people of Fresno should be able to stop the construction of a hospital in San Diego, but if this passes, this could happen.
54 – Public posting of legislation: yes
Sure, more transparency in government is a good thing.
55 – Tax extension for education and healthcare: YES
This would extend for another 12 years (2018-2030) part of the tax increase voters approved in 2012. Impacts those making $250,000/yr (couples making $500,000/yr) or more. We need to support education. Those who can most easily afford to pay this extra tax burden should do so. Again, let's come together to give our children their best chance at their best education.
56 – Cigarette tax: no
An excellent idea that the Legislature should do – but this shouldn't be an initiative. So I'll be voting "no" (or abstaining) on this one.
57 – Criminal Sentences; Juvenile Proceedings: YES!
I worked in juvenile justice for three and a half years while in seminary and immediately after seminary and saw first-hand how much our juvenile justice system needs to be overhauled. If the Legislature won't do it, we should. And the proposals in this proposition are sound.
58 – English Language Education: yes
This allows for more local control of education, allowing individual school districts to decide how they will teach non-English speaking students. Prop 227 (1998) was a racist, xenophobic proposition and it's high time it was overturned.
59 – Campaign Finance: yes
This referendum is only advisory and it is sufficiently open-ended to get my support. Citizens United was a travesty of justice and needs to be overturned. Note that the League of Women Voters of California opposes it, but I support it because it is only advisory.
60 – Adult films; condoms: no
Should people performing sex acts in pornographic movies use condoms? Yes. Does requiring it need a citizen's initiative to make it happen? No. This is something the Legislature should do; legislating is what we elected them to do.
61 – State prescription drug purchases: YES
The state spends roughly $3.8 billion (with a B) each year on pharmaceuticals (Medi-Cal, state hospitals, prisons). That's about half of all prescriptions purchased in in the state. This initiative seeks to reduce costs by leveraging that purchasing power. Seems like a darn good idea to me.
62 – Replaces the death penalty with Life Without Parole: YES!
The Legislature should have done this years ago. They're not acting, so we will.
63 – Firearms, Ammunition Sales: yes
Tightens regulations on background checks and the sale, purchase, and import of ammunition in California. The Legislature should be doing this, and they have taken steps, but they're not acting fast enough, so I give this a soft "yes."
64 – Marijuana Legalization: no
Sure, marijuana should be legalized and regulated like alcohol, but the Legislature should do this, and it's not urgent. We can wait for the Legislature to act.
65 – Charge for plastic bags: NO!
This is a green-washing initiative proposed by the out-of-state manufacturers of plastic shopping bags to try to stop the banning of plastic shopping bags. Can you say, "Self interest"? I knew you could. It's dressed up to look like a pro-environmental proposition, but it's not.
66 – Death Penalty procedures: NO!
This poorly written measure would greatly increase California's risk of executing an innocent person by shortening the time for appeals and limiting the prisoner's ability to present new evidence of their innocence. Let's just save a bunch of money and make sure we don't kill someone who is innocent by doing away with the death penalty (by voting "yes" on Prop 62).
67 – Ban on single-use plastic bags: YES
Retain California's plastic bag ban. The question on a referendum is not intuitive; you are being asked if you want to retain the new law. Vote YES to keep the 2014 statewide law prohibiting single-use carryout bags.
Click here  for a summary of my positions, along side those of the California Council of Churches IMPACT, the League of Women Voters-CA, the Sierra Club, and the California Democratic Party.