You are currently browsing the tag archive for the 'images of God' tag.
A sermon preached at Niles Discovery Church, Fremont, California,
on Pentecost, June 6, 2017, by the Rev. Jeffrey Spencer.
Scriptures:  Exodus 3:1-12 and Acts 2:1-21
Copyright © 2017 by Jeffrey S. Spencer
As I've contemplated flame this week, I've found my thoughts drifting to fire.  I like to light a candle to mark a time as sacred.  I have gotten lost in the single flame of a candle.  And who doesn't like the candles on a birthday cake, even if there needs to be almost two-thousand of them?  But still, my thoughts kept drifting from flame to fire.
Twice in my life, fires in woodstoves have kept me warm in otherwise very cold conditions.  One winter when I was living in western Washington, there was a windstorm that brought down many branches and trees.  The branches and trees took down electrical lines.  And because I lived in a ruralish area, it took a full week before power was restored.  My furnace was a heat pump, so I moved into the family room of my home where there was a woodstove in the fireplace.  I dragged the mattress from the guest bed down there and made a little nest for myself.  And each night, I lit a fire, warmed up the room, then turned down the flow of air into the stove to keep the fire burning slowly through the night.
The other time happened when I was staying in my father's cabin in New Hampshire during the first week of September.  Labor Day weekend, the temperature plummeted, as it can do in New Hampshire.  It got so cold I woke up in the middle of the night.  I got a fire going in the woodstove in the cabin and about an hour or two later the little cabin had warmed enough that I could get back to sleep.
When I think about fire, I think of it contained in a woodstove or a fireplace or a campfire.  I think of it warming me and comforting me and stilling my spirit.  I think of seasoned maple and pine logs snapping and popping as they burn.  The closest thing to a destructive fire I've experienced was a chimney fire I had that I didn't find out about until I contemplated switching insurance companies and the new company insisted on a building inspection.  It had burned hot enough to crack the terracotta flue liner, but briefly enough I never knew it happened.
That's fire's paradox, isn't it?  On one hand, fire gives warmth and light, and it lets us cook and read late into the night.  And on the other hand, fire destroys and consumes.  It devours whole towns, annihilates whole cities.  "Fire is essential for life and civilization, and fire is a threat to both."[1]
The big challenge that cold night in the cabin was that I had to get out from under the pile of blankets to get a fire going.  Well, that was the first challenge.  The second challenge was that I needed more wood than was inside and I needed kindling.  So I had to go outside for those.  The third challenge was that my father and step-mother had recycled the newspaper, so I had to scrounge for something to light with the matches that would light the kindling that would light the logs.  The challenge the next day was getting things in the wood stove cool enough that I was comfortable leaving the cabin for a paddle around the lake.
"We could say the same of life with God – we cannot always summon a sense of God's presence, even when we do the things we were taught in Sunday school would work; in other seasons, God roars into our lives in ways we wish we could avoid, tamp down, put out entirely."[2]  It takes the match to get the newspaper burning, and it take the burning newspaper to light the kindling, and it takes the burning kindling to ignite the log.  It is the rare person who can burn for God without some external source of heat.  I know I didn't get there on my own.  My mother and Sunday School teachers and friends helped lay the fire and ignite the newspaper.
And once the fires going, it takes tending.  I know I've built plenty of fires that were much more smoke than flame.  And I've tended fires that got burning so hot and fast that they consumed the fuel in no time at all.  And I've tended fires that weren't sufficiently fed or that got too spread out and then cooled off and went out.  And so it is in my friendship with Jesus.  My zeal might burn too fast, or it might cool down and flicker out.  Either way, the flame is extinguished.  Sure, there are habits, practices, I can engage in to tend this fire, to keep the flame of God's presence near.  Still, sometimes the flames leap and dance, not because of anything I did.  Sometimes the flames die, despite everything I did.[3]
"God appears as flame again and again in scripture.  God reveals God's self to Moses in the burning bush, and then, centuries later, at the first Pentecost after Jesus' death, the Holy Spirit comes upon the disciples as flame.  Those two episodes might be the most familiar flames in scripture, but there are many other instances of God drawing near to people as or in fire:  God's presence as a 'flaming torch' in the covenant [making] of Genesis 15; the pillar of fire that leads the Israelites through the wilderness [into freedom]; and God's glory is 'like a consuming fire' on Sinai.…
"What might all these flames mean for our friendship with God?
"Often, in scripture, especially in the prophets, fire seems to stand principally for God's anger, God's jealousy."[4]  But even there, it is not just the consuming fire, the destructive fire.  Even God's anger and God's jealousy need not be a conflagration.  According the Malachi, God is like a refiner's fire, that burns off the impurities leaving only the precious metal.  Sometimes fire's destructiveness is also regenerative.  "Fires can clear weaker trees from a forest and therefore allow the healthier, larger trees to flourish.  Soil nourished by burned vegetation becomes more nutritious for the trees the remain.  And some trees require fire to survive,"[5] like the lodgepole pine and several other conifers.
"Could the Bible's fiery imagery suggest that God's destruction is regenerative?  That God destroys not me but my sin, my hardness of heart, my fear, precisely so that I might be renewed? …
"Maybe, if God is fire, we are a grove of ponderosa pines.  Without the heat and burn of God's flame, our pinecones would remain closed tight around the seeds that are needed for our thriving and growth and new life."[6]
The rabbis note that it takes some time – five minutes, seven minutes, ten minutes – for a bush to burn.  But the miracle, they say, is not that the bush wasn't consumed as it burned.  The miracle is the Moses paid attention, that he paid attention long enough to notice that the shrubbery was not being consumed.  "Only after God saw that Moses had stood still long enough to notice the bush in its unconsuming fire did God call out to him.…  Attentiveness, apparently, was the key attribute God needed for his chief prophet, deliverer, and friend.  God needed a prophet and friend who could stop and stay still and look with focus and concentration; God needed a prophet and friend who could really see.  God could have called to Moses in the form of a fellow shepherd, or in the form of a rock, or in the form of a breeze.  Instead, God arrested the attention of Moses as a flame."[7]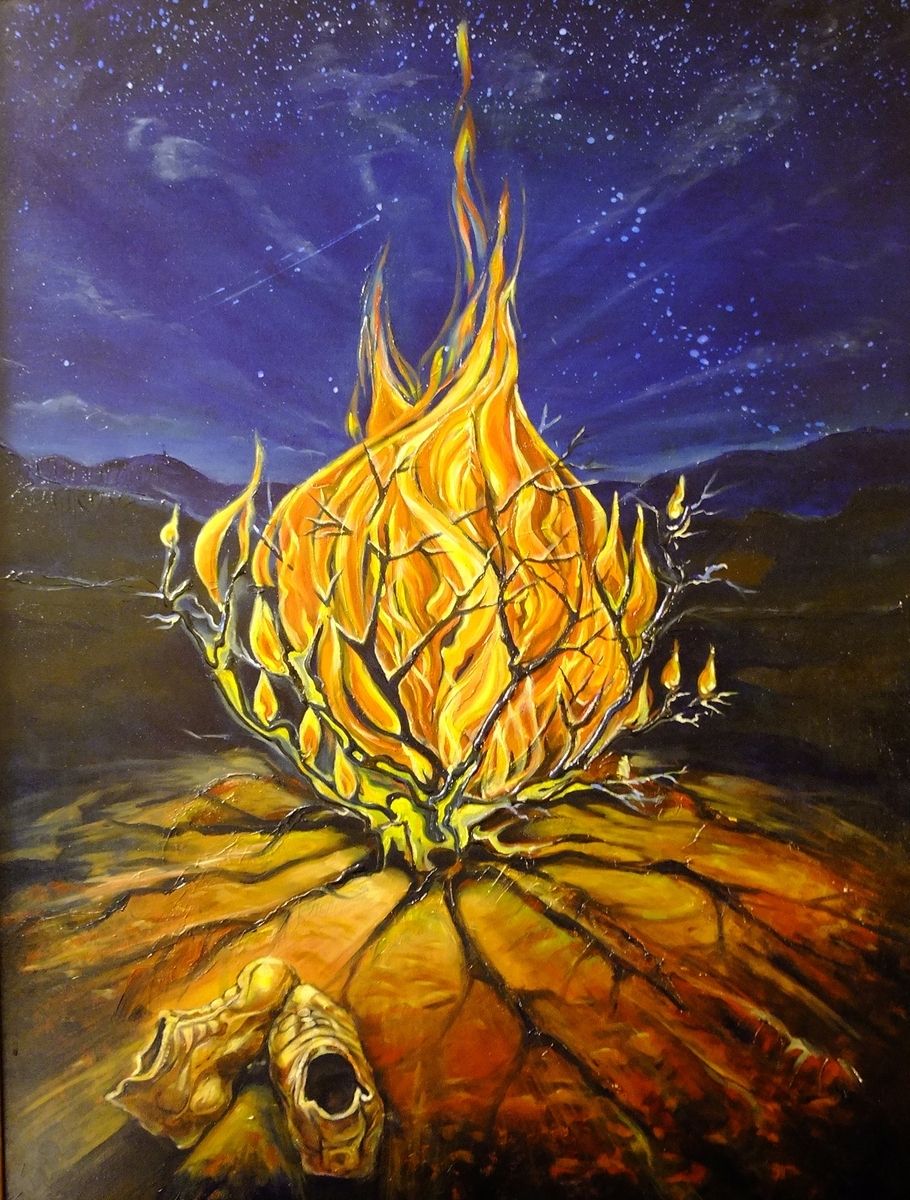 This doesn't surprise me.  As I said, I can get lost in the flame of a candle.  I can sit in silence as a fire crackles and hisses and flames curl around the logs.  At one point this week, I thought about playing the yule log during this sermon.  I thought it might be funny, and calming, and maybe even comforting.  I decided it would also be too distracting.  Like me, too many of you would just get lost in the flames.
But maybe that's why the burning bush worked as a way to call to Moses.  "Fire captivates.  To encounter the blazing God is to encounter the God who can hold, and wants to hold, our gaze."[8]
I suppose one invitation form the story of the burning bush is the invitation to notice how busy our lives are, to notice how hard it is to notice.  "We are all so distracted, rushing so hurriedly through the day that we barely notice our friends or ourselves,"[9] let alone God.  We get distracted, sending text messages, checking Facebook, worrying about children.
But this isn't the only lesson.  God wants to hold our gaze.  "The God who wants to fix our attention and say, Here, look here, look at Me, don't look away – that God is a lover.  That's what lovers do, after all.  They gaze at each other utterly not distracted, utterly focused in their longing and their delight."[10]
In her book, Wearing God, the book we've used as the basis of this sermon series, Lauren Winner tells a story[11] that is, unfortunately, too long, to simply read to you.  The story centers around two basins.  One basin is the basin she and her friend Isaac take every year on Maundy Thursday to what she says is "a small, ineffectual protest at an immigration detention center in Cary, North Carolina.  Every year, a stalwart band of Holy Week pilgrims gathers in a grocery parking lot in Cary, and … [they] process to the immigration detention center and set up two chairs.  One chair is occupied by whoever is having her feet washed, and the other chair is left empty, as a reminder of the people who are absent from us – from our families and our churches – because of current immigration law."
On one particular Maundy Thursday, Winner's thoughts wander to another basin, a basin carried my Nhat Chi Mai to a Buddhist temple in Saigon on May 16, 1967.  "Her friends assumed she was there for the traditional washing of the Buddha, but her basin was full of gasoline, not water.  Nhat Chi Mai poured the gasoline over herself and lit herself on fire.  She sat in the lotus position while she burned, and she prayed, and she died."  She had written to the U.S. government, "I pray that the flame that is consuming my body will burn away all ambition and hatred which have been pushing many of us into Hell of the soul and creating so much suffering among human beings.  I pray that the human race will be able to inherit Buddha's Compassion, Jesus' love, and the legacy of man's humaneness."
Reflecting on the differences in their basins – Nhat's held gasoline; Winner's holds water – Winner writes, "It is a venerated thing in the Christian tradition to imitate Christ even to the point of death,…  I wonder what kind of faith one would have to have – in the resurrection, in the resurrected body, in setting your treasure by in heaven – in order to burn yourself to death in protest.  I am not alone in not knowing what to think:  even Buddhists and Christians in Vietnam in the 1960s did not know what to think about self-immolation.  Was this truly a nonviolent protest?  Was it worship or suicide?"
"There's a relationship that I can't quite pin down between Nhat Chi Mai's body and the burning bush.  Here body's being consumed and the bush's refusal to be consumed – both command attention.
"It is not just attention to the truth about ourselves that God's flame can direct.  God's flame also wants to focus our attention on the world.…  Before you can act, first you have to see."  In a way, it can be argued that prayer is not productive.  Prayer does not get God to change an immigration policy or to stop a war.  It is not a means to an end.  And yet, I know that my own halting history of prayer, that engaging various forms of prayer is forming me into a person with the capacity to attend to God and to God's world.
As we move into a short time of reflection, I have a few questions for you to consider as we conclude this sermon series:
What sustains your spiritual fire?
How is God's fire regenerative in your spiritual life?
How is God captivating your attention?
What situation in your life or in the world is God calling your attention to?
[1] Lauren F. Winner, Wearing God, (New York: HarperOne, 2015) 206.
[2] Ibid, 208.
[3] Ibid, 208-209.
[4] Ibid, 209-210.
[5] Ibid, 210.
[6] Ibid.
[7] Ibid, 214-215.
[8] Ibid, 215.
[9] Ibid.
[10] Ibid.
[11] Ibid, 221-225.
A sermon preached at Niles Discovery Church, Fremont, California,
on Sunday, May 21, 2017, by the Rev. Jeffrey Spencer.
Scriptures:  John 6:35-40 and John 15:1-11
Copyright © 2017 by Jeffrey S. Spencer
Of the many images for God used in the Bible, the image of bread and vine is one – perhaps the one – I can most relate to.  God as shepherd – I know someone up in Washington who has a herd of sheep, but she didn't get them until after I moved to Fremont and we've never talked about them.  God as king – Queen Elizabeth is the most prominent monarch in my mind, and she's more of a figurehead then a ruler, so that image seems a little hollow.  But God as bread and vine – that I can relate to.  Especially the bread part.
When I was a kid, there was one particular brand of bread that we bought:  Arnold's Brick Oven white bread.  The only time my mother would buy Wonder bread was if she decided to let us eat fluffernutters – which is a type of sandwich that proves I grew up in New England.  Because my mom didn't drive and we were a family of six, my mother went to the grocery store almost every day – or she sent one of us kids.  I suppose it was because I was sometimes responsible for bringing home the right brand of bread that I remember what it was.
I also remember when whole wheat bread just started getting some buzz.  My mother thought that maybe we should switch breads, but my father (I think jokingly) insisted that the reason whole wheat bread was brown is that they used the flour they had swept up from the floor.
"White bread has an interesting history.  For centuries, people have been striving to produce ever whiter flour and ever whiter loaves.  This is a story of cultural preference and symbolism, and it is also a story of technology.  According to food activist and writer Michael Pollan, 'The prestige of white flour is ancient and has several sources, some practical, others sentimental.  Whiteness has always symbolized cleanness, and … the whiteness of flour symbolized its purity.'  For centuries, white flour was hard to obtain; only the rich could afford white bread.  But in the middle of the nineteenth century, roller milling – in which millstones were replaced with metal or porcelain drums that were arranged to grind the flour more finely – made white flour inexpensive, readily available, 'and whiter than it had ever been.'  So even people of modest means began to buy porcelain-white flour and bake pretty white loaves in their ovens.
"Within a few decades, further technological innovation – developments in 'microbiology, cereal chemistry, climate control, and industrial design' – had again reshaped people's daily bread:  in 1890, 90 percent of bread eaten in the United States was made by women at home; by 1930, 90 percent of America's bread 'was baked outside the home by men in increasingly distant factories.'  In a study called White Bread: A Social History of the Store-Bought Loaf, Aaron Bobrow-Strain suggests that the appeal of 'modern bread' – industrial white bread – went beyond convenience.  People loved the 'streamline' look of company-baked bread.  When the first automatically sliced bread was sold in the United States (in the summer of 1928, in Chillicothe, Missouri), a reporter wrote, 'The housewife can well experience a thrill of pleasure when she first sees a loaf of this bread with each slice the exact counterpart of its fellows.  So near and precise are the slices, and so definitely better than anyone could possibly slice by hand with a bread knife that one realizes instantly that here is a refinement that will receive a hearty and permanent welcome.'  The guaranteed perfection of a store-bought loaf appealed to an America in love with science and captive to fantasies of scientific perfection.  The Ladies' Home Journal wrote in 1923 that in contrast to the housewife who baked by guesswork and was likely to produce the occasionally underdone or misshapen loaf, 'modern inventions have made an exact science of baking, and there is no reason whatever for failure.'
"Americans loved the bread's predictable uniformity, and they loved its whiteness.  Echoing Pollan, Bobrow-Strain argues that white bread 'had long stood as a symbol of wealth and status – and in America, racial purity,' but in the early twentieth century, Americans' preference for white flour took on still new meanings.  In an era obsessed with hygiene and sanitation the color white came to represent 'scientific control' – all those white lab coats, all those sparkling white kitchen appliances.  Physicians took to the pages of national magazines to urge families, especially immigrant families and poor families, to whitewash their walls; dark walls would camouflage dirt, but on white walls dirt would, in the words of one pundit-physician, be 'so conspicuous that shame' would 'compel … the Polacks and Hungarians' to clean.…
"So, in short, the history of the lovely white loaf may be found in American's optimistic quest for scientific perfectibility and in American's history of [racism,] shaming immigrants and shaming women."
Lauren Winner concludes, "It seems an odd genealogy for the bread that, week in and week out, Christians name as Jesus.  Jesus, who consorted with shamed women.  Jesus, who is neither orderly nor predictable.  Jesus, who, with his parents, became a migrant to Egypt when his own country turned inhospitable to him.  Jesus, who makes possible our immigration to the Kingdom of God.  Jesus, whose skin is darker than the flour we prize."[1]
Perhaps Jesus is more pumpernickel than sourdough.  Rather than the modern white loaf, perhaps Jesus is a misshapen, burnt around the edges, under-baked-in-the-middle, hand-made loaf of bread.
"In calling Himself 'the bread of life' – and not, say crème caramel or caviar – Jesus is identifying with basic food, with sustenance, with the food that, for centuries afterward, would figure in the protest efforts of poor and marginalized people.  No one holds caviar riots; people riot for bread.  So to speak of God as bread is to speak of God's most elemental provision for us.
"Especially for people who have lived with hunger, this is a powerful, palpable image.  But I admit that it is a biblical metaphor at which I sometimes find myself staring blankly.  I have never been hungry for more than thirty-five minutes, and, though I always need to be nourished, I rarely notice this need, and I rarely credit God with my nourishment (more often I either take my nourishment for granted or credit myself – my labors, which provide the money to buy the food …).  So for me (and maybe for you), the image of bread as provision can be a bit of a corrective, showing me how insensible to my dependence on God I really am.  But instructing me in my hunger is not all this image can do.  Bread is basic food, but bread nonetheless contains meanings beyond sustenance."[2]
And there is something sweet (pun intended) about imaging God not just as bread, but as toast with strawberry jam.  God as the potato bread of the grilled cheese sandwich I dip into the tomato soup on a cold, rainy, winter day.  God as the chocolate tea bread my goddaughter's mother served at my goddaughter's tea party when she was three.  God is not just provision; God is delight.  God is not just necessity; God is enjoyment.  God is not just sustenance; God is pleasure.[3]
Winner writes, "In the Middle Ages, several female mystics compare the soul in union with God to bread that soaks up – and grows engorged with – honey or mead.…  Jesus means for us to see bread as a metonym for Him, for His body, for His nearness."[4]  These sentences sent me scurrying off to a dictionary – well, to Google – to find out what a "metonym" is.  A metonym is "a word, name, or expression used as a substitute for something else with which it is closely associated.  For example, Washington is a metonym for the federal government of the US."[5]  So Jesus means for us to hear "bread" as a word that substitutes for him, for his body, for his nearness.
Winner goes on:  "The mystics' prayers would suggest that our own bodies, too, are metonymed as bread, bread that expands with Jesus when we draw close to Him."[6]  We are the bread, dipped, not into any old honey, but dipped into the honey of life.  Our lives are expanded and sweetened by our relationship with Jesus, by our union with Jesus.
"This is a reverse Communion image.  Usually, at Communion, we draw near to God by opening our hands to receive a crumb of bread."[7]  In this image, we draw near to God and find God's hand opened to us.  And we place into God's hand the crumbs of our pain, our fear, our grief, knowing they soak in God's sweetness.
"'Who will enable me to find rest in you?  Who will grant me that you come to my heart and intoxicate it, so that I forget my evils and embrace my one and only good, yourself?'  So prayed Augustine at the beginning of his Confessions.  His plea that God intoxicate his heart is a good reminder that our defining meal as Christians doesn't just include bread," but also the juice of the vine.[8]  Jesus identifies himself as the vine, God as the vinedresser, and his own blood as that which is pressed from the fruit of the vine.
Jesus wasn't the first to use this vineyard imagery.  Centuries earlier, the prophets used vine and vineyard imagery to describe life with God.  "God has brought the vines out of Egypt, cleared the ground, planted the vines, and watched over them."[9]  But the fruit these rescued vines produce is not always good.  Injustice and idolatry lead to a clearing of the vineyard, Isaiah says.  God's desire for the vineyard has always been righteousness and justice.
I think it's safe to assume that the original people for whom John wrote his gospel would have been familiar with this prophetic imagery.  "They would have known that they were the vines, and God was the vinedresser who cleared the field and tended it.…"[10]
"Usually we hear in Jesus's identification of Himself as vine a statement of our dependence on Him, and an instruction about what we need to thrive – if we abide in Jesus, we will have life; if we try to separate ourselves from Jesus, we will not.  But perhaps Jesus the true vine tells us about something beyond our reliance on God.  Perhaps the image also tells us about the perils of incarnation.  It is as if Jesus studied the Hebrew scriptures and found the most precarious depiction of humanity He could, and said, 'That is who I am:  I am allying with humanity when it is most endangered.'  When I am producing bad fruit and farthest from God's pleasure, Jesus is already in that place.  It is not alien to Him, and I am not alone."[11]
I don't want to ignore or in any way diminish the seriousness of the excessive use or abuse of alcohol or the addiction to alcohol, but I do want to return to Augustine's prayer.  "Perhaps," Winner writes, "if I receive Jesus as wine, I would know divine intoxication again.  (Would it be bearable?  Just as being drunk [on love] seems to interfere with what I think I am supposed to do in a given day, or a given life, surely being intoxicated with Jesus would, too.)  I get hints of divine intoxication now and again – quick flashes in prayer once or twice a year.  Perhaps at the heavenly banquet, we will find good, true inebriation, excess that is somehow not unsafe.  Or excess in a place where safety is no longer a concern; excess in a place where, since everything has been reordered for and by God, there is no other order, no other program, for divine intoxication to disrupt.
"In the Bible, men and women observing others caught up in intense devotion to God tended to mistake those people … as drunk:  Hannah was 'pouring out [her] soul to the Lord,' beseeching the Lord for a child, and a priest who happened upon her thought she was blotto; those observing the apostles, newly filled with the Holy Spirit on Pentecost, made the same charge."[12]
Of course, one of the side effects of getting drunk is the hangover.  And because I do not live in constant ecstatic connection with God, I sometimes fear the after-effects.  Perhaps this might be one case where partaking of the hair of the dog might actually be good for you.
"I am the bread of life."  The bread of life is provision and delight, necessity and enjoyment, sustenance and pleasure.  And we, too, are bread, invited to dip ourselves into the sweetness of God that we may absorb all that goodness.
"I am the true vine."  We are dependent on God to help us produce good fruit in our lives.  And we are invited to drink of the fruit of the vine that we might be intoxicated with the love of God.
This is an invitation to feast.
Amen.
[1] Lauren F. Winner, Wearing God, (New York: HarperOne, 2015) 103-107.
[2] Ibid, 93-94.
[3] Ibid, 95.
[4] Ibid, 115.
[5] https://www.google.com/#q=metonym (20 May 2017).
[6] Winner, op. cit., 115-116.
[7] Ibid, 116.
[8] Ibid, 117.
[9] Ibid.
[10] Ibid, 119.
[11] Ibid, 120.
[12] Ibid, 127.
A sermon preached at Niles Discovery Church, Fremont, California,
on Sunday, May 31, 2015, by the Rev. Jeffrey Spencer.
Scriptures:  Isaiah 6:1-8, Romans 8:12-17, and John 3:1-17
Copyright © 2015 by Jeffrey S. Spencer
A couple days ago, Episcopal Church Memes[1] on Facebook suggested that the best way not to commit heresy on Trinity Sunday is not preaching, but showing pictures of kittens instead.  I expected the next meme to say something like, "The best way not to put your congregation to sleep on Trinity Sunday: say nothing and show pictures of kittens."
Well, I'm going to risk it today.  I'm going to preach.  I hope you not only stay awake, but stay engaged.
I'm not too worried about the heresy charge.  Since both of our denominations are non-doctrinal, non-creedal churches, there is no doctrine or creed for me to violate today.  Other denominations are not so lucky.  And just to prove my point – a little satire about St. Patrick.
The concept of the Trinity has some value to me.  I appreciate how the doctrine of the Trinity invites me to consider how God was (or is) present in Jesus.  It encourages me to wrestle with that Christian claim that God is incarnate in Jesus.  Of course, my brain starts to hurt if I think about Jesus being God but also the Son of God.  That sort of makes him his own father, which the doctrine of the Trinity tries to avoid by claiming that while the persons of the Trinity are each God, they are not each other and there is only one God.  It makes for a nice diagram, but I don't know how helpful it is to my spiritual journey.
I like the concept of the Trinity because my adult experiences of God are so different from my early images of God.  The concept of the Trinity allowed me to hold on to both old images and new images by calling them different persons of the Trinity.  Now I've let go of those early images of God, replacing them with images that often aren't even visual, but still, multiple images, multiple experiences.
This brings me to one of the points I want to make in today's sermon:  We all have images of God.  In the first commandment (at least as I was taught to number them), God says, "You shall have no other gods before me."  The second commandment says, "You shall not make for yourself an idol …  You shall not bow down to them or worship them."  This has been interpreted to mean that we shouldn't make art, at least not depicting anything in creation.  That's a little extreme, it seems to me.  I see the admonition to be against worshipping our images, whether they are physical or something we create in our minds.  And even though we're not supposed to worship our images, we all create images of God.
We are a visual species, and so it is natural to create an image or images of what can't be seen even though we are in relationship with it.  Images help us explore what we believe.  For instance, the banners along the sides of the sanctuary have invited me to reflect on how modernity has attempted to define God, to put God in a box; but the Spirit of God breaks down barriers, busts open boxes, and asks us to consider how what we think we know about God might be too restrictive, too incomplete, too limited.  I find reflection helpful because the images I hold, especially the primary image of God that I hold at any given time influences, even dictates, how I relate to God.
One of the earliest images I had of God was a combination of the Lincoln Memorial and Santa Claus.  God sat on a throne, a huge throne.  The God who sat there had a very human form.  This God was a huge, male, human – only not human because he was God and so much bigger than humans.  And this God had age, wisdom, and the beard of Santa.  This God knew when I'd been bad or good, so I'd better be good for goodness sake.  I don't know how much this image emerged from my own mind and how much it was influenced by art.  Michelangelo's God creating Adam, painted on the Sistine Chapel ceiling, is similar to this early image of God.  Perhaps he and other artists influenced me.
I find this image strikingly similar to the image of God in our passage from Isaiah.  Isaiah describes a vision of God.  God is a "he" who speaks and wears a robe, sitting on a high throne, in a great temple – actually the great Temple.  Seraphs attend him, singing his praises.  Confronted by this majesty, Isaiah is overcome.  He recognizes his sinfulness and experiences guilt.
I know that many people are uncomfortable with the word, "sin."  Some hear the word and hear judgment not from God but from other people.  Others hear the word and feel condemnation.  I want to reclaim the word "sin."  Sin is very real.  It also need not carry all the shaming energy it seems to.
"Sin is having our loves out of order."  The columnist David Brooks said that during a radio interview about a week ago.[2]  I wish I had said it, but credit where credit is due.
Sin is having our loves out of order.
Do you remember what the first commandment says?  "Don't have any gods before me."  There is a tacit acknowledgement that there are other claims on our attentions and affections in our lives.  God's just saying, "Keep those loves in the right order."
So, confronted by his vision of God, Isaiah said, "Woe is me, for my loves are out of order.  Yet even still, I'm having this vision of God."  And God responds to Isaiah by "blotting out" his sin.  In acknowledging that his loves are out of order, Isaiah opens himself to forgiveness and reconciliation with God.  And, reconciled, he opens himself up to hearing God's call.
This moment of forgiveness and reconciliation is a powerful enough moment to have inspired art – a word image inspiring visual images.  Some are as concrete and literalistic as this one.
Others capture a greater sense of mystery, like Marc Chagall's "The Prophet Isaiah."  Isaiah and the seraph are there.  There's another character in white at the top of the painting that might depict God – but I think it's an angel or another heavenly being.  And in the background, there's lots going on.  For instance, in the upper right, there are animals and people that make me think of the image of the peaceable kingdom Isaiah will later proclaim.  In the lower right, there is a mother and child; the blue paint makes me think this might be Mary and Jesus.  In the lower left there is a scene that is hard to decipher, but the palm branch makes me wonder if it is of Palm Sunday.  And in the upper left, we see the crucifixion.  What is Chagall saying about Isaiah, sin, redemption, and Jesus?  That question is fodder for another sermon.  If I'm right, that Chagall didn't include God in this painting, that decision suggests something about his personal image of God.
I think that part of the reason Nicodemus had such a hard time understanding Jesus was that Nicodemus' personal image of God didn't align with Jesus'.  Nicodemus was a literalist.  He "was under the influence of a religious tradition that taught a faith that was to be managed, protected, and guarded.  Yet his late-night visit with Jesus revealed some heart longings that had not completely left him.  Perhaps he expected a dialogue in dogmatics, but what he got from Jesus was poetry."[3]
Of course, the Greek anothen having multiple meanings wasn't helpful either.  "Very truly, I tell you," Jesus said, "no one can see the kin-dom of God without being born anothen."  "What do you mean we need to be born anothen?  No one's gonna crawl back inside their mother's womb to be born anothen."  Jesus was using the word "anothen" to mean "from above," and Nicodemus was using it to mean "again."  I think that if Nicodemus could have embraced an image of a God that keeps reaching out to us, that keeps calling us to new life, he might have understood what Jesus was saying.  But I suspect Nicodemus' God was stuck in the Temple.
As I said earlier, I find the doctrine of the Trinity helpful in only a few ways.  Mostly, I find it to be a headache, and that is especially true when I think about it literally.  On the other hand, when I think about it metaphorically, poetically …  The image of the Trinity is what I have found fruitful.
In attempting to explain the Trinity, that is, in attempting to explain the unexplainable, ancient and more contemporary theologians have actually created words.  One of those ancient words is perichoresis.[4]  The use of perichoresis gets really technical, but at its root, the word is about the relationship of the persons of the Trinity.  The perichoresis of God is that nature of the persons of the Trinity that has them going around and making room for each other.  Play with that image – the persons of the Trinity going around and making room for each other.
God is a dance.  And this dance is done in relationship, the persons of the Trinity weaving between and around each other.  God is a God of relationship.  God is not a static, transcendent, separate, omnipresent being.  God is not the great judge on the great throne with the great beard of my childhood image.  God is in relationship with Godself and desires nothing more than to be in relationship with you and me.
"God is a verb much more than a noun," writes Richard Rohr.  "God as Trinity invites us into a participatory experience.  Some of our Christian mystics went so far as to say that all of creation is being taken back into this flow of eternal life, almost as if we are a 'Fourth Person' of the Eternal Flow of God."[5]
Paul writes that we've been adopted by God.  And not just adopted, but been made heir – co-heirs with Christ.  God has drawn us into relationship at the same level as Christ.  "We talk about the Trinity as God being three-in-one … in order always to add one more – and that's us, all of us, an infinite 'plus one' through which God's love is made complete in relationship with all of God's children."[6]
Or, put another way, we are invited into the dance.  Amen.
[1] https://www.facebook.com/EpiscopalChurchMemes
[2] I don't remember which radio program on KQED-FM I heard him say this, but I almost immediately tweeted it, and that was at 8:41 p.m., 22 May 2015.
[3] Nancy Hastings Sehested, "Born to be Wild," Sojourners, http://www.sojo.net/preaching-the-word/born-be-wild (accessed 26 May 2015).
[4] "Perichoresis," Wikipedia, http://en.wikipedia.org/wiki/Perichoresis (accessed 26 May 2015).
[5] Richard Rohr, "Meditations on the Mystery of the Trinity," quoted by Mike Morrell, mikemorrell.org, http://mikemorrell.org/2012/06/wheel-within-a-wheel-fellowshipping-with-the-trinity-in-the-dance-of-life/ (accessed 26 May 2015).
[6] David Lose, "Three-in-One Plus One!" …In the Meantime, http://www.davidlose.net/2015/05/trinity-b-three-in-one-plus-one/ (posted and accesses on 25 May 2015).