You are currently browsing the tag archive for the 'love' tag.
A sermon preached at Niles Discovery Church, Fremont, California,
on Sunday, July 30, 2017, by the Rev. Jeffrey Spencer.
Scriptures:  Romans 8:26-39 and Matthew 13:31-33, 44-51
Copyright © 2017 by Jeffrey S. Spencer
I love this passage from Romans.  It is one of my two favorite passages from the Epistles, the collection of letters in the New Testament.  I include it frequently in memorial services and I want it read at my memorial service (though I hope that detail isn't needed for a long time).  I agree with Jim Wallis who says, "This remarkable and uplifting passage describes the unshakable promise of God."[1]
Notice what Paul doesn't say in this passage.  He doesn't say that people who follow Jesus will live a life free of hardship, conflict, and weakness.  In fact, "Paul assumes that weakness, conflict, and hardship are normal for the Christian life and, for that matter, human life."[2]
How's that for good news?  Congratulations, Christian, your life will have plenty of hardship.  You will face conflict (perhaps especially because of your faith).  And when you face the principalities and powers you will see how weak (at least as culture measures it) you are.
Do you see how antithetical to our culture's general messages all of this is?  The general message of our culture is that you cannot just feel powerful, you can be powerful.  The general message of our culture is that conflict should be avoided because you can't be happy if you're in conflict (I sometimes call this the tyranny of 'nice'), and happiness (not joy, but happiness) is the to be pursued.  The general message of our culture is that if you are facing hardship it's your own darn fault; you, in some way, chose this.
Is it any wonder that the "prosperity gospel" is an American invention?  Even if you haven't heard the term before, you know of this theology.  It's a theology that is more steeped in American values than Christian values.  It's a theology that tells us that the goal of the Christian life is "to get out of adversity and into security."[3]  People who subscribe to this particularly American form of Christianity (that has become very popular in parts of Africa and South America) are pushed to believe in the God of the quick fix who will make us happy, prosperous, and protected.  It's a theology that says that all of our uncomfortable feelings, our insecurities, and our weaknesses are bad that that we should move into strength, security, and control.[4]
This is how Wikipedia defines it:  "Prosperity theology (sometimes referred to as the prosperity gospel …) is a religious belief among some Christians, who hold that financial blessing and physical well-being are always the will of God for them, and that faith, positive speech, and donations to religious causes will increase one's material wealth.…
"The doctrine emphasizes the importance of personal empowerment, proposing that it is God's will for his people to be happy.  The atonement (reconciliation with God) is interpreted to include the alleviation of sickness and poverty, which are viewed as curses to be broken by faith.  This is believed to be achieved through donations of money, visualization, and positive confession."[5]
Televangelists have embraced this theology and made it famous.  Oral Roberts was a huge proponent of this theology.  T.D. Jakes, Joel Osteen, and Creflo Dollar are three of the more prominent contemporary preachers of this.  The whole "Prayer of Jabez" movement – if you don't know about it, don't worry, you can ignore it – came out of this theology.
All of this is a false gospel.
What Jesus preached was not personal prosperity.  What Jesus preached as the kin-dom of God.  And the kin-dom of God was always presented as an alternative to the kingdom of Caesar.  This kin-dom of God is subversive and infiltrates the systems that oppress, the systems that allow a small elite to be wealthy at the expense of the masses.  The kin-dom of God is how the arc of history bends toward justice.  Just look at the parables in today's gospel reading.
The kin-dom of God is like a mustard seed sown in a field.  It grows into a big old shrub and birds come and nest there.
A mustard bush is neither big nor wonderful; it is invasive, fast-growing, and impossible to get rid of (like darnel, the weed sown among the wheat in last week's parable).  To say the kin-dom of God is like a mustard seed is to say that the kin-dom of God is like kudzu, that it's like Scotch broom, that it's like like morning glories and dandelions.  "And birds of the air?  The last place we want them is in our grain fields.  You've heard of scarecrows?"[6]
The kin-dom of God is like yeast that a woman mixed into three measures of flour until it was all leavened.
Have you ever heard the expression, "A little leaven leavens the whole lump"?  This little aphorism actually is from the Bible.  It's in both the letter to the Galatians and the first letter to the Corinthians.  Paul uses it in much the same way we might use the expression, "One rotten apple spoils the whole barrel."  "Jesus shows the same understanding when he warns against the leaven of the Pharisees and Herod (Mark 8:15).  His parable begins with the common assumption:  Leaven equals … corruption."[7]
And three measures of flour?  According to Jim Douglass, that's about 50 pounds – enough to make bread for more than a hundred people.  Oh my goodness, the leaven of God is far more corrupting than a rotten apple somewhere in a barrel.[8]
And consider the woman's actions.  She "hides" the leaven, the corrupting leaven, in the flour.  She sneaks God's tiny corrupting power into the giant bin of flour, transforming the whole shebang.  I like the way Douglass restates the parable:  "The reign of God is like a tiny, corrupt substance, which a shrewd woman took and hid in a huge amount of flour, until it accomplished a [massive] transformation."[9]
The kid-dom of God is like a buried treasure that someone finds, so he goes and sells all he has so he can buy the field.  The kin-dom of God is like a merchant who finds the perfect pearl and sells all he has so he can buy it.  The kin-dom of God is like a net that was thrown into the sea and caught every kind of fish."
Here's the thing:  The kid-dom Jesus announces turns things upside down.  Once it takes root, you can't get rid of it and it upsets all your plans for your farm and for the rest of your life.  In the kin-dom Jesus announces, serfs are buying land, a peasant woman bakes bread for 100 and feeds them.  The kin-dom Jesus announces is rising, "and there we find our daily bread.  Fish are breaking through nets, the rich are selling all they have [so that maybe they, too, can be part of it].  The kin-dom Jesus announces is springing up faster than we can uproot it.
I hope you noticed that "the objects described [in this series of short parables] are inseparable from actions and actors:  Seed is sown by a sower, yeast is hidden by a woman, the treasure hunter and the merchant buy and sell, the fishers fish.  The kingdom is not about static symbols but about people engaged in action."[10]
The kin-dom Jesus announces is "subversive, unstoppable, invasive, a nuisance, urgent, shocking, and abundant.  It requires action and commitment and inspires extreme behavior."[11]  It is not about your financial blessing and physical well-being.
If we make the commitment to the kin-dom of God that Jesus announced, our pets will still die, our spouses will still disappoint us from time to time, we will watch our children make bad choices or suffer and there won't be a thing we can do about it, we will watch our parents and grandparents grow old, and we will face health crises and financial hardships at different points in our lives.  In fact, if we make the commitment to the kin-dom of God that Jesus announced, we will face more hardship than that.  The principalities and powers in their many forms will try to stop us, sometimes simply with inertia and sometimes with more overt forms of persecution.  This is especially true when we undertake the extreme action the kin-dom requires of us.
What Paul is saying in the passage from Romans is that "adversity is part of life, and especially part of the Christian life lived in conflict with the world.
"Success, according to this passage, is not the avoidance of adversity but knowing the love of God in adversity.  The promise made by the passage is not that God will remove the difficulties of life, but that God will continue to love us through them.
"Those who accept the adversities of life and find God's love in the midst of them are those who become the wise, healed, whole, and joyful people.  Often Christians whose faith has been purified through suffering are the most joyful of all.  On the other hand, those who spend their lives in the desperate attempt to avoid hardship and pain often end up most miserable and filled with anxiety."[12]
That said, "Suffering does not necessarily lead to spiritual maturity.  It can lead to bitterness, frustration, anger, and violence.  We all know people who have allowed their suffering to embitter them and destroy their lives.  Even social movements, in response to injustice and suffering, can become violent forces of revenge and hatred.
"But oppression and suffering can also lead to trust in the love of God.  Suffering can help us let go of everything and realize that there is no alternative but to depend on God.  Abandoning ourselves to the love of God leads to spiritual maturity and wisdom."[13]
Paul asks, Who can separate us from the love of God?  Can trouble?  No.  Hardship?  No. Persecution?  No.  Famine?  No.  Nakedness?  No.  Danger?  No.  Sword?  No.
So, what are you afraid of?
"Are you afraid that your weakness could separate you from the love of God?  It can't.  Are you afraid that your inadequacies could separate you from the love of God?  They can't.  Are you afraid that your inner poverty could separate you from the love of God?  It can't.
"Difficult marriage, loneliness, anxiety over your children's future?  They can't.  Negative self-image?  It can't.  Economic hardship, racial hatred, street crime?  They can't.
"Rejection by loved ones, the suffering of loved ones?  They can't.  Persecution by the authorities, going to jail?  They can't.  The President?  He can't.  [Congress?  They can't.]  War?  It can't.  Nuclear war?  Even it can't."[14]
That is the promise of this passage:  the unshakable promise of God.  Whether we feel it or not, whether we accept it or not, it's there.  It's our choice.  Amen.
[1] Jim Wallis, "The Unshakable Promise of God," Sojourners, https://sojo.net/preaching-the-word/unshakable-promise-god (accessed 25 July 2017).
[2] Ibid.
[3] Ibid.
[4] Ibid.
[5] "Prosperity theology," Wikipedia, https://en.wikipedia.org/wiki/Prosperity_theology (accessed 29 July 2017).
[6] Laurel A. Dykstra, "A Pearl Like a Fishnet," Sojourners, https://sojo.net/preaching-the-word/pearl-fishnet (accessed 25 July 2017).
[7] Jim Douglass, "A Parable of Corruption," Sojourners, https://sojo.net/preaching-the-word/parable-corruption? (accessed 25 July 2017).
[8] Ibid.
[9] Ibid.
[10] Dykstra, op. cit.
[11] Ibid.
[12] Wallis, op. cit.
[13] Ibid.
[14] Ibid.
Scientists have concluded that the emotional responses to terrorism are out of proportion to the actual risk. After 9/11 about 30 percent of the population thought they themselves would personally experience terrorism with[in] a year. Women tend to respond to terrorism with fear, men with anger. Anger reduces the ability to respond to perceived threats rationally and leads people to take greater risks in response to perceived threats.
from "Century Marks," Christian Century, 20 January 2016 edition, page 8.
citing NPR, 22 December 2015, as their source for this information
You've probably seen statistics about how inaccurate this perceived threat really is. Assuming this refers to 30% of the U.S. population, we should be more afraid of toddlers than terrorists. In the US in 2015, more people were shot and killed by toddlers than by terrorists. However, what I find really interesting about this little article is the response to the perceived threat (as unfounded as it may be): fear and anger.
In my experience, fear and anger often walk hand-in-hand within the individual. One may seem bigger or stronger at any given time, but when one is there the other probably is, too. I suspect the gender difference noted has more to do with enculturalization than anything else: culture teaches us that it's okay for woman to be afraid but not angry; that it's okay for men to be angry but not afraid.
But what if we were to choose to respond to perceived threats (no matter how realistic they are) with love? What if we were to follow Jesus' instruction to love our enemies? Even if our love doesn't change those who we find threatening, it would change us. For the better.
A sermon preached at Niles Discovery Church, Fremont, California,
on Sunday, Month 21, 2016, by the Rev. Jeffrey Spencer.
Scriptures:  Luke 15:11-32 and Romans 8:31-39
Copyright © 2016 by Jeffrey S. Spencer
In 2003, the chorus I was singing with went on tour in New Zealand and Australia.  We really only got to see a little bit of Australia – Sydney and Melbourne – but I went to New Zealand early, did some traveling on my own, visited museums, and felt got to see much of the country.  I felt like I really began to understand its history and cultures.  Humans didn't come to the islands we now call New Zealand until the late 1200s.  That's not even a thousand years ago.  Europeans didn't arrive until the 1600s.  The first settlers were eastern Polynesians, people who over the centuries had migrated across the ocean from Taiwan, island-hopping to the east and south.[1]
When I think about those Polynesian explorers, I'm stunned.  They stood on the water's edge or maybe even on the highest point of the island they were on and looked out at the vast nothingness and decided to get into canoes and head out into the unknown, trusting that they would find a place to land.  No GPS to guide them.  No satellite images to assure them that out there in that direction there's another island.  And still they stepped out (or rather paddled out) into the unknown, boldly going where no one had gone before, little canoes bobbing on the vast ocean of the unknown.
Apollo 8 was the first manned spacecraft orbited the moon.  On December 24, 1968, mission commander Frank Borman and astronaut William Anders looked out the window and noticed the earth rising over the horizon of the moon.  Anders scrambled to get the camera with the color film and took this picture.[2]  "We came all this way to the moon, and yet the most significant thing we're seeing is our own home planet," Bill Anders said.[3]
A year later, Apollo 11 landed on the moon and Neil Armstrong took "one giant leap for mankind."  Looking up at earth from Tranquility Base, the earth was so small that Armstrong noted that he could blot it out with his thumb.  He was asked later if this made him feel big.  "No," he replied, "it made me feel really, really small."[4]
I can't help it, but when I contemplate these sorts of things I end up wondering where it's all going and what it all means.  Are we human beings merely an infestation on one planet orbiting one average star of the one hundred billion of stars swirling in one galaxy among 225 billions of galaxies in the vast universe?
At some level, we are very small.  At some level, we are inconsequential.  And at some point, perhaps in eight billion years or so, our sun will turn into a red dwarf and this planet will be incinerated.[5]  The chances of human civilization existing at that point are pretty slim.  An asteroid or a comet crashing into the earth would end human civilization – and that certainly could happen in the next eight billion years.  We could end human civilization ourselves with nuclear weapons or biological warfare.  More likely, we will cripple human civilization to the point of collapse through climate change.  And there is, as activists like to remind us, no planet B.
At some point, our species will die out and there will be no one left to remember that any of this ever existed.  And, as Brian McLaren says, "If this prediction is the whole truth, our unremembered lives and their illusory meaning will be reduced to nothing, gone forever – utterly, absolutely, infinitely gone."[6]
The good news – at least if you believe that the Bible contains some spiritual truth – is that the prediction isn't the whole truth.  The good news – if you believe that the Bible contains some spiritual truth – is that the end is not infinite nothingness.  There is God in the end.  Almost like a fairytale, where the princess and the prince marry and live happily ever after, the Bible keeps pointing to a great feast, to a wedding banquet when "humanity welcomes God into its heart."[7]
Our gospel lesson is an example of how our scriptures point to this ending.  In the parable from Luke, "human history can be seen [in] the story …  The family experiences conflict.  The rebellious younger son runs away and for a while forgets his true identity.  The dutiful older son stays home but also forgets his true identity.  The younger son reaches a crisis and comes home.  He is welcomed by the father, which then creates a crisis for the older son.  Of course, the story isn't only about the identity crises of the sons.  It also reveals the true identity of the father, whose heart goes out to both brothers, who graciously love them even when they don't know it, and even when they don't love each other.  The story ends with a celebration – a welcome-home party, a reunion."[8]
But, did you notice that the story's ending is not fully resolved?  We know what the father does in the end:  he throws a banquet fit for a wedding.  We know what the younger brother does:  he accepts his father's welcome, forgiveness, and love.  But we don't know what the older brother does.  Will he "remain outside, nursing his petty resentments?  Or will he come inside to join the Big Celebration and rediscover his true identity?"[9]
When I was younger, I found myself identifying most with the younger son.  I understood the desire to strike out on one's own, to embrace that freedom, to seek adventure.  And I understood how easy it is to make bad choices, to ashame ones parents, to feel along and lost, to forget who and whose I really am.
Now, I find myself identifying much more with the older son.  I understand the call of duty and responsibility.  I've experienced that sense of working hard and feeling like I wasn't getting the acknowledgement I deserve (or at least that I think I deserve).  I've even felt something like the older son's – what? jealousy?
Most important, though, is the sense of God that this story presents:  that deep longing for all to come, for all to enjoy the feast, for all to discover or rediscover their true identity in God's family.[10]
This points to the purpose of giving your pastors sabbaticals.  In addition to acknowledging our hard work, you are creating space for us to enjoy the feast and to rediscover and deepen our true identity in God's family.  Why wait until we're dead to enjoy the banquet?  Why not feast now?
So, tomorrow I'm going to disappear for three months.  Not only will I disappear from this building, but I'll disappear from Facebook (I feel the need to rest from that medium, too).  I'll spend time with family, and while I don't expect my father to kill a fatted calf when we get together, I do expect him to eat some of his birthday cake.  I'll spend some time in nature, allowing the beauty of creation fill me with awe – and I'll bring back pictures.  I'll read some books that have been on my reading list for months (or even years) and catch up on a four-inch high pile of journals that I haven't kept up with.  I'll spend some time in intentional community that is grounded in a rhythm of prayer.  And I'll, as our special music suggested, just breathe.[11]
In my head, I believe that "neither death, nor life, nor angels, nor rulers, nor things present, nor things to come, nor powers, nor height, nor depth, nor anything else in all creation, will be able to separate us from the love of God in Christ Jesus our Lord."  But sometimes I need to stop and let my heart fall into that truth.  Sometimes I need to stop and renew my soul.  And that's really what I most want to accomplish on this sabbatical.
I hope to follow the flow of the parable of the Prodigal.  The parable of the Prodigal flows toward reconciliation.  God's love is not found in right belief or doctrine.  God's love is found in love.  "If we have eyes to see and ears to hear, [then] the great, big, beautiful, wonderful, holy, mysterious, reconciling heart of God waits to be discovered and experienced,"[12] again and again and again.
"Human speculation – whether religious or scientific – does the best it can, like a little boat that ventures out on the surface of a deep, deep ocean, under the dome of a fathomless sky.  Our eyes cannot see beyond the rim.  Our ears cannot hear the music beneath the silence.  Our hearts cannot imagine the meaning above us, below us, around us, within us.  But the Spirit blows like wind.  And so this mystery humbles us even as it dignifies us.  This mystery impresses us with our smallness even as it inspires us with our ultimate value.  This mystery dislodges us from lesser attachments so we sail on in hope.  This mystery dares us to believe that the big love of God is big enough to swallow all death and overflow with aliveness for us all.
"'Do not fear,' the Spirit whispers.  'All shall be well.'  That is why we walk this road, from the known into the unknown, deeper into mystery, deeper into light, deeper into love, deeper into joy."[13]
As we move into our time for quiet reflection, I invite you to reflect on …
… anything from the sermon or scripture that caught you attention or imagination; or
… a moment in your life when everything came together and, for at least a moment, "all was well"; or
… the image of the end as a great homecoming celebration, or a great marriage banquet; or
… the image of being in a small boat, buoyed up by depths that you cannot fathom, feeling what it means to be upheld by mystery, letting God's peace surround you.
[1] "Māori people," Wikipedia, https://en.wikipedia.org/wiki/Māori_people#History (accessed 18 August 2016).
[2] "Earthrise," Wikipedia, https://en.wikipedia.org/wiki/Earthrise (accessed 20 August 2016).
[3] Robert Poole, "For teh Apollo astronauts, a small world," Los Angeles Times, http://articles.latimes.com/2009/jul/19/opinion/oe-poole19 (posted 19 July 2009; accessed 20 August 2016).
[4] Ibid.
[5] Brian McLaren, We Make the Road by Walking [Kindle version], chapter 52, page 259. Retrieved from amazon.com.
[6] Ibid.
[7] Ibid.
[8] Ibid, 260.
[9] Ibid.
[10] Ibid.
[11] Two in the congregation sang Jonny Diaz's "Breathe." You can listen to it at https://www.youtube.com/watch?v=hnjeMwxFuBA.
[12] Ibid, 261.
[13] Ibid, 262.
A sermon preached at Niles Discovery Church, Fremont, California,
on Sunday, August 14, 2016, by the Rev. Jeffrey Spencer.
Scriptures:  Revelation 22:1-5 and Psalm 126
Copyright © 2016 by Jeffrey S. Spencer
I've been wondering this week, if I were a Syrian refugee living in the Zaatari refugee camp in Jordan, where would I find hope?
If I were a Palestinian, raised by parents in a refugee camp, now raising my children in the same refugee camp, where would I find hope?
If I were a Native American living on the Pine Ridge Indian Reservation who, like the generations before me, was trapped in a cycle of poverty,[1] where would I find hope?
If I was a member of parliament in the Solomon Islands who has watched several small islands disappear because of erosion and rising sea levels, who has watched villages literally washed to sea as tropical storms increase in strength because of climate change[2] – where would I find hope?
If I were an African-American bus driver in St. Louis who sees how my nation has created a new Jim Crow by building a cradle to prison pipeline[3] that siphons black children, especially black boys, out of the schools and into the prisons, labeling them as "convicts" so they can't get a job when they're released, so the end up trying to get by only to be arrested again – where would I find hope?
If I were a Christian living in Rome during the reigns of Emperors Nero or Domitian, emperors who had essentially made me illegal by demanding I worship them as gods, something that would violate the very core of my being and faith – where would I find hope?
I can imagine those early followers of Jesus thinking something like this:  "Jesus has been gone now for decades.  The world doesn't seem to be getting better.  If anything, with a mad dictator in Rome, it's getting worse.  Maybe Jesus was wrong … maybe it's time for us to forget about this '[…] love your enemies' business.  Maybe we need to take matters into our own hands and strap on a sword to fight for our future.  Or maybe we should just eat, drink, make a buck, and be merry, because tomorrow we might all be dead."[4]
This is the context in which Revelation was written.  I know there are plenty of Christians who think Revelation is some sort of coded book that, if properly decoded, will reveal exactly how God will bring the world and history to an end.  But it's not.  Yes, it is sort of in code, but it's not about the end of history or the world.  Revelation was written to bring the Spirit of Hope to an oppressed but faithful people.  "It addressed the crisis at hand.  Even if the emperor is mad, Revelation claimed, it's not the end of the world.  Even if wars rage, it's not the end of the world.  Even if peace-loving disciples face martyrdom, it's not the end of the world.…  Whatever happens, God will be faithful and the way of Christ – a way of love, nonviolence, compassion, and sustained fervency – will triumph."[5]
While Revelation is typically classified as apocalyptic literature (which literally means writing that unveils or reveals), I see Revelation primarily as an example of literature of the oppressed.  Sometime literature of the oppressed needs to be coded.  To remain silent to the present injustice would be an act of complicity, of cooperation with the injustice.  But to speak up in some situations can get you killed (or at least disappeared).
Revelation is this type of literature.  "Instead of saying 'The Emperor is a fraud and his violent regime cannot stand,' which would get them arrested, Revelation tells a strange story about a monster who comes out of the sea and is defeated.  Instead of saying, 'The religious establishment is corrupt,' it tells a story about a whore.  Instead of naming today's Roman empire as being doomed, they talk about a past empire – Babylon – that collapsed in failure."[6]
Brian McLaren points out, "People who read Revelation without understanding the context tend to miss some telling details.  For example, when Jesus rides in on the white horse, his robes are bloodstained and he carries a sword.  Many have interpreted this scene as a repudiation of Jesus' nonviolence in the gospels.  But they miss the fact that he carries the sword in his mouth, not his hand.  Instead of predicting the return of a killer Messiah in the future, Revelation recalls the day in the past when Jesus rode into Jerusalem on a donkey.  His … words of peace, love, and justice will, Revelation promises, prove more powerful than the bloody swords of violent emperors.  In addition, we notice his robe is blood-stained before the battle begins, suggesting that the blood on his robe is not the blood of his enemies, but is his own, shed in self-giving love.  In that light, Revelation reinforces rather than overturns the picture we have of Jesus in Matthew, Mark, Luke, and John."[7]
Revelation is a source of hope, a vehicle for the Spirit of Hope to come upon these oppressed, first century Christians.  This understanding of Revelation is what got me wondering where I would find hope if I were a Syrian refugee, or a Palestinian parent, or an Oglala Lakota, or a Solomon Island parliamentarian, or an African-American bus driver.  I know I wouldn't find hope in a rifle or a rocket launcher or a riot.  So where would I find hope?
Maybe in the faces of some children playing soccer.  Maybe I would find hope in the news that Christian denominations in the United States were standing up for my human rights.[8]  Maybe I would find hope in watching my children learn our history and culture and keep our language alive.  Maybe I would find hope in accounts of people around the globe taking to the streets to demand climate action.  Or maybe I would find hope in something as simple and beautiful as poetry.
Last Sunday, I asked by Facebook friends to tell me, "What gives you hope in times of distress?"  Before I share some of their responses, maybe you'd like to think about your answer.  What gives you hope in times of distress?
Here are some of the responses from a few of my Facebook friends:
Stories of people who have survived worse and become happy. My having survived worse.  Being loved just the way I am no matter what.  Belief that love will outlast and best all the worsts.  Seeing and creating something beautiful helps too,…  Being able to laugh, be heard, and get the tears out also help.
Remembering friends who turned terrible circumstances into growth.… Seeing the refugee team at the Olympics, knowing the adversity they faced as they left the circumstances in their homelands and found life in new countries.  Experiencing the presence of God in my life, in me and in others when I least expect it.  Knowing I am loved and I can love with abandon.
Trusting that even in the midst of crises of any kind, we are all carried by a loving God, even if we don't know it at the time.…
Watching toddlers as they learn new things and get excited.
Helping others, recognizing that I have the power to improve people's situations, even if it's just about feeling good for a brief moment.
I remind myself that other people have survived worse things. I sing to myself.  I practice a positive message and say it aloud as often as I can.  I call my best friend and moan, secure in the knowledge that it will go no further.  I pray for help.
[Remembering that] God IS good, even when I can't see it – and eventually, love (always) wins.
Looking out at the stars and remembering that both God and the universe are bigger than our folly.
The love of my cat.
Seeing my grandsons … be kind to other kids.
Instances where people have offered kindness and assistance to others when they themselves have little to give.
I have a few people who I can rely on for support. I don't always expect answers or solutions.  Sometimes just saying something out loud helps me work things out.
Perspective also helps.
Today's scripture reading comes from "a beautiful visionary scene at the end of the Book of Revelation that is as relevant today as it was in the first century.…  It pictures a new Jerusalem descending from heaven to Earth.  This new city doesn't need a temple because God's presence is felt everywhere.  It doesn't need sun or moon because the light of Christ illuminates it from within.  Its gates are never shut, and it welcomes people from around the world to receive the treasures if offers and bring the treasures they can offer.  From the center of the city, from God's own throne, a river flows – a river of life or aliveness.  Along its banks grows the Tree of Life.  All of this, of course, evokes God's own words in Revelation:  'Behold! I'm making all things new!'"[9]
Central to this image is this idea:  "God's work in history has never been about escaping Earth and going up to heaven.  It has always been about God descending to dwell among us.  Faithfulness wasn't [and isn't] waiting passively for a future that had already been determined.  Faithfulness meant [and means] participating with God in God's unfolding story.…  God [is] descending among us here and now, making the tree of true aliveness available for all.
"What was true for Revelation's original audience is true for us today.  Whatever madman is in power, whatever chaos is breaking out, whatever danger threatens, the river of life is flowing now.  The Tree of Life is bearing fruit now.  True aliveness is available now."[10]  The Spirit of Hope is among us here and now.
As we move into our time of quiet reflection, I invite you to reflect on …
… anything in the sermon or scripture that caught your attention; or
… a time when an invitation changed your life; or
… how you are (or aren't) listening to contemporary examples of "literature of the oppressed;" or
… the image of creation inviting God, and God inviting creation, through the powerful word, "Hope."
[1] "Pine Ridge Indian Reservation," Re-Member, http://www.re-member.org/pine-ridge-reservation.aspx (accessed 13 August 2016).
[2] Reuters, "Five Pacific islands lost to rising seas as climate change hits," The Guardian, https://www.theguardian.com/environment/2016/may/10/five-pacific-islands-lost-rising-seas-climate-change (posted 10 May 2016; accessed 13 August 2016).  See also, Tierney Smith, "Solomon Islans town first in Pacific to relocate because of climate change," tck tck tck, http://tcktcktck.org/2014/08/solomon-islands-town-first-pacific-relocate-climate-change/ (posted 19 August 2014; accessed 13 August 2016).
[3] The "Cradle to Prison Pipeline" is a term coined by the Children's Defense Fund to describe the fact that "1 in 3 Black and 1 in 6 Latino boys born in 2001 are at risk of imprisonment during their lifetime."  Learn more about this problem and ways you can be involved in addressing it at http://www.childrensdefense.org/campaigns/cradle-to-prison-pipeline/
[4] Brian McLaren, We Make the Road by Walking [Kindle version], chapter 51, page 255. Retrieved from amazon.com.
[5] Ibid.
[6] Ibid.
[7] Ibid, 256, emphasis added.
[8] "Disinvestment from Israel," Wikipedia, https://en.wikipedia.org/wiki/Disinvestment_from_Israel (accessed 13 August 2016).
[9] McLaren, op.cit., 257.
[10] Ibid.
"Although Jesus is called teacher in the Gospel of Mark, that Gospel includes little of the teaching of Jesus. His parables confound his listeners rather than leading to greater understanding. Jesus' teaching in Mark is performative, says Brian Blount; Jesus taught by the way he lived. He doesn't teacher love as a concept, he acts it out by touching lepers and allowing diseased people to touch him, engaging women as equals, associating with the marginalized, and breaking laws that don't promote human well-being. If we want to teach the reign of God as Jesus taught it, then we need to craft a curriculum that does more than inform."  ~ Christian Century, 8 June 2016 edition, page 9, citing the April edition of Interpretation.
A sermon preached at Niles Discovery Church, Fremont, California,
on Sunday, June 12, 2016, by the Rev. Jeffrey Spencer.
Scriptures: Matthew 22:34-40 and James 3:13-18
Copyright © 2016 by Jeffrey S. Spencer
We woke up this morning to the news that a gunman killed 50 and injured 52 or 53 at a gay nightclub in Orlando, Florida. First, I want to say that we are far from knowing all the facts. In the days, weeks, even months ahead, we will get more information, some of which will contradict the information we have now. It is far, far, far, too early to label this act or to interpret motives or to draw conclusions. Now is the time to grieve and to pray for the victims and the first responders and the hospital staffs who are treating the wounded as we speak. Now is the time to pray for the police who need to make official notifications to the families of the 50 who died. Now is the time to pray for those families.
I went to bed last night with a sermon manuscript sitting on my desk that has moments of lightness, moments of humor. I hope no one will be offended if I preach it as I wrote it this week. There is no intent to minimize the depth of this tragedy. Rather, this tragedy invites us, in the context of today's sermon, to ask if the perpetrator of the shooting knew how to love himself.
The question is asked in the singular. A lawyer in Matthew, a scribe in Mark, asks Jesus which is the greatest commandment. Not what are the greatest commandments, plural. Which is the greatest commandment, singular.
Jesus answers the question in the plural. The greatest commandment is to love God with your whole being. The second is like it, Jesus says: Love your neighbor as yourself.
For Jesus, loving God and loving neighbor are never far from each other. And if we are to love each other as we love ourselves, we need to figure out what a healthy self-love looks like. Perhaps, with the help of the Spirit, we can discern not only a healthy form of self-love, but one that is holy, too.
Think back to the story in Genesis that we often refer to as "the fall." There's a whole lot going on in this story – much, much more than I'm going to mention today. The thing from the story that I want to lift up today is that there are really two sins committed in the story.
The first sin is a sort of narcissism. Adam and Eve decide that they should be able to eat the fruit of the tree of knowledge, that the limits and the rules don't apply to them. They are so full of themselves, they think they are so much bigger than they really are, that they eat what they shouldn't. After they eat, they realize that they are naked and feel ashamed about it. So they go into hiding. This is the second sin, the sin of shame, of thinking they are smaller than they really are.
Being too full of themselves and being too empty of themselves: these are the two sins in this ancient story. A healthy and holy self-love is somewhere in between.
Self-denial, the ignoring of one's own needs, is certainly not self-love. I think ignoring ones own wants is also not self-love. I know that God has been cast as a divine killjoy. God has been cast as the holy judge, "sitting in heaven with a sourpuss glare, eyes roaming to and fro across the Earth to find anyone who is having fun – especially sexual fun – and stop[ping] it immediately!"[1]
I don't know if it's more silly or sad that we've done that to God. "Pleasure, of course, was originally the Creator's idea. By giving us taste, smell, sound, sight, and touch, God was making possible an amazing array of pleasures: from eating to sex, from music to sport, from painting to gardening, from dance to travel. Human pleasure is a good and beautiful creation, mirroring, it would seem, a great capacity for enjoyment that exists in God. We are told that God takes pleasure in creation and in us, something all parents, teachers, and artists understand in relation to their children, students, and works of art. So again and again in the Bible, we are reminded that our Creator has given us all things to enjoy richly, and that in God's presence is fullness of joy. The Creator is definitely pro-pleasure."[2]
We should not feel ashamed for enjoying experiences and aspects of life simply because we are enjoying them. God is not a divine killjoy
On the other hand, just because something is enjoyable doesn't make it advisable. We need to have some boundaries, and not just for the sake of others. We need them for ourselves. Think about the big pleasures in life – food, drink, sex, owning, winning, resting, playing, working. It is possible to become addicted to all of these or to find too much of a sense of identity or purpose in all of these.
So, it's not surprising, that there are plenty of rules and warming about pleasures in the Bible. "When we indulge in pleasures without self-examination or self-control, great pleasure can quickly lead to great pain,"[3] as any recovering addict (or any family member of an addict) can tell you.
Our faith tradition has handed down guidelines and rules to help us from falling into the demands of "what I want, when I want it, as much as I want." The rules are a great help – as a starting place.
If our faith doesn't mature, then the rules are helpful. The rules tell us right from wrong, legal from illegal. If our faith matures, we get a new emphasis in our faith: wisdom. Instead of asking "is this right or wrong?" we start asking: "Will this help or hinder me in reaching my higher goals?" "Where will this lead in the short-term, medium-term, and long-term?" "What unintended consequences might happen?" "Who might be hurt by this?" "Are there better alternatives?" "Is this the best time?" "Should I seek counsel before moving forward?"[4]
Brian McLaren points out, "Wisdom helps us see how a hasty purchase of a desired indulgence can lead to the long-term pressure of debt." Wisdom reminds us that a one-night sexual liaison can lead to lasting consequences for both parties and their families, be that spouses, children, parents, others – and possibly for generations to come. Wisdom knows that a business short-cut can cost us our reputation and possibly long-term business viability for the sake of short-term financial gains. "Wisdom guides us to see beyond life's immediate pleasures to potential consequences that are less obvious and less pleasant."[5]
But wisdom doesn't just say, "No," or even "Not now." "Wisdom also helps us see how excessively denying ourselves pleasure can [also] become unwise." Parents who deny themselves time to care for their relationship for the sake of the children can put their relationship in jeopardy. Wisdom reminds the work-a-holic like me to stop and do something fun, something renewing, even something frivolous to avoid burn-out that can lead to resenting work.[6]
Wisdom teaches practices of self-care, sometime stepping on the brakes and sometimes stepping on the accelerator. "We all need wisdom to know our limits and keep our balance, to know when to say yes and when to say 'That's enough' or 'That's unwise' or 'This isn't the right time.' We need wisdom to know when to ask for help – from a friend or professional – when we are in over our heads. We need wisdom to monitor the difference between legitimate desires and dangerous temptations. We even need wisdom to keep different kinds of pleasure in a healthy and sustainable balance."[7]
The wisdom I'm talking about really isn't all that lofty – at least at its beginning. Even young children can find some degree of wisdom and embrace it. There's a famous experiment that was first performed at Stanford University in the 1960s and 70s about delaying gratification. It's been reproduced a number of times.[8]
Embracing the wisdom to learn self-examination, self-control, self-development, and self-care, is a great step. But it's not the final step. "Rules are good, wisdom is better, and love is best of all."[9]
God wants you to be able to look at yourself with the same love that God has when God looks at you. This is not always easy. We can block our view of ourselves with our shame. We can distort our view of ourselves with self-absorption, self-centeredness, and selfishness. Or we can engage in Spirit-guided self-examination, self-control, self-development, and self-giving, and learn to really love ourselves.
June is Gay Pride month and I can testify to how important this month, and especially Gay Pride festivals and parades, can be. I went to my first Gay Pride Parade three decades ago. It was the San Francisco Pride Parade, so it was a big event. I plunged right in. The power of the parade for me was being in a place where being gay was the norm. I had spent the previous half of my life feeling like I was weird, abnormal, broken. I had spent the previous half of my life feeling ashamed of my being. That parade had a healing impact on my life. It was one day of celebration that told me that I wasn't broken, that I wasn't weird. It was a day of celebration that told me that I was normal and that I was loveable. It chipped away at the walls I had erected against loving myself. And I can tell you, God didn't want me treating my neighbor the way I was treating myself.
God isn't a divine killjoy. God wants each one of us to love ourselves the way God love us. "If you trust your self to that love, you will become the best self you can be, thriving in aliveness, full of deep joy, part of the beautiful whole. That's the kind of … love of self that is good, right, wise, and necessary. And that's one more reason we walk this road together: To journey ever deeper into the beautiful mystery of the Spirit's love. There we find God. There we find our neighbor. And there we find ourselves."[10]
As we move into our time of quiet, I invite you
to reflect on anything from the sermon or scripture that caught your attention, or
to reflect on a time when a rule, a wise saying, or a mentor helped you in some way; or
to reflect on how you respond to the idea that if we love ourselves, we will practice self-examination, self-control, self-development, self-care, and self-giving rather than self-indulgence; or
to imagine those who love you most – parents, spouse, friends, children, God – are standing with you as they see and love you.
[1] Brian McLaren, We Make the Road by Walking [Kindle version], Chapter 44. Retrieved from amazon.com.
[4] These questions are slightly modified from McLaren, ibid.
[8] The experiment itself was actually much more involved than just examining how children deal with delayed gratification. The psychologist, Walter Mischel, also looked at the children in the initial test later in the lives and found that those who were able to wait longer for the preferred, bigger rewards (who were able to delay gratification) tended to have better life outcomes, as measured by SAT scores, educational attainment, body mass index, and other life measures. Learn more at "Stanford marshmallow experiment," Wikipedia, https://en.wikipedia.org/wiki/Stanford_marshmallow_experiment
[9] McLaren, op. cit.
A sermon preached at Niles Discovery Church, Fremont, California,
on Sunday, June 5, 2016, by the Rev. Jeffrey Spencer.
Scriptures: Luke 10:25-37 and 1 Corinthians 13:1-13
Copyright © 2016 by Jeffrey S. Spencer
A week and a half ago, we held once of our every-four-months "Deepening Membership" gatherings. The subject of this gathering was "service," and to get us going, I asked the people to share a story of a time they were involved in some act of service where they felt especially connected to God. Everyone (well, everyone except me) shared a story that included some element of connecting with other people, typically a person in need, sometimes with others offering service.
There is something about the experience of connecting with another person in the context of service that moves us beyond ourselves and into what a friend of mine call "The Big Love," her preferred name for God. When we are connecting with our neighbor, we are connecting with God. When we love our neighbor, not just with mind and heart, but with hands and feet and voice, we are loving God.
This is the challenge Jesus makes to the lawyer who seemed to be looking for a loophole. "Yeah, I'm supposed to love my neighbor, but who exactly is my neighbor?" he asks Jesus.
Jesus answers with the story we call "The Parable of the Good Samaritan." And in the telling, Jesus reminds us that loving our neighbor may require that we cross socially-dictated boundaries. This is an over-simplification, but basically, Jews at the time of Jesus generally viewed Samaritans with a special contempt. While the Romans were viewed with contempt because they were the occupying, oppressive force, Samaritans were viewed with contempt because they claimed to worship Yahweh, the Jewish God, but not at the Temple in Jerusalem, and not guided by the same group of prophets. They were seen not just as pagans, but as perverters of the faith.
In the story Jesus tells, Jewish leaders ignore their fellow Jew, robbed and beaten at the side of the road. It was a perverter of the faith who came to the Jew's aid. Even Samaritans, outsiders, people you look on with contempt, are your neighbors.
For millennia, from before the advent of agriculture, human cultures have taught that same is safe and different is dangerous. Brian McLaren says, "That belief probably served our ancestors well at certain points in our history. Their survival often depended on maintaining trust in 'our' tribe and fear of other tribes. That's why they used paint, feathers, clothing, language, and even religion as markers, so everyone would know who was same and safe and us and who was different and dangerous and them.
"Driven by that belief, our ancestors spread out around the world, each tribe staking out its own territory, each guarding its borders from invasion by others, each trying to expand its territory whenever possible, each driving others farther and farther away. No wonder our history is written in blood: wars, conquests, invasions, occupations, revolutions, and counter-revolutions. The winners take all, and the losers, if they aren't killed and enslaved, escape to begin again somewhere else.
"Eventually, because the earth is a sphere, our dispersing tribes had to come full circle and encounter one another again. That is our challenge today. We must find a way to live together on a crowded planet. We have to graduate from thinking in terms of 'our kind versus their kind' to thinking in terms of 'humankind.' We must turn from the ways of our ancestors and stop trying to kill off, subjugate, or fend off everyone we judge different and dangerous. We must find a new approach, make a new road, pioneer a new way of living as neighbors in one community, as brothers and sisters in one family of creation."[1]
McLaren goes on to say, "That doesn't mean all our tribes need to wear the same paint and feathers, speak the same language, cook with the same spices, and celebrate the same religious holidays.   But it means all our human tribes – nations, religions, cultures, parties – need to convert from what we might call dirty energy to clean energy to fuel our tribal life. True, the dirty energy of fear, prejudice, supremacy, inferiority, resentment, isolation, hostility is cheap, abundant, and familiar. That's why our societies running it, even though it's destroying us. More than ever before in our history, we need a new kind of personal and social fuel. Not fear, but love. Not prejudice, but openness. Not supremacy, but service. Not inferiority, but equality. Not resentment, but reconciliation. Not isolation, but connection. Not the spirit of hostility, but the holy Spirit of hospitality."[2]
What that looks like isn't always clear. Most of you know that we have a young man – he goes by the name Lucky – who is making camp in our memorial garden. We have connected him with an Abode Services social worker and we've set some rules that he's supposed to live by:
His tent is supposed to be down and packed away by 9:00 a.m., and not set back up until 7:00 p.m.
He's supposed to keep the area clean.
He's not to be in the building unless Pastor Brenda or I are here.
When he has coffee or eats something, he has to clean his dishes.
Yet I can't help but wonder: Is this the clean personal and social fuel of openness, of service, of equality, of reconciliation, of connection, of hospitality? Is this loving our neighbor? I'm not sure. I hope that in this case it is. But I realize it might not be.
Back in November, United Church of Christ pastor and poet Maren Tirabassi wrote a poem she titled, "The Good Syrian."[3]
So the American is beaten up
in the parking lot, mugged,
at the Mall of New Hampshire,
and a Christian comes by
and doesn't stop for a moment
because it is Black Friday
and there is shopping.
Then a politician comes by.
It is primary season
and both the Democrats
and Republicans
are thick on the ground
in Manchester, Concord, Portsmouth,
but the politician doesn't stop
because his handlers
tell him it's not a photo-op.
And finally a Syrian comes by
one of those who is –
as the poem tells it heartbreak –
on our streets
because home is like the
mouth of a shark.
And the Syrian is Muslim
and the Syrian is kind.
And the American
does not want him
for a neighbor.
But God put him there
in the answer
to questions about love.
Today is Faith Formation Sunday. We took a moment earlier in the service to thank our Sunday School Teachers and we took a moment to mark the important milestone in the life of one of our youth – his graduating from High School this month – recognizing that secular education plays an important role in the forming of faith. I said that one way to look at why the church exists is this: the equipping of people to be disciples of Jesus.
McLaren says, "[Churches] at their best are Spirit-schools of love, engaging everyone, from little children to great-grandparents, in the lifelong learning. In the school of the Spirit, everyone majors in love."[4]
[Please watch from 5:57 to the end.  This video is the trailer for a educational series; you can learn more about it here.]
As we move into our time of quiet, I invite you to reflect on anything from the sermon or scripture that caught your attention;
or a time when someone affirmed one of your unique gifts or abilities or when you appreciated the unique gifts or abilities of another;
or a time when someone came to your aid and acted as a neighbor to you, or a time when you acted as a neighbor to another;
or meditate in silence, simply holding the term "neighbor" before God. Open yourself to the depths of meaning in this beautiful term.
[1] Brian McLaren, We Make the Road by Walking [Kindle version], Chapter 43. Retrieved from amazon.com.
[2] Ibid.
[3] Maren Tirabassi, "Parable of the Good Syrian," Facebook, https://www.facebook.com/maren.tirabassi/posts/968297036567313 (posted 27 November 2015; accessed 4 June 2016).
[4] McLaren, op. cit.
A sermon preached at Niles Discovery Church, Fremont, California,
on Sunday, May 29, 2016, by the Rev. Jeffrey Spencer.
Scripture: Mark 12:28-34
Copyright © 2016 by Jeffrey S. Spencer
About a million years ago (okay, I guess it was closer to 30) when I was a chaplain at the Juvenile Hall in Martinez, I had a simple psychological test I'd give to see if a kid had all their marbles.[1] I would explain that I was going to administer the test and then I would say, "Eeny meeny miny." The kid I was talking to would typically look at me quizzically and say/ask, "Moe?" I'd say, "Congratulations! You have all your marbles," and they would smile. Then I'd explain:
I said this was a test, but I didn't ask a question. I just said, "eeny meeny miny," and you had to think about what I had said – that's your first marble, your thinking marble. You thought to yourself, "He said 'eeny meeny miny,' but that's not a question. Maybe he wants me to save the next word." "What's the next word? I know the next word. Moe." This is where your second marble came in – your knowing marble. You said, "Moe," to me. I said, "Congratulations," and you smiled, revealing a feeling of happiness – and that's really where I saw that you have your third marble – your feeling marble. You've got the three basic marbles: thinking, knowing, and feeling.
Isn't it nice of the traffic department to put up these reminders all around the streets to remind us to use all our marbles when we're making a decision, reminding us to stop and think before we go?
These three marbles also relate to Freud's ego states (ego, super ego, id), and they relate to transactional analysis' ego states (adult, parent, child). Theologically, I connect them to the greatest commandment.
Listen again to Mark 12:28-34:
One of the scribes came near and heard them [Jesus and some other religious leaders] disputing with one another, and seeing that he [Jesus] answered them well, he [the scribe] asked him [Jesus], "Which commandment is the first of all?"
Jesus answered, "The first is, 'Hear, O Israel: the Lord our God, the Lord is one; you shall love the Lord your God with all your heart, and with all your soul, and with all your mind, and with all your strength.' The second is this, 'You shall love your neighbor as yourself.' There is no other commandment greater than these."
Then the scribe said to him, "You are right, Teacher; you have truly said that 'he is one, and besides him there is no other'; and 'to love him with all the heart, and with all the understanding, and with all the strength,' and 'to love one's neighbor as oneself,' – this is much more important than all whole burnt offerings and sacrifices."
When Jesus saw that he answered wisely, he said to him, "You are not far from the kingdom of God." After that no one dared to ask him any question.
The greatest commandment, Jesus says, is to love God with all your heart, soul, mind, and strength. I interpret this to mean loving God with one's whole being, with all your marbles and the marble bag, to love God with your feeling, your knowing, your thinking, and the body that contains these powers.
I also find myself resistant to loving on command. How does one love on command? Yet this is how Jesus frames loving God. It's the most important commandment. He quotes Mosaic law, he quotes the Shema. The Shema is considered the most important part of the Jewish prayer service. The Shema is recited twice daily during morning and evening prayer. It is typically the first prayer parents teach their children.[2] And it is the first commandment in the list of commandments the sixth chapter of Deuteronomy.
Jesus doesn't stop with commanded us to love God. He commands us to love our neighbors (as we heard). And Matthew reports him commanding us to love even our enemies. We will get into these commandments in the weeks ahead. Today we look at how to love God with all our marbles.
I suppose the first thing to figure out when it comes to loving God is to figure out who this God is. Christianity has done more than its fair share of damage to the sense many have of God. God has been cast as "an angry old white man with a beard, oppressing women and minorities, promoting discrimination and war, and blessing the destruction of the planet."[3]
God has been cast as "the curator of a religious museum who seems to have a taste for all that is outdated, archaic, dour, and dusty."[4]
And God is been cast as "a testy border guard who won't let new arrivals through heavens passport control office unless they correctly answer a lot of technical doctrinal questions with a score of 100 percent."[5]
None of these images of God are particularly easy to love. Luckily, even if those are accurate depictions of God (and I don't think they are), we don't have to do this loving on our own. A couple weeks ago we celebrated the coming of the Holy Spirit. I believe that our ability to love is powered by the Holy Spirit, that the Holy Spirit uses whatever ember or spark exist with in us, and from that "tiniest beginning, our whole lives – our whole hearts, minds, souls, and strength – can be set aflame with love for God."[6]
Like I said, I don't think those negative castings of God are accurate, so that makes loving God easier. Except, maybe it doesn't. Maybe as we move away from those negative images of God, we move to something that is more ephemeral, less tangible, and therefore perhaps more difficult to love. In the first two and a half minutes of this video, you get to hear some descriptions of God that are closer to my sense of who God is.
Even if this is a more accurate casting of God, we are still left with the question, how do we love this creator, this energy, this sustainer, this relationship, with all our hearts, minds, souls, and strength?
Even if God is this more ephemeral, less tangible being (for lack of a better word), I think loving God isn't really all that different from loving another human being. And you know how you make that kind of love grow. You move toward that person and a special way. You appreciate their qualities and honor their dignity. You enjoy your beloved's company. You support their dreams and desires. You make yourself available to them, because being in love is a mutual relationship.
"Similarly, when we learn to love God, we appreciate God's qualities. We honor and respect God's dignity. We enjoy God's presence and are curious you know more and more of God's heart. We support God's dreams coming true. And we want to be appreciated, honored, enjoyed, known, and supported as well – to surrender ourselves to God in mutuality."[8]
So, you might know that I'm in love with God because you notice that we spend time together. You might notice my appreciation for God, my gratitude. Maybe you noticed that I have respect for God. You might even notice that I apologize to God sometimes, seeking forgiveness for the choices I make that hurt my relationship with God. You might notice that I spend time supporting God's dreams and plans, not just saying, "thy will be done on earth," but also doing something about it. If our love is mutual, you might notice that I open myself up to receiving God's love for me, opening myself to God's support and help, leaning on God in my sorrow and pain, trusting God with my deepest fears and doubts and disillusionment. Maybe you notice me trusting God enough to handle my anger.
I know I'm still a long way from loving God perfectly. Still, I believe this: the Spirit of love is at work in this world, and when I allow that Spirit to work in me, there is nothing quite like loving God.
As we move into our time of quiet reflection, I invite you to reflect on anything from the sermon or scripture that caught your attention; or
a time when you felt "in love" with God; or
the similarities and differences between human love and loving God; or
I invite you to simply sit with God, in silence, in love. When your mind distracts you and wanders off, simply acknowledge that has happened and turn your attention back to God, being aware of God's constant loving attention toward you.
[1] I am forever indebted to my colleague and mentor the Rev. Keith Spooner who taught me this test.
[3] Brian McLaren, We Make the Road by Walking [Kindle version], Chapter 42. Retrieved from amazon.com.
[7] The film clip is from the trailer for Transforming Through Love, a 3-film series on participating in God's dream of wholeness, produced by The Work of the People. Downloaded 28 May 2016. More information at http://www.theworkofthepeople.com/bundle/transforming-through-love
[8] McLaren, op. cit.
The Uprising of Discipleship
A sermon preached at Niles Discovery Church, Fremont, California,
on Sunday, April 10, 2016, by the Rev. Jeffrey Spencer.
Scriptures: John 21:1-19
Copyright © 2016 by Jeffrey S. Spencer
"Religion is not a lottery, though some may believe otherwise. If our faith was only a question of picking the winning number to earn us an exclusive afterlife of luxury, then we would miss the whole point. Spiritual life is defined by service, not by salvation. We are called to practice justice, exercise compassion, give generously to help others. That is the hard work of living by faith. We do all of this without demand of a reward for love is its own reward. Heaven is not a winning ticket separating winners and losers but a promise we all inherit when we put service before self."[1]
            This quote from Episcopal Bishop Steven Charleston has lingered with me since he posted it at the beginning of the month on Facebook. And it informs today's sermon.
Today is the third Sunday of Easter. We are in the season of resurrection. Just as Christmas lasts for 12 days, Easter lasts for 50 days. Today's scripture lesson is an epilogue to John's gospel. Most people think that John's gospel ended with what we call chapter 20 and that chapter 21 was added sometime later. But that tidbit of text criticism is neither here nor there as far as today's sermon is concerned. Today, we look at the bulk of chapter 21 as one more story from the texts we call "scripture," one more story that talks about the uprising that began on Easter.
The disciples have had a series of experiences of the palpable presence of Jesus even though he was killed. First Mary of Magdala had an experience in the cemetery where Jesus' body had been buried. Then Jesus showed up in a locked room with the disciples. And again a week later, he showed up in a room with the disciples, even though the door was shut.
It is now sometime later and the disciples have left Jerusalem and returned to Galilee. Peter announces that he's going fishing. John doesn't share what Peter's motivation was. I've always read into the story that Peter, impulsive fellow that he was, felt like he had to do something. Jesus was dead, but he wasn't. But he wasn't around all the time like he used to be. And here we are back in Galilee and we're hanging out together because, well, what else are we going to do. And suddenly Peter announces his going fishing. So what are the rest of us going to do? We go with him.
Peter in a fishing boat makes me think of when Jesus called Peter. Peter and his brother Andrew were on the Sea of Galilee (or as John calls it here, the Sea of Tiberius), and Jesus came by and called them, "Come follow me and I'll make you fish for people." Only that's not in John; that's in the synoptic gospels. John doesn't tell us how Peter put food on the table, just that his brother Andrew called Peter to come check out Jesus because Andrew thought Jesus just might be the Messiah. Nonetheless, I can't help but wonder if John's community knew the synoptic story of Peter's call.
This is a story in John's gospel, and we're not at the beginning of the story of Jesus ministry. We're at the other end of the story, sometime after the resurrection. Peter declares to the other disciples that he's going fishing, and a bunch of the other disciples went with him. And they were out all night and caught nothing. At daybreak, a stranger shows up on the shore and tells them to cast their nets on the other side of the boat. They cast their nets and there are so many fish the net should break.
One of the disciples declares, "It's the Lord." On hearing this, Peter puts on some clothes and jump in the water to swim to shore. Which seems backwards to me – putting on clothing and jumping in the water. Walter Wink points out that this story has the feeling of a farce in its deliberate playfulness: "no fish, too many fish; non-recognition, recognition; Peter swimming fully clothed; the entire fish-count, in unison; Jesus as short-order cook."[2]
And I have to agree – especially about the fish thing. Why 153 fish? Why that exact number? Theologians and biblical commentators have debated through the ages. "St. Jerome imagined it was the total number of fish species in the world, signifying the church's worldwide mission. But first century people already knew more than that many fish."[3] St. Augustine does some impressively convoluted math (that I don't get) to force the number into making some symbolic sense.[4]
I like the chutzpah of one commentary who suggested the number may have been picked because that is the number of fish that were in the net. The problem with this interpretation is that it assumes this is a factual story rather than a theological story, and like the rest of John, the truth of the stories are in their theology, not their facts.
For an explanation, I like Wink's idea that it's all part of the farce. You see, things shift as soon as everybody's ashore and gather around Jesus. Jesus serves them breakfast, bread and fish. Just like with the multitude on the hillside months earlier, Jesus serves his followers bread and fish. It's an Easter communion scene.
And then Jesus pulls Peter aside. Jesus takes aside the man who was so upset that the only thing he could think to do was to go fishing. Jesus takes aside the man who promised he would never desert Jesus and within hours had denied even knowing him – three times. Jesus takes Peter aside and asks him, "Do you love me?" Jesus asks him this question three times. And three times, Peter declares his love for Jesus. Perhaps the symmetry is purposeful. Perhaps with each question, Peter is working out his guilt and finding forgiveness and reconciliation.
But John was written in Greek and the Greeks have several words that we translate as "love" in English, and two of them are used here. "Peter, do you agapas (the highest, self-giving love, agape) me?
Peter: 'Yes, Lord; you know that I philo (to have friendship, affection for) you.'
Jesus: 'Feed my lambs.'
A second time Jesus asks: Do you agapas me?
'Yes Lord; you know that I philo you.'
'Tend my sheep.'
A third time Jesus asks, Do you phileis me?
Peter, grieved that this third time Jesus had adopted his word, replies, 'You know everything; you know that I philo you.'
'Feed my sheep.'"[5]
Even without the response of "Feed my sheep," it's clear that there's something going on with the use of these two words we translate "love." Is there something about the call to love and follow Jesus without reservation, to love him unconditionally? Is there some acknowledgement of our inability to love without condition and Jesus' accepting us all the same? Is there something being said about our inability to truly, fully reciprocate God's love for us? I think, perhaps, yes.
With the response of "Feed my sheep," I also hear the reassurance that we, like Peter, are called to act in response to Jesus' love for us, even if imperfectly. The text continues with Jesus speaking to Peter: "Very truly, I tell you, when you were younger, you used to fasten your own belt and to go wherever you wished. But when you grow old, you will stretch out your hands, and someone else will fasten a belt around you and take you where you do not wish to go."
Jesus has been telling Peter to care for the community: Feed my sheep. And, "in case he doesn't understand what this entails, Jesus assures him that the kingdom requires total servanthood.… Though the first half of his life was spent planning, controlling, and going wherever he wished, discipleship means that 'someone else will fasten a belt around you and take you where you do not wish to go.'
"Though the text claims that this was meant to foreshadow the way in which Peter would die, it actually says much more about the way Peter would live his life in Jesus: in full obedience to the gospel."[6] Is it any wonder that the last thing Jesus says to Peter in John's gospel are the same words that, according to Mark's gospel, were the first said by Jesus to Peter?
Follow me.
These words are a literal call to discipleship. A disciple is "a follower, a student, an apprentice, one who learns by imitating a master."[7]
On Easter Sunday, I said that the resurrection was much more about what happens to us than about what happened to Jesus. Maybe the resurrection is about getting a first-class ticket to eternity, but if it is, that's not what's important. Easter is the inauguration of an uprising. One mark of this uprising is fellowship, a fellowship of scarred and scared and doubting people – I talked about that last week. Another mark of this uprising is discipleship. The people that are part of this uprising are disciples of Jesus, the one who, on the day before his execution, knelt at his disciples' feet and washed them. And then he told them that he had a commandment for them: Love one another.
This is the one Peter was called to follow. And how does he follow? How is he a disciple? By feeding Jesus' flock.
That's why I quoted Bishop Charleston at the beginning of the sermon. "Spiritual life is defined by service, not by salvation. We are called to practice justice, exercise compassion, give generously to help others. That is the hard work of living by faith." That is the hard work of discipleship.
Like Peter, if we want to be part of this uprising, we are called to follow Jesus. That doesn't mean we have to be perfect – just look at Peter with his philia-love of Jesus. "But it does mean we are growing and learning, always humble and willing to get up again after we fall, always moving forward on the road we are walking."[8]
It's a strange position to be in, being part of the flock that Peter is called to feed and being called like Peter to feed the flock. But that's what we're called to be as part of this uprising. We are disciples who are learning even as we are teaching new disciples. Yes, we will make mistakes. Yes, some of our efforts will prove fruitless. And when that happens, Jesus will come by and encourage us to give it one more try, maybe a little differently this time, casting our nets on the other side of the boat.
As we move into our time of reflection, I invite you to meditate on anything in the sermon to strikes you, or to consider one or more of these questions:
Hold the image of tired fishers at daybreak, being told to cast their nets one more time. What does this image say to your life right now?
How have you been drawn toward discipleship by another person?
How do you relate to the story of Peter with its dramatic ups and downs?
[5] Wink, op. cit.
[7] Brian McLaren, We Make the Road by Walking (New York: Jericho Books, 2014), 179.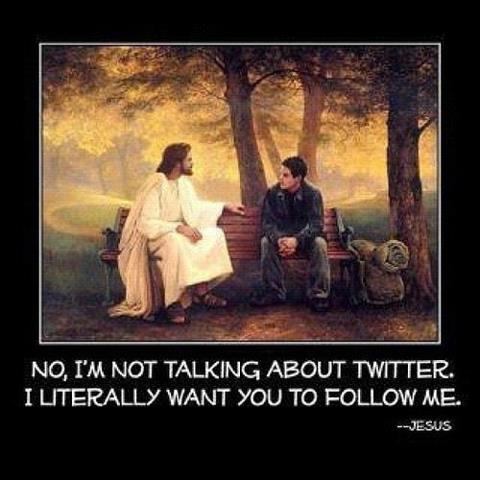 A sermon preached at Niles Discovery Church, Fremont, California,
on Sunday, March 6, 2016, by the Rev. Jeffrey Spencer.
Scripture: Matthew 6:19–7:12
Copyright © 2016 by Jeffrey S. Spencer
            I was on the train by myself. That was fine. I'm used to riding on trains by myself. It was when I realized that I was on the wrong train that my anxiety started to rise. The fact that I was in France and I don't speak French was certainly a contributing factor. "Please, God, may the conductor speak English." And God answered my prayer: No.
Luckily, the conductor was compassionate. He wrote something on a piece of paper, and said something with some hand gestures that I guessed meant I was supposed to get off the train when we got to a town with the name on the paper. For the next twelve hours (it was probably only 30 or 40 minutes – maybe only 20) I watched the electronic ticker ahead of me on the ceiling of the train car, looking for the word the conductor had written on the paper.
Finally, I saw it. I got off the train, found a timetable, figured out when a train to Geneva would come, and finally started to relax. As I sat on the platform, waiting for the train that would actually take me to Switzerland, I started kicking myself right in the ego for being so stupid that I got on the wrong train.
By the time I got to Geneva, all I had lost was a long layover that I had hoped to spend with a cousin, but who had cancelled the day before. I even made the train I had planned to get to Zurich, and then a connection to Wettingen, where a different cousin didn't meet me because he thought I was going to meet him in Baden – but that's another story.
In today's section from the Sermon on the Mount, Jesus starts by asking us to consider where our hearts are, to think about what we value. In a society that values wealth and power, Jesus suggests our values should be focused elsewhere. Treasures on earth or treasures in heaven? You can't serve God and wealth. It's one or the other. That's why, Jesus says, I tell you not to worry about material things. Material things are not what is important. Worry won't add to your life. Strive first for the kin-dom of God. Tomorrow with bring it's own troubles. Be present here, now, in this moment, not worrying about some possible future.
There are lots of reasons to be anxious. One typical reason we get anxious is that we worry about things that are beyond our control. There I was, on the wrong train and there was nothing I could do about it. I hear this from parents – worried about their children and feeling powerless to do anything about their futures and the choices they make. Except, of course, they helped their children become the people they are. And they ignore the fact that they are still their parents and can provide some level of safety net. Instead, they may try to manipulate, control, or disempower their kids, thus undermining the parenting they have done for years.
I bet you know of someone, perhaps yourself, who feared so much that they would lose the person they loved that they started clinging and grasping and smothering – and actually ended up driving the person away.
I'm not talking about anxiety disorders. Those are real medical issues that have to do with brain wiring and chemistry. I'm talking about situational anxieties.
When you have this kind of anxiety, you are experiencing a trust deficit. Whether it is a lack of trust in yourself (like I had on the train in France) or a lack of trust in another (like a parent with a child) or a lack of trust in God, when you are anxious about your life, you don't experience your life – you only experience your anxiety.
Do you remember what happened while I was waiting for the correct train to Geneva? I started taking it out on myself. This is pretty typical. All too often, "anxiety-driven people find a vulnerable person or group to vent their anxiety upon. The result? Bullying, scapegoating, oppression, injustice. And still they will be anxious. Before long, they'll be making threats and launching wars so they can project their internal anxiety on an external enemy."[1]
We see this wholesale every four years during the presidential campaign. Whether it's the immigrants or the Wall Street banks, the candidates tell us to deal with our anxieties – whatever they are actually about – by identifying an enemy to blame. Aaron Sorken summed this up really well in the 1995 film, The American President. The widowed President Andrew Shepherd (played by Michael Douglas) is facing reelection, and his opponent, Senator Bob Rumson, is coming after him by attacking his girlfriend, Sydney Ellen Wade, an environmental lobbyist. Rumson paints Wade as a threat to America. In the movie's climax, the President interrupts a press conference to defend himself and his girlfriend from Rumson's attacks. There's one little clip I want to play from the speech he gives to the press (the important part starts at 2:14 and runs to 2:37).[2]
Of course, what the movie doesn't show is that the President's reelection campaign will end up doing the essentially same thing – sometime after the credit roll. This isn't surprising – both that they don't show this in the movie and that it will inevitable happen. This is what almost all advertising does. To get us to buy stuff – be it political candidates or stuff we don't need – advertising uses fantasies and lies, and most of all, fear.
"Here's a gizmo you need to get for your toddler so they won't be stupid." My sister once told me how effective this advertising tool, fear, is on her – especially as a mom, especially when her kids were little.
As I said earlier, fear typically leads us to judgment. As President Shepherd said, it's all about "Making you afraid of it and telling you who to blame for it."[3] This is done by creating and judging a "them" of evil, untrustworthy semi-people and an "us" of good, trustworthy fully-people.
There's that word, "trust," again. When we create and judge an untrustworthy "them," we get a feedback loop. The untrustworthiness leads to more anxiety, which leads to more judgment, which leads to more anxiety … Trust is an antidote to this, especially trusting God in the midst of what our anxiety tells us is a dangerous world.
Jesus offers an additional antidote to judgmentalism. Just as focusing on the kin-dom of God helps release our fears, self-examination can release our judgmentalism. "Instead of trying to take splinters out of other people's eyes – that is, focus[ing] on their faults – we should first deal with the planks in our own eyes. When we have experienced how difficult and delicate it is to deal with our own problems, we will be much more sensitive in helping others deal with theirs."[4]
We posted a few memes about this on our Facebook page this past week:
Quoting the Dali Lama, one says (complete with spelling error), "What is love? Love is the absence of judgement."[5]
Another says, "Don't judge me because I sin differently from you."[6]
And the one that was posted yesterday, which seems to resonate with lots of people, says, "When you go out into the woods and you look at trees, you see all these different trees. And some of them are bent, and some of them are straight, and some of them are evergreens, and some of them are whatever. And you see why it is the way it is. You sort of understand that it didn't get enough light, so it turned that way. And you don't get all emotional about it. You just allow it. You appreciate the tree. The minute you get near humans, you lose all that. And you are constantly saying, 'You're too this, or I'm too this.' That judging mind comes in. And so I practice turning people into trees. Which means appreciating them just the way they are."[7]
"Put simply, if we want to experience nonjudgmental aliveness, then in everything – with no exceptions, we will do unto all others – with no exceptions, as we would have them do to us. In these words, Jesus brings us back to the central realization that we are all connected, all children in the same family, all loved by the same Parent, all precious and beloved. In this way, Jesus leads us out of an anxiety-driven and judgment-driven system, and into a faith-sustained, grace-based system that yields aliveness.
"Beneath our anxiety and judging lies an even deeper problem, according to Jesus. We do not realize how deeply we are loved. He invites us to imagine a child asking his [or her] mom or dad for some bread or fish. No parent would give their hungry child a stone or a snake, right? If human parents, with all their faults, know how to give good gifts to their children, can't we trust the living God to be generous and compassionate to all who call our for help?"[8]
So, here's my point – my three points, really:
Our anxieties are more dangerous to us than whatever it is that we're anxious about.
Our habit of condemning is more dangerous to us than what we condemn in others.
And our misery is unnecessary because each of us is truly, truly love.
As we move into our time of quiet reflection, I invite you to ponder how the love of good parents frees their children from anxiety and the need to judge one another. And I invite you to savor the feeling of being safe and secure in God's love.
[1] Brian McLaren, We Make the Road by Walking (New York: Jericho Books, 2014), 141.
[4] McLaren, op. cit., 142.
[8] McLaren, op. cit., 142-143.