You are currently browsing the tag archive for the 'sexism' tag.
A sermon preached at Niles Discovery Church, Fremont, California,
on Sunday, September 30, 2018, by the Rev. Jeffrey Spencer.
Scriptures:  The Book of Esther
(focus scriptures:  Esther 4:9-17 and Esther 7:1-6)
Copyright © 2018 by Jeffrey S. Spencer
I love the story of Esther.  And I hate it.
I tend to love an underdog story to begin with, especially when the underdog wins.  And in the Esther story we have a woman who has no power and who, due to circumstances beyond her control, ends up in a position to save an entire people from annihilation.  But those circumstances that are beyond her control as so patriarchal, and the story is so disturbingly quite about that.  That silence drives me crazy.
Here's what I mean by patriarchal circumstances.  To start off with, Queen Vashti gets banished because she says, "No," to the king's desire to display her as a sexual object.  Then, the selection process to find a new queen is essentially a stripped-down beauty pageant with only the bathing suit competition.  (And, yes, I meant that double entendre.)  To add insult to patriarchy, it seems that the women have no choice about entering the contest.  And then there's the whole thing about Esther not being able to talk to her husband without being summoned by him.  Who cares if the woman has something on her mind?  She only gets to talk to her husband the king if he has something on his mind.
I would really love it if the book made it clear that this sort of patriarchal supremacy was wrong.  The book sort of hints at this.  The main character is a woman – that's helpful.  This woman's cultural location dictates she have no power, and she finds power anyway.  This woman's cultural location places no value on her intellect, ability to understand, and her ability to plan – all of which the story does because they are vital to her successfully rescuing her people.  Yes, it's scary.  Yes, it could cost even her her life.  She has all kinds of reasons to take no risks, but she takes the risks anyway.  As her cousin and adoptive parent points out, "Perhaps you have come to regal dignity for just such a time as this."
There is a theological challenge in that line (probably the most famous line from the book).  It implies that there is some grand plan that is known only to the mind of God.  It implies that, while we may think we have free will, God is actually calling the shots, moving people around some humongous chess board, playing both the black and white pieces, so the great plot of this grand plan will unfold as scripted.  And if that's what's going on, God, why not do away with the Hamans of the world to start with.
No, I do not believe there is a grand plan that God is making unfold.  And I don't even believe God has seven and a half billion little plans – one for each of us on the planet.  I do believe in callings – that God has desires for goodness and love and that God sees ways (plural) for each of us to help move the world toward that goodness and love.  But God hasn't scripted how we will get there.  So that means that there will be plenty of suffering along the way.  God does not will for us this pain and suffering.  Rather, I believe that God suffers with us and collaborates with us to bring healing and life and love, even out of our sufferings, to the world.  So, if I were writing this story, I would have Mordecai say, "Look where you are, Esther.  You can take advantage of this unique position to bring the world closer to God's goodness and love in such a time as this."
I understand the urge to say it's all part of some divine plan.  Who but God could have known that the US news cycle would be caught up with the allegations of sexual assault against a Supreme Court Justice nominee this week when I decided two months ago to preach on the story of Esther?  Who but God could have known that on Thursday well over ten million people would turn in to TV, cable, and radio stations to hear the testimony offered before the Senate Judiciary Committee?  Who but God could have known how timely the quotes that ran on our church's Facebook page all last week would be when I scheduled them ten days ago?
It's easy to look back and see God's hand at work guiding all this.  And maybe it was.  I think it more likely, though, that it is coincidence.  For if God is guiding this, making it unfold this way, I would rather God guide sexual and physical abusers away from their abuse to begin with.  No, I think it is coincidence that I am preaching on Esther today and the Senate Judiciary Committee scheduled Dr. Blasey Ford's testimony for Thursday.  And that coincidence preaches.
Dr. Blasey Ford's testimony is a reminder that the Esther story is very much alive today.  I could not bring myself to listen to all of Dr. Blasey Ford's testimony nor to all of Judge Kavanaugh's testimony on Thursday.  I told myself I had too much work to do, and I did have work to do.  But that may have been a protective reaction.  I didn't want to subject myself to the pain that I knew both of them would express.  And taking care of ourselves is important.  If my reflecting on this testimony is or becomes too uncomfortable for you, I will not be offended if you choose to step outside for a while.  Take someone with you if that will make you feel safer.  I hope you'll come back for communion.  I know I need that shared meal today, and you might, too.
I could not bring myself to listen to all of their testimony, but I did listen to some of it.  And I was right:  it was difficult to listen to.  Part of what made it so difficult for me to listen to Dr. Blasey Ford's testimony was the fear I heard in her voice.  She didn't want to be there.  She didn't want to relive this horrific experience in vivid detail and then have it dissected by powerful people who were used to being in the spotlight, who enjoy being in the spotlight, who were literally sitting above her in physical positions of power.
But no one else could have shared her truth.  No one else could speak up in this way in such a time as this.
Another part of what made listening to Dr. Blasey Ford's testimony so hard is that I knew and I know there are people of all genders (and especially women) for whom this testimony and this news reporting has and will continue to bring up memories of abuse they have suffered – that you have suffered.  For you I have a message, a message that may be easier to hear coming from women.
I think it is important for me, a white man, to listen, especially to women.  Late yesterday morning I put a post on Facebook inviting women in our church to post their reactions to the news, comments that I could quote in today's sermon.[1]  I really didn't leave people much time to respond, so only a few did.  Here's what they had to say.
Tarrah Henrie said, "We need to raise our daughters to be brave and wise like Esther.  We need to raise our sons to care for and respect others like Jesus taught.  Each generation is moving in the right direction.  Also, I think Matthew 5:29 is clear in stating that it is not the woman's fault if a man feels lust.  It is really up to him to control himself.  And seriously, the majority of men are good people.  There is a small percent of men that are making women unsafe."
Without further comment, Joane Luesse pointed me to the video of two women, sexual assault survivors, who confronted Senator Flake after he announced his intention to vote to confirm Judge Kavanaugh.[2]  It was the first words on the video that were hardest for me.  "Don't look away from me!  Look at me!"  The raw pain in her voice and those words summed up the larger issues that the accusations against Kavanaugh represent – that the people who are victimized by sexualize assaults are not being seen, and in not being seen, their humanity is being denied.
In one of her posts about this news (a post she referred me to), Cindy Sojourner pointed out how important it is to be prepared to hear and believe when a loved one, people in our own families, discloses their victimization.
Delya Stoltz connected up Christine Blasey Ford's testimony about having her mouth covered by Brett Kavanaugh and fearing that he might inadvertently kill her to the work she (Delya) is doing on strangulation prevention, particularly in intimate partner assaults.  The people who are studying and training first responders in this field (like Delya) include any form of restricting a person's access to oxygen or blood – smothering, strangulation, suffocation, positional asphyxia, etc. – in this family of assault.  Delya pointed out to me, "People without a willingness to restrict another's breath in a violent and controlling setting don't suddenly become willing to do so when intoxicated.  It's a distinct personality profile and it's deeply concerning."[3]
The longest response came from Lauren D'Ambrosio who offered specific advice of what we can do.  "Men:  call out your friends, sons, nephews, coworkers, and even bosses when they show sexist or misogynistic behavior (words, actions, storytelling, etc).  Yes, it's uncomfortable.  Yes, it may make you cringe.  Yes, it may affect the relationship – but is that the kind of relationship you want to keep?  If you see women being ignored, interrupted, or undermined … call it out.  Something like, 'I didn't hear what Kristine was saying because she was interrupted.  What was that?'  It is important to call out the cause that is unacceptable (i.e. the interrupting), not just the effect (that you didn't hear her).  … Use your position of power/privilege to give [women] their voice back.
"Everyone:  Don't force your children to hug/kiss their relatives hello if they don't want to; a wave is fine.  Grandpa's disappointment is less important than your child's autonomy.  Don't [shrug] off poor behavior on your/your friend's part with 'oh, it's no big deal,' 'you're being too sensitive,' or 'jeez, everything is bothering you.'  Be reflective, and ask the individual if something is truly bothering them.  Discuss a boundary, then respect it.  This goes for grown adults and children/teens.  You will not be seen as weak for asking them for more information about how to not make someone uncomfortable, but you will be seen as rude if you ignore it because it makes you uncomfortable."
I am grateful for the women who chose to share a response with me and for allowing me to include it in this sermon.  It makes me think about how, really, every day is a "for such a time as this" moment.  Until God's kindom is established, there will be injustices that need to be confronted, truths that need to be told.
Each and every one of us has come to some station in life that makes us a perfect person to speak out.  "Whoever said anybody has a right to give up?" the contemporary prophet Marian Wright Edelman asks us.  The answer, of course, is, "No one."
Yes, speaking up, confronting power, standing up for those who cannot stand on their own, for those who have not come to their own version of royal dignity, will be scary.  Speaking truth to power is scary.  It is dangerous.  Power sometimes rolls over and crushes you.  But nobody ever said we have the right to give up.
So, hear some advice from some of other prophets of the past several decades.[4]
Usually, after the sermon we have some time for contemplation.  Today, instead, I invite you to recite this statement written by Professor Sharon Fennema.[5]  She calls it "A Creed for Days Like This."  I think of it as "A Creed for Such a Time as This."
The word "creed" comes from the Latin credo, which is translated, "I believe."  We've come to think of creeds as dogmatic statements.  Please don't read this one dogmatically.  Read it as an invitation.
I believe that God weeps for the ways we shatter each other.
I believe that my body is not an apology or an invitation.
I believe that Jesus, revolutionary love incarnate, trusted the wisdom of women.
I believe that we have the right to say what happens to our bodies.
I believe that the Spirit moves in acts of resistance to patriarch, misogyny, white supremacy and colonialism.
I believe that both those of us who report and those of us who can't or don't report are courageous and praiseworthy.
I believe in a church that listens to and learns from the resilience of women.
I believe that our vulnerability is our strength.
I believe that the communion of saints lives in the flesh and bones of survivors.
I believe that no means no.
I believe that the forgiveness of sins must center the sinned-against
I believe that the time's up.
I believe that bodies are resurrected when we bear witness to and believe the stories, when we name femicide for what it is, and when we refuse to acquiesce to rape culture.
I believe that when we dedicate ourselves to movements that build the world we are seeking as we fight to make it real, the kindom comes on earth as it is in heaven.
I believe women.
Amen.
_______________
[1] See https://www.facebook.com/RevJSS/posts/10214366059719919 for my post and the exact responses.
[2] Niraj Chokshi and Stead W. Herndon, "Jeff Flake Is Confronted on Video by Sexual Assault Survivors," The New York Times, https://www.nytimes.com/2018/09/28/us/politics/jeff-flake-protesters-kavanaugh.html (posted 28 September 2018; accessed 29 September 2018).
[3] From a conversation via text message with Delya on 29 September 2018; Delya granted me permission to quote her.
[4] These quotes are from Kathryn Matthews, "Sermon Seeds September 30, 2018," United Church of Christ, http://www.ucc.org/worship_samuel_sermon_seeds_september_30_2018 (accessed 19 September 2018).
[5] Sharon Fennema, "A Creed for Days Like This," Facebook, https://www.facebook.com/sharon.fennema/posts/10156022719207449 (posted and accessed 28 September 2018). Use by permission of the author.
A sermon preached at Niles Discovery Church, Fremont, California,
on Sunday, February 11, 2018, by the Rev. Jeffrey Spencer.
Scriptures:  Genesis 1:26-31 and Galatians 3:19-29
Copyright © 2018 by Jeffrey S. Spencer
We planned this sermon series because there was so much news about sexual violence.  It is an issue that we simply needed to address here in the church, from the pulpit.  As we planned the series, as I dug into the issue and learned more, I realized that the vast majority of sexual violence is connected to patriarchy.  Yes, men are sometimes the victims of sexual violence.  Yes, women are sometimes to the perpetrators of sexual violence.  And the vast majority of those targeted with sexual violence are women, and the vast majority of those who perpetrate sexual violence are men.  Sexual violence is, in our society at large, foremost an issue of men wielding their power in sexualized ways toward some sexual end for themselves.
Since this is the last sermon in this series, perhaps it's time I explained what I mean by 'patriarchy.'[1] Patriarchy is a social order that favors men (particularly cisgender, heterosexual men) at the expense of everyone else.  To do this, patriarchy relies on dualistic thinking.  A person is either male or female, and this is determined at birth,  so there is no room for gender fluidity or transgender identity.  To do this, patriarchy names certain qualities as masculine and superior, and other qualities as feminine and inferior.  Power, control, rationality, and competitiveness are examples of masculine-labeled qualities and they are considered superior to feminine-labeled qualities like emotional expressiveness, compassion, and nurture.  This leads to men and women having specific roles, with men leading and women supporting, and with male-labeled job getting paid more than female-labeled jobs.
Patriarchy supports (demands) male domination, and when women move into positions of power (become corporate executives, politicians, etc.), they are expected to behave "like men."  The weird thing is that most men I know are not interested in dominating women.  Rather, it is the system people of all genders have been born into and participate in unconsciously.  So, while male-identified people reap most of the benefits of patriarchy, people of all genders support it – unless we consciously resist it.
Much of the Bible seems to support patriarchy.  The formative stories of the Hebrew scriptures are steeped in patriarchy.  I think this is more an example of the authors participating in patriarchy unconsciously than it is an endorsement of it.  Similarly, patriarchy has (probably unconsciously) influenced the way we translate the Bible into English (and other languages).  See the first sermon in this series for more on that.
Yet, despite the omnipresence of patriarchy, there are glimpses in scripture of another way.  The first creation story says that people are created in the image of God, regardless of their gender.  And in his letter to the Galatians, Paul says that in the community of Jesus-followers, cultural distinctions, class distinctions, and gender distinctions are unimportant, for we are all one, we are all equal in Christ.  In other words, patriarchy is not part of God's desire for humanity and the beloved community Jesus is leading us to is not patriarchal.
So, how do we get to that non-patriarchal, beloved community?  Let me tell you a story.
Once upon a time, a person went for her daily walk along the banks of the river that ran through town.  As she walked along, she heard what sounded an awful lot like a baby crying.  When she looked around, she realized that the sound was coming from a basket in the middle of the river that was floating downstream with the current.  Our heroine jumped into the river, swam out to the basket, and brought the baby ashore.  She dropped the baby off at her parent's home and they agreed to care for the baby.
The next day, our heroine went for her daily walk along the river and, sure enough, another basket was floating along.  Worrying that it, too, might hold a baby, our heroine jumped into the river and rescued the baby.  She took this baby to her neighbor's home to be cared for.
You can probably tell where this story is going.  The third day, our heroine had an appointment and couldn't go for her daily walk along the river, so she had another friend take the walk for her.  Sure enough, the friend went into the river to pull out another baby.
It wasn't long before our heroine organized a river patrol.  And then some friends built an orphanage, and before you knew it, the whole town was organized to take care of the babies that kept getting pulled out of the river.
Then one day, at one of the organizing meetings, somebody made a bold suggestion.  "I was thinking," this person said, "maybe some of us might go upstream to find out why these babies keep getting loaded into baskets and plopped into the river.  Maybe there's something we can do to stop it."
We can look at the work of the church, particularly the mission work, as having two components: downstream mission work and upstream mission work.  Both are vital.  The downstream mission work looks at the needs that are right before us and addresses them.  It pulls the babies out of the water and cares for them.  Upstream mission work looks at the needs that are right before us and asks why they're happening.  It goes upstream and asks, "Why?" and "How do we change it?"
There are people who don't have enough money each month to keep a roof over their head and to buy groceries, and they have transportation limitations.  So we are helping our local food bank bring the food to them with the mobile food van project.  This is virally important downstream work and makes a huge difference in the lives of the people served.  There is also an upstream aspect to this need.  Why are people so poor that they can't afford both rent and food?  This is a question about the system.
It is my hope that the #MeToo movement will lead our society to holding perpetrators of sexual violence accountable.  This is a type of downstream work.  It is a vital type of downstream work.  Holding an individual perpetrator of sexual violence accountable will make an important difference, especially for the target of that violence.
I mentioned some other downstream work in my sermon last week.  I mentioned how important it is to believe the stories we hear from people (especially from women) who have experienced sexual violence.  And it's important that we tell them that we believe them.  Maybe something we (as a church) could do is to create a space where people can tell their stories – and be believed.  And when those stories are about experience of sexual harassment and abuse that took place in the church (for this can happen in the church just as easily as it takes place anywhere else in society), we could figure out what act of repentance by the church is needed.
I also suggested last week that one of the things we can do when we witness some form of harassment or abuse taking place is to interrupt it.  Have you heard about the New York superhero known as Snackman?  He defused a fight on the subway by standing between the combatants while eating potato chips.  Let's go to the film.
We don't have to use potato chips to interrupt.  We can get the target out of the situation or we can distract the assailant.  All it took was a woman walking by and slowing down to create the moment for me to escape from a sexual assault when I was a teen.
There are ways to confront a harasser (I wouldn't do this with an assaulter).  Later, "when the harasser is less likely to escalate the situation, [we can ask] questions like:  'Were you aware of how you came off in that conversation?'  Researchers also suggest talking openly about inappropriate behavior, like asking colleagues:  'Did you notice that?  Am I the only one who sees it this way?'  It might seem obvious, but researchers say it's crucial to check in with a victim and offer to help."[2]  In the work setting, that help might take the form of offering to go with them to Human Resources, if they want.  At church, it might take the form of offering to go with them to talk to a pastor.
Sharyn Potter, a sociologist at the University of New Hampshire who runs a research group for sexual violence prevention, says, "A bystander saying 'This isn't your fault, you didn't do anything wrong,' is really, really important."[3]
These are just a few examples of downstream work that we can do.  Upstream work is always harder than the downstream work because it's the work that changes whole systems.[4]  Yet, because so much about sexual violence is powered by patriarchy, only by overcoming patriarchy will we be able to curtail the sexual violence.
You've probably heard about girls being sent home from school because their outfits were deemed to be "distracting."  But think about the message that sends.  When we interrupt a girl's school day to force her to change her clothes, or when we send her home because her shorts are too short or her bra strap is visible, we are telling her that making sure boys have a distraction-free learning environment is more important than her own education.  Instead of shaming girls for their bodies, maybe we could teach boys that girls are not sexual objects.  But that would take a systemic change.
Patriarchy effects all of us and we all participate in it, but because men benefit from it, men bear the primary responsibility for disestablishing it.  As Lindy West pointed out, "Only 2.6 percent of construction workers are female.  We didn't install this glass ceiling, and it is not our responsibility to demolish it."[5]  In this sense, overcoming patriarchy is more a men's issue than a women's issue.
One of the ways we could address a part of patriarchy is for us to stop teaching sex education in our public school and start teaching sexuality education.  The difference between sex education and sexuality education is that the former focuses on plumbing and mechanics and the latter focuses on the whole human being.  Imagine if we taught that we need to listen to each other in our intimate relationships, that sexual expression should happen in the context of an affirmative 'yes,' rather than teaching merely that 'no means no.'
And if our schools won't do it, maybe our churches (at least progressive churches like ours) should offer holistic sexuality education to the general public.
We're also going to have to hold media accountable.  Whether this is for male-dominated journalism, for the glass ceilings and unequal pay that persist in Hollywood, or for the victim-blaming that gets echoed in media, they all need to be held accountable.
And we need to address legislation.  When bills are introduced that take away a woman's agency and when bills are introduced that support male domination, we must condemn them and fight against them.
Finally, and perhaps most importantly, we need to change how we raise our children, especially how we raise our sons.  There is a lot I could say about this, but for now I'll limit myself to just a couple ideas.  First, I want to say that changing the way we raise our sons is difficult.  It means going against all the messages they will receive from our patriarchal society.  All the more reason to be intentional about it.  There was a great article in The New York Times back in June about raising feminist sons.[6]  It offers a dozen specific attitudes and actions for parents to adopt in how they raise their children, especially their sons.  It covers things like helping our sons increase their emotional intelligence, and providing them with positive role models, and considering how work is divided up in the home, and the importance of our sons having different kinds of friendships.  I think these suggests apply to teachers and grandparents and church friends, too.  I encourage you to read it.
We need to teach our sons – and all men, really – that power and position are not an end in themselves.  Nor are they a license to prey upon those who are less strong or in subordinate positions.  Rather, when men have them, for whatever reason, they allow a man more ways to be of service to those around him.  That's what Jesus taught.  By itself it means little that you are bigger or stronger or more exalted.  The measure of a man – the measure of a person – is found in what you do with those things.[7]
Amen.
_______________
[1] This definition and explanation is based largely on Drew Serres, "Why Patriarchy Persists (and How We Can Change It)," Organizing Change, https://organizingchange.org/patriarchy-persists-can-change/ (posted at least two years ago; accessed 29 January 2018).
[2] Claire Cain Miller, "The #MeToo Moment: How to Be a (Good) Bystander," The New York Times, https://www.nytimes.com/2017/12/12/us/the-metoo-moment-how-to-be-a-good-bystander.html (posted 12 December 2017; accessed 29 January 2018).
[3] Quoted in ibid.
[4] Many of the following ideas come from Drew Serres, op cit.
[5] Lindy West, "Why Is Fixing Sexism Women's Work?" The New York Times, https://www.nytimes.com/2018/01/03/opinion/why-is-fixing-sexism-womens-work.html (posted 3 January 2018; accessed 29 January 2018).
[6] Agnes Lee, "How to Raise a Feminist Son," The New York Times, https://www.nytimes.com/2017/06/02/upshot/how-to-raise-a-feminist-son.html (posted 2 June 2017; accessed 29 January 2018).
[7] Based on Leonard Pitts, Jr., "What does it really mean to be a man?" The Bellingham Herald, http://digital.olivesoftware.com/Olive/ODN/BellinghamHerald/shared/ShowArticle.aspx (posted 25 November 2017; accessed 29 January 2018).
A sermon preached at Niles Discovery Church, Fremont, California,
on Sunday, February 4, 2018, by the Rev. Jeffrey Spencer.
Scriptures:  John 8:2-11 and Luke 24:1-11
Copyright © 2018 by Jeffrey S. Spencer
I have long considered the passage we heard from John 8 to be a pretty good argument against the death penalty.  The law says that the death penalty is the appropriate punishment for adultery.  Jesus stops the crowd from carrying out that penalty.  It seems pretty clear that Jesus is anti-death penalty.
At least in the case of adultery.
When only one of the party is brought to justice.
And that last statement is an important one for this sermon series.  The crowd is only seeking to punish the woman, as if the adultery is her fault.  She was caught in the act, they say.  That means the other party was there.  Why aren't they hauling the man away to be killed, too?  It's as if the guy gets a pass.
For generations, we've been letting men get away with sexual harassment and sexual assault.  We've been slut-shaming the women and giving the men a pass.  In my studying for this sermon series, I've learned some of the reasons why people sexually harass.
According to John Pryor, a psychologist at Illinois State University, there are three personality factors that increase the likelihood that a man will be a sexual harasser:  a lack of empathy, a belief in traditional gender roles, and a tendency toward authoritarianism.  In his research, Pryor found that when men with these personality traits are in an environment or system that suggests they can get away with it, they will do it.[1]
Add to this information the results of more recent studies showing that power makes people impulsive, less worried about social conventions, and less concerned about the effect of ones actions on others.  Other studies show that powerful people become more focused on themselves, are more likely to objectify others, and are more likely to overestimate how much others like them.  Sometimes powerful people will think that there are sexual signals coming from subordinates that simply aren't there.[2]
Why men are much more likely to sexually harass than women is not completely clear.  "It's not like women are somehow immune from dark personality traits," psychologist Louise Fitzgerald said, "but we know from gender research that men are more aggressive, more socialized to seek sex and believe they have a right to it."[3]
I do not think this greater aggression is simply biological.  It is not, as Andrew Sullivan proposed in a column for New York magazine,[4] simply a matter of testosterone.  There is something about the ways we raise boys that makes the men they grow into more aggressive than women, particularly more sexually aggressive.  One of the dangerous ways we do this is by doing what happened in the story from John's gospel.  We give the men a pass.
Consider these three things we tell boys and girls that gives boys a pass.
Boys will be boys.
He does that because he likes you.
It's just locker room talk.
Perhaps a little more strongly than the other two phrases (though I think all three do this), saying, "Boys will be boys," teaches that there is only one way to be a boy, and that way is to be violent, rough, and tumble.  It implies that boys are biologically wired to be violent and that they should be excused from the consequences of that behavior.  It turns out, according to neuroscientist Lise Eliot, that there is very little difference between the brains of girls and boys.[5]  When our culture buys into the idea that maleness is to be equated with violence, we excuse behaviors that hurt others physically or emotionally.
The junior high boy snaps the bra strap of the junior high girl in the hallway.  When the girl informs a teacher, the teacher says the boy did it because "he likes you and doesn't know another way to tell you."  It gets said again and again.  I am guilty of saying it – not at the junior high level, but with elementary kids.  When we say it, we are reinforcing that idea that boys are incapable of expressing themselves through any means other than violence.
"When we dismiss boys' aggression as evidence of affection,… we sell all children short.  To girls, the message is, 'That violent act to which you did not consent means that he feels love for you.'  And the message to boys is, 'When you feel an emotion, you should express it through violence.'"[6]
Consider what those messages do.  They imply "that it's strange for boys to have feelings of love that are disconnected from feelings of violence [or power over another].…  When we tell our boys it's normal to show that they like someone by hurting them, we don't just excuse toxic masculinity – we encourage it.  We are effectively not teaching our children what safe and consensual relationships look like at the moments when they are just starting to come of age sexually."[7]
Likewise, we give boys and men a pass when we excuse their stories of sexual assault as "locker room talk."  We're essentially saying "boys will be boys," but in an advanced way.  We are saying not only that it is okay, but that it is appropriate, that it is expected for boys and men to perform their masculinity and their sexuality in aggressive ways.  And that is toxic for all of us.
About three weeks ago, a pseudonymous woman's account of a difficult encounter with comedian Aziz Ansari was published online.[8]  They met, exchanged phone numbers, exchanged text messages, and then went out on a date.  The date ended in Ansari's apartment and became very sexual very quickly – from kissing to undressing to Ansari saying he was going to go grab a condom, all in a matter minutes.  "Grace [the woman's pseudonym] voiced her hesitation explicitly.  'I said something like, "Whoa, let's relax for a sec, let's chill."'  She says he then resumed kissing her, briefly performed oral sex on her, and asked her to do the same thing to him.  She did, but not for long."[9]  The date ended, and she left – very upset.  For her, this was a #MeToo moment.
There was a lot of push back about this article – a lot.  The woman was not an employee of Ansari, so there were no workplace dynamics in the situation.  "Her repeated objections and pleas that they 'slow down' were all well and good, but they did not square with the fact that she eventually gave Ansari oral sex.  Finally, crucially, she was free to leave.  "Why didn't she just get out of there as soon as she felt uncomfortable? many people explicitly or implicitly asked."[10]
This question is, I think, the other side of the enculturation issue I just scratched the surface of about male sexual aggression.  And I'll tell you, I don't know all the possible reasons.  But I found a very informative article online that opened my eyes, titled "The female price of male pleasure."  I hope you will read it; click here.
It's thesis is this:  "Women are enculturated to be uncomfortable most of the time.  And to ignore their discomfort."[11]  Loofbourow, the author of the article, starts with this little factoid:  According to a study published on the National Institutes of Health website, 30 percent of women report pain during vaginal sex, 72 percent report pain during anal sex, and "large proportions" don't tell their partners when sex hurts.[12]  She goes on to explore how and why women and men have entirely different understandings of what makes sexual intercourse "bad sex."
She notes that there are five times as many clinical trials studying men's sexual pleasure as there are studies into the severe physical pain some women experience during sex.  Why?  "Because," she concludes, "we live in a culture that sees female pain as normal and male pleasure as a right."
She writes about women who continue having sexual intercourse even though it is painful.  She writes about women being taught to expect the first time they have sexual intercourse to be painful – and if the first time, why not the second time?  And then there's the discomfort the fashion industry pushes on women, largely for the sexual gratification of men.
One of the reasons women don't just leave when a social encounter turns uncomfortable sexually is that they are taught that uncomfortable is the norm.  This is probably also a reason that some women don't realize that the uncomfortable situation they just had – in the workplace or at school or at church or at the sports club – was sexual harassment.  And even if they do recognize it as such, it may be a reason they don't bother reporting it.
There are two other reasons I can think of that people (of all genders) don't report sexual harassment and sexual assaults.  The first is that they don't think they're going to be believed.  It's what happened to the women in the story we heard from Luke's gospel, and they weren't even reporting an assault.  The women go to the tomb where Jesus' body was laid after the crucifixion to give it a proper preparation.  But when they get there, the body is gone and they have an angelic visitation.  When they report what happened to the men who were followers of Jesus, they are not believed.  The men don't believe them.
The other reason I can think of that people don't report sexual harassment and sexual violence is that they worry that their reporting will be met with more violence.  You may remember the recent special election for Alabama's vacant Senate seat.  One of the candidates, Roy Moore, was accused of sexual misconduct in the weeks leading up to the election.  This is what happened to home of Tina Moore, one of the accusers.[13]
The fire is being investigated as an arson.  The fear that reporting will be met with more violence is reasonable.
Which brings me to the last thing I want to touch on in this sermon:  What do we do about all this?  I'll go into this in much more detail next week.  This week, I want to say there are at least three basic things we can do when we see harassment, or even assault, taking place:
We can disrupt the situation. This needs to be done in a way that is as safe as possible.  You may want some support from another when you do this.  I'll offer some examples of how this can be done next week.
We can confront the harasser. This doesn't have to be done in the moment and it isn't appropriate in all situations.  But when it's appropriate there are ways to do this.  More next week.
And we can ask the target of the harassment how we can help. This might seem obvious, but researchers say it's crucial to check in the with target of harassment and offer to help – like offering to go with them to Human Resources if the harassment takes place at work.
The other thing that's important to do when someone discloses harassment or abuse.  Believe them.  Telling someone, "I believe you," can give them the support they need to get the help they need to get the healing they deserve.  We can do a better job than the male disciples did on Easter morning.
Amen.
_______________
[1] William Wan, "What makes some men sexual harassers? …" The Washington Post, https://www.washingtonpost.com/news/speaking-of-science/wp/2017/12/20/what-makes-some-men-sexual-harassers-science-tries-to-explain-the-harvey-weinsteins-of-the-world/ (posted 22 December 2017; accessed 29 January 2018).
[2] Ibid.
[3] Quoted in ibid.
[4] http://nymag.com/daily/intelligencer/2018/01/sullivan-metoo-must-choose-between-reality-and-ideology.html
[5] Colleen Clemens, "Say No to 'Boys Will Be Boys,'" Teaching Tolerance, https://www.tolerance.org/magazine/say-no-to-boys-will-be-boys (posted 17 December 2017; accessed 29 January 2018).
[6] Ibid.
[7] Ibid.
[8] Katie Way, "I went on a date with Aziz Ansari. It turned into the worst night of my life," babe.net, https://babe.net/2018/01/13/aziz-ansari-28355 (posted 14 January 2018 [as best I can tell]; accessed 3 February 2018).
[9] Ibid.
[10] Lili Loofbourow, "The female price of male pleasure," The Week, http://theweek.com/articles/749978/female-price-male-pleasure (posted 25 January 2018; accessed 29 January 2018).
[11] Ibid.
[12] https://www.ncbi.nlm.nih.gov/pubmed/25648245
[13] M.L. Nestel, "Over $150,000 raised after Roy Moore accuser's home burns down in suspicious fire," ABC News, http://abcnews.go.com/US/100000-raised-roy-moore-accusers-home-burns-suspicious/story?id=52192189 (posted 7 January 2018; accessed 3 January 2018).
A sermon preached at Niles Discovery Church, Fremont, California,
on Sunday, January 21, 2018, by the Rev. Jeffrey Spencer.
Scriptures:  Genesis 21:8-21 and Mark 14:3-9
Copyright © 2018 by Jeffrey S. Spencer
This headline ran in the online version of the Daily News last week.  "Mich. man's wife says he was deported to Mexico after legal error."  The person who is doing the talking, the person being quoted is the woman.  And yet she is identified as "Mich. man's wife."  She is identified in terms of whose she is.
Why didn't the headline say, "Mich. woman says her husband was deported to Mexico after legal error"?  Patriarchy.
Was the headline writing trying to be sexist?  Who knows, but I suspect not.  The problems is that male dominance is so pervasive in our culture, most of us won't even hear it or see it when it's happening.
Part of our sacred texts includes a story of a man who wields his power, power he has because he is a man, and the way he wields his power is to throw a slave and her child out of the household and into the wilderness to fend for themselves, presumably to die.  It's the story we heard today.  It's part of the story of the patriarch of the Hebrew people (who is also seen as the patriarch of Christian and Muslim people).  It's part of a larger saga that is filled with call and response, promise and impatience, deceit and intrigue, forcing God's hand and God tolerating it, jealousy and betrayal, abuse and salvation, and much, much more.  The story offers (among many other things) a window into the gender issues and gender power dynamics of its time.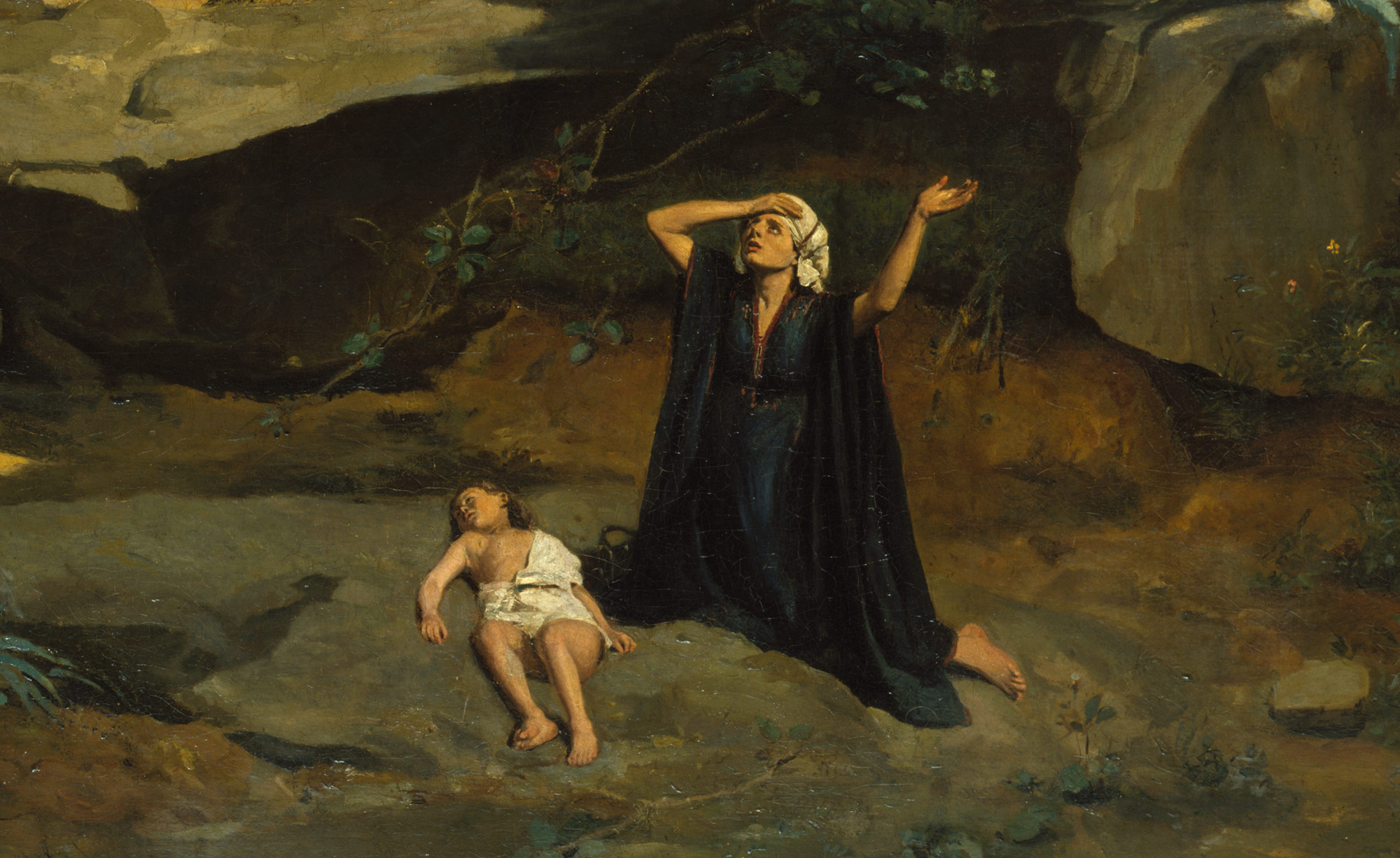 In the small part of the story we heard today, we see that the male is the head of the household.  Sarah may be the one who is feeling insecure and jealous, but Abraham – the male head of the household – is the one who makes the decisions.  And it's worth noting that Sarah's insecurity and jealousy is because of a male child.  Had either Ishmael or Isaac been a girls, Sarah wouldn't have worried.
If you're not familiar with the story, I encourage you to read it.  Here's a synopsis.  Abraham senses that he is called by God to leave his home and strike out on an adventure, so he packs up his household and off they go.  God, he believes, promises to make him and his wife Sarah the parents of a new nation – despite the fact that they are already old and have never had any children.  Eventually they get impatient waiting for the child that God has promised, so Sarah suggests that they have a surrogate child.  She suggests that Abraham have sexual intercourse with the slave Hagar.  Abraham does; Hagar gets pregnant; and a son is born who is named Ishmael.
Wouldn't you know it.  Once they've agreed that they aren't going to have children together and Ishmael is born, Sarah gets pregnant.  She has a son who is named Isaac.  And when Isaac is weaned … well, that's where we pick up the story.
Suddenly, the son born to Hagar is a threat to Isaac inheriting the household and the promise.  So Sarah lobbies Abraham, the head of the household, to have Hagar and Ishmael thrown out.  And Abraham does just that.
This story isn't just about Abraham wielding his power as a man.  It is also about sex trafficking – for that is what Hagar suffers at Sarah's hands.  It is also about rape – because Hagar didn't have an opportunity to give her consent to having sex with Abraham.  There are aspects of this story – like all the stories about families in the Hebrew scriptures – that are very disturbing if they go unchallenged.  These stories reflect the patriarchal culture in which they were written.
In this story, the sexism inherent in the culture even creeps into the way God is portrayed.  Did you notice that the angel comes to a sobbing Hagar to reassure her that God has heard the boy's cries?  Hagar is the one sobbing, but God hears the boy and it's the boy's cries that seem to move God to action.  Oy vey!
I suppose it's good news that the Christian church isn't responsible for creating the theological context in which sexism took hold, the way it is for creating the theological context in which racism took hold.[1]  No, the Christian church is only responsible for perpetuating and codifying patriarchy.  Consider, for instance, how things get translated.
If you're looking for a patriarchal text, check out 1 Corinthians 14:26-40.
Paul is writing about the practice of worship in the Corinthian church in chapter 14, and we get to this passage.[2]
            What then, brethren?  When you come together, each one has a hymn, a lesson, a revelation, a tongue, or an interpretation.  Let all things be done for edification.  If any speak in a tongue, let there be only two or at most three, and each in turn; and let one interpret.  But if there is no one to interpret, let each of them keep silence in church and speak to himself and to God.  Let two or three prophets speak, and let the others weigh what is said.  If a revelation is made to another sitting by, let the first be silent.  For you can all prophesy one by one, so that all may learn and all be encouraged; and the spirits of prophets are subject to prophets.  For God is not a God of confusion but of peace.
As in all the churches of the saints, the women should keep silence in the churches.  For they are not permitted to speak, but should be subordinate, as even the law says.  If there is anything they desire to know, let them ask their husbands at home.  For it is shameful for a woman to speak in church.  What!  Did the word of God originate with you, or are you the only ones it has reached?
If any one thinks that he is a prophet, or spiritual, he should acknowledge that what I am writing to you is a command of the Lord.  If any one does not recognize this, he is not recognized.  So, my brethren, earnestly desire to prophesy, and do not forbid speaking in tongues; but all things should be done decently and in order.
Whenever I read scripture aloud, I try to do some interpretation of it in the way I do the reading.  What I emphasize orally comes across as more important than what I de-emphasize.  I don't know what to do with verse 36.  I don't understand what the word "What!" is doing there.  Still, this is how the passage has been translated.
I'm not a Greek scholar, so I can't argue with the translation.  So, about two decades ago, I asked a Greek scholar if this was a good translation of the Greek.  He said it was – in terms of the words.  But the oldest text from which the translations are derived do not have punctuation.  So figuring out where sentences begin and end or where paragraphs begin and end is potentially problematic.
We do know that the letters we have that were written by Paul were parts of exchanges.  Letters were sent between churches and Paul – in both directions.  That means that Paul is likely responding to a letter that, given the content of Paul's letter, was probably about (among other things) arguments about worship in the Corinthian church.  I can imagine Paul standing there, with a letter from the Corinthians in his hands, dictating his response to a scribe.  And I can imagine him, from time to time, quoting the Corinthian's letter back to them, particularly if they wrote something that really got under his skin.  So, imagine if we got the punctuation wrong.  What if what Paul wrote was this:
… For you can all prophesy one by one, so that all may learn and all be encouraged; and the spirits of prophets are subject to prophets.  For God is not a God of confusion but of peace, as in all the churches of the saints.
[Quoting from a letter from Corinth:]  "The women should keep silence in the churches.  For they are not permitted to speak, but should be subordinate, as even the law says.  If there is anything they desire to know, let them ask their husbands at home.  For it is shameful for a woman to speak in church."
What?!  Did the word of God originate with you, or are you the only ones it has reached?
If any one thinks that he is a prophet, or spiritual,…
Suddenly Paul is offended by the sexist assumptions in the Corinthian church, not supporting them.  And now, finally, that "What!" makes sense.  It's an expression of his outrage.
And yet, for hundreds of years, the Christian church has punctuated the text so that it supports patriarchy, so that it codifies patriarchy.  My Greek scholar friend insisted that this way of punctuating the passage totally works in the Greek.
We've done the same sort of thing with our Gospel lesson.  Jesus is in the house of Simon the leper – which, let's acknowledge, is a pretty radical thing on its own.  A woman comes in, breaks open a bottle of nard, and anoints Jesus, pouring it on his head.  It's shocking, I tell you!  Shocking!  The people who were there were shocked.  And they said so.  Jesus, on the other hand, sees it as an act of love, of caring.  Mark tells us that Jesus saw this as an act of preparing his body for burial (this happens just a day or two before his crucifixion).
It is not uncommon for people to assume that the woman who did this must have been a prostitute, it being such a sensual act.  Mark doesn't tell us anything about the woman's character.  They may also be merging this story with a different story in Luke 7 where a woman whom we're told is "a sinner," anoints and cries on Jesus feet, only to dry them with her hair.  She, too, is demonized as a prostitute even though there is nothing in the text to point us in that direction.
And did you catch that Jesus says to the people at Simon's house, "wherever the good news is proclaimed in the whole world, what she has done will be told in remembrance of her"?  This act will be told in remembrance of her – and we have no idea what her name is.
The Christian church may not be responsible for creating patriarchy, but we are responsible for perpetuating it, for codifying it.  We do that with the stories we tell that we don't challenge.  We do it with the way we translate texts.  We do it with the assumptions and interpretations we make.
And we codified patriarchy in the 494 when Pope Gelasius I banned women from even participating in the celebration of the Eucharist.[3]  The ban on the ordination of women probably begun before that.  It wasn't until after the Reformation that women started being ordained (again).  Here in the United States, it began with the ordination by the Congregational Church of Antoinette Brown in 1853.  The Christian church suffered without the ordained leadership of women for at least 1300 years, and probably longer.  Why?  Because we codified patriarchy into our way of being church.
And this is stunningly confounding to me.  For me, "Christmas is not the birth of an alpha male who plays by the old set of patriarchal rules, but rather, it is the celebration of the omega male:  the model of a new humanity for both women and men.  The way of Christ, as [I] understand it, is not a way of eye-for-eye revenge, but a way of nonviolent resistance, forgiveness, and reconciliation.  It is not a way of domination, but service.  It is not a way of leading through displays of physical, sexual, or financial prowess, but through displays of love, joy, peace, patience, kindness, gentleness, faithfulness, goodness, and self-control."[4]
"Although he frequently refers to God as Father, I believe Jesus is a deconstructor of patriarchy, not a defender.  Consider:  His fatherly metaphor decenters the dominant kingly metaphor of his day, toning down kingly patriarchy to familial patriarchy.  The familial patriarchy of his parables and aphorisms (If you, being evil, know how to give good gifts to your children, how much more …?) emphasizes kindness, compassion, and love, not power, domination, punishment, and revenge.  He exposes the inherent dishonesty of patriarchy with powerful political insight when he says, 'Call no one Lord … Call no one Father.' (Matthew 23)  He turns patriarchy upside down and inside out when he washes his disciples' feet.  Peter's negative reaction can be seen as Peter's (and the church's?) resistance to Jesus' radical rejection of patriarchy.  … Jesus' self-giving on the cross is the most powerful rejection of patriarchy imaginable.  Instead of seizing and holding power by killing others, Jesus lays down his life and offers his broken, torn body as a life-giving gift … Jesus is, we might say, the anti-Caesar, the antithesis of patriarchy."[5]
May we help the church universal find ways to de-codify patriarchy and to more closely follow the way of Jesus.
Amen.
____________
Questions for Reflection:
How aware are you of impact and affect of patriarchy in everyday life?
When have you been a co-conspirator with patriarchy's destructive powers?
How does your image of God support or oppose patriarchy?
____________
[1] See my sermon, "The Church's Role in Normalizing Racism," Jeff's Jottings, https://jeffsjottings.wordpress.com/2017/03/05/the-churchs-role-in-normalizing-racism/ (preached 5 March 2017).
[2] This is from the Revised Standard Version.  I use this version because when I re-punctuate it below, I don't have to change any of the words.  Because of the way translating works, I would have to change some of the words if I used a different translation.
[3] "Ordination of women," Wikipedia, https://en.wikipedia.org/wiki/Ordination_of_women (accessed 20 January 2018).
[4] Post by Brian McLaren on Facebook, https://www.facebook.com/mclaren.brian/posts/10155976325702990, 27 November 2017.
[5] Ibid.
A sermon preached at Niles Discovery Church, Fremont, California,
on Sunday, January 1, 2017, by the Rev. Jeffrey Spencer.
Scriptures: Revelation 21:1-6a and Psalm 8
Copyright © 2017 by Jeffrey S. Spencer
I've enjoyed some of the things that have been posted this past week on Facebook about New Year's resolutions.
I'd like to do a quick poll: How many of you make New Year's resolutions? I don't tend to. Why set myself up for failure?
I've done some reading about New Year's resolutions and what makes them effective. One author[1] includes this advice:
Begin with the end in mind. In other words, know why you're making the resolution. This is important advice for any planning. Know your why. In fact, this is such an important point, I want to share a video clip about it.
This author also suggests:
Make SMART resolutions: Specific, Measureable, Attainable, Realistic, and Trackable.
Have a plan that is incremental. In other words, know what you need to do today to fulfill your resolution.
Celebrate you accomplishments along the way.
Limit your number of resolutions. This is needed to keep you focused. If you have too many resolutions, you can end up not knowing where to begin or which resolution should get your attention.
Share your resolutions with someone(s) to help build support in your efforts.
Let yourself adjust your resolutions to respond to changes in circumstances. As a friend of mine is fond of saying, "Life happens."
It seems to me that this advice is as applicable to congregational strategic planning as it is to New Year's resolutions. And I'd start with the same first piece of advice for congregational planning: know your why. Our congregation's why, informally stated, is to share God's love with everyone, no exceptions; to grow in our relationships with God; and to serve you neighbors near and far.
Stanley Hauerwas, American theologian, ethicist, and intellectual, put it more boldly: "We would like a church that again asserts that God, not nations, rules the world, that the boundaries of God's kingdom transcend those of Caesar, and that the main political task of the church is the formation of people who see clearly the cost of discipleship and are willing to pay the price."[2]
As we enter the new year, there are plenty of us in this congregation who are feeling anxious. The causes of the anxiety are varied. Some of us are facing medical concerns, or have family who are, and that leads to anxiety. Some of us are facing job uncertainty or other economic challenges, and that leads to anxiety. Some of us are anxious because of what we have heard from politicians and their supporters over the past year that makes us worried about the future of freedom and equality in our country.
While I have a little medical issue that I'm dealing with as we enter the new year,[3] that's not what is causing my anxiety. My anxiety comes from our national political situation. Based on the rhetoric I've heard coming from President-elect Trump during the campaign and since, and based on his Cabinet and advisor nominations, I am worried about what direction President Trump will lead our country. While I am not sure he is sure about what his political vision is, I fear what it could be or what it could become. Mr. Trump's presidency could very easily be leading toward authoritarian rule.
The greatness to which he says he wants to lead America seems to be based on a scapegoating of minorities – racial, religious, immigrant, gender, and sexual orientation and identity. And the path to get there seems to be anti-science and anti-fact. The conclusion I've reached is that we cannot protect our nation from this vision with dialogue and fact-checking.[4] It will take action.
And I know that when I'm feeling anxious, it is hard for me to act.
So, I have two things I want to say about our anxieties, as much for me as for anyone else. First, I think what Bishop Steven Charleston said recently bare repeating: "[I] offer … the reassurance of a holy irony: what seems weak is strong, what seems lost will be found, what seems empty will overflow, what is broken will be mended. The peacemakers and the poor will overcome the warmongers and the greedy. Logic is on our side. Not the logic of power, but the logic of an endless grace. Do not fear, but believe. Faith turns anxiety upside down."[5]
Second, if we let our faith turn our anxieties upside down, we will be empowered to act. Whether that action helps us fulfill our New Year's resolutions or it helps us stand up for the vulnerable, our faith empowers action. This is important to me because "[m]oderate neutral theology will not help us during these times. Our faith and our 'God' either sides with the oppressed or with the oppressor. For Christians committed to justice, this is a time to tap into the radical and progressive strands of our tradition and vigorously oppose any justification or cooperation with [anything that even sniffs of] fascism."[6]
I hope that we, as a church, will take action this year. Perhaps it will start with making a public witness by adopting a commitment like the one that St. Mark's Episcopal Cathedral adopted in Seattle recently.[7] This isn't the time or place to read their statement in its entirety, but I think we need to take similar bold and clear action. We need to proclaim clearly our rejection of White Nationalism, our determination to protect our neighbors from hate speech and attacks, our support of religious liberty, our commitment to end misogyny and sexual violence, and our determination to protect the environment as we work for climate justice.
And then, after adopting such a statement, I hope we will fulfill it with our hand and feet and voices.
Parker Palmer wrote a column about New Year's resolutions last year,[8] but when he sat down to write his draft, he mistyped "resolutions." His left hand didn't type the first "s." Instead, it typed a "v".
If we take seriously the vision John of Patmos saw, then instead of New Year's resolutions, maybe we should make New Year's revolutions. With the plight of millions of refugees, the continued grief of mass killings, "the persistence of racism and the violence it fosters, the growing number of people living in or on the edge of poverty, the failures of our justice system, the downward spiral of a democracy en route to becoming an oligarchy, [and] the ongoing degradation of Earth itself,"[9] it will take a revolutionary approach to help build the new heaven and new earth that John of Patmos saw was God's plan for creation. When faced with the principalities and powers of the Roman Empire, John proclaimed that a different way was possible – just as there is a different way for us, regardless of who the current Caesars turn out to be.
Palmer's five revolutions cover much of the same ground as St. Mark's statement. He calls for a revolution against our fear of "otherness," and against those who manipulate this fear for their self-serving ends; a revolution against the state of denial in which most white American's live about white privilege and white supremacy in our lives; a revolution against the nonstop attacks on our K-12 teachers and public education; a revolution against gun-related policies driven by the delusional mentality of policy-makers and power brokers; and a revolution against the fantasy that a few of us can live secure private lives while ignoring our complicity in conditions that put many other in mortal risk.
Three years ago, I decided to make some New Year's resolutions. I had what I thought was a clever approach. I asked myself, what can I do in my life for sake of my environment and for the nourishment of my body, mind, and spirit. One resolution for each of these four parts of my life. For the environment, I resolved to start my laundry in the morning so I could use the line to dry my clothes. For my body, I resolved (with some specificity) shifts to my eating habits. For my mind, I resolved to keep up with reading The Christian Century as the magazine arrived.
I did not do so well with these three resolutions.
But I am still living with the resolution I made three years ago for my spirit: Be the "be this guy" guy. This is the "be this guy" guy.
And here he is in context.
Notice what he's doing with his arms and what everyone else around him is doing with their arms.
He is believed to be August Landmesser. Born in 1910, he was a worker at shipyard in Hamburg, Germany, when a naval training vessel, the Horst Wessel was launched and this picture was taken. It was June 13, 1936. Though he had joined the Nazi party, he got into trouble with them because of his relationship with Irma Eckler, a Jewish Woman. Landmesser was later imprisoned, eventually drafted, and was killed in action. Eckler was sent to a concentration camp where she was presumably killed.[10]
I've decided to make only one resolution for this new year, and it's really a renewal of that three-year old resolution: Be the "be this guy" guy. I know it's not a SMART resolution. It's not Specific, Measureable, or Trackable. It might not even be Attainable or Realistic. But it's sure seems gospel-grounded and necessary for helping to create the new heaven and earth that John of Patmos saw. So it's the right resolution – at least for me.
I hope you find a resolution that right for you, too. And as we move into our time of quiet reflection, I invite you to think about your resolution for the coming year.
[1] Steve Poos-Benson, "Twelve Steps for New Years Resolutions," Cowboy Jesus, http://stevescowboyjesus.blogspot.com/2016/12/twelve-steps-for-new-years-resolutions.html (posted 28 December 2016; accessed 30 December 2016).
[2] Quoted by Diana Butler Bass on her Facebook page https://www.facebook.com/Diana.Butler.Bass/posts/10154446201803500 (posted 28 December 2016; accessed 30 December 2016).
[3] On Wednesday, I did something to my back and it's been hurting since.
[4] Daniel José Camacho, "Fascism can't be stopped by fact-checking," The Christian Century, https://www.christiancentury.org/blog-post/fascismfactchecking (posted 26 December 2016, accessed 30 December 2016).
[5] Stephen Charleston's post from 29 December 2016, https://www.facebook.com/bishopstevencharleston/posts/1221986484552888 (accessed 30 December 2016).
[6] Camacho, op. cit.
[7] "Renewing Our Covenant: A Statement of Commitment and Action, St. Mark's Cathedral Parish," Saint Mark's Episcopal Cathedral, http://www.saintmarks.org/serve/volunteer/governance/renewing-our-covenant/ (adopted 20 December 2016; accessed 30 December 2016).
[8] Parker J. Palmer, "My Five New Year's Revolutions," On Being, http://www.onbeing.org/blog/parker-palmer-my-five-new-years-revolutions/8290 (posted 30 December 2015; accessed 30 December 2016).
[9] Ibid.
[10] "August Landmesser," Wikipedia, https://en.wikipedia.org/wiki/August_Landmesser (accessed 30 December 2016).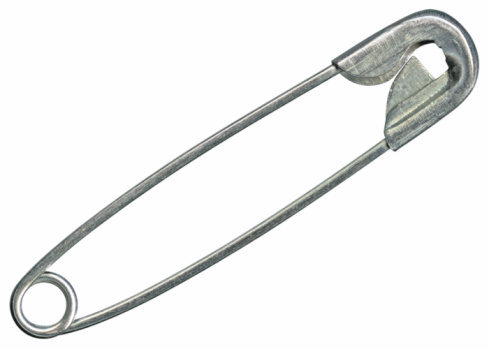 I've decided to wear a safety pin.
By now, you've probably heard about a simple act that many are taking to show others that they are safe: wearing a safety pin. I'm not sure if it started in Australia or was inspired by the #illridewithyou movement in Australia. In any event, it took root in Great Britain after the Brexit vote. People wore empty safety pins after the vote by the UK to leave the European Union to let people who might be targeted with harassment after the vote (especially immigrants) know that the person wearing the pin was safe, was an ally, would stand with the vulnerable person to support them.
After the election of Donald Trump (I'm assuming the Electoral College will actually elect him on December 19), many people – especially women, minorities, immigrants, and members of the lgbt community – felt vulnerable. Not surprising, since the Southern Poverty Law Center has noted as significant spike in acts of "hateful harassment and intimidation" since the election. People who walk through life with privilege (men, whites, etc.) are recognizing that they can leverage this privilege to help create safe space for vulnerable people. The safety pin is a sign of this. I should quickly add that people with less privilege than me are also wearing safety pins.
I was initially jazzed by the idea of wearing the pin. And then I started to read articles and blogs offering some push-back (for instance, this piece written by a white male). As my friend and colleague Sandhya Jha said in a Facebook post, "I have a mild concern that people are drawn to these safety pins as a form of absolution: 'I'm ok. I'm not THAT kind of white person. I am not to blame.' I also have a mild concern that it is less about learning the skills to put one's body on the line for another (and there are skills to practice) than about getting credit for being a good white person for publicly announcing one's ally status. As my LGBTQ+ activist friends helpfully remind me, I don't get a cookie for being an ally. That's just being a decent human being, and that doesn't warrant brownie points."
And Sandhya is absolutely right about there being skills to practice. As another blog post point out, those of us who wear the pin need to know what the pin means, know how much risk we're willing to take, learn how to de-escalate volatile situations, know what you'll do if de-escalation doesn't work or if the situation gets violent, and practice. I recommend you read this blog post if, like me, you're plan to wear a safety pin.
I'll wear my pin for me as well as for people who I might meet along the way. I'll wear my pin to remind me of the commitment I make to be a person who will help if needed (and wanted). And, as Sandhya concluded in her post:  "[The safety pin] can become a symbol of accountability, that white people see it and acknowledge to each other, 'we have a lot of work to do to unify our people around a different vision. We have a lot of work to do to protect other people from our people. We have a lot of work to do to create a different way of being white. Let's make sure to hold each other to that.'"